Ålesund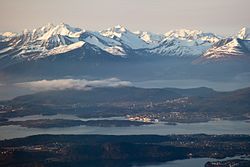 Ålesund
is the largest city in
Møre og Romsdal
county,
West Norway
, with about 40,000 inhabitants, 70,000 in the surrounding area. Ålesund is the gateway to the iconic northwestern fjords (among which Geirangerfjord is particularly famous) and surrounding alpine mountains. After the devastating 1904 fire, the entire city was quickly rebuilt in the distinct Art Nouveau (
Jugendstil
) of the time. Ålesund is the centre for Sunnmøre district in Møre og Romsdal county.
Understand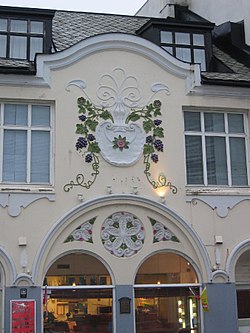 Ålesund is built on a row of islands extending towards the Atlantic. The compact old city centre is thus surrounded by water and Ålesund is one of Norway's major fisheries harbour. To the east are the Sunnmøre Alps which offers a dramatic backdrop. Ålesund sits at the entrance to iconic
Geirangerfjord
, majestic
Hjørundfjord
as well as other great fjords in the Sunnmøre district.
The old city centre of Ålesund was totally destroyed by fire in 1904, only a single small house remained. Much international aid, including personal gifts from Kaiser Wilhelm II of Germany who used to holiday there, helped to rebuild in what was then high-fashion, Art Nouveau or
Jugendstil
as it is known in Ålesund. The consistent architectural style gives Ålesund a distinct central European vibe and Ålesund's cityscape is instantly recognizable. Few hours after the disaster become known to the world, Germany sent ships with food, medicine and blankets towards Ålesund. Because of the aid to the homeless people of Ålesund, this is one of the few places where Kaiser Wilhelm remains a hero, one the key streets downtown is
Keiser Wilhelmgate
. At the time of the fire, Ålesund was a young city that from around 1850 expanded rapidly from the small trading post at present centre. Ålesund was from the beginning based on fish trade. During the middle ages there was however a small town or trading post further east at Borgund Church, now the site of Sunnmøre Museum. The Borgund trading post vanished around year 1500.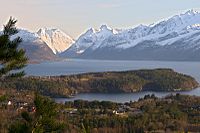 While Ålesund faces the ocean, the great Sunnmøre alps and the iconic fjords make up Ålesund's scenic hinterland. Ålesund is the regional centre and the natural starting point for visitors arriving by air or sea. Because Ålesund sits on islands in the northwestern corner of the region, it is not a natural hub for overland transport. For independent travelers Ålesund is not the best base to explore the wild interior as time and money must spent on transport. Public transport is however centered on Ålesund.
Ålesund is the regional centre, a hub for transport and shopping. The old centre is cramped on a handful of islands, and a new centre has emerged some 10 km further east (inland) around shopping malls at Moa/Spjelkavika.
Get in
By plane
By rail
The local railway station is situated in
Åndalsnes
. The train line was supposed to continue to Ålesund city center but was never completed. There is a replacement bus service operating between Ålesund and Åndalsnes for every arrival and departure.
Trains go to
Dombås
and back three times a day, connecting with the main service from
Trondheim
to
Oslo
.
In addition, a once-a-day service to
Lillehammer
operates, connecting with local trains to Oslo.
You can also change at Dombås for services from or to
Trondheim
, but this usually involves a considerable wait at Dombås. However, Dombås town center is very close to the station and has moderately priced restaurants and convenience shops as well as some tourist attractions on its own.
By bus
Hourly regional services between Ålesund and
Kristiansund
,
Molde
and
Volda
.
Nightly and daily departures from and to
Oslo
(takes approximately 10 hours).
Several daily services between Ålesund and
Trondheim
calling at Molde and
Sunndalsøra
.
Daily services from and to
Bergen
calling at Volda,
Nordfjordeid
and
Førde
with connecting services to
Sogndal
and
Stryn
.
By boat
Hurtigruten
calls Ålesund, once daily in southern direction (from
Trondheim
towards
Bergen
), and once daily in northern direction (from Bergen towards
Kirkenes
).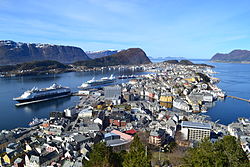 Ålesund is also a regular port of call for many cruise ships, which dock just south of the old city centre. There are two berths, right next to one another, and all cruise ships use the same exit, which is just a few minutes from the bus station in the city centre.
By car
Ålesund is at the end of the E136 main route, which starts at
Dombås
where it connects with the E6 main route between
Oslo
and
Trondheim
.
It is also on the E39 coastal main route between
Bergen
and Trondheim. This route requires taking quite a few ferries in either direction which makes it take as long to Trondheim as the ferry-less E136/E6 combo but more expensive.
The modern business and shopping district is at Moa-Spjelkavik district, this is also the hub for road transport as roads E39 (from
Bergen
), E136 (from
Åndalsnes
) and 60 (from/to Stranda,
Hellesylt
, and
Stryn
) converge there.
Get around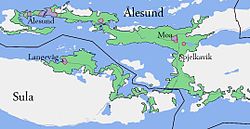 By foot
Ålesund is long and narrow, stretching from west to east over five islands, with the old city centre on the western end near the Atlantic. From the old city centre, most attractions are available within a short-medium walk (less than 20 minutes).
Tourist Information Office in Ålesund
at
Skateflukaia
(+47 70-157600, info@visitalesund.com), open daily 08:30 - 18:00 in summer, at western foot of Skaregata in the old city centre, caters to most needs a visitor to the region could have, including
brochures and guides
.
Some 10 km east of the old city centre is the modern business and shopping district, located in the Moa-Spjelkavik district, but this area is of little interest to visitors.
By bus
Local city bus service is provided by
Nettbuss
on behalf of Møre og Romsdal county. The Ålesund bus station (
Ålesund rutebilstasjon
,
Keiser Wilhelmsgate 6
) is located near the cruise ship terminal in the old city centre.
For the Atlantic Sea Park on the west shore of Hessa island, there are special bus services during the summer signed "Akvariebussen" from the city centre bus terminal.
The bus to Sunnmøre open-air museum is the regular bus, 618 or 624, heading towards Moa; fare is 40 NOK. Alternatively, you can use a
Travel Card
called
"Reisekort"
, which is a pre-paid card for travelling on public transport in Ålesund. When using it, you get a 17% fare reduction. Load the Travel Card with the exact amount you will need; for example, in the case of going to Sunnmøre Museum and back: 40 NOK x 2 x 0,83 = 66 NOK. You can load more than one ticket onto a Travel Card.
In general there are plenty of bus services in Ålesund. It is worth noting, however, that they are very limited in the late evenings, after 5pm on Saturdays and all day Sundays. To get information about local buses, call 177. Bus service to the surrounding area is also
available
.
By taxi
There are two taxi companies operating, and taxis can be booked by telephone at 7012 or 70103000. Taxis in Norway are very expensive, expect to pay at least 200 NOK for even a short trip. They are also more expensive in the evenings and weekends.
See
Much of the joy of seeing Ålesund is to be found in just strolling past the many art nouveau shops and other buildings.
phone: +47 70 12 31 70

address: Rasmus Rønnebergs gate 16

phone: +47 70 10 70 60

Salt water aquarium. It offers a range of activities, including diving.

Art Nouveau Centre and Art Museum KUBE

phone: +47 70 10 49 70

address: Apotekergata 16

Housed in an old apothecary in the centre of Ålesund, the Art Nouveau Centre is dedicated to the period after a fire in 1904 when the whole town was rebuilt in the Art Nouveau style. The ticket is valid for both buildings.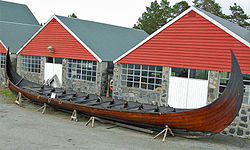 phone: +47 70 16 48 70

Sunnmøre museum is an outdoor folk museum of the Norwegian coastal culture, located on an area of 120 hectares (50 acres) with more than 55 old and distinct houses from the past 300 years moved to the site. Also located on the premises are the museum's vast boat collection, including replicas of Viking ships, and the ancient Borgund Church. The Medieval Age Museum features artifacts from excavations of the old trading centre and reproductions of medieval illustrations depicting the west Norwegian coast way of life. Museum shop and cafeteria.

City Train SightseeingBlue and white tram tours the city centre of Ålesund (does not include Atlantic Sea Park and Sunnmøre Museum), stops at the viewpoint Fjellstua for 10-15 minute; entire round trip takes around 70 minutes; commentary in English and 7 other languages. Free Wi-Fi.

CitySightseeing ÅlesundOperates when cruise ships are in port during the summer between May and the end of August. Departures occur every 45 minutes between 09:00 in the morning and 16:55 in the afternoon. Hop-on, Hop-off stops include the Sunnmøre Museum, the Mt Aksla Viewpoint, Fjellstua, The Atlanterhavsparken / Aquarium. NOTE: in 2017, the road to Mt Aksla was closed to heavy buses including Hop on Hop off.
Do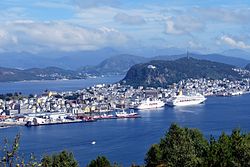 Mt Aksla and FjellstuaFrom the city park (from the pedestrian shopping street Kongensgata, follow Lihauggata pass the Rollon statue to the Byparken) walk up the stairs cut into the cliff to Fjellstua for a breathtaking view of local fjords and mountains. This can really not be underlined enough. Even if you are not up to climbing all 418 steps, even half way up the view is stunning. Alternatively, you can get a taxi or sightseeing tram to drive you up there for the view from the top. This is a must-see. At the top of the mountain there are walkways that allow you to walk around in natural surroundings while enjoying the view of the islands and mountains around you. There is also a restaurant at Fjellstua serving basic dishes.
The Atlantic Sea Park (Atlanterhavsparken) at Tueneset is the biggest salt water aquarium in Northern Europe and is built into its stunning environment in the Tueneset conservation area. It offers a range of activities, including diving. After visiting, you can enjoy Tueneset, which is a nice green area with walkways and a fascinating seemingly endless view of the Atlantic Ocean.
In both of the above places you will find bunkers and remnants of the German war machinery from World War II for those that might find that interesting.
Brosundet separates the two central islands of Aspøy and Nørvøy, bridged by Hellebroa. The view of Brosundet is quite stunning. By Hellebroa there is an outdoor restaurant area which is very popular among tourists and locals alike. From there you can walk down onto the tourist boat area and further along to Skateflua with further restaurants and outdoors serving areas.
Also, from Skateflua, you can catch various tourist and express boats to popular destinations, buy fish directly from fishermen's boats and go rafting if the weather is nice.
You should also visit the Geirangerfjord, which is a world heritage site and arguably the most fabulous fjord experience there is. During the summer, catch the Hurtigruten to
Geiranger
and back. This leaves in the morning and returns you just in time for dinner, unless you want to enjoy it on board, of course. At other times, take a bus to Hellesylt for a fjord cruise into Geiranger and catch a bus back to Ålesund from there.
In the winter, catch a bus to one of the many mountains around the town to go skiing.
Buy
There's a variety of shops in the town centre, particularly in Kremmergaarden near City hall and Aalesunds Storsenter near the town square.
The main shopping centre for the Sunnmøre region is located outside the city centre, 15 minutes away by express bus 628.

Eat
Ålesund is full of restaurants, and you can generally find anything for whatever taste you might have.
For cheap food, the town has quite a few pizza, kebab and burger shops. Next to the town square you will find Dolly Dimples pizza, a few meters away you will find Peppes Pizza, the local Burger King restaurant, and a 7-Eleven that is open 24/7 and sells hot food. You can usually get food for around 100 kr in these restaurants.
For more regular restaurants, you have choices such as Hummer og Kanari (Kongens gate) and XL Diner (Skateflukaia). XL Diner is the largest clipfish/bacalao restaurant in Northern Europe. Expect to pay a minimum of 300 kr.
More upmarket restaurants include Sjøbua, a somewhat famous seafood restaurant, where all food is prepared from the local fishermen's catch of the day. The fish is kept in tanks in the restaurant for maximum freshness.
In general, if you're out in Ålesund, you should make sure to try the local seafood dishes. It is the centre of fish exports in Norway and has a unique tradition is seafood cuisine. Clip fish is a local speciality, and a dish that locally is known simply as "bacalao" is a favourite not easily found in other parts of the world.
Wine is usually quite expensive in Norwegian restaurants: 300 kr or more for a bottle of wine is not uncommon.
Drink
There are lots of places to go drinking in Ålesund. Expect to pay 80-90 kr for a pint of beer. This price level has resulted in a youth culture where people gather at someone's home first to drink and usually don't go out before midnight.
Most establishments are open, but the more youth-oriented ones are usually close to empty before midnight. If you're a visitor out for some youthful partying, it might therefore be advisable to go somewhere else for a few pints first and then go out looking for where the action is after midnight.
All establishments close at 3 am by Norwegian law. This usually leads to complete chaos (as most people stay until then) and people standing around for hours in taxi queues. If you need transportation, it is therefore advisable to call the taxi company no later than 2 am. If you live in the city centre, it might be advisable to plan on leaving a little earlier as well, just to avoid drunk people in the streets.
If you want to buy alcohol from a shop, beer can be gotten in normal supermarkets until 8pm (6pm Saturdays) for 25 kr for a 1/2 litre can. Anything stronger than 4.7% can only be got from state authorised Vinmonopolet (until 6pm weekdays, 3pm Saturdays), located in Kremmergaarden in the centre, as well as the Moa shopping centre in the suburbs. Note that supermarkets are not allowed to sell any alcohol after these hours, even if they are still open. Also, alcohol is not allowed to be sold in shops during Christian holidays such as Easter or Christmas.

Sleep
Go next