Åre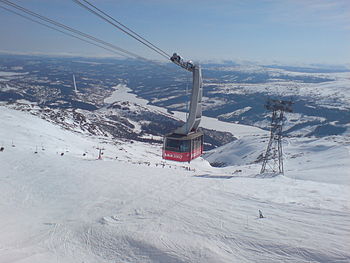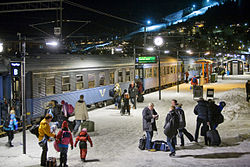 Åre
is Sweden's busiest
ski resort
in
Jämtland
,
Sweden
, 80 km west of the city of
Östersund
.
Settlements
Åre
Järpen, the municipal centre
Storlien at the Norwegian border
Duved, a less crowded ski resort
Get in
By train
SJ
runs daily trains from
Stockholm
as well as seasonal night trains during the summer months and on some major winter holidays. Additionally,
Snälltåget
runs night trains from
Malmö
via Stockholm during winter. From
Trondheim
in
Norway
, a quick change of trains in
Storlien
is required. is centrally located and includes an shopping galleria.
By plane
Åre Östersund Airport
(
OSD
)
This is the nearest airport. There are domestic flights operating daily from Stockholm to Åre Östersund Airport (SAS ), direct bus from the airport to Åre costs about €25 one way. In skiing season EasyJet flies directly from London. There are also charter flights from London , Moscow, Helsinki and Copenhagen .
Trondheim Airport Værnes (TRD)
You can also fly to Værnes Airport outside Trondheim in Norway. International flights from London , Amsterdam , Stockholm, Copenhagen and 16 other European cities.
In the skiing season (December 15th – May 1st) there is a Flygtaxi airport transfer four times a day. 400 kr for one adult one way.
At the airport you take the local train to Hell (takes about 2 minutes). Or walk 1½ kilometer (1 mile).
In Hell you take the train "Mittnabotåget" direct to Åre Railwaystation, it is worth checking the time of departure from Hell as the train only runs twice a day (in both directions). Generally there is a morning train at around 09:00 and an evening train at around 17:00. Avoid arriving at Hell station too far in advance as it is far less comfortable than waiting a few hours in a cafe at Vaernes airport!
If possible, pre-book your train tickets (from station "Værnes" to station "Åre"). The ticket price is 145 kr one way although there are discounts for students.

By helicopter
You can charter a helicopter to pick you up at Værnes Airport in Trondheim, Norway (40 min) or at Åre-Östersund Airport on Frösön (22 minutes).

By car
Åre is easily accessable by car. Beware though, that most of the Scandinavian Peninsula will be ice and/or snow covered in the winter season, except for the southernmost Scania province. Snow tires are mandatory in winter.
From Stockholm (approximately 612 km or 7 1/4 drive): Fastest and shortest is: Road E4–83 (to Ljusdal)–84–296–E45–321–E14
E4–E14 over Sundsvall is almost as fast and easier to find, but longer (approximately 654 km or 7½ hours drive).
From Malmö (approximately 1,087 km or 13 hours drive): E6–E4 (to Jönköping)–26 (to Mora)–E45–321–E14
From Oslo (approximately 678 km or eight hours drive): E6–3–E6 (over Trondheim)–E14
Get around
By bus
The Skibus goes every hour and connects the 4 villages Duved, Tegefjäll, Åre village and Björnen. The bus is free if you have a Ski pass, 20 SEK when the lifts are closed.

See
The view from the top of the mountain

TännforsenIn the winter, a deep-frozen waterfall
Do
The ski area is on the Åreskutan mountain with its highest peak at a height of 1420 meters, but the highest lift ends at 1260 meters, so the peak has to be reached by a snowmobile lift. The village and ski area are accessible by bus and train.
Skiing
Åre is probably most famous for the skiing, and the Åre ski area contains three different areas. These are:
Björnen — Family friendly and laid back. Featuring long blue slopes and a big children's area.
(High zone) (Also including Rödkullen) — The biggest area, where also most of the people are which sometimes means there are long queues to the lifts.Best before lunch, when the pistes are in their prime condition and many people have not gotten out of their cabins yet.
Duved-Tegefjäll — Some of the best slopes in the entire system. Long, perfect slopes and not many people. The 6-chair express lift takes you to the top in no-time. For an easy and fun off-piste experience, take the 6-chair lift to the top, go straight right and down the ravine, a fun and fairly easy off-piste run which features an naturally shaped halfpipe.
There is one skipass for all the four different systems; however, a separate skipass can be bought for those who only wish to ski in Duved-Tegefjäll at a cheaper price.
Pistemap
phone: +46 647-52525

address: Åre Strand 8

Åre has the largest Zipline park in Europe.

phone: +46 647-15580

address: Björnänge 801

Visit Åre Chokladfabrik and watch as they make chocolate
There are many other extreme sports which you can indulge in Åre, for example kite-flying, ski-doo safaris, horse-riding, ice-climbing etc.
Buy
Åre is full of small shops that offer locally made handicraft and various sovenirs.
Eat
Eating out in Åre can be a real experience as several high-end restaurants have established themselves close to the slopes. There are plenty of more casual places too but expect prices to be higher than average.
Outside Åre town
phone: +46 647-40177

address: Fäviken 216, Järpen

20 km into the wilderness from Åre you'll find Fäviken Magasinet, one of the world's top restaurants (Michelin star), managed by chef Magnus Nilsson. Renowned for its use of local produce and adaption to the varying seasons, it's an destination in itself.
Drink
Åre is the party hub of Sweden during the winter, and there is party 24/7, if not in one of the bars or clubs then in a cabin not far away. Many bars and restaurants are scattered around Åre Torg.
Popular spots are among others:
phone: +46 647-123 45

address: Fjällbyvägen 12

phone: +46 647-501 00

address: Sankt Olavs väg 40
Sleep
There is lots of accommodation in Åre—hotels, apartments, cabins and campings. They are heavily booked during peak season, so book in advance.
Visit Åre have a lots of lodging and accommodation available on
their website
.
Hotels
Holiday Club Spa hotel & Resort

phone: +46 647-12000

address: Årestrand

phone: +46 647-14500

address: Fjällgårdsvägen 35

phone: +46 647-15000

address: Tottvägen 111
Apartments
The Skiarea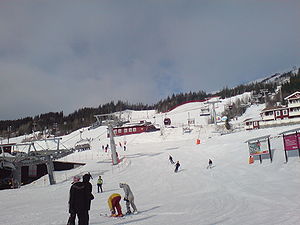 There are 40 lifts and 100 slopes in the skiarea.
Slopes:
Green: 11
Blue: 42
Red: 40
Black: 7
Night skiing: 7 slopes
Longest slope: 6500 meters
Total length of pistes: 95000 meters
Lifts:
Lifts: 40
Chairlifts: 5
Reversible Ropeways: 1
Gondolas: 1
Funiculars: 1
Surface lifts: 32
Liftcapacity: 48000 persons/hour
Mountain high: 1420
Mountain low: 372
Vertical drop: 890
Night Skiing
If you are watching the broadcasts from the World Cup competitions in Åre you probably think the races is running in daylight when in fact the sun had already set.
This is due to the superb floodlight system covering two of the best pistes in Åre, Gästrappet and Lundsrappet (serviced by the skilift "VM8"). The visibility is actually better in the floodlight than in natural daylight. There is also night skiing on other pistes as well, but the most brilliant is found at Gästrappet and Lundsrappet.
Summer
4 lifts are open in the summer as well. You can take the cabel car up to the peak and enjoy the beautiful view! Or why not eat at the highest located restaurant in Sweden: Stormköket.
Åre has the largest
zipline
park in Europe. The longest ride takes you on a 400 meter adrenaline kick above Åre's wild nature. A must for everyone who loves extreme excitement and beautiful nature. Everybody can zipline since the speed can be adjusted to age and skill.
Go next