Çatalhöyük
Çatalhöyük
is a
UNESCO World Heritage site
in
Central Anatolia
Turkey
.
Understand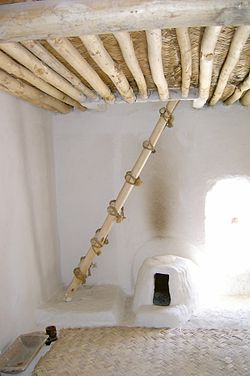 Meaning "forked mound" in Turkish, Çatalhöyük is a Stone Age (7500 BC to 5700 BC) settlement in Turkey, about an hour by car from
Konya
. Because of its age, size, and good condition, it has been of great importance to archaeologists studying the transition from nomadic tribes to settlement and "civilization." Today the ruins together with reconstructed living quarters allow tourists to get some idea of what stone-age life might have been like.
History
It was inhabited from 7500 BC to 5700 BC by between 5,000-10,000 people, making it one of the largest settlements of its era. Çatalhöyük was abandoned during the Copper Age.
Landscape
The site is located on two mounds, with an ancient ex-riverbed that was once a channel of the
Çarşamba River
running between them.
Climate
Get in
By bus
As of April 2019, there are frequent buses (min. 1 per hour) from in central Konya to Çumra Otogari. Tickets cost 7 TL one-way. It may then be possible to take one of the municipal buses of the ÇUMRA-GÜVERCİNLİK-KARKIN line (6 buses per day Monday - Saturday, timetable here). Alternatively you can take a taxi (about a 15 minute drive) from Çumra Otogari straight to Çatalhöyük for 100 TL return, including 1 hour on-site.
There is a daily minibus (Monday to Saturday) from Konya Eski Garajı, departing at noon which passes by Çatalhöyük. Look for the minibus 'Karkın Küçükköy' On your way back to Konya, it's easiest to hitchhike to Çumra first, which is the nearest major town, and then take a bus to Konya from there, which costs 5 TL. (Hitchhiking Çatalhöyük to Çumra is pretty easy, with most drivers passing by themselves offer a free lift even when you are not thumbing.)
Get around
The site consists of a small visitor center, some reconstructed housing and the two mounds that cover the ancient settlement. Each mound hosts a large shelter that contains the digs. Unfortunately, the site is not accessible to wheel chair users and the terrain would be challenging for the physically-impaired.

See
See the visitors center first and learn about the site and the ongoing archaeology, then enter the reconstructed housing and see how the people might have lived before climbing the first mound and seeing the remains of the excavated town.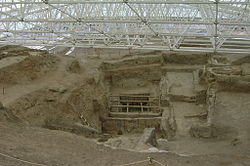 Buy
There is nothing to buy.

Eat
Bring your own food if you intend to picnic here.

Stay safe
The site is manned and secure.