Évora
Évora
is a city and a municipality in the district of Évora, in the
Alentejo
region of southern
Portugal
. It is a historic city.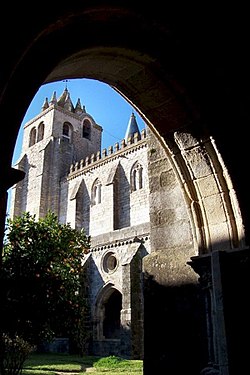 Get in
You can get to Évora in several ways:
By bus , (from Lisbon the ticket is around 10 euros for students and around 12 euros without discount )
By car (distance: 140 km, from Lisbon take the A2 by either bridge, then A6, then N114 to Évora; tolls)
By train (distance: 130 km). There are 4 trains to Évora daily (5 trains on Sundays). The trip takes 1 hr 20 min and it's a very comfortable train. The Évora train station is close to the city center (around 10 min walking). You can check the timetable of trains in the official website of Comboios de Portugal.
Get around
One of the nicer ways to see the city is by horse carriage ride. You can find them near the cathedral.
Otherwise there's no real problem in walking between most of the main sights.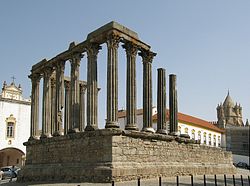 See
While there are some
Roman ruins
that you definitely need to check out, there is also the
Capela dos Ossos
(Bone Chapel), which is totally ornamented with human bones, surreal, perhaps creepy to some but a must see. Contrary to what is often said, it is not unique.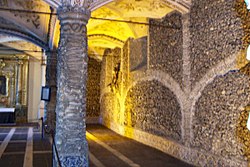 The
old aqueduct
with houses built into the arches is interesting. It is completely dissimilar from the superbly structured one at Elvas except that both seem far too much work for the trickle of water they carried.
You must visit the
Almendres Cromlech
megalithic complex, an important megalithic monument in the Iberian Peninsula. It is the largest extant group of structured menhirs in the Iberian Peninsula, and one of the largest in Europe. It's about 10 km from Évora, going by Guadalupe. Continuing along this trip, near Valverde, the
Anta do Zambujeiro dolmen
is also very unusual by its size.
In less than an hour, you can get by car to
Monsaraz
(exit via IP2 to Beja, then turn to Reguengos), a nice, well preserved walled town on top of a hill overlooking the Alqueva Dam waters. There's plenty where to sleep (cheap Bed and Breakfast and
Turismo de Habitação
, and an Inn) and where to eat. Around it are a couple important
menhirs
, one of them with engravings (
Balhoa
) and the other about 5 meters high, and a
anta
(
passage dolmen
). The Xares cromlech is a conjectural reconstruction, and was removed from its original place due to the Alqueva waters.
Do
There is a nice and big park (Jardim Público) where you can have a nice stroll.
Show yourself and see others at the Praça do Giraldo, the city's social center
Roman ruins - Templo de Diana
Évora Cathedral and Cloisters
Historic Centre of Évora - UNESCO World Heritage Site.
Évora University main building (on an ancient Convent, founded in 1559)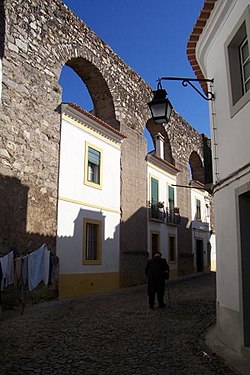 Buy
Shops are open a little later than other places in Europe, usually around 09:30-19:30, and the lunch breaks can be quite long, usually from 13:00 to 15:00.
Shopping streets
Rua 5 de Outubro: From Praça do Giraldo to Sé. It's a pedestrian street with several small shops where you can buy souvenirs and clothes. The most typical souvenirs are honey, olives, all kinds of object made by cork, home made jams, slippers made by sheep wool, etc.
Rua João de Deus: independent shops and services and known brands such as Pull and Bear, Pepe Jeans, and Kids' Class.
There are no malls in Évora.
Markets
Farmers' market, praça 1º de Maio (close to the public garden). 6AM-13PM Saturday. An out door market offering the freshest fruits and vegetables from the local farmers.
Food market, praça 1º de Maio (inside the building in the middle of the square). Every day in the morning. You can find fresh fish, vegetables, fruits, cheeses, hams, flowers, bread, meat, and other local food.
Eat
There are several traditional dishes:
Açorda
Migas com carne de porco
Carne de porco à alentejana
There are also several traditional desserts, all from conventual origin:
Sericaia
Bolo podre
Pão de Rala
Mel e Nóz
Drink

Drink and carry plenty of water especially in the hotter months (July and August, eventually September). Especially in August, do not to go out in the sun between 14:00 and 16:00, unless you are used to it.
Going in for a drink is a perfectly acceptable way of getting in to see the public areas of a Pousada.
Alentejo wines are some of the best-loved in Portugal, and there's a variety of them. Some can be quite expensive.

Sleep
The Água D'Alte Aldeia da Serra nº14, Redondo, Evora. Água d'Alte was completely rebuilt. Its location and quietness offers you excellent conditions for your resting and for nature tourism. Here you will find: two country houses (T1 + T2), plus 5 complete suites and 2 double rooms.Visit our website at http://www.aguadalte.com

Pousada de Évora - Lóios, Historic Luxury Hotel

phone: +351 266 730 070

address: Largo Conde Vila-Flor 7000-804 Évora

This luxury hotel is in the heart of historic the centre of Évora, a city classified by UNESCO as World Heritage. The Pousada de Évora, Convento dos Lóios, was built as a convent and one of Évora's most precious architectural buildings.

Pousada de Vila Viçosa - D. João IV, Historic Luxury Hotel

phone: +351 268 980 742

address: Convento das Chagas - Terreiro do Paço 7160-251 Vila Viçosa

The Pousada de Vila Viçosa, D. João IV, is set in the former Convent of Chagas de Cristo in the historical village of Vila Viçosa. Very characteristic with its intricate themed rooms, full of legends and tales.

Pousada de Estremoz - Rainha Santa Isabel, Pousada Histórica

phone: +351 268 332 075

address: Largo de D. Diniz 7100-509 Estremoz

The castle of Estremoz is the result of the restoration of the magnificent Palace that King D. Diniz built for his wife, Queen Isabel, the Saint.

Pousada de Arraiolos - Nossa Senhora da Assunção, Historic Luxury Hotel

phone: +351 266 419 340, +351 266 419 365

address: Convento dos Lóios 7041-909 Arraiolos

The Pousada de Arraiolos, Nossa Sra. Assunção, is an example of perfect harmony between the traditional and modern concepts of Portuguese architecture, adapting the austerity of a 16th-century convent to today's standards of comfort and well-being.
There are several hotels and you can get directions in the Tourist Office, which is in the main city square - Praça do Geraldo.
Casa Palma

address: rua Bernardo Matos29A

phone: +351 266 760 700

address: Quinta da Tapada Urbanizaçao da Muralha

phone: +351 266 557 142

address: Rua Direita, 15 Monsaraz

A simple family environment is a principal characteristic of Casa D. Antónia. It has one suite and six rustic double rooms, all offering air conditioning, cable TV, private bathroom with WC, and a breakfast typical of the region. It has an Alentejan patio with a garden offering panoramic views to the west.
There's a multitude of Bed And Breakfasts, though most will be fully booked during the high season.
Go next