Öland
Öland
is
Sweden
's second largest island, only
Gotland
is larger and of more importance. It lies in the
Baltic Sea
just off the coast of
Småland
, connected to the mainland by a bridge from
Kalmar
. Öland is popular among domestic tourists, many Swedes have had a summer cottage here for generations. Öland can be crowded by vacationers from Midsummer to mid-August.
Understand
Öland is rather sparsely populated, with most of the land consisting of farm land or in the north woods. Much of the southern cultural landscape is a
UNESCO World Heritage Site
: Agricultural Landscape of Southern Öland. The island is also popular for summer vacations and among
bird watchers
.
Settlements
Borgholm — Historically the major settlement on the island, with the castle and Solliden palace.
— With some 6,000 inhabitants this is the largest community on Öland. It's on the western shore of the island, facing Kalmar on the other side of the straight.
Mörbylånga — A tiny community with less than 2,000 inhabbitants.
Talk
While English is widely known by most Swedes, the level of English spoken in the country side (including Öland) is noticeably lower than, for example, the level of English spoken in Stockholm.
Most tourist information signs will be in Swedish, English, German and in rare cases Dutch and/or French.

Get in
By plane or train
The nearest airport and railway is in
Kalmar
, see that page.
By car, bike or bus
You get in by car or bus (
Kalmar Länstrafik
) from Kalmar over the Ölandsbron bridge, the longest bridge in Sweden. Biking over the bridge is prohibited, instead take your bike on the special bike buses summertime or ordinary buses otherwise, or take the ferry.
By ferry
In summertime, there's a ferry from Kalmar to Färjestaden and back, on which you can bring your bike. It runs from mid-April to mid-August, from around seven in the morning until six in the evening during weekdays. Check
Ressel Rederi
for current schedule. It costs 50 kr for adults and takes about half an hour.
By yacht
Öland is a good destination for small craft.
Get around
Public transport is limited. There is no railway on Öland. and the bus routes and bus departures are relatively few, even though the situation gets a lot better during the tourist season from the beginning of June to the middle of August. Taking the bus, however, remains the most convenient way to get around on the island, since they cover most of the island and can get you within biking distance of interesting sights and beautiful beaches. Bringing a bike would be great and convenient, as passengers are allowed to bring bikes on the buses. It's also the best way to experience the unique landscape of Öland. There are very nice biking trails along the long coast of Öland.
See
KLT
for bus connections from Kalmar and inside Öland.
See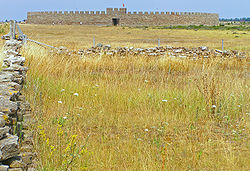 Borgholm CastleRuins of a castle burnt down in the 19th century. It is not open all year round, but you can always admire it from a distance.

Stora AlvaretThe southern agricultural landscape of Öland is a UNESCO World Heritage site. It is a unique landscape with rare species and evidence of human settlements from prehistoric times. This place is often listed as one of the must-sees in Sweden by Swedish, as well as international, travel magazines.

phone: +46 485-153 56

The summer residence of the Swedish Royal Family, it has a beautiful garden.

VIDA Museum & Konsthall

phone: +46 485-774 40

A museum and art gallery showing the works of among others Bertil and Ulrika Wallien and Ulf Trotzig.

phone: +46 485-66 20 00

An old fortification stemming from the middle ages with activities for children.
The villas in Borgholm have a lot of character, and it is rather entertaining to walk around and look at them.
The rock formations, called raukar, on the beautiful Byerum beach. These formations have been created by natural erosion over thousands of years. If you're interested in seeing more of these 'raukar' they are in fact even more plentiful on Sweden's largest island, Gotland.
The Northern tip of the island, with its lighthouse (Långe Erik), natural preserve and Neptune's fields (Neptuni ängar)
The Southern tip of the island, with its lighthouse (Långe Jan) and bird sanctuary/centre (Ottenby Fågelstation).
The only lake on Öland, Hornsjön
Do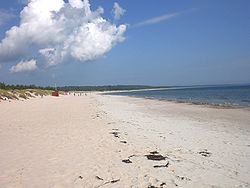 Böda SandSweden's biggest camping site with 1,350 camp sites and 125 cabins. It lies close to a beautiful beach, and its size makes it an attraction in itself. There was a reality show filmed here.

Spend a day at one of Öland's many beaches
Bike along the Öland trail (Ölandsleden), or the shorter Sweden trail (the part that runs on Öland, that is)
Spend a day or two in the beautiful town of Borgholm with its charming villas and cosy cafés. Close to the town are also the Borgholm castle and the Solliden (royal residence), which are well worth a visit. The massive castle on a hill with a stunning view of the town of Borgholm and the sea and Solliden with its beautiful architecture and gardens.
Buy pottery and other ceramics from the many skilled potters. (Paradisverkstan is one of the big, between Färjestaden and the Öland bridge. Resmo krukmakeri is also worth a trip.)
Hike on southern Öland, where there are 110 km of marked trails, some which go through Stora Alvaret. Mörbylånga kommun has maps and information on the hikes (in Swedish).

Blå Jungfrun National Park Tour

phone: +46 491 77072

address: Byxelkrok ferry harbour

Tours to Blå Jungfrun National Park, an island in the Kalmar Strait. From 1 July to 14 August.
Eat
Kroppkaka
is a Småland/Öland speciality. Smoked fish is another one.
Lufsa
, a traditional dish on Öland, is an ovenbaked cake consisting of finely grated potatoes – added cream/milk, flour, egg; served with fried salt-cured bacon (
fläsk
) and lingonberry jam. Berries are usually abundant throughout the summer and early autumn. Mushrooms are plentiful in autumn. The restaurant in Hotel Borgholm has been awarded with a star in the Michelin Guide.
Drink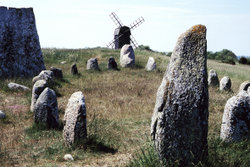 As for other vacation islands, Öland has more nightlife in summer. If you head into the larger towns, e.g. Borgholm (in particular), Färjestaden and Mörbylånga you will see a few nice restaurants and bars. The Strand Hotel in Borgholm has a great nightclub in the summer.
address: Övra Vannborga by 11, 387 96 Köpingsvik

Vineyard and destillery. Produces wine, whisky and gin.
Sleep
Go next
Kalmar is just across the eponymous strait.