Östhammar
Östhammar
is a municipality in eastern
Uppsala County
in
Sweden
. While the Östhammar town itself has a population of 4,500, the municipality has more than 20,000 permanent residents, and several more during summer.
Understand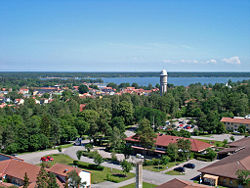 Östhammar was granted city rights in 1368 by king Albrecht of Mecklenburg, however, by that date the area was already a trading hub. By the end of the 15th century the waterway into Östhammar had become too shallow. Therefore the burghers decided to move to the nearby location Öregrund, taking Östhammars city rights with them. In 1520 Öregrund was destroyed on the orders of king Christian II of
Denmark
. As a consequence, Östhammar was repopulated, this time somewhat closer to the coast, and regained its city privileges. Östhammar is famous for the iron industry founded by the Walloons in the 17th century. By the end of the 19th century Öregrund became a popular sea-side resort.
Today Östhammar is a seasonal summer city, with plenty of people and activities during the summer months and a much quieter and calmer atmosphere during the winter. There are a lot of summer cottages scattered around the coast and on the nearby islands. The largest and most well-known of these islands is Gräsö, Sweden's 10th largest island.
Tourist office
phone: +46 173-178 50

address: Rådhustorget 1

phone: +46 173 30555

address: Hamntorget
Locations
Dannemora, a mill town
Gimo
Östhammar
Öregrund, a port
Gräsö, an island
Harg
Get in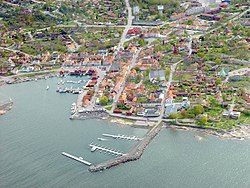 By public transport
The regional traffic is operated by
UL
. From
Uppsala
Centralstation take bus number 811 towards Östhammar/Öregrund. The journey takes about 1 hour and 10 minutes, with departures once every half daytime during weekdays, and once an hour during the weekend.
From
Gävle
, take UL bus 510 towards
Tierp
. Get off at "Skärplinge bussterminal" and transfer to bus 835. This route is not operated during weekends.
It is not possible to reach Östhammar by train.
By car
Östhammar is located by route 76 which carry traffic towards
Gävle
in the north and
Norrtälje
in the south. To reach Östhammar, make a turn in the "Östhammar roundabout".
Route 288 from
Uppsala
merges with route 76 by "Börstils kyrka", about south of the Östhammar roundabout.
By bike
Route 76 is narrow and heavily trafficated, especially during the summer, making it hard to travel by bike. "Kustlinjen", or "Skärgårdscykelleden" is a biking route following the Roslagen coast. It is clearly marked with red signs, and follow small biking paths all the way from
Stockholm
to Öregrund and Östhammar.
By boat
While there are no ferries carrying passengers to Östhammar, both Östhammar and Öregrund have guest harbors if you travel by your own vessel.
"Östhammars Gästhamn" +46 173-862 90. Depth: . Room for 15 vessels
"Öregrunds gästhamn" +46 173-865 55. Depth: . Room for 80 vessels
Get around
By public transport
Regional bus 811, operated by
UL
, traffic the route between Östhammar and Öregrund. The journey takes about 20 minutes and costs 23 kr if bought with a travel fund, 30 kr if pre-purchased and 37 kr if bought on board.
To Gräsö
The ferry
Gräsöfärjan
carry passengers, bicycles and cars between Öregrund and Gräsö. There is no fee for the trip, with departures at least twice an hour during most of the day.
See
Do
phone: +46 173-213 64

phone: +46 173-324 50

A golf course with a store and a restaurant.

KrutuddenIs a sand beach. A volleyball field and kiosk are available during the summer.
Annual events
RoslagsloppetA boat race which occurs on the first Saturday in August every year. It is one of the largest off-shore races by number of participants. The boats start by "Trälhavet" by Vaxholm in Stockholm archipelago and continues towards the goal line in Öregrund, some 135 nm north. The event is organized by Öregrunds Racerklubb during the final day of Öregrund boat festival week (Öregrunds båtfestivalvecka), and is usually the most crowded day of the year in Öregrund.
Eat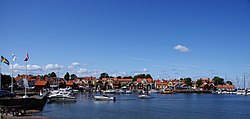 Drink
phone: +46 173-129 99

address: Norra Tullportsgatan 6

phone: +46 173-128 88

address: Drottninggatan 3
Sleep
Stay safe
Kronans Droghandel

phone: +46 173-105 53

address: Rådhusgatan 1

phone: +46 173-114 14

address: Klockaregatan 11

phone: +46 173-880 00

address: Lasarettvägen 1
Go next