Østfold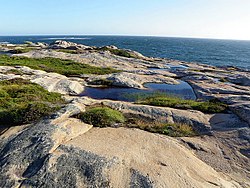 Østfold
is a county in the southeastern corner of
East Norway
. It borders
Akershus
to the north and west and
Sweden
(
Dalsland
and
Värmland
) to the east. The name means east of the Oslofjord.
Cities
Understand
Østfold is a largely a gentle rolling lowland; nowhere in this county is above 300 meters in altitude.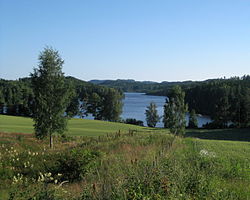 Get in
By plane
Oslo Airport, located 100 km north of Østfold. A major international airport with flights from the USA and major European cities. Use trains to get to Oslo and then to Østfold.
By train
NSB's intercity trains run hourly between Oslo and Halden. Three daily trains continue to/from Gothenburg in Sweden. Inside Østfold, they stop at Moss, Rygge, Råde, Fredrikstad, Sarpsborg and Halden.
By bus
Some buses from Gothenburg in Sweden stop at E6 near Sarpsborg and at E6 near Moss. Operators Swebus or Nettbuss.
There are hourly local buses from Strömstad in Sweden to Halden (popular among Norwegians doing shopping). Tickets by credit card onboard or prebought.
Get around
By train
By bus
Østfold Kollektivtrafikk is the company responsible for planning and for ticket sales for local buses in Østfold. Their website is in Norwegian only. Route info also on rutebok.no (also available in English).
Eat
Østfold are famous in Norway for some of its dishes:
Makrell-i-tomat, breakfast favourite consisting of mackerell in tomato sauce placed on open-top sandwich, invented in Fredrikstad
Leverpostei, liver paté in a small, yellow box is another industrial success of Fredrikstad, popular with cereal bread
Fiskesuppe, fish soup served in Engelsviken, Fredrikstad
Stallmesterbiff, horse main course from Dickens, Sarpsborg
Potetstappe, home made mashed potatoes, signature course at Rich Bar, Sarpsborg (also famous for biffsnadder, beef in small pieces)
Rosa softis, pink soft ice now served in Isi Bar, Sarpsborg, invented at a now defunct yearly festival in Mysen
Pølse i vaffel, hot dog in waffle, local speciality invented in Moss, popular football food
Purke, a local speciality in the bakeries of Halden
Go next
Cross the border into
Sweden
for cheap meat, liquor or cigarettes.