Ústí nad Labem
Ústí nad Labem
is the second largest city in
North Bohemia
and main city of Ústí nad Labem Region. This industrial city may not be one of the prettiest cities in the Czech Republic, but it is a good starting point for hiking and trips in attractive countryside.
Understand
Ústí nad Labem is situated along the banks of the Elbe, just 20 kilometers from the Czech-German border. In fact the "nad Labem" part of its name is Czech for "on the Elbe". The "Usti" means the river mouth. Its former German name Aussig is still sometimes used by Germans but may not necessarily be understood by Czechs. With a population of more than 90,000, Ústí nad Labem is the seventh most populous city in the Czech Republic.

Get in
Usti sits along the main road and rail connections between the Czech Republic and
Saxony
and is thus easily reachable for a day trip from
Prague
or
Dresden
.
By train
This may be the best and fastest option, depending on which type of train you take. It takes between 1h10min and 2h from
Prague
main train station to Usti nad Labem. The
Dresden
-Prague Eurocity also stops in Usti nad Labem as well as the Eurocity train between
Hamburg
,
Berlin
and
Budapest
. It is also possible with the overnight
Metropol
train from Budapest via
Vienna
. The main station, is located on U Nádraží. For day trips from/to Dresden the
Elbe Labe Ticket
can be a good option, especially when traveling in a small group.
By bus
From Florenc bus station in
Prague
, it takes 1h15min. by bus.
By car
the road connection between Prague and Usti nad Labem is mostly highway (D8 connecting Prague with Saxony) and it takes approximately 1h.
By plane
The closest international airports are in
Prague
(
PRG
) and Dresden (DRS) with the former having a wider selection of connections.

Get around
18 bus and 13 trolleybus lines can get you almost anywhere in the city.

See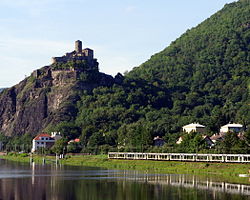 address: Na Zacházce 844 400 03

This castle ruin is an icon of Usti nad Labem.

phone: +420 475 503 421

address: Drážďanská 454/23

More than 200 species on animals including orangutan, rhinoceros and leopard.

Mariansky BridgeUnusual modern bridge over the Elbe from the 1990s

phone: +420 475 228 331

address: 403 23 Velké Březno

Kostel Nanebevzetí Panny MarieNeo-gothic church on main square in Usti nad Labem
Buy
Eat
Na RychteSmall brewery, restaurant and hotel. Excursion to the brewery possible.

phone: +420 475 210 374

address: Hradiště 96

Indian restaurant.

phone: +420 734 753 299

address: Velká Hradební 235/20

Old restaurant, existing since 1884, traditional Czech cuisine.
Drink
Na RychteSmall brewery, restaurant and hotel. Excursion to the brewery possible.
Sleep
Clarion Congress Hotel Usti nad Labem

phone: +420 270 004 200

address: Špitálské náměstí 3517

Interhotel Bohemia

phone: +420 222 500 555

address: Mírové náměstí 2442/6

phone: +420 777 322 986

address: Velka Hradebni 763/39

Pension with wifi and TV.

phone: +420 474 620 330

address: Fibichova 392

They also have a restaurant.
Connect
phone: +420 475 209 788

address: Prokopa Diviše 5

Internet cafe.
Go next
Nearby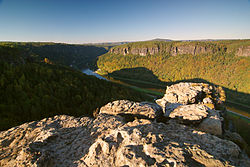 The area surrounding Usti nad Labem is good for hiking. Landscape is beautiful, with sandstone rock formations, Elbe river, mountains of volcanic origin, forests, hills and fields.