Łódź
Łódź
(Pronounced:
Wootch
) is
Poland
's third biggest city, and the capital of the
Łódzkie Voivodship
. Unlike most other large Polish cities, which have long histories, Łódź was created almost from scratch during the 19th century textile industry boom to house textile mills, their owners and their workers, and rapidly grew to become an important industrial and commerce centre. In the 1990s, the textile industry largely shut down, but the city rebounded in the 21st century due to foreign investment in IT industies.
Owing to its history, Łódź has an impressive collection of residential, commercial and industrial 19th-century architecture including some of Europe's largest factory buildings, now mostly repurposed as shopping centres or lofts. Recent local investment and a long-standing cultural scene ensures there is always something more to do than just sightseeing or shopping, with the city hosting some of the best museums and art galleries in the country. The close proximity of Warsaw and Łódź's location at the crossroads of the Polish motorway system make it an ideal destination for a day trip or longer city break.
Understand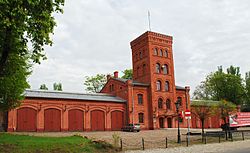 Name and history
The origin of the city's name is unknown, however, the word
łódź
translates to "boat" in English. This is referred to in the emblem and when you hear the dwellers of Łódź (
łodzianin
(man)
łodzianka
(woman)
łodzianie
(plural)) calling themselves "the boat people".
A settlement on the area of present-day Łódź was established in the 14th century and in 1423 it was granted a town charter, along with the right to have a marketplace. However, the real development of Łódź started with the industrial era at the beginning of the 19th century when the city was chosen to be the heart of the rapidly-growing textile industry. The population of Łódź soared from some 4,000 people in the 1830s and 40,000 in 1865 to over 300,000 inhabitants at the turn of the century, which was an unprecedented growth on a worldwide scale.
The rapid development of Łódź in the second half of the 19th century was brought about by the rise of enormous industrialist fortunes. New inhabitants, craftsmen and merchants came to Łódź; markets and town fairs came to life. The profits obtained from prosperous textile mills opened up practically unlimited possibilities for their owners. The city residences became expressions of the riches and power of the local tycoons. They were usually situated next to the owner's factory.
Ever since the industrial revolution brought a massive influx of workforce, Łódź had been a city almost equally divided between four cultures - Polish, Jewish, German and Russian. The day before the outbreak of World War II, Łódź was inhabited by approximately 672,000 people, among whom 35% were of Jewish faith and some 15% were ethnic German. Andrzej Wajda's movie,
Promised Land
based on a novel by the Nobel laureate Władysław Reymont, depicts those times and is a worthwhile introduction to the city's bustling history.
During the Nazi occupation, Łódź was incorporated directly into the Third Reich. The city was renamed to Litzmannstadt, and Piotrkowska Street was called Adolf-Hitler-Strasse. The Jewish community was practically wiped out, and many others lost their lives. Although the city was not destroyed in the aftermath, the material losses were serious as the machinery, raw materials and finished goods were taken away by the fleeing Nazis. The day before the liberation, about 80,000 Germans left Łódź in panic. At the beginning of 1945, the population was estimated at 300,000.
Łódź today
Since the fall of communism in Poland, Łódź has not enjoyed the rapid economic growth cities like
Kraków
,
Warsaw
and
Wrocław
have experienced, and has had to endure the fall of much of its textile industry, high unemployment and emigration (within Poland and abroad). This led to further dilapidation of the investment-starved city, and many of its streets and buildings show profound signs of neglect. At first glance, for a city of 760,000 and agglomeration of 1,428,000, there does not seem to be much to see. However, the situation is rapidly changing now with Łódź campaigning and redesigning itself as an up-and-coming destination. To accomplish this, Łódź has been capitalizing on its film history - Łódź is jokingly referred to as the "Holly
Łódź
" of Poland and hosts several film festivals and many other cultural events.
Łódź today may not have the glitz and glamour of its heyday; however, there is a certain charm to Łódź in its partially renovated façades and
leitmotivs
, not to mention its grand artistic traditions.
Orientation
The main
tourist office
is at Piotrkowska 87 Street. You should also be able to get a map and some tips at the airport.
Łódź is divided into five districts:
Śródmieście - central downtown area
Polesie - western residential area
Widzew - eastern industrial and residential area
Bałuty - northern industrial and residential area
Górna - southern residential area
Śródmieście encompasses most of the historic architecture and points of interest. There is not much for a tourist to see outside of Śródmieście and areas directly neighbouring its borders.
Get in
By plane
To travel between the city and the airport:
Public transport, buses 65A and 65B serve the airport. Read more in the public transport section.
Taxi, in front of the terminal there is a number of taxis to choose from.
The marginalisation of Łódź's own airport is due to the proximity of the
Warsaw's Chopin Airport
(WAW), which offers a wide range of European and intercontinental flights. Warsaw's other airport, Modlin Airport (served by Ryanair only), is farther away.
OKbus
offers a direct connection between Łódź and both airports.
By train
See also Poland#By train
Łódź Fabryczna is a centrally-located terminal station for domestic trains.
Łódź Widzew is a station east of the center, which handles most intercity traffic to and from Łódź. You can get there on trams number 8, 9 and 10 and many buses (if travelling by tram, you need to alight at the Rondo Inwalidów stop and walk alongside Adamieckiego street).
Łódź Kaliska is a station west of the center that, as of 2018, does not handle any transit trains and offers connections mainly to nearby towns around Łódź such as Sieradz or Kutno.
By car
Łódź lies at the centre of Poland's road and highway system. The nearby city of
Stryków
is important motorway junction, where two of the most important motorways cross each other:
The  A2   E30  runs from Berlin to Warsaw (through Poznań). The section between Berlin and Konin requires hefty tolls. An alternative is taking the former country road no.  2  .
The planned
 A8  highway to Wrocław has been downgraded in plans to  S8  expressway.

By bus

Flixbus serves Berlin, Prague, Warsaw, Wrocław, Gdansk, Katowice, Zakopane and Poznań. They offer free onboard Wi-Fi and the tickets should be bought online beforehand for the best price. Buses depart from Łódź Fabryczna bus station (adjacent to the train station).
Eurolines serves many European routes.
Small minibus and bus companies offer connections between Łódź and number of cities (big and small) around Poland. While most of these depart from Łódź Fabryczna station, there are also buses (operated by OKbus) that go to Warsaw Chopin (Okęcie) and Warsaw Modlin airports from Łódź Kaliska station. The Czech bus company Leoexpress connects Łódź Fabryczna railway station with Warszawa Zachodnia bus terminal and Młociny metro station.

Get around
The Ultimate Trams
Łódź was one of the first cities in Poland to have a tramway system in 1898 and today has one the longest tram links in Europe between
Zdrowie
and
Ozorków
(line
46
- operated by replacement buses as Z46 for the duration of track repairs).
On foot
Depending on your level of fitness, you can see the whole of the city center without needing any transport. However, for some attractions like the Old Jewish Cemetery or Botanical Garden you will be better off taking a bus.
In winter snow is sometimes not removed from the sidewalks, resulting in a mixture of snow and mud. Be sure to bring waterproof shoes if you plan to travel on foot in the winter.
By bike
A bicycle sharing system was implemented in Łódź in 2016. There are 154 bike stations available and 1540 bikes for rent. You need to register with a fee of 20zł, but if you return the bike within 20 minutes no money is charged. For more information and the full tariff, see the
ŁRP website
(available in English). Bikes are not available in the winter season.
Public transport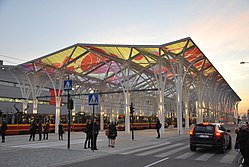 The public transport system is operated by
MPK-Łódź
(apart from two bus lines: 6 and 61, operated by other companies, but the same tickets are valid within city limits; don't mistake the bus line 6 with the tram line 6, which has the same number, but is operated by MPK). It is definitely the cheapest way of moving around the city. The descriptions on the bus and tram stops are in Polish only, but they should be easy to follow. See the
Polish phrasebook
if you feel uncomfortable. For schedules of buses and trams see also
jakdojade.pl
(available in English). Outside of the rush hour (07:00-09:00 and 15:00-18:00), the public transport is quite efficient and runs on time. During the rush hours and in winter (during snowy conditions) be prepared for some delays.
Łódź is divided into two ticket zones: inner-city and suburban (the division doesn't concern 20-minute, 40-minute and 60-minute tickets). The inner-city tickets are valid within the city borders, while the suburban ones - in the neighbouring towns and villages serviced by the Łódź public transport system (with some exceptions in the towns of Zgierz and Pabianice, which will be explained later on).
Some of the lines have variants marked by different letters. In the case of some lines there are only two of those (9A and 9B, or 10A and 10B), but with some lines there are as many as five (53A-E). Always check the timetable, where all the information is always included.
Current ticket prices for the inner city (valid from 20 October 2017)
* 20-minute ticket 2.80 zł,
40-minute ticket 3.60 zł,
60-minute ticket 4.40 zł,
day ticket 11.00 zł (valid until midnight),
5-day ticket 33.00 zł,
weekend ticket 10.00 zł (valid from F 18:00 to M 03:00).
Every ticket allows you to change the vehicle an unlimited number of times within the ticket time (waiting time at the bus or tram stop also counts, so be careful if you have a "short" ticket and a long connection). There are also reduced fare tickets (50% off the regular price), but these can be used only if you have valid documentation with yourself (e.g. a student ID of a Polish university or an ISIC card) as it will be requested during the ticket control.
Validate your ticket immediately after you enter a bus or a tram - it should be the first thing you do. It is advisable to buy tickets beforehand in numerous newspaper kiosks and small groceries. There are also ticket machines at selected spots in the city, usually near busy sites in the city centre, and these accept both cash and cards. Most of the vehicles (except those operating bus lines 6 and 61) are equipped with ticket machines, but the majority of these accept only payment by card. If the ticket machine in the vehicle is out of order and you run into ticket control, you can buy a ticket for 4.40 zł (cash only) from the controllers and avoid the penalty fee. This does not include situations in which the machine is only temporarily blocked, so the regulations leave some room for interpretation and it is a good idea to buy the ticket before boarding the vehicle. It is not possible to buy tickets from the driver.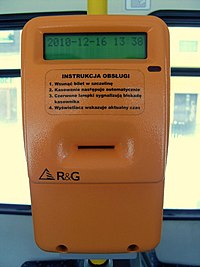 Tickets valid for longer than 24 hours are written onto an electronic card called "Migawka"; you can buy them in a few dozen
sales points
. Tickets valid for longer than 5 days are available in two versions - bearer and personal. Personal tickets are cheaper, but they must be
ordered in advance
(online or at one of 5
MPK customer service points
) and you must attach a photo.
There are also several mobile phone payment systems for buying tickets.
Callpay
uses premium numbers (there is no need to register or download any application), while
Mpay
,
Mobilet
,
Skycash
and
Unibank
all offer pre-paid e-purses accessible through a mobile phone application. Unfortunately, only Skycash offers an English website, but there is still no English application.
Travelling with any luggage (within reason) or a bicycle is free of charge. During the summer, there is a special summer schedule with a reduced number of departures for most of the lines.
All traffic info (mainly disruptions) is posted in real-time on the Facebook page
MPK-Łódź Traffic
.
By tram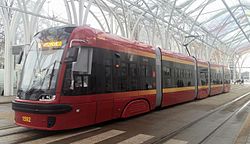 There are 18 tram lines (1-18, with variants) serving the city proper and two suburban tram lines (41 and 43). Line 10 (both variants) is served by low-floor trams throughout the day. With other lines, you are likely to find yourself boarding one of the older trams with no access for the disabled. If there is a change in the schedule (in other words, if something fails), the substitute bus lines are marked with either the Z or KZ abbreviation (for "komunikacja zastępcza" - "substitute transport"), or the number of the substituted tram. The
tram line map
is worth familiarizing yourself with first. Because of the renovations of the tram tracks, some lines have been closed and are served by substitute buses. Such long-term substitute buses are marked with the letter Z and a number, often being a number of the replaced tram line - for example Z2 for a bus substituting tram number 2 (but it's not a rule).
Tourist Tram Line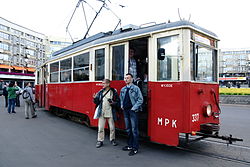 Łódź has one of the oldest tram networks in Poland, which dates back to the 19th century. One of the attractions during the summer is taking the
'Tourist Tram Line' (43)
, which goes from the area of Liberty Square in Łódź (the beginning of Piotrkowska street) through the town of Konstantynów Łódzki to the village of Lutomiersk. Łódź public transport tickets (both inner-city and suburban) are valid. You can also buy tickets from the tram crew dressed in historical costumes.
By bus
The buses are the backbone of the public transport in Łódź. Almost all of the buses are the easily accessible low-floor buses. The
bus line map
(also including trams) is worth printing and keeping in your pocket whenever you're visiting.
Night buses
There are 8 night bus lines and they serve extreme points of the city. There is no fare increase compared to other public transport services, so you can use ordinary tickets on the night lines. All the night lines have a common stop at Kościuszki/Zielona intersection and depart every hour starting at 22:30 on weekdays and every 30 minutes on weekends. Be fast to board your bus as they stand in a long line and all depart at the same time! The
night bus map
is separate from the day version linked above.
Suburban trams and buses
The public transport system of Łódź also connects the city with neighbouring towns and villages. It is divided into two zones: the inner city and the suburban zone (the division doesn't concern 20-minute, 40-minute or 60-minute tickets, which are valid in both zones and allow crossing from one to the other). The towns of Zgierz and Pabianice have their own public transport systems and their own tickets. Outside the borders of Łódź, it is important to know which tickets you should use.
The suburban tickets of the public transport of Łódź are valid in:
all the trams and buses within the borders of Łódź
all the trams outside the borders of Łódź
all the buses outside the borders of Łódź, except the local lines in Zgierz (including lines 6 and 61 that connect the town with Łódź; lines Z45 and Z46 are operated by MPK Łódź and require regular Łódź public transport tickets) and Pabianice.
The tickets of the public transport of Pabianice are valid in:
The tickets of the public transport of Zgierz are valid in:
buses in Zgierz - local ones and those connecting Zgierz with Łódź (6 and 61), but only within the borders of Zgierz
Travelling from Łódź to Zgierz by one of the bus lines: 6 or 61, you have to validate a new ticket at the border stop (marked in the timetable with a hash: #).
Travelling beyond Łódź city limits, you need to have a valid ticket for the suburban zone from the moment you cross the border stop (marked in the timetable with a hash: #). If you possess, for example, a monthly inner-city ticket for Łódź, and you are going to Pabianice by tram (41), you have to validate a 40-minute Łódź ticket (or another one that is valid in the suburban zone) at the Mały Skręt stop. Of course, you can have a suburban zone ticket for the whole journey, including the part within Łódź.
The
unified map
of both inner-city and suburban lines in the Łódź metropolitan areas is another great resource to print out and keep on your person whenever you're walking around the city.
By train
Several train stops scattered throughout the city complement the city's public transport system. Łódź public transport tickets (same as for buses and trams) are valid on all trains operated by Polregio and ŁKA (Łódzka Kolej Aglomeracyjna) companies within city limit. For long-distance trains operated by PKP Intercity you need a separate ticket. If you want to make sure your station lies within city limits, check for the name of the city in the station name (the only exception is Lublinek, which despite lacking 'Łódź' in its name still lies within city boundaries). Check the bus and tram system maps above for the location of train stations.
By car
Driving in Łódź is quite easy and the rules of the road are adhered to. Pedestrians and bicycles have a right-of-way on pedestrian and bike crossings. During the rush hour, you may expect large traffic jams on the main arterial roads (Mickiewicza, Kopcińskiego, Pabianicka, Włokniarzy, Jana Pawła II, Paderewskiego, Śmigłego-Rydza, Rzgowska, Kościuszki, Strykowska and Zgierska).
Local
and international car rental agencies (such as
Hertz
,
Avis
or
Eurocar
) can arrange a car for you when you arrive at the airport. When parking in the city center within the marked paid parking area, make sure you pay the parking fee. Depending on the parking zone, the fee is 1-1.50 zł for the first 30 min, 2-2.50 zł for the next hour, 3-3.50 zł for the second hour, 3.50-4 zł for the third hour, then 2.50-3 zł per every next hour. Parking can be paid with credit cards, coins or via CityParkApp and mobiParking parking apps. You only have to pay when you park between 8:00 and 18:00 on weekdays, and weekends and holidays are free. You may also park on a privately-owned parking lot in the center. A parking attendant will approach you then and put a piece of paper behind the wiper with the time you started parking. When leaving, you will have the pay the fee - it is usually the same as for the public parking (or slightly more).
Yearly passes can be bought at Zarząd Dróg i Transportu (Road and Transport Authority) at ul. Piotrkowska 171/173 (Tuesdays 09:30-16:00, every other weekday 08:30-15:30) or at the road and transport authority's Web site.
Taxis
Taxis are another option to consider, and are quite cheap for a westerner. However, one should be sure that there is a taxi sign atop the cab and that the driver has a permit.
9622
,
600400400
and
9191
are some of the known companies and they all have exactly same prices. You also can order a taxi via a hailing app, such as Uber, Bolt, FreeNow (former myTaxi) or iTaxi.
Rickshaws
On Piotrkowska Street, you can travel any distance on a rickshaw for 2.50 zł per person. It gets to 4.00 zł in the night and most of the rikshaw drivers will take you out of Piotrkowska if you offer to pay more.
See
Łódź is well known for its architectural monuments which form a record of the city's heritage, particularly its unique 19th century development. Since 1989, the city of Łódź has rediscovered its industrial heritage, a unique ensemble of architecture, preserved despite two world wars.
Piotrkowska streetIt is one of the longest commercial streets in Europe and one of the major attractions in the city. It runs in a straight line from the Liberty Square (Plac Wolności) to the Independence Square (Plac Niepodległości). Many pubs, bars, restaurants, and attractions are on this street.
address: ul. Piotrkowska

Being the Polish Hollywood, Łódź has its own Walk of Fame. Some of the names are Pola Negri, Roman Polański or Andrzej Wajda.
Old Market Square

address: ul. Kilinskiego 56

Was once incorporated into the Ghetto. It now serves as a venue for concerts and fairs.
The Decalogue Memorial

address: ul. Kilinskiego 56

It is a tribute to the coexistence of Poles and Jews. The memorial is close to the Old Market Square in Staromiejski Park.
Litzmannstadt GhettoThe Litzmannstadt Ghetto was the second largest Jewish ghetto in Poland after the Warsaw Ghetto. It is referred to as both the Łódź Ghetto and the Litzmannstadt Ghetto, the latter name coming from the German general who captured the city in World War I (the entire city was later renamed Litzmannstadt in his honor). The ghetto was the last one to be liquidated due to the high productivity of the slave laborers and lack of armed resistance. See Holocaust remembrance for context.
Palaces and mansions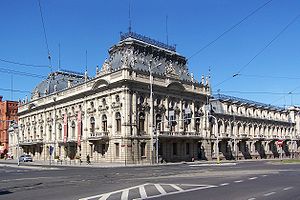 address: ul. Ogrodowa 15

A beautiful 19th-century building that was built by Izrael Poznański - a textile magnate and a philanthropist. Today it holds the Museum of the City of Łódź.

Ludwik Geyer's Mansion

address: ul. Piotrkowska 286

A classicist mansion built in 1833 by Ludwik Geyer - one of the textile magnates. It is a privately owned property.

address: Plac Zwycięstwa

Neo-Renaissance palace today hosts the Film Museum.

address: ul. Wólczańska 31/33

One of the most important examples of art nouveau architecture in Łódź. Built in 1903, it houses Łódź's Art Gallery.
Former factories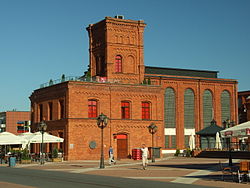 address: between Zachodnia, Ogrodowa, Karskiego and Drewnowska streets

It is the largest shopping mall in the city and occupies old factory buildings.

address: ul. Piotrkowska 282

This old factory holds the city's Textile Museum. It's next to a small lake, and is very nicely lit during the evenings.

Księży MłynA large complex of 19th-century textile factories.

address: ul. Tymienieckiego 5

It is the oldest (built in 1826) preserved building connected with textile Łódź.
Religious buildings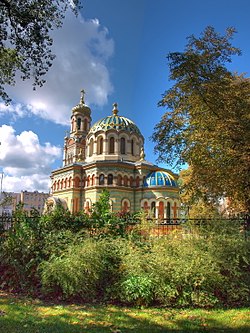 Alexander Nevsky Cathedral

address: ul. Kilinskiego 56

A rare example of Orthodox architecture in Poland.

phone: +48 42 633 45 37

address: ul. Ogrodowa 22

This is the oldest building in the city - the only one built in the pre-industry period.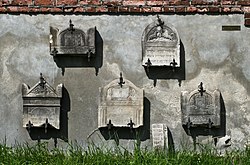 address: Entrance from ul. Zmienna

For centuries, Poland was home to the largest Jewish community in the world. Jewish people also strongly influenced the history of Łódź. This is the largest Jewish cemetery in Europe.

address: ul. Ogrodowa 43

The most important active cemetery in Łódź. Here you will find one of the most exquisite sacral buildings in Europe, the Karol Scheibler's Chapel.
Karol Scheibler's Chapel

address: ul. Ogrodowa 43

This chapel was for a long time neglected and its condition deteriorated, however, today, works are on the way to improve its past glory.
Museums & art galleries
Łódź has a surprisingly large number of museums for a city of its size and background, which strengthens its claim as a hotbed of culture and ensures there is always somewhere to go for a visitor. Most charge a small fee, though these are good value by western standards.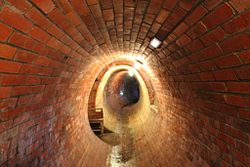 address: pl. Zwycięstwa 1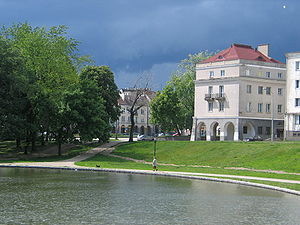 Parks
One of the "greenest" cities in Poland, Łódź is home to 34 public parks - 11 of which are natural monuments - and one of the largest city forests in Europe is within the city borders. Perhaps the most interesting ones are:
address: Between Łódź and Brzeziny

A natural landscape reservation for walks and bike rides. 30 minutes by bus line 88 from the Academy of Art. Large part of Łagiewnicki Forest is a part of this park. Small outskirt villages in the park like Kalonka, Dobieszków or Wódka are among the most prestigious locations for house development.

Łagiewnicki ForestOne of the largest forest complexes in the world that is within city boundaries. Arturówek lake is a very well known local attraction during the summer, there are also numerous bike paths there.

phone: +48 42 688 44 20

address: ul. Krzemieniecka 36/38

Largest botanical garden in Poland with some very interesting natural architecture and plant exhibitions. Enter from Kusocińskiego or Krzemieniecka Street. Open from 1 April until 31 October. For 60 zł you can hire an official guide.

address: Plac Zwycięstwa

One of the most interesting buildings in Łódź. It is in Źródliska Park. Inside, you will many unique plants. It is estimated to have 4500 plants. For 30/45 zł (depending on the ticket type) you can hire an official guide.

Źródliska Park

address: Plac Zwycięstwa

The oldest park in Łódź. In 2007 it was selected the most beautiful city park in Poland and it also ranked 5th in Europe. It is in the city center on Piłsudskiego Street. Inside is Palmiarnia Łódzka.

Józef Piłsudski Park

address: Polesie district near to City Zoo and the Botanical Garden

The largest park in Łódź. It is more a forest than a park with a few lakes and large alleys.

Poniatowski Park

address: almost along the whole length of Mickiewicza St

It is best to enter from Parkowa Street (near Real hypermarket). The park is a very popular venue for wedding photos and casual biking. There are also tennis courts there (entry from Mickiewicza Street).

Old City Park

address: Nowomiejska/Północna intersection

The Decalogue Memorial is in the park, and has an excellent view on the Old Market Square. You can play chess with the locals there.
Do
Having been primarily promoted as a centre of creative industries (arts, design, fashion), the city hosts a considerable number of cultural events throughout the year on a range of subject matter. If you are travelling not just to see beautiful architecture, but to also experience a plethora of local events, Łódź is a great place to be.
Festivals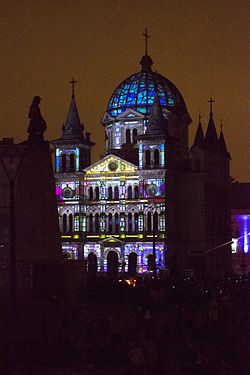 Leisure
LunaparkA popular, free theme park just outside the city.

phone: +48 42 632 75 09

address: ul. Konstantynowska 8/10

A state-run zoo (and thus relatively low in ticket prices) that hosts a wide variety of exotic animals. The giraffes and elephants are a particular highlight
Cinemas
Theatres
The city's theatre scene can be considered a jewel in its cultural crown and includes a diverse range of shows and productions.
Live music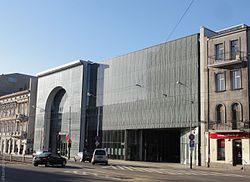 Artur Rubinstein's Łódz Philharmonic

phone: +48 42 664 79 10

address: ul. Narutowicza 20/22

Second oldest philharmonic in Poland. If you are a fan of classical music, this is a place to go. Behind the philharmonic is Kino Bałtyk.
Tango
Milongas
usually take place on Mondays in Oranżada on ul. Piotrkowska 67 and on Sundays in Klub Mojito on ul. Piotrkowska 143. They usually start at 19:00-20:00 and don't last longer than till 22:00-00:00. Several long and short
tango courses
are usually organized through the year.
Sports
Buy
The vast rate of improvements made over the past two decades mean Łódź may in fact be Poland's top shopping destination (but don't tell that to someone from Warsaw!). Whether one is in search of American-style malls, designer boutiques, dusty family stores or antique markets, there is much to be explored and it is likely you will need more than a day to experience it all!
Shopping areas
Piotrkowska Street is the main commercial street in the city. It is supposedly the longest commercial street in Europe, being four kilmometres long. There are many enticing shops selling jewelry, clothes and books.
Kościuszki Street not as famous as Piotrkowska Street, but you can usually buy the same things here and pay much, much less.
Malls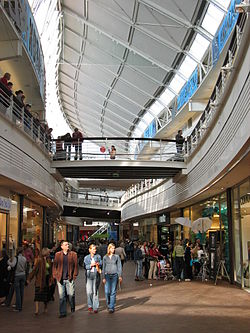 Łódź has a good number of shopping malls. The most notable are:
Markets
If you are up to buying groceries, clothes or anything else on a real market, these are the places to go:
Baluty Market

address: in the district of Baluty in the north of the city

Big open air market, every Saturday you can buy everything here from vegetables, to clothes to live pets. Not romantic, but an experience!

Dolna-Ceglana Market

address: Dolna Street

The biggest open-air vegetable market for individual people. Very often by mistake named as Rynek Bałucki - but they are two different places.

Zielony rynek

address: Plac Barlickiego

A great place to buy fresh fruits and vegetables as well as bread, meat, homemade honey and other products.

Górniak Market

address: Piotrkowska 317

A well-known market among the locals. You can buy numerous gadgets here, as well as high-quality clothes for a very low price.
Former

Lodz Car MarketThe place of the one of the largest used car markets in the country in the past, now serves as a market for cheap clothes, electronics, sweets, car parts and a bit of vintage articles. Every Sunday morning, the traffic down Pushkin street (Widzew district) near the Dostawcza street junction is blocked to accommodate the hundreds of stalls.
Clothes
You will find numerous shops offering
wedding dresses
in Łódź. This is a derivative of Łódź being once a very large textile center. The "wedding district" is on ul. Jaracza, ul. Sienkiewicza and ul. Kilińskiego, but you will also find other shops all around the city. If you buy something directly off-shelf, you may get a very good price (usually less than €250). It is cheaper if you decide to buy in autumn as it is considered to be the low season.
For groom clothes, you can visit either Ptak Trading Center, Polros or
Pawis
shop where you can get a tailor-made suit (but it usually takes a few weeks). There is also Sunset Suits and Armani stores in Manufaktura mall that tailor wedding garments. Again, if you buy off-shelf, the price is highly competitive.
phone: +48 797 892 609

address: ul. Piotrkowska 138/140

Clothes and accessories reminding of the PRL (People's Republic of Poland) times with a designer twist.
Eat
Łódź has culinary influence from all over the world and it is actually quite difficult to find explicitly Polish cuisine if you do not dine in the most expensive places. For the cheapest food, it is best to go to one of the numerous kebab or Yem joints. For something a bit healthier, you can easily get a tasty sandwich for around 6-8 zł. Polish cuisine does not have any cheap 'fast food' meals, so if you want to try something definitely Polish, it is wise to invest a bit more money and go to a splurge restaurant. They are costly only by Polish standards.
The cheaper option would be to look for a 'Pierogarnia' (or ask someone about it). There are many of such places in Łódź and they sell Polish dumplings. The price is usually very competitive.
Food shopping
The most popular hypermarkets are
Tesco
,
Carrefour
, Kaufland, Auchan or
E.Leclerc
. If you are on budget, you can go to
Biedronka
or
Lidl
. If you are prepared to spend some more money and buy some better produce, go to
Piotr i Paweł
. The last shop is 100% Polish-owned.
Budget
Da GrassoTheir big pizza is more than enough for 2 hungry people. It is a chain, so you can find their restaurants all around the city.

phone: +48 42 636 99 92

address: ul. Piotrkowska 153

Small pizzeria in the center of the city near Galeria Lodzka and Ibis Hotel. The oldest one in Łódź.

phone: +48 42 632 08 52

address: ul. Piotrkowska 80

A vegetarian fast food chain has one restaurant. They also offer free wireless access to the internet.

phone: +48 42 671 07 84

address: ul. 6 Sierpnia 1

This place is about pancakes that are served in all imaginable varieties, sweet or savory, plain or stuffed, and even baked under cheese to make them even more hearty. Prices are surprisingly low, while the interior and service reputedly good. And if you can't eat any more pancakes, soups and salads are also available.

Orfeusz

phone: +48 42 631 98 06

address: ul. Narutowicza 43

International restaurant with traditional Polish and Italian cuisine. There is also a salad bar and a big choice of dishes à la carte.
Mid-range
phone: +48 42 630-65-73

address: ul. Piotrkowska 97

Piotrkowska Klub 97 is said to be David Lynch's favorite restaurant in Łódź. Good quality food and wines. There is a Milonga Milonga w Łodzi - a tango evening in one of the halls most of Monday nights (starting around 19:30).

phone: +48 42 630 50 70

address: ul. Jaracza 45

phone: +48 42 632 00 94

address: ul. Wólczańska 51 90-608 Łódź

As the name suggests this is a Montenegrin restaurant, with surroundings fancier than the price would suggest. Great food, good wines and friendly service.

phone: +48 603 036 113

address: Piotrkowska 217

Great breakfasts, excellent hummus, very friendly service.
Splurge
Drink
Łódź is known for its excellent night scene. Nightlife is concentrated in the city center (Piotrkowska Street, Kościuszki Street and the adjoining streets). There are dozens of pubs and restaurants there. Another focal point is Manufaktura where many festivals and public concerts take place (but it usually closes much earlier).
address: ul. 6 sierpnia 1/3

Off Piotrkowska Street, it is both a shop and a pub. You can try hundreds of Polish regional beers there. Recommended for beer tasters.

phone: +48 42 632 03 76

address: ul. Drewnowska 58

A German-style brewery. They close quite early, but the beer is good.

phone: +48 42 630 69 55

address: ul.Piotrkowska 102

One of the most popular pubs, an institution! Named after the artist group "Łódź Kaliska". Decorated with pieces of art. On weekends very crowded. A must see are the women's toilets on the second floor!

phone: +48 42 632 15 34

address: ul. Piotrkowska 102

Directly opposite Łódź Kaliska lies a much more laid back and down to earth establishment. Good music and an interesting gallery of pictures on the walls provide welcome refuge from the Friday night throngs.

phone: +48 42 632 48 76

address: Piotrkowska 77

Wide selection of beers - including Guinness and Kilkenny, Irish specialties - wines and other beverages. You can eat as well as have a drink here.

Rolling Stone

phone: +48 42 633 65 41

address: ul. Moniuszki 6

A self-styled "English Pub". Here you can sit back on oak pews and laugh at caricatures of the Royal Family and Keith Richards to the sound of The Cure. Is much bigger than it looks from the outside.

phone: +48 42 630 10 05, +48 605 99 46 99

address: ul. Wólczańska 40/42

The only pub in the city that aims to integrate those who hear and those who don't. Staff people know Polish sign language. You can have a drink here as well as eat a pizza (9.5 - 27 zł), play table football, billiard or darts or use internet for 2.50 zł/hour.

address: ul. Piotrkowska 80

English pub with several British beers off the tap and more in bottles.

address: ul. Traugutta 9

Mecca for the local hipsters. Furnished with some examples of Polish design. Regular concerts of indie musicians, also from abroad.
Coffee
Coffeeheaven

address: ul. Piotrkowska 80

Coffee Heaven is nothing but a bland international-style coffee place, but it is indeed a heaven in early morning hours, when more genuine Polish cafes are still closed and keep their seducing desserts behind the windows. Expect pricey coffee, decent cakes, grilled sandwiches (best choice here), and a non-free Wi-Fi connection. Also at Aleja Józefa Piłsudskiego 15/23.

address: ul. Piotrkowska 106/110

Essentially an ice-cream cafe, Hort boasts a selection of cakes and tarts delivered from the adjacent bakery, decent choice of tea and coffee, and even several savory meals (pancakes, kotlety) served until 19:00. The interior is somewhat retro-style, while the mandatory 1 zł charge for the cloakroom is also reminiscent of old and mildly annoying traditions. Free Wi-Fi.

Kawiarnia Syrena

address: ul. Piotrkowska 66

Also known as "u Husajna" or "chez Hussein" offers good coffee, huge ice-cream desserts, milkshakes and truly international atmosphere.

address: ul. Nawrot 7

It is an artistic bookshop with books mostly in English, big range of CDs (mostly classical and ethnic music) and a small cafe. It is one of few places in Łódź where they know how to make a good macchiato. Concerts and meetings with artists are often organized in the evenings. Free Wi-Fi (ask staff for password).

phone: +48 609 511 484

address: ul. Sienkiewicza 40 and ul. Piotrkowska 200

Offers a wide selection of reasonably priced teas in very pleasant, quiet and comfortable surroundings. Indeed, after five minutes you'll soon forget that you're in Poland's second largest city.
Sleep
Łódź lacks cheap hostel accommodation, but with generally low prices for the mid-range hotels, everyone should be able to find something suiting their needs. It may be wise to choose one of the hotels in the city center as this will reduce the time you need to spend on the public transport or in taxis. Łódź is a fairly compact city, and while most attractions are in the center, you need to travel some distances to a few other attractions that are on the outskirts.
Budget
phone: +48 42 636 22 01

address: ul. Stefanowskiego 17

Central. Free Wi-Fi, free parking, newly built. Each room with cable TV LCD.

Hotel Boss Łódź
**
phone: +48 42 676 31 13
address: ul. Tatrzańska 11
TV in every room, parking free for all guests, tasty traditional food in hotel's restaurant.
phone: +48 42 674 07 36

address: al. Piłsudskiego 141

Few minutes by public transport from ul. Piotrkowska, in calm area, close to main roads. Free Wi-Fi, free parking, restaurant and pub. Each room with TV and bathroom.

Hostelling International Youth Hostel

phone: +48 42 630 66 80

address: ul. Legionów 27

The rooms are clean, but very basic in terms of amenities. The hostel hosts large groups of young children that often run around the halls screaming. There's also a curfew requiring guests to be in the hostel no later than 22:59, though its possible to come back at a later time, when arranged in advance.

phone: +48 42 66 11 888

address: ul. Sienkiewicza 61

Opposite to a small park.

phone: +48 533 533 263

address: ul. Piotrkowska 60

Very good location, free breakfast, Wi-Fi 10 Mbit/s.

phone: +48 42 658 22 39

address: ul. Okulickiego 10b

In the northern outskirts of town, right by a large forest and with a pond on site. Tram connection (25-30 min. to the centre). Has a variety of singles, doubles/twins and bigger rooms, which are all en-suite (prices start from 75 zł).

Syrenka

phone: +48 42 633 38 69

address: ul. Zachodnia 56

Cheap hotel (shared bathroom facilities). Rooms with satellite TV 10 zł extra, showers 5 zł per use.
Mid-range
Splurge
Connect
Postal service
There are numerous post offices in Łódź. The main post office is on Tuwima 38 Street in a century-old building. Do not be misguided by the name, the main post office is not open 24/7 (but the one next to Łódź Kaliska station is).
address: ul. Włókniarzy 227

address: ul. Tuwima 38
Internet
There are some Internet cafes on Piotrkowska and nearby streets and most bars and restaurants have Wi-Fi, just ask the staff. There's also free Wi-Fi in
Manufaktura
centre and at
Łódź Airport
.
PWN Bookshop

address: ul. Więckowskiego 13

You won't get coffee here but the staff is very nice and the bookshop itself has a good choice of academic books (not only). The building served a Jewish school between 1945 and 1968. Free Wi-Fi.
Stay safe
Łódź has a rough reputation among Polish people from other cities, largely thanks to well-publicized events that shocked Poland in the late 1990s and early 2000s. Today, Łódź is a safe place. Contrary to typical newcomer's fears, the crime rate is relatively low and according to statistics is much lower than in any other large city in Poland (only 39 crimes per 1000 citizens were reported in the city in 2008). Also, violent crime is very rare. Some basic advice though:
Watch out for pickpockets.
A common trick for thieves is to operate in groups and create artificial crowds on buses and trams which distract their victims' attention prior to being pickpocketed. Also, do not leave your belongings unattended and keep you wallet in your front pockets.
Do not visit the city parks after dark.
During the day you are perfectly safe, but almost all city parks are open also during the night and there have been reported cases of muggings.
Avoid the following places.
Even though the city is safe, the locals will tell that you should avoid certain places if going alone. These are: Włókiennicza Street (also a small part of Wschodnia and Kilińskiego Streets that is in the proximity of Włókiennicza), Abramowskiego Street, Solna Street and Limanowskiego Street.
Avoid displaying football-related emblems.
The hooligan scene in Łódź is quite large and very divided. You never know who you will meet, so it is safer to keep your football affections to yourself. This is especially important during the local derby between ŁKS and Widzew football clubs.
This advice holds for every Polish city.
Be careful when using pedestrian crossings.
Even though pedestrians have right-of-way on pedestrian crossings, some Polish drivers do not respect that. So please be careful and always make sure that there are no cars approaching when you decide to cross the street. This applies to all Polish cities.
Beggars
Łódź hasn't been developing residentially quite as rapidly as some other more successful Polish cities, and has some of the most deprived urban areas in Poland, but such issues are handled by the government and (especially) NGOs.
If you are keen to help, consider donating to an accountable charity, like the
Polish Red Cross
or
Caritas Polska
. If you still want to give something to a beggar, offer buying food for them (and notice their reaction).
Cope
Łódź is a safe and friendly city, very eager to receive foreign visitors. The average English level of Łódź residents is high, especially among young people. Older generations are more fluent in Russian and German. However, directions to major sights are not well-marked and you are best off with a map at hand. Do not be afraid of asking directions, as people will almost always try their best to help you! It will be very well perceived if you learn at least a few Polish words like "dziękuję" (thank you) or "proszę" (please). See the phrasebook
Polish
for more Polish words and their pronunciation.
Religious services
phone: +48 42 678 35 22

address: ul. Kopcińskiego 1/3

Synagogue

phone: +48 42 6320427

address: ul. Pomorska 18

This is an Orthodox synagogue: services are in Hebrew, women and men sit in separate sections, men are expected to have their heads covered, and everyone should dress modestly.
Consulates
Austrian consulate

phone: +48 42 652 72 12

address: ul. Klaretynska 9 91-117

Belgian consulate

phone: +48 42 630 04 33

address: ul. Gdanska 91 bud. F, 90-613 Lodz Poland

British consulate

phone: +48 42 631 1818

address: ul. Piotrkowska 89 90-423 Lodz Poland

Czech consulate

phone: +48 42 665-54-59

address: ul. M. Sklodowskiej-Curie 11, 90-505 Lodz Poland

Danish consulate

phone: +48 42 632 87 11

address: ul. Piotrkowska 89 90-423

French consulate

phone: +48 505-104-817

address: ul. Pawilonska 47, 91-487 Lodz Poland

German consulate

phone: +48 42 633 71 00

address: ul. Piotrkowska 111 90-425

Hungarian consulate

phone: +48 42 25 35 303

address: ul. Kaczencowa 10 91-214

Latvian consulate

phone: +48 42 633 97 68

address: Al. Tadeusza Kosciuszki 35 90-418

Moldovan consulate

phone: +48 42 207-30-30

address: ul. Srebrzyńska 83, 94-209 Lodz Poland
Laundries
phone: +48 42 654 34 36

address: ul. Snycerska 5

phone: +48 42 636 12 90

address: ul. Radwańska 6

phone: +48 642 07 07

address: ul. Tatrzańska 110A - pavilion 619
Go next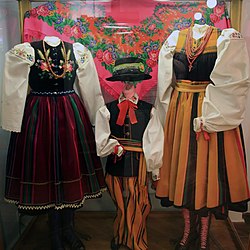 Useful for day trips:
Łęczyca, a medieval town about 40 km north of Łódź with a royal castle, knight tournaments, old churches and Festival of Film Trailers. About 1 hour by train from Łódź Kaliska bus station or by coach from Lutomierska and Zachodnia streets intersection.
Łowicz is famous for colorful regional costumes and folk art. It is about 60 km north-west of Łódź (about 1 hour 15 minutes by train or bus from Łódź Kaliska station). Boasting rich history, Łowicz also houses the old residence of Polish archbishops, numerous churches, monasteries and museums.
Nieborów has a splendid baroque palace with a large park, and is close to Łowicz.
Arkadia is an English-style, large romantic park with artificial ruins. To get there, first go to Łowicz and then take a bus (PKS) in the direction of Skierniewice that stops in Arkadia and Nieborów.
Inowłódz is a small village south-east of Łódź, just beyond Tomaszów Mazowiecki. There is a famous, almost 1,000-year-old church there.
Spała is a village right before Inowłódz. There is the Spała Landscape Park and the village is known throughout Poland for its spa resorts and luxurious hotels.
Large cities nearby:
Warsaw, the capital of Poland, with much to offer to any type of tourist. The fastest way to get there is to take the train from Łódź Kaliska or Łódź Widzew station, or travel by car or coach over the A2 highway that connects both cities.
Poznań, one of the largest cities in Poland and home to the country's oldest cathedral. It's about 200 km west by same A2 highway.
Toruń is one of the oldest Polish towns and the birthplace of Copernicus. It's about 160 km north of Łódź by A1 highway (a half of it still under construction).