Łańcut
Łańcut
(pronounced:
Wine-tsoot
) is a town in the Polish part of East Galicia in the outskirts of
Rzeszów
.
Get in
By plane
The closest international and domestic airport is Rzeszów-Jasionka Airport near
Rzeszów
, about 25 km from Łańcut.
By train
From Rzeszów city centre, you can take either train or coach (bus). Travel time equals 20 and 30 minutes respectively. The
Łańcut Railway Station
is out of town centre and you have to walk about 2 km to the centre. You can find also bus stop about 200 m from railway station and take a bus to the city centre. Train tickets start from 5.30 zł for the slowest (ordinary) train (normal ticket, 2nd class).
By bus
A more convenient way is to take a bus from Rzeszów. There are two main bus stops when you can catch the bus.
From Central bus station ('Dworzec Autobusowy' or 'Dworzec PKS') - it is located just next to the railway station. Buses are operated by private companies. The cheapest tickets are offered by local carriers,
Veolia
and
PKS Leżajsk
- about 3 zł (may differ in peak hours). Some buses terminate in Łańcut (Łańcut 'Dworzec PKS'), but many go further with stop in Dworzec PKS, so you can take also these ones (say to driver 'Łańcut' and if it runs through this town, the driver will sell you a ticket). Buses depart in Rzeszów from stand nr 6 and 7. They usually stop at all bus stops on the way from Rzeszów to Łańcut.
You can also take one of the private carriers from the bus stop near famous Rzeszów monument - Revolution Act Monument. Buses departs from the same bus stop as local city's buses (the yellow ones). There is a number of bus carriers:
Guliwer
,
Pola
and others. They terminate at different location (Łańcut, Leżajsk, Przeworsk, etc.), but all stops in Łańcut. Travel takes also 30 min and costs also around 3 zł. Connection may be served either by typicl buses or smaller vans (look for carrier's brand on the bus and sign with destination marked usually on windscreen). In most cases, buses from here stop in different bus stop in Łańcut than for PKS buses. They stop in other bus station called by locals 'Ruski Rynek' (Russian Market) at Cetnarskiego Street.
The bus stations and railway station are located in different places in Łańcut, so it inconvenient to change the bus/train which departs from different station. The is very close to the town centre, all highlights can be reached easily on foot. 'Dworzec Autobusowy (PKS)' has waiting room and bar, while next to 'ruski rynek', there is a market with clothes and food stalls.
Full timetable (covers almost all carriers):
e-podróżnik
You can also go to Łańcut by long-distance buses. Check the section 'Get in by bus' in
Poland
.
By car
Łańcut is 17 km from
Rzeszów
, so road connections are almost the same.
In Łańcut you can find car parking free of charge and paid.
Get around

By foot. There is no public transportation since Łańcut is rather small and cosy town. If you need, you can find local buses (which operates to/from villages nearby) departing from both bus stations. For example, if you want to travel from town centre to the railway station, look for buses going northbound (to Leżajsk, Rakszawa, Żołynia, Białobrzegi, Wola Mała/Dalsza etc.) and get off the bus near railway station.
The Tourist Information Centre is in PTTK, ul. Dominikańska 1 (+48 17 225 31 84)

See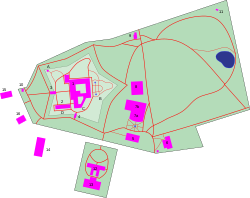 Łańcut Castle and ParkThe castle is undoubtedly the main site of interest in Łańcut. The complex consists of multiple buildings and is surrounded by a park which is well taken care of.

Market SquareSurrounded by old tenement houses (from the 17th century) and small park (Planty).

address: ul. Kolejowa 1

It was established by Łańcut distillery, presents the history of vodka and its production in Poland and houses old distillation equipment and facilities as well as a vast collections of vodkas, bottles, labels, photographies and furniture. The visit is only possible upon earlier reservation (at least 5 days in advance by phone, email or traditional mail). Maximum number of people per group is 20. Museum can be visited rather during weekdays, however you may ask to be certain. Cost per person: around 15 zł. The guided tour is only in Polish, so you need to hire an interpreter or find someone willing to translate the tour.

Synagogue

address: Zamkowa

From 1761 - although plain on the exterior, the interior walls and ceiling are decorated with restorations of paintings and stuccowork from the 18th century and polychromies from the 19th - 20th centuries.

Parish Church

address: Farna 20

This church goes back to the 15th century and was rebuilt in 1884-1900.

Parish Cemetery

address: ul. Mościckiego

Built in 1862 which accommodates also graves and pedestals of soldiers who perished during First and Second World War.

Soviet CemeteryThis cemetery serves as the final resting place for Soviet soldiers who perished in the First and Second World War.

Jewish Cemetery

address: ul. Moniuszki

The Jewish cemetery of Łańcut was founded in the 17th century and houses grave of Hawtali Horowitz, the famous Tzadik.
Do
Buy
Buy Polish vodka! Łańcut has its own distillery , which produces different vodkas (Biała Dama, Łańcut, Polonaise), liqueurs (egg, chocolate, almond, coffee, cherry, etc.) and rosolis (35-40% liqueur: rose, coffee, herbal) .

Eat
Some supermarkets such as Biedronka or Lidl can be found at ul. Józefa Piłsudskiego.

Sleep
phone: +48 17 225 45 12

address: ul. Dominikańska 1

49 places in dorms and privates without bathrooms. Kitchen available.

phone: +48 17 225 26 71

You can sleep in the palace, There is a budget option with doubles and three bed rooms (with bathroom on the corridor) for 40 zł a bed; more expensive rooms around 70 zł a bed, breakfast and parking included, and four-room suites located in a tower for 280 zł.
Go next
Jarosław, Przemyśl and Leżajsk are in the area as well as plenty of small and beautiful villages (always served by bus, check the timetables mentioned above).
In the nearby village of Markowa (9 km southeast) is a beautiful open air village museum (Skansen) which may be an interesting activity when the weather allows.