Říp
Říp
is a solitary hill and a small nature reserve in Czech Republic, at a border between Central Bohemia and North Bohemia. It offers a good chance to hike and to have a nice view from the hilltop, but it is mainly known because of its historical and traditional importance to Czech people.
Understand
You can see Říp rising above surrounding flat from many places in Bohemia, including the country's tallest mountain Sněžka and numerous elevated locations in
Prague
. That is one of the reasons why Říp has come into local legends and is considered as something as "national mountain" to some Czech people.
History
According to Czech legends, the Czech nation was established on Říp. The legend says that forefather Čech (
praotec Čech
) led a Slavic tribe of Czechs from eastern lands. Here they ascend Říp, and on top of it, he saw the beautiful country good for settlement and pronounced it the land of Czechs.
Landscape
Říp is a former volcano, or, more exactly, former inside of a volcano (last eruption circa 50 millions years ago). As such, the hill is quite steep with flattened top. It rises 200 m above the surrounding area, the total height above sea level is 455 m.
Flora and fauna
Říp is covered by trees which sometimes hinder possible views, although historically it has been woodless. On places where are no trees, you can see various thermophilic plants. Stag beetle, Europe's largest insect lives here - it can grow to up to 10 cm in length. It usually inhabits old or dead trees, so look for these if you want to see it.
Climate
The climate here is the same as in the rest of Czech Republic, Říp is not tall enough to have significantly different climate. You can climb it any time of year.
Get in
By train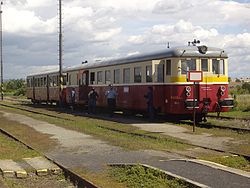 The closest railway station is the
Ctiněves railway staion
, which is 2.6 km by walking from the hilltop. Another useful station is
Mnetěš railway staion
, which lies 3.8 km from the hilltop and lies on the same railway as Ctiněves, but using these two, you will not have to walk the same way there and back. Either way, you will have to change the train in Vraňany, if you going from Prague or Ústí nad Labem. From Prague, the journey takes 83 minutes and cost 78 Kč. Use
IDOS
to find a timetable.
By bus
The nearest bus station is in Ctiněves, next to the railway station. The buses go from
Roudnice nad Labem
, so you would have to change from train or bus there if going from further away.
By bike
Říp is doable as a bit challenging one-day trip from Prague. The surrounding terrain is flat, but the ascent up the hill is difficult on bike, you have to have strong legs, or walk the bike for the last kilometer. From Prague and back, it is around 80 km. If you do not want to bike 80 km, you can take you bike on train, ride the train to Kralupy nad Vltavou and ride the bike from there. Use
mapy.cz
in outdoor mode to find suitable roads for bike.
By car
If coming by car, there is a paid parking lot in Rovné, from where it is 2 km to the top. You can also in Ctiněves. The road all the way up the hill from Rovné looks tempting, but it is forbidden to use it.
Fees and permits
No fees are collected for climbing the mountain. There is a road all the way to the top, but private cars are not permitted on the road.

Get around
Cars are forbidden on the hill, so you will have to walk or bike. The only suitable road for bikes is the one from Rovné, the others are just footpaths between rocks.

See
phone: +420 724 663 757

One of the oldest still standing buildings in all Bohemia, build probably 1039 in Romanesque style. Also a pilgrimage site, the interior features ancient statues and wall paintings

Roudnice outlookAs Říp is forested, you will have to walk around outlook places to see something from it. Each of them is named after town it faces.

Mělník outlook

Prague outlook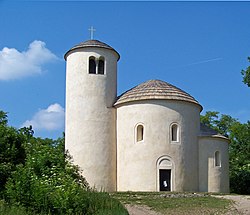 Do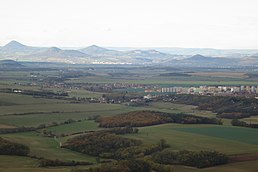 Because of its statue is "Czech national mountain", Říp or the villages around are a common place for different events.
New Year's Hike. It is quite popular to climb some or hill on New Year's Day among Czech people (those who do not suffer from hangover). Říp is one the main targets of such hikes, so there is usually a lot of people at 1 January.
Buy
During summer and when some events are taking place here, various souvenir stands are present. Otherwise, some souvenirs are sold in the restaurant on the top of the hill.

Drink
You can visit listed "Eat" places for a cold beer.
Eat
There is only one option to eat on the top of the hill, but you can also get some food in the surrounding villages.
phone: +420 739 505 681

Small restaurant right on the top serving reasonably priced meals, snacks and souvenirs. It is closed if the owner decides the weather is too bad for tourists to come.

Hostinec Pod ŘípemRestaurant in Rovné, the same village as the parking lot.

Hostinec u Praotce ČechaIt is in Ctiněves, the village with railway station
Sleep
There are no lodging options on the hill itself, nor it is possible to wild camp there, due to the steep terrain. You can however find accommodation in surrounding villages or go to Říp as a day trip from Prague.
phone: +420 774 935 791

The only accommodation in Ctiněves village. They have 13 beds in three rooms.

phone: +420 739 505 681

Large guesthouse in Krabčice village
Stay safe
Trying to ride a bike down from Říp other road than the paved one can be really dangerous.

Go next