Świętokrzyskie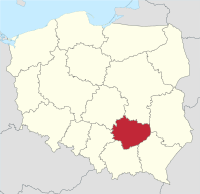 Świętokrzyskie Voivodeship
(
Polish
:
województwo świętokrzyskie
) is a voivodeship in the south of
Poland
.
Cities
— the biggest town with the Baroque Kraków Bishop Palace and Renaissance castle gardens
— a spa resort in the south of the voivodeship
- a small town with the ruins of a medieval castle
— gothic town
— medieval and renaissance town on the Vistula river
– here you can see old industrial heritage
Other destinations
Understand
The
Świętokrzyskie
region of Poland boasts a vast land of unspoilt nature, picturesque hilly landscapes, health resorts and spas as well as numerous monuments of historical interest that date back to prehistoric and medieval times.
The Holy Cross Mountains are one of the oldest on our planet, with beautiful jura caves, e.g. the Paradise Cave, and numerous fossils. Świętokrzyskie is also one of the oldest heritage of Poland with its center in
Wiślica
. In the early Middle Ages Świętokrzyskie was part of
Lesser Poland
which was the most important part of Poland after the Polish capital had been moved from
Gniezno
to
Kraków
in 1040. After 1138 Świętokrzyskie became a duchy with the capital in
Sandomierz
, but later was again reunited with Lesser Poland and subsequently at the beginning of the 14th century it became a part of the Kingdom of Poland. Great castles and palaces were built in this region during the Polish-Lithuanian Commonwealth period, and Sandomierz was one of the richest cities due to the flourishing Vistula trade route. After the Third Partition of Poland in 1795 most of its territory was annexed by Austria, but became independent as part of the Duchy of Warsaw between 1807-1815. After the Congress of Vienna it became part of the Kingdom of Poland, ruled by the Russian Tsar. After the WWI Świętokrzyskie became part of the Second Polish Republic, but was occupied by Nazi-Germany between 1939 and 1944, when it was part of the German so-called General Government. After the World War II it again became part of Poland.
Get in
By plane
There is no international airport in Świętokrzyskie Voivodeship. The nearest airports are
Warsaw
's Frederic Chopin Airport (
WAW
), Kraków's John Paul II Balice Airport (KRK), Katowice's Pyrzowice Airport (KTW), Rzeszów's Jasionka Airport (RZE) and Łódź's Lublinek Airport (LCJ).

Go next
Świętokrzyskie Voivodeship
borders six other
Polish
voivodeships: