Şirince
Şirince
, formerly Kirkince or Çirkince, is a village nestled on the hills in
Central
Aegean Region
,
Turkey
. It is a small village which is famous for its wine and houses. Sirince was a Greek village before the Turkish Independence War. In 1923, Turkish and Greek governments exchanged the populations. Greek government exiled the Muslims of Greece to Turkey, while the Turkish government exiled Greeks of Turkey to Greece. Şirince forms the setting of
Farewell Anatolia
, by Greek writer Dido Sotiriou's—a native of Şirince. It depicts the events of the Greco-Turkish War of 1919–1922 through the eyes of a fictional character from Şirince.
Şirince today is very popular with Turkish tourists, especially on weekends.
Get in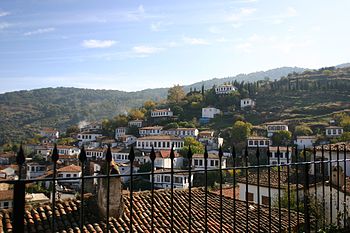 From
Selçuk
town (8 km away from Şirince), you can take minibuses to the village, which cost 3 TL. There is a minibus at every hour towards both directions.
Get around

==See==
Sirince's local architecture, which nowadays is under legal protection, is well preserved. Some of the houses of the village are restored to their former glory, while some others are on the edge of dilapidation. The village is quite a heaven for the photographer.

Do
Apart from the historical background of the village, there are fantastic valleys to walk around. Olive groves, peach gardens, vineyards. It's Turkey's
Tuscany
.
Buy
Wine, handicrafts, olive oil.

Eat
There are planty of restaurants in the village with reasonable prices. They serve local specialties and grilled meat.

Drink
You can find alcohol in every restaurant. Every house, on the other hand, makes its own wine. In addition to homemade (grape) wines, Şirince is also well-known for its fruit wines made of apple, berries or more unusual types such as myrte. All through the village are shops where you can put your wine tasting skills to the test.

Sleep
Several hotels and bed and breakfasts, mostly in renovated village houses, ranging in price from very basic to luxurious. Also
Gül Konakları
and
Kırkınca Pension
.
phone: +90-537-831-82-97

They also have a restaurant across the street with meals in the range of €5-7 available, open 09:00-22:00.

phone: +90-533-207-12-04

It's an education institution, who is owned by Ali Nesin. They offer 4 meals a day, electricity, hot water all included in the price.