Šiauliai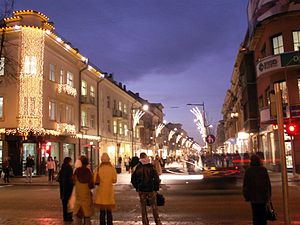 Siauliai
is the fourth largest city in
Lithuania
, with a population over 100,000. It is one of the oldest cities in Lithuania, considered to have been established in 1236. It is nicknamed Sun City (
Saule
means Sun) after the Battle of Saule (Battle of the Sun) that took place somewhere near here in 1236.
Get in
You can get to Siauliai by train or by bus from most other cities in Lithuania. The schedules for buses you can find from
Autobusubilietai.lt
and railways from
Litrail
.
Get around
Siauliai is not a big city, so you need no more than buses or just your own feet. Local bus schedules could be found at
Busturas.lt
You can also use taxi, taxify and uber at the city.
By bus
UAB Busturas
(+370 41 59 20 00) operates 37 routes that cover the city 05:00-23:00. The schedules are placed at the bus-shelters. You can also check schedules at website or app
trafi.lt
Single tickets are sold in the buses (€1,7). E-ticket card are to be bought in the bus station at Tilžės str. 109. Price of a single trip – €0.49 (Nov 2017).
By taxi
Price for 1 km is €0.70-1.50 (Nov 2017). Tel: 1400, 1444, 1453, 1456, 1458, 1459, 1491, 8 700 55999. You can also use mobile application Etaxi.lt
See
The 7 Objects of the SunSolar Disks fountain, Sundial Square, Monument to the Battle of the Sun in Salduve Park, Cockerel Clock Square, Stained Glass Window commemorating the Battle of the Sun in 1236, "Dawn" sculpture, Cathedral of the Apostles St. Peter and St. Paul

St. George's Church

St. Ignatus' Church

Saints Peter and Paul's ChurchOf the Orthodox parish.

SculpturesThere are small sculptures and fountains all over the city: Sculpture "Three Birds", Fountain Rude, Sculpture "Pelicans", Sculpture "Motherhood", Sculpture "Three Trolls", Sculpture "A grandfather with his grandchildren", Sculpture "A reading man".

Bicycle Museum

address: 139 Vilniaus street

Cat Museum

address: Žuvininkų 18

Photography Museum

address: Vilniaus Street 140

Radio and Television Museum

address: Vilniaus 174

phone: +370 69474249

address: Ausros Al. 48, Siauliai 76236, Lithuania

Angel's museum was opened in September 6, 2014 for Šiauliai inhabitants and its guests. Non – governmental museum exhibits a collection of angels which has been gathered by Rytis Milkintas for more than ten years.
Hill of Crosses
The Hill of Crosses (
Kryžių Kalnas
) 12 km north of Šiauliai is a national centre of pilgrimage. Standing upon a small hill are many hundreds of thousands of crosses that represent Christian devotion and a memorial to Lithuanian national identity. Over the centuries, the Hill has come to signify the peaceful endurance of Lithuanian Catholicism. After the 3rd partition of the Polish–Lithuanian Commonwealth in 1795, Lithuania became part of the Russian Empire.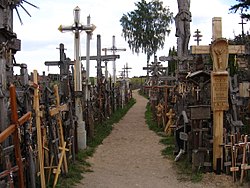 Poles and Lithuanians unsuccessfully rebelled against Russian authorities in 1831 and 1863. The two uprisings are thought to be connected with the contemporary use of the hill as a religious site. When families could not locate bodies of perished rebels during the uprisings, they started putting up symbolic crosses in the location of a former hill fort.
The city of Siauliai was founded in 1236 and controlled by Teutonic Knights during the 14th century. The tradition of placing crosses seems to date from this period and possibly rose as a symbol of Lithuanian defiance toward foreign invaders. Since the medieval period, the Hill of Crosses has represented the resistance of Lithuanian Catholicism to oppression. In 1795, Siauliai was incorporated into Russia but was returned to Lithuania in 1918. Many crosses were erected upon the hill after the peasant uprising of 1831-63.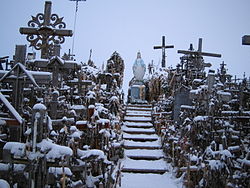 The region was occupied by Germany during World War II and Siauliai suffered damage when Soviet Russia retook it at war's end. The Siauliai region was a part of the Lithuanian Soviet Socialist Republic from 1944 until Lithuania's independence in 1991. During the Soviet era, the pilgrimage to the Hill of Crosses became an expression of Lithuanian nationalism. The Soviets repeatedly removed the crosses placed on the hill by many nationalistic and Christian Lithuanians.
In 1961, 1973 and 1975 the hill was cleared and the crosses were burned or turned into scrap metal with the area being covered with waste to discourage further similar activities at the site. On each occasion the local inhabitants and pilgrims from all over Lithuania replaced the crosses on the hill.
The hill is visited by many thousands of visitors and pilgrims from all over the world each year. The number of crosses was estimated at 55,000 in 1990, and by 2006 the number had grown to an estimated 100,000. Diverse styles, designs and sizes are represented among the crosses. Some are carved out of wood, others sculpted from metal. The crosses range from 3 m tall to countless tiny examples hanging upon and about the larger crosses.
On 7 September 1993, Pope John Paul II visited the Hill of Crosses, declaring it a place for hope, peace, love and sacrifice. In 2000 a Franciscan hermitage was opened nearby. The interior decoration of this monastery draws upon La Verna, the mountain where St. Francis received his stigmata.
By car, take the A12 road, toward Joniskis; Ryga. After the roadsign "Kryziu Kalnas - 2 km", turn right.
By bus: From Siauliai bus station, Joniskis direction. Leave the bus at the Domantai stop.
300 m away from the hill is a Christian monastery. It has 16 cells. This monastery serves as a novitiate of the Lithuanian Franciscan province of St. Casimir but is also open to the pilgrims who may look to it for silence and peace. This hermit of the Franciscan Brothers was consecrated on 7 July 2000.
Eat
Senasis SodziusThis is the best place in Siauliai to try traditional Lithuanian food. Service is nice and very fast. Prices are quite low and food quality is great. It is not a big place, but it is very popular, so better avoid coming in lunch hours. Even if you do come in lunch hour, do not be scared of long line there - service is so fast that this you won't need to wait long.
Sleep
phone: +370 41 520812

address: Vasario 16-osios g. 40

Upscale hotel in central Šiauliai. Rooms have TV, minibar and safe. The hotel has a restaurant and conference facilities.
Go next