Žabljak
Žabljak
is small town in northern
Montenegro
, and is the centre of Montenegro's winter tourism.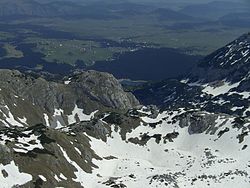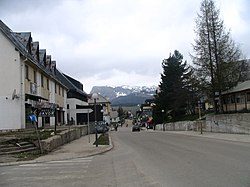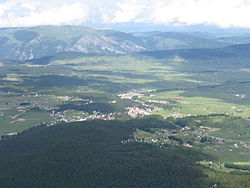 Understand
Žabljak is the largest town around the Durmitor, a high mountain in northern Montenegro (2,522 m). Žabljak is the town with the highest elevation in the
Balkans
at 1,450 m above sea level. The town of Žabljak and the whole municipality (including Durmitor, Sinjavina, and the Tara Canyon) offer breathtaking mountain landscapes and plenty of opportunities for both winter and summer sports.
The town itself (with some 2,000 inhabitants) offers a handful of restaurants and cafes. A one day visit to Žabljak might be enough for moderate outdoor enthusiasts who simply want to see the Tara Canyon and Black Lake, while enthiusiasts of treking, hiking, rafting, canyoning, and skiing will enjoy longer stays.
Get in
By plane
Podgorica
, and its international airport, are some 170 km away, 2h 15 minutes. There are several daily flights from
Belgrade
. There are regular flights from
Budapest
,
Zurich
,
Frankfurt
,
Ljubljana
,
Paris
,
Rome
,
Milan
,
Vienna
and
Istanbul
.
Another airport that might be taken in consideration is
Dubrovnik
, across the border with Croatia.
By taxi
Travelers can hire a direct taxi transfer from Podgorica airport to Žabljak for 70 Euro. Travel time is approximately two hours and can be reserved in advance through taxi companies such as
Taxi Montenegro
. A taxi is a wise option for travel groups of 2+ since bus timetables are not always convenient.
By bus
Bus Station

phone: +382 52 61 318

address: Vuka Karadžića st.
Bus schedule as of May 2014:
Žabljak-
Nikšić
-Podgorica: 11:45-13:30-14:30; 15:30-15:00-16:12; 18:00-20:20-21:45
Žabljak-Podgorica: 05:40-07:15; 07:20-09:40
Žabljak-Nikšić: 07:15-09:00; 11:40-12:30; 16:10-17:45; 17:00-18:25
Žabljak-
Pljevlja
: 08:30-10:00; 11:00-12:20; 12:30-13:40; 14:00-15:15; 14:45-16:00; 17:10-18:00; 19:00-20:40
Žabljak-
Belgrade
: 14:00-23:30 (every second day)
Žabljak-Belgrade-
Novi Sad
-
Sombor
: 11:00-20:00-21:20-23:10.
Arrivals to Žabljak
:
Podgorica-Nikšić-Žabljak: 05:45-07:00-08:30; 13:50-15:00-17:00; 15:57-17:20-19:00; 16:50-18:00-19:30
Podgorica-Žabljak: 12:00-14:30; 14:38-17:00
Nikšić-Žabljak: 07:00-08:30; 09:45-11:15; 11:00-12:30; 11:50-13:30; 15:00-17:30; 16:20-19:40; 18:00-20:15
Pljevlja-Žabljak: 03:40-04:30; 06:45-08:50; 10:00-11:30; 15:15-16:30; 15:30-17:00
Belgrade-Pljevlja-Žabljak: 23:30-06:45-08:50
Sombor-Novi Sad-Belgrade-Pljevlja-Žabljak: 04:45-06:30-08:00-15:15-17:00
As of September 2014, there are two buses to
Kotor
, via Nikšić. One bus leaves at 11:30, the other leaves at 17:50. It is best to check the bus schedule upon arrival to Žabljak to verify current bus timetables.
By car
You can get to Žabljak either by departing the road from the coast to
Serbia
at
Mojkovac
or take the route Podgorica -
Šavnik
- Žabljak, the first route being the higher quality road. Either way, those are curvy, mountainous roads that do not permit high speeds and require additional caution. During the winter, when whole area is covered with snow. Those unfamiliar with local roads should let someone more experienced drive them to Žabljak.
By train
The nearest railway station is in
Mojkovac
71km far away from Zabljak, and it's on the Belgrade-Bar railway line.
Other nearby train stations:
Nikšić
,
Podgorica
,
Prijepolje
(Serbia).
Get around
Žabljak is a very small town, so everything is within walking distance. You can get to some of the lakes around the town only by foot. However, some chairlifts, skiing pistes, etc., are reachable only by car.

See
Eyes of the Mountain - any of the 18 glacier lakes on Durmitor mountain.
Black lakeThe biggest, most beautiful lake in the area, and the closest to Žabljak.
Tara Canyon - deepest canyon in Europe, second deepest in the world, right after Arizona's Grand Canyon. It figures on UNESCO World Heritage List. Some 20 km east of town.
Do
Skiing - Durmitor's snow cover lasts 120 days per year and its best slopes are Savin kuk, Štuoc and Javorovača. Savin kuk has two chairlifts, a ski lift, nursery lift and a ski service. Savin kuk slope is 3,500m long. Štuoc is somewhat shorter (2,600m) but very exciting, and Javorovača's 800m are perfect for those preferring short runs. The Nordic skiing tracks are 3 to 12km long.
Snowboarding is increasingly popular in recent years, as many enthusiast gatherings and competitions are being held at Durmitor.
Rafting - 1.3km deep Tara river canyon offers unforgettable rafting experience. You can go rafting by boat or a wooden raft down the 100km of the most beautiful and exciting part of Tara. The usual route is from Splavište down to Šćepan Polje, and in between you can see Ljutice Falls, the 165m high magnificent Tara bridge, an old Roman road, and Lever Tara. The scenery at Tepački bukovi, Sušica canyon, Bailove sige, and Brstanovića bukovi is breathtaking. During the river trip, either dinner or lunch is served in natural scenery on the river banks. Rafting tours can also start at Radovan luka or Brstanovica. There is a couple of travel agencies offering rafting tours. Half-day tour costs 40-50 euro, you it is strongly suggested to book the tour one day ahead. Full day is 100 euro, and you must have a group of at least 4 people.
Mountaineering - Durmitor has perfect conditions for this sport, as cliffs and slopes are abundant. There are many well marked routes taking you high in to the mountains.
Cycling - from the lake to Žabljak and numerous other paths are great for this type of recreation. Paths around the Crno Jezero (Black Lake) can also be done but they are not well suited to this due the hilly terrain and the rocky surface of the trails. A one day mountain bicycle rental costs ~10 Euro. However, the bicycles are not always in the best condition. It is best to check the bicycle before biking away from the shop.
Hiking anywhere around the town, exploring the wilderness.
Hiking routes
The usual and the most visited one is to go around the Crno Jezero and then Malo Jezero adjacent to it. Allow 1.5 hrs for leisurely walk.
There are a few trails starting at Crno Jezer that leads to several other lakes. Beware that anywhere except summer time it can be covered with snow so you'd need a proper shoes. As an example there is a hike to Zmijino Jezero which is about 1.5 hrs one way. Also there are a few paths going there so no need to return the same way.
A few peaks can be conquered, and those are pretty exhausting although rewarding hikes. E.g. hike to Bobatov Kuk Peak which can take up to a full day (at least 5-6 hrs one way). It's possible to get to the peak from the village of Sedlo, and it's a much easier option as the starting point is much higher than Crno Jezero, after traversing the mountain go down to Crno Jezero.
A few climbing routes available which would require special gear.
One of the forks from Crno Jezero is a hike to Ice Cave (Ledena Pecina). Starting at the western part of the lake, it can take up to 4 hours steep climbing one way. Please note, it's all melted during summer time.
Buy
Žabljak is not really a shopping resort. It is, however, the right place to buy genuine Montenegrin food.

Eat
Žabljak has some excellent local cuisine restaurants. Notably, there is "Katun" restaurant on the very shore of Crno Jezero (temporarily closed in 2014), "MB" motel-restaurant, and "Momčilov grad" on the Štuoc.
Cold hors d'oeuvres include the famous
njeguški pršut
(smoked ham) and njeguški cheese, pljevaljski cheese, mushrooms, fried pastry and dried bleak. The main courses specific for the northern mountainous region are boiled lamb, lamb cooked in milk,
cicvara
in fresh milk cream (creamy buttered polenta), boiled potatoes with
kajmak
(local fresh cream cheese).
It might be a good idea to make an order and reserve seats a few hours in advance, as restaurants are small, may be crowded, and it might take some time to prepare the courses.
Hotel Zabljak RestaurantFancy upscale restaurant with some excellent food, including some special local cuisine.

Konoba "Luna"

phone: +382 68 431 808

address: 2 Njegoševa st

Fine family restaurant popular with locals. Offers some tasty local delicacies. Do not order the Cevapi here; it is not home-made.

Lupo VerdeGood breakfast foods (omelettes; breads and jam), but espressos are not very good.

Restaurant DurmitorExcellent Durmitor local dishes at fair prices. Homemade Cevapi, soup, and lamb dishes are very tasty.
Drink
Montenegrin quality wine is a must-try. The best known Montenegrin wines are the premium "Vranac", "Pro Corde", "Krstač", "Cabernet", "Chardonnay" and the famous home made Crmničko red wine.
Grape brandy (rakija) "Montenegrin loza", "Prvijenac", "Kruna" or home made grape brandy (lozova rakija, lozovaca) is also great.

Sleep
There are three major hotels in Žabljak: Planinka, Žabljak, and Durmitor. Besides these, there are many small motels (MB, Bjeloor, etc.) in and around town, not to mention that almost every local resident is willing to rent a room at affordable price. Just look for "Rooms, Sobe" sign; however take into account that not all owners are available right on spot and so you might need to call them to see the property (phone numbers are usually mentioned on their property signs).
Accommodation in Žabljak is abundant, except around New Year's Eve, when the place is packed.

Go next