Žilina
Žilina
is a town in
Central Slovakia
with population of over 80,000, and the capital city of the Žilina administrative region.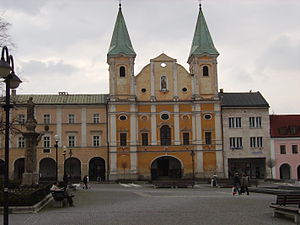 Understand
Zilina is the fourth largest town in Slovakia. Kia Motors Company has a large plant in Zilina. In 2017, Kia Motors Slovakia manufactured 335,600 passenger vehicles for customers from over 80 countries. A lot of Kia employees from Korea have moved to Zilina, so you can find specialized Korean food sections in some larger supermarkets and some Korean restaurants.
Zilina is an important transport junction point linking south (
Bratislava
,
Vienna
) with north (
Kraków
, Warsaw) and east (Kosice,
Ukraine
) with west (
Ostrava
,
Prague
).
Get in
By train
address: Hviezdoslava street
Žilina is on the mainline Bratislava-Košice and has frequent connections in both directions, and to the Czech Republic. A direct night train Prague to Kiev (one way) also passes through Žilina early in the morning providing a direct and comfortable (albeit slow) connection from Ukrainian cities like Lviv and Vinnica.
From
Bratislava
trains can be caught from the main train station (
Bratislava Hlavna Stanica
) approximately every one to one and a half hours. Fares from €9.
From the
Czech Republic
there are almost hourly connections, operated by Slovak National Railways, RegioJet and LeoExpress. Fares from Prague start at €8, 5-6 hours.
From
Poland
and points further north, a change is necessary in either Bohumin or Ostrava.
From
Hungary
, change in Bratislava (Budapest) or Košice (Miskolc-Debrecen).
Žilina is a junction point for many places in the region. See
Cestovné Poriadky
for details on all train and bus connections. Private train companies can offer very competitive fares if you book online in advance.
By bus
From some towns in Czech Republic, Poland or Slovakia could be easier to catch bus than train or it adds additional connection. See (available in English also) for train and bus connections in Slovakia and countries around. The is next to the train station.
By car
There are 3 European roads crossing in Zilina. Road E75 from
Bratislava
to Zilina as highway D1. Road E50 from
Brno
continues to
Kosice
as highway D1. Road E442 from
Olomouc
.
By plane
Žilina has an airport but it is only used for private aviation and the occasional charter flight, so any journey to Zilina will involve a train, bus or taxi journey of at least two hours.
Nearby airports with cheap flights are, in order of convenience,
Poprad
(seasonal), Bratislava,
Brno
and
Katowice
.
Get around
On foot
The centre is pedestrianised and also small enough to explore on foot. Many areas have also been made wheelchair accessible.
By public transport
The city operates 8 trolleybus routes and 9 normal bus routes throughout Žilina, its suburbs, and neighbouring villages. Check
dpmz.sk
for a route map and timetables.
By bike
The city has quite a few hills, holes in the road and fast drivers, making cycling around sometimes a fun challenge. However in some areas the city has recently also invested in creating bicycle-friendly streets and cyclepaths, and outside of peak hours traffic is low so you can have the streets to yourself.
Cyklodielna Recykel
repairs and sells second-hand bicycles.
See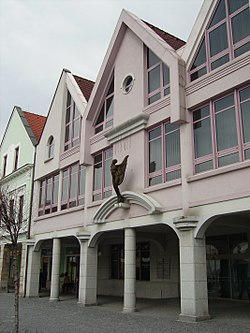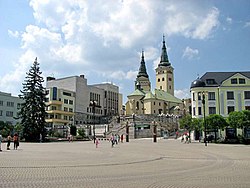 Take a stroll in the historic centre and admire the old churches.
From steps in front of Farsky kostel (church up from Hlinkovo namestie square) you can see beautiful mountains around - Mala Fatra.

Mariánske námestieOnce it was a market place, today lively central square of the town with arcades.

address: Ul. Štefánikova č.2

Regularly changing exhibitions in a variety of forms, sometimes modern, sometimes more traditional. Well worth a visit.

Holy Trinity Cathedral

address: Horný Val 1

Roman Catholic church from the 15th century, one of the town's most significant monuments.

address: Topoľová 1

Beautiful 13th-century castle with a nice park on the confluence of two rivers. The castle is closed for reconstruction, but the park is open.

address: J. M. Hurbana 220/11

Exhibition space for contemporary art, with a new exhibition every month.
Do
Learn
To dance: Tanečná škola Plešinger, Závodská cesta 6, 00421 41 7003 173, 00421 903 804 051,
Paragliding: Zilina is popular place to start with it (hill Stranik), ,
Buy
address: Vysokoškolákov 52

Large shopping mall south of the city centre offering wide range of stores.
cheese - get local cheese from cheese shops, much better and fresher than from supermarkets, e.g. Syrmix on Narodna street or Kuzmanyho Street, shops close to market
Fruit and vegetable market - during season good source of vegetable and fruits, sometime you can find here locals with only their things (not from big stores). Over corner of Kuzmanyho and Halkova street.
Eat
Cheap cheese typical for region:
"bryndza" - soft cheese (great on fresh bread)
"korbáčiky", "nite" - great snack
"parenica"
"oštiepok" - smoked sheep cheese, similar to Polish "oscypek"
Typical dishes:
"kapustnica" - soup with sauerkraut and sausage
"bryndzové halušky" - pasta dumplings with bryndza (soft sheep cheese)
"strapačky" - pasta dumplings with sauer kraut
Every restaurant has non-smoking part (by law).
Budget
During lunch hours (12:00-14:00) most restaurants offer a 'denne menu' with a few set meal options for €3-5. Expect a typical Slovak plate; potatoes, cabbage and a slab of meat, or a plate of pasta with cheese. Always soup will be included, likely a chicken broth (
vyvar
) or garlic soup.
Cosmo Asian Restaurant

address: Kuzmányho 100

Nice looking restaurant. They have daily menus all day for about €4 including soup.

address: Kuzmanyho

Typical Slovak looking building with typical Slovak dishes

address: Jozefa Vuruma 5

Pork or chicken escalopes (wiener schnitzel), chicken and pasta dish, a meat and rice dish, served with potatoes and vegetable and a drink, all for a very reasonable €4. Pleasant little place.

Na bráne

address: Bottova 10

Cheap restaurant with typical Slovak food. Very popular with locals for lunch and dinner, and arguably the cheapest Aperol Spritz in all of Slovakia. Only set meals, no á la carte dishes. Covered terrace in summer.
Mid-range
phone: +421904554455

address: Mariánske námestie 13

Modern, slightly upscale restaurant and terrace on the central square. Good food, excellent lemonades.

phone: +421 41 562 6401

address: Sládkovičová 3

Stylish and modern. Video games, casino and billiard upstairs.

Voyage Voyage

address: Mariánske námestie 191/14

Up in the second of the square is very agreeable.
Splurge
phone: +421948855338

address: Antona Bernoláka 44

Relatively new restaurant which is quickly gaining in popularity. Wide choice of steaks of different cuts and burgers, neatly served. They also have a few vegetarian options.

address: Za plavárňou 8121/1

Daily menus for €5.5. Solid gelato around corner.
Drink
There are many pubs, restaurants and tearooms around town. Beer is especially cheap at just over €1 per half litre.
There are a few pubs and bars on the main square. There is an Irish bar, aptly named 'Guinness' and also a disco style bar called Royales.
Typical Slovak (and Czech) soft drink is
Kofola
. Kind of coke drink, not so sweet.
address: Horný val 8/17

Good place to meet, drink and have something to eat. They have also English menu card.

phone: +421 902696156

address: Kuzmányho 104/8

Twelve different beers on tap, changing regularly. Also other drinks, snack foods and pizza on the menu. A bit expensive by local standards but worth it for the assortment and ambiance. English speaking staff and menu. Good for groups.

address: Antona Bernolaka 2

Small sit-down pub with good atmosphere and music at a good level for conversations with friends or strangers. Very good specialty beers on offer. Cash only.
Sleep
Budget
phone: +421 911802008

address: Vysokoškolákov 3151/70

A good cheap option although quite far from the train and bus stations. Private rooms with sinks from €20 a night, on the 9th and 10th floors. No internet but nearby restaurant has free Wi-Fi.

phone: +421 415254868

address: Pri Celulózke 28

Free wifi, single bedroom

phone: +421415621263

address: Bratislavská 2

An ubytovňa is a traditional Slovak workers hotel, expect just basic service but good value. Breakfast and tourist tax not included in the price. Located just a short walk from the old centre.
Mid-range
phone: +421 41 565 0747

address: V. Spanyola 43

Non-stop.

address: Nám. Ľudovíta Štúra 2

A very nice ex-communist hotel with over 100 rooms, centrally located with parking.
*** Anton
phone: +421 415094499
address: Sv. Cyrila a Metoda 830
Comfortable accommodation 3 km from Žilina in beautiful surrounding.
Splurge
phone: +421 41 507 9100

address: Hurbanova 8

Non-stop

phone: +421 41 504 8888

address: Hviezdoslavova 22

Non-stop.
Connect
Free open wifi on Námestie A. Hlinku (lower square) and Marianské námestie (upper square), as well as in the central shopping malls Aupark and Mirage.
Amazing photogallery of everything in Zilina including photos of hotels, shops, parks, hills, quarters, transport, schools, churches, industries, health centers.

phone: +421 415126210

address: Sládkovičova 14

Send letters and packages, SIM cards and credit, point of sale for ticketportal.sk

phone: +421 417233186

address: Námestie A. Hlinku 9

Run by enthusiastic staff that know everything about the city. They can tell you about all the events and current exhibitions.
Stay safe
Like any central European town, be practical. The railway station is not the greatest place to "have" to stop over in for any length of time based on experience. Suggest avoid waiting room, and stay near kiosks. Otherwise, Zilina is fine. Enjoy!

Go next
There are many great places close to Zilina.
Castles and ruins
Starhrad ruin (11 km) - on hill in the middle of forest with great view to river meander. Do a day trip: by train to Strecno, go to Strecno castle, cross river and go up to Starhrad and back.
Strecno castle (11 km) - big castle just next road to Liptovský Mikuláš, paid entrance, open daily 09:00-18:00 (last entrance 17:15). By train or bus to Strecno village.
Lietava ruin (10 km)- nice looking, on the way to Rajecke Teplice
Sulov castle ruin (28 km) - on the top of rock in Sulovske skaly (Sulov rocks)
Hricov ruin (13 km) - nice walk from village Hričovske Podhradie
Mountains and hills
Malá Fatra - with centre in Vratna (start of hiking tracks, lift, ski resort) and Terchova (big wooden creche in church). Possible tours:
Janosikove horne a dolne diery: start in Stefanova
To Chleb and walk on the mountain edge
Jánošíkove Diery: Buses leave in Žilina from the main bus station to Terchová. From Terchová you can then walk 2 km to the entry of Jánošíkove Diery.
Sulov rocks (Sulovske skaly) - start from village Sulov-Hradna. You can do circle around and visit also Sulov castle ruin.
Stranik - popular with paragliding, great view over Zilina, the river Vah and surrounding mountains. Take bus no. 27 to Zastranie to last stop.
Others
Rajecke Teplice - if you are passing this town, stop and enjoy small stroll around town and park
Čičmany - a folk village near Žilina.
Vlkolínec - a folk village near Ružomberok.