ǁKaras
ǁKaras
is a region in southern
Namibia
.
Other destinations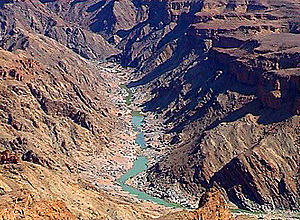 Understand
ǁKaras, the consonant at the beginning is a lateral click comparable to the sound used by a rider to urge on a horse, is the southernmost and least populated region of Namibia. It is situated on the Atlantic Ocean and borders to
South Africa
in the South and in the East and to the
Hardap
region in the North.
A large 26 000km 2 area known as the
Sperrgebiet
(
Forbidden Territory
) is located in the west of ǁKaras along the coast of the Atlantic Ocean between Lüderitz and Oranjemund. This area is rich in gem quality diamonds and has restricted access. One can only enter the area as part of an organized tour.
Get in
By car
Due to the scarcity of other options, most travellers will arrive by car, either from South Africa or from the north of the country. The major highways in the region are the B1 that crosses Namibia from North to South and passes Keetmanshoop and Noordoewer, the B3 from Keetmanshoop to Ariamsvlei, and the B4 from Keetmanshoop to Lüderitz.
By plane
The vast area is covered with small airstrips, suitable for 2 and 4 seaters. However, only Oranjemund (
OMD
) and Lüderitz (LUD) can be reached by scheduled flights, departing from Cape Town and Windhoek.

By train
There is a train service from Windhoek to Keetmanshoop a few times a week. As the train is predominantly for freight with only one or two passenger cars, it will stop at every tree to load and unload goods. The 500 km journey from Windhoek takes almost a day. The rails from Keetmanshoop to Lüderitz are intact but there is no passenger service on this line.

By public transport
Between towns you can catch a minibus, and Keetmanshoop is on the route of the big coaches that travel to Windhoek, Cape Town and Johannesburg.

Get around

There is no public transport to tourist destinations, you have to get around by car or private airplane. You can book private tours (a 4x4 and a driver) in the bigger towns of Keetmanshoop and Lüderitz.
The highways (B-roads) are tarred and in very good condition. Most C-roads are gravel roads and in fair condition, easily passable with an ordinary sedan. All other roads (D-roads, F-roads, and those without letters or numbers) tend to be rough, rarely graded, and will require a sturdy vehicle. Expect to be able to drive 120 km/h on tar, 60-80 km/h on good gravel, and about 30 km/h on minor roads. Many of the small access roads to farms require good ground clearance and considerable driving skill. Phone the host whether you need a 4x4 or not.
Farms are private properties. Don't drive onto a farm road, even if the gate is open, unless your destination is signposted there, or you intend to visit that farm. If you open a farm gate to drive through, close it again.

See
Kolmanskop A ghost town just outside Lüderitz
Do
Canoe on the Orange River: The Orange River is the only permanently flowing river in southern Namibia, and it has no large animals like crocodiles or hippos. Virtually every lodge and campsite on the river has canoes for hire, and many establishments offer guided canoe tours, from multiple hours to several days. Suitable for beginners.
Explore the ghost towns of the diamond rush around Lüderitz. Kolmanskop you can visit on your own while for Pomona and Elisabeth Bay you have to book a tour; they are still in the forbidden zone.
Sleep
There is accommodation in all towns and villages, the smaller the place the more basic the facilities. However, not every name on the map is indeed a settlement. This particularly applies to place names along the railway, many of which are today at best an abandoned station building, and at worst only a sign next to the rails.
Between the major tourist destinations there occasionally are additional options:
Seeheim Hotel

address: Seeheim

Impressive hotel in the middle of nowhere, or actually, at an important railway junction. In the days of the diamond rush (started 1908) travellers to Lüderitz had to stay overnight to change trains, that's why the hotel was built. There is also a bar, and food is available on request and after prior notice. There is a campsite with small trees and little shade. Power is available but only for light, no available sockets. There is a small petrol station right on the campsite, and a small but deep pool. Wi-Fi is available near the bar but the owner asks that it is not used in the bar... rightfully so.

KoiimasisInstallations and buildings blend into the surrounding rocks. During dusk and dawn small antelope and rock dassies are all over the place. There are chalets, rooms, and a campsite. There is also a pool, unfortunately only for the guests of the lodge.

Orange River Lodge

address: Noordoewer

B&B and restaurant, contrary to the name not directly situated at the river. The rooms all have aircons. This is important as the place can be very hot at times, and regularly over 40 C. Doesn't look very promising from the outside but the food is not bad, and the outdoor tables as well as the rooms are in a nice, shady garden.

Amanzi Trails

address: At the shore of the Orange River

Beautiful campsite with huge plots in a park-like setting. Overlanders welcome. No dogs. You can bring your own boat if it is not motorised, no extra charge. No Wi-Fi and proud of it ("Talk to each other!") but there is ordinary cell phone reception from nearby Noordoewer.

phone: +264 63 280650

address: Between Koës and Aroab

Wildheim Wes is a private game ranch in the Kalahari close to the southeastern border of Namibia. Three self-catering chalets equipped with en-suite bathrooms and a fully decked-out braai area.

Koës Hotel

phone: +264 63 252 716

address: 2 Fontein Street, Koes

Koës Hotel offers 8 en suite rooms and 1 chalet. Some rooms have shared facilities. Campsites are also available with clean ablution blocks, hot and cold showers, a flush toilet, wood for sale while breakfast is available upon request.
Buy
Diamonds: If you have the means and the ambition, there is a large variety of local diamonds for sale at the old casino in Kolmanskop, 10 km outside Lüderitz. Namibian diamonds are among the best in the world for jewelry, and prices at Kolmanskop are reportedly very competitive.
Table grapes: When you pass the settlement of Aussenkehr at the Orange River in summer, try the grapes that are grown in the Orange River valley. The biggest, sweetest, and cheapest you have had in a long time, you can buy them from mobile vendors or at the Aussenkehr Spar supermarket.
Go next
ǁKaras shares borders with the: