Aït-Benhaddou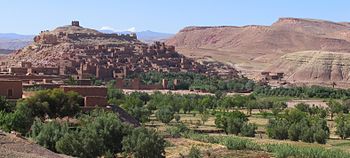 Aït-Benhaddou
is a city in
Morocco
.
Understand
Aït-Benhaddou is a traditional mud brick city on the edge of the High Atlas Mountains. It is on the
UNESCO World Heritage List
and has featured in many films, mostly as a replacement for Jerusalem.
It has appeared in more than 10 movies, including
Lawrence of Arabia
and
Gladiator
.
Get in
Aït Benhaddou is accessible from
Ouarzazate
and
Marrakesh
. From Marrakesh it will be a full day trip and the best advice is to organize a private tour if you do not have much time. Overnighting in Aït Benhaddou is recommendable as you get to see the Ksar in different lighting conditions. It looks very different in the morning when sun rises or when the sun is just setting.
By bus
Most buses do not ply direct to Aït Benhaddou but can drop you off at the turn off about 7 km away from where you will have to find a lift. Or you get dropped of a little earlier at Tadoula, from where you can walk through the desert for about 5 km.
By taxi
A grand taxi seat from Ouarzazate costs 15 dirham. From or to the junction at the highway, it is 9 dirham.
Or you arrange a private hire of a taxi for the trip. At daytime, grand taxis are always waiting at the crossing.
By car
Aït Benhaddou is 9 km off the main Tizi n Tichka road, which links Ouarzazate to Marrakech. Coming from Ouarzazate, turn to the right after about 18 km from the town. It's quite a scenic drive to Aït Benhaddou. On the way into town there is a slight turn to the right, which is a popular spot for great views over the town and the Kasbah.
Get around
Once inside the Ksar you can only walk or climb. There are two main entrances into the Ksar. One can be reached by new bridge. To reach the second, it is necessary to cross the river using the stepping stones (in dry season the river is completely dry).

See
The town itself is the main attraction, with mud buildings climbing up the side of the hill.
Granaryimpressive and well worth the effort to get up there.

Mausoleum of Ben-Haddou
Do
Climb atop the hill for breathtaking views.
Rent a bike and drive up the road to Telouet (~50 km). It was paved a few years ago but traffic is still scarce.
Buy
There are several shops within the town that sell souvenirs from all over the Sahara, particularly prevalent are Models of the Ksar and wooden artifacts from the Dogon people in Mali.
There is a very friendly carpet shop in the newer part of town near the post office.

Eat
Many touristy restaurants and cafés cater for the exhausted folks.
Hotel la Barakahas a restaurant with a nice courtyard.
Sleep
Auberge La GouladeThe first auberge along the road into Ait Benhaddou, run by a French man and his Moroccan wife. Very friendly, excellent food and good price.

Hotel Restaurant La Rose Du Sable

phone: +212 5 24 89 00 22

address: Kasbah Ait Benhaddou, Morocco

Clean, comfortable rooms. Great food.

phone: +212 5 24 88 76 44

address: Douar As Falou, Ait Benhaddou, Morocco

In an authentic yet modern setting, Riad Ksar Ighnda opens its doors for you onto the Atlas Mountains with rooms in tadelakt with air conditioning.

La Fibule d'Or Ait Benhaddou

phone: +212 667597476

address: ait ben haddou

11 rooms, restaurant, room service, panoramic terrace, free parking, free internet.

phone: +212 6 61 94 11 53

address: Ksar Aït Benhaddou

Authentic renovated Berber Kasbah. Magnificent view. Tranquility. Hospitable.

phone: +212 651 469 087

Chic hotel in restored Berber house. Small pool and views towards the Ksar. Located around one kilometre from the village.
Go next