Aachen
Aachen
is a historically important city, spa and university centre in
North Rhine-Westphalia
, situated at the "three lands corner" where the borders of
Germany
,
Belgium
and the
Netherlands
meet. Known as
Aix-la-Chapelle
in French and
Aken
in Dutch, the city has played a prominent role in early Medieval Europe, when it became the favoured residence of Charlemagne, the first Holy Roman Emperor who created the empire in the late 8th and early 9th century and built the city's impressive cathedral, where he is now buried along with a succession of later German rulers, many of whom were also crowned in the city.
Apart from its medieval significance and a wealth of preserved artifacts, Aachen is also known for its springs, which have been attracting visitors since the Ancient Roman times and continue to do so today, with a number of historic baths and hotels sprinkled around the city. Contributing to the city's wealth and prominence is also the technical university, which made Aachen a hub for modern technologies and provides a sizeable student population (over 40,000 of the total 250,000 inhabitants). With all this, Aachen is now a multi-cultural, popular tourist destination.
Historically this spa-town was a prominent city, the place where the German Kings were crowned, and a famously favoured residence of Charlemagne who still lies buried in the impressive cathedral he himself had built. The city is packed with historic sights that remind of those days, including medieval buildings, city gates and beautiful fountains.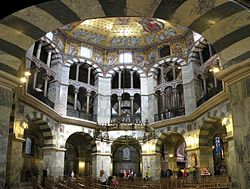 Understand
Aachen was the preferred residence of Charlemagne, "Roman" Emperor from 800 to 814 AD and king of an empire covering much of modern-day Italy, France, Germany and the Benelux. Additional information can be found at the
Route Charlemagne Aachen
website.
As Aachen is a legally recognised spa, it could call itself Bad Aachen, but refuses to do so, as it then would no longer be first in almost all alphabetical lists.
The city lies at the borders of Germany with Belgium and the Netherlands, forming the economic region called the
Euregio
. There are several Euregios in Europe, but regionally speaking just of "the Euregio" is understood to mean the one centred on Aachen.
Get in
By plane
Aachen shares its own airport with Maastricht, but
Maastricht-Aachen airport
(
MST
) (located some 40 km outside the city centre, in the Netherlands) is connected to only a limited number of international destinations and served by budget carriers. An Airport Express shuttle runs regularly to and from Aachen main bus station, called Gilbacher AirportXpress and leaves from platform 4. Tickets can only be purchased from the driver and cost . There are no trains between Aachen and the airport.
The nearest large airports are Düsseldorf (DUS) and Cologne-Bonn (CGN). Both airports can be reached by train, via the Düsseldorf and Cologne central stations respectively. Other small airports within reasonable distance are Weeze (NRN, trains) and "Brussels" South Charleroi Airport (CRL, trains). Also Liège (Lüttich) airport in Belgium is around 45min car journey away. Antwerp airport, also in Belgium, requires a 90-minute car ride. Finally, Eindhoven airport in the Netherlands is at 1 hour car ride distance. Probably Aachen is unique in having 8 airports in 3 countries within 140 km.
If for some reason none of the nearby airports are feasible or affordable, the airport in Frankfurt (FRA), Germany's main hub, has a direct ICE connection and offers a number of trains to Aachen with one interchange or less.
For some airports the rail&fly programme the German railways offer together with several airlines might be an option. For more on that see rail air alliances

By train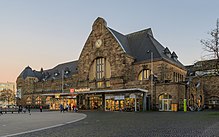 From France and Belgium
Both Thalys and ICE-Trains connect with Liège and Brussels with Thalys trains continuing to Paris. There are also local trains from Liège every two hours.

From elsewhere in Germany
Local trains (Regionalexpress) from Cologne and Düsseldorf run every half hour and take around 55 minutes from Cologne, 85 to 110 minutes from Düsseldorf. Ten times per day, high speed trains go from Cologne to Brussels via Aachen (around 35 minutes), either Inter City Express (coming from Frankfurt) or Thalys (continuing to Paris).

By bus

eurolines travel to and from Aachen. There are direct journeys to London (approximately 10 hours), Brussels (3 hours), Paris (6.5 hours) and Prague (11.5 hours), among others. Coaches depart from Wilmersdorfer Straße, on the outskirts of the city. The selection of domestic routes is surprisingly less extensive, although Aachen is not far from Cologne, which is served by many more routes.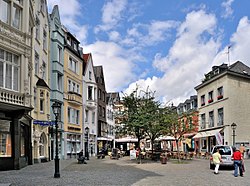 By car
Being on major routes from the Netherlands and Belgium to Germany, easily reachable via the A4 and A44.
Parking in the town centre costs around per hour. There is also park and ride available around the outskirts of the town.
If you don't have your own vehicle, car-sharing is a possibility. Car-sharing is very common in Germany, but you should of course be cautious when booking a trip nonetheless. blablacar.de and mitfahrgelegenheit.de are good resources for finding rides to Aachen, although you're less likely to be successful if you're looking to book far in advance. Payment is expected.

From the Netherlands
Bus line 50 from Maastricht serves Aachen every 15 minutes and passes through Margraten and Vaals. Bus line 44 runs between Heerlen and Aachen (45 min, ) For you can buy a ticket, which allows all-day travel on South Limburg bus routes, including those to local cities such as Heerlen, and selected train routes. It is 1 hr 15 min from Maastricht. See Veolia Transport for timetables (Regio: Limburg).
From Heerlen there's also a direct train connection.
By car, you can just drive in via Vaals or take the highway. The A76 connects to the German A4. Take exit 2 to Aachen/Laurensberg.
Get around
ASEAG Customer-Centre

address: Schumacherstraße 14, 52062

On arrival in Aachen, it may be worth visiting the ASEAG Customer-Centre (ASEAG operate the city's bus system) opposite the bus station. Here, you can pick up timetables for all bus routes run by the company and you can of course speak to an adviser as well. There are no timetables available for services run by Veolia, such as the number 50 to Maastricht, or for bus services run by Deutsche Bahn, such as the number 66 to Monschau.
By train: Whilst Aachen does not have an U-Bahn or S-Bahn network like many other large German cities, it is still possible to travel through the city by train. The euregio-Bahn is a local line that stops at the stations Aachen West (not far from RWTH Aachen University), Aachen-Schanz, Aachen Hauptbahnhof (the most convenient for the city centre) and Aachen-Rothe Erde. A single ticket for a journey within the city is ; ticket machines are available at all stations.
The old town is best explored on foot and orientation signs can be found all around. Aachen at a whole is a fairly large city. A car can come in handy but parking can get expensive, especially in the center of town.
Fortunately, Aachen has an excellent city
bus
system, operated by
ASEAG
, including a few night bus lines. You can get tickets from the bus driver. You can rent a
bike
at the "fahrrad station", in the central train station. Although it is not the most biker-friendly town in Germany, there are a number of bike routes and getting around on bike is increasingly popular.
Taxis
are readily available on the train stations but also on streets.
See
phone: +49 241 4770 90

address: Domhof 1

Aachen Cathedral is one of the most famous examples of occidental architecture. Around 800, the core building of the Palace Chapel was built. During the 14th and 15th centuries, the Gothic choir (the "Aachen glasshouse"), the north and south chapel were added. Through the centuries, many other constructions and decorations were completed. Today, it is a unique and beautiful two-storey cathedral of classical pillars, bronze railings, golden masterpieces, glassworks, etc. The cathedral is the memorial and funeral place of Charlemagne (814). Heiligtumsfahrt The Aachen pilgrimage has taken place every year since 1349. In 1978 it was the first German building to be inscribed as a UNESCO World Heritage Site.
Aachen Cathedral Tour

address: Dominformation Visitor Center, Johannes-Paul-II.-Str

There's a 45 min English guided tour every day. Tickets are sold inside Dominformation (not the cathedral).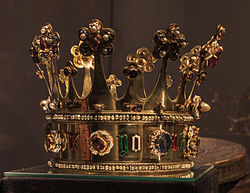 address: Johannes-Paul-II.-Straße

Ecclesiastical treasures from Antique, Carolingian, Ottonian and Staufian epochs,including Cross of Lothair and the Bust of Charlemagne. Public and private tours are available with reservations for additional cost.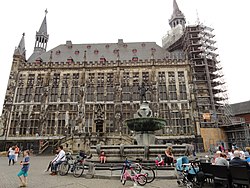 phone: +49 241 4320

address: Markt

The medieval town hall. The mayor of Aachen still has their office in there.
Ludwig Forum für Internationale Kunst

phone: +49 241 1807 104

address: Jülicher Straße 97-109, 52070

While the building looks less than impressive from the outside, Ludwig Forum für Internationale Kunst houses a grand collection of contemporary art, including works by Andy Warhol, Roy Lichtenstein and Keith Haring. Text accompanying the works is given in German and English.

International Newspaper Museum

phone: +49 241 4324 910

address: Pontstraße 13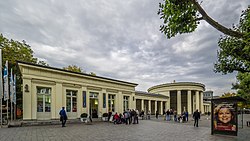 Elisa Fountain

address: Friedrich-Wilhelm-Platz

Built 1827, thermal waters of the spa town.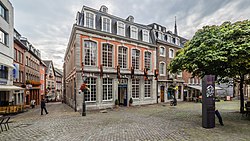 phone: +49 241 4324 421

address: Hühnermarkt 17

18th-century house and furniture.

Belvedere rotating water tower

phone: +49 241 9188 043

address: Belvedereallee 5

Park above the town.

Grashaus

address: Fischmarkt

Original town hall, completed in 1267, is one of the oldest buildings in Aachen.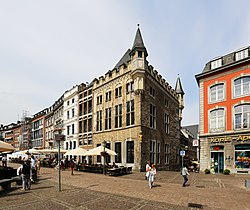 Haus Löwenstein14th-century building.

phone: +49 241 4798

address: Wilhelmstraße 18

German and Dutch sculpture and painting collection.

Ponttor14th-century city gates.

Marschiertor13th-century city gate.

phone: +49 241 9970 615

address: Horbacher Straße 497, 52072 Aachen-Horbach

Museum about border crossings and the border.
RWTH Aachen University (Rheinisch-Westfälische Technische Hochschule Aachen) If you are interested in architecture, you can find all building styles from 1900 till today concentrated at the city-campus around Templergraben.
Main building
Kármán Auditorium
Audimax
Mogam
Super-C The reception building of the RWTH-Aachen. Build to resemble the letter C. Nicely illuminated at night.
Reiff Museum
Rogowski building
Department of mining
Semi 90
Heizkraftwerk (now lecture halls)
UniklinikThe university's hospital. One striking example of post-modern architecture like the Centre Pompidou in Paris.
Do
LousbergA recreational area situated just north of the city centre that offers stunning views of the city below.

Sit on the Market place (central city) on a summer evening, watch students strolling by, listen to guitar players and have a beer, bought at a small Turkish or Chinese diner around.
Walk through the Frankenberger Viertel (Frankenberg Quarter), an alternative area in the south of Aachen; have lunch or dinner in a Turkish or Arab diner.

address: Passstr. 79

Large and very well known spa, sauna and wellness place.
Learn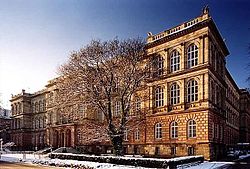 Aachen is home to the highly regarded
RWTH Aachen University
, which is particularly strong in the field of mechanical engineering. While language courses during semester time are only available to students of the university, travellers may be interesting in applying for the
Internationaler Sommerkurs
(international summer course) which takes place annually in September and is open to students from some partner universities. Alongside an intensive language course, participants can take advantage of the programme of cultural events offered. To apply, one must be at least 18 years old and have prior knowledge of German at level A1 (the lowest level, roughly equivalent of being able to write a post card) on the Common European Framework for Languages or above.
Buy
German opening hours
have a lessened effect in Aachen, as just across the border in the Netherlands, all shops are open in the small town of
Vaals
, which can be reached by bus lines 25, 33, 35 and 50.
phone: +49 241 2514 1

From late November until 23 December, Aachen's Christmas market takes over Katschhof, Münsterplatz and the market square. Traders offer a wide variety of gift ideas, such as cosmetics, jewellery and ceramics, and there are plenty of opportunities to eat and drink your fill - a trip here wouldn't be complete without a glass of Glühwein! If you need a break, take in a performance at the rear of the town hall (see the website for a detailed programme). The market looks particularly spectacular when lit up at night, set against the magnificent cathedral and town hall.

AdalbertstraßeShops and cafes in one of Aachen's pedestrian zone shopping areas.

Krämerstraße and MarketSmall shops in a very touristic area.

GroßkölnstraßeThe second big pedestrian zone shopping area in Aachen, where you´ll find clothing and more.

JakobstraßeSmaller shops and boutiques.

address: Süsterfeldstraße 130, 52072

Stocks a wide range of Lindt chocolate products, at low prices, which have been produced in the neighbouring factory.

address: Ritterstraße 9

Gingerbread and biscuits.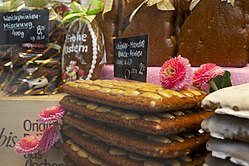 Aachener Printen are a type of Lebkuchen (gingerbread) originating from the city.
address: Münsterplatz 3

address: Krämerstraße 12
Eat
Aachen offers many different cuisines, from traditional German food to exotic cuisines. The centre offers restaurants of all categories, prices being relatively cheap in comparison with other German cities. Students prefer the snack bars and light meals offered at Pontstraße.
Budget
address: Pontstraße 119

Very cheap and good chicken, pizza and Turkish food.

address: Marienbongard 24

Polish bistro. Has lunch offers. Four to six Polish beers.

Frietnesse

address: Pontstraße

Fries with over 50 different sauces. Also hamburgers and Dutch specialities.

address: Pontstraße 118

Turkish food besides döner kebab.

Jakobsimbiss

address: Jakobstraße 75

Chinese and Thai fast food.

address: Jakobstraße 73

Best ice cream in town.

Sultans of Kebab

address: Peterstraße 23

Döner Kebab, Turkish desserts.

Babylon

address: Königstraße / Karlsgraben

"The Kebab Cube" if you have only left.

White House

address: Pontstr. 141- 149

Cheap but still nice-looking restaurant with special lunch offers: Buffet for or Schnitzel for .
Mid-range
Goldener Schwan

phone: +49 241 3164 9

address: Markt 37

15th-century building where you can get local and German meals. For example Aachener Puttes a type of Blutwurst similar to English black pudding.

phone: +49 241 2140 8

address: Reihstraße 10

Delicious Argentinian food chain based in Germany. Good food, not expensive. Open late and offer late-night specials and lunch specials.

phone: +49 241 238 00

address: Seilgraben 39

Great steakhouse with a salad bar and wide variety of dishes.

Carlos I

phone: +49 241 2966 6

address: Rennbahn 1

This Spanish restaurant offers authentic Spanish cuisine like Tapas, the perfect food for sharing, Paella, etc., at medium prices

San Sheng

address: Pontdriesch 13

Authentic Chinese food.

phone: +49 241 9008 360

address: Pontstraße 83

Great Japanese restaurant. Reserve your table in advance.

phone: +49 241 4636 3642

address: Pontstraße 23

Italian pizza from a real stone oven.

phone: +49 1573 5570 933

address: Sandkaulstraße 5

Colombian restaurant.

phone: +49 241 3051 1

address: Templergraben 28

Greek restaurant frequented mostly by students.

phone: +49 241 155545

address: Roermonder Str. 28

Great Greek restaurant with a wide variety of dishes. Absolutely recommendable gyros and grill dishes
Splurge
phone: +49 241 7444 4

address: Hanbrucher Straße 1

French restaurant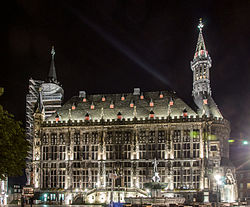 Drink
There's no need to order your drinks at the bar when in Aachen - simply take a seat and a member of staff will come over to take your order. They'll write down what you've ordered on your coaster. When you've finished your drink, someone will soon come along and ask if you'd like to order another. When you're ready to pay, hand over your coaster to a member of staff. It's expected that you leave a small tip when paying; 5 - 10 % is expected, typically by rounding up to the nearest Euro. You should make it clear you want to leave a tip before handing the money over by saying, for example, "I'll pay ".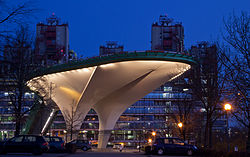 The
Pontstraße
begins at
Markt
facing the historic city hall and ends at the
Ponttor
, part of the medieval city walls. Pontstraße is the main student hangout and offers a large variety of restaurants and bars, from pizzerias to late night hangout spots and a cinema (
Apollo
). A special treat are public fiestas happening at Karneval and important football matches. Don't miss it if you have the chance! Reached by a number of bus lines from Bushof; park near University.
MolkereiPub suitable for younger crowd, near Ponttor.

Cafe MadridPub/bar better for an older crowd, posher, near Ponttor.

PontgartenCheap cocktails and nice food.

Sowiso/OceansTypical student-inn.

phone: +49 241 4077 46

address: Pontstraße 1–3

A delightful bar/café that occasionally hosts live music. Food can be ordered from the Lebanese restaurant next door and brought to your table without you having to get up!
Nice pubs elsewhere:
phone: +49 241 4022 11

address: Neupforte 6, 52062

A stereotypical Irish pub, just like you'd find in any other big city. However, it's one of the few places in Aachen that sells cider, so it's definitely worth checking out if beer isn't your thing! There's also live music (more often that not traditional Irish music) here on a regular basis.

Kiste

address: Büchel 36

Small pub with wooden interior that plays mostly rock and metal music. Has a discount on different drinks each day, e.g. Weizen (wheat beer) on Mondays for

Buddha Bar

phone: +49 241 4012 590

address: Büchel 14

Nice food, has a non-smoking area upstairs with restaurant and bar plus a cool smoking area downstairs with an impressive Buddha statue.
Sleep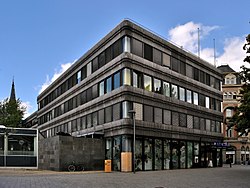 Budget
phone: +49 241 4305 288

address: Mauerstraße 116

Close to the city centre.

phone: +49 241 7110 10

address: Maria Theresia Allee 260
Mid-range
phone: +49 241 1803 0

address: Krefelder Straße 221

phone: +49 241 1520 71

address: Passstraße 2a

This friendly family-run place has 12 rooms and a bit of a cosy B&B atmosphere. It's clean and conveniently located in the city centre, with fairly modern rooms and a somewhat quaint breakfast area. It gets good reviews, also suited for family stays. On weekends, the reception has limited opening hours.
Splurge
phone: +49 241 9132 0

address: Monheimsallee 52

Spacious, comfortable rooms (although some could do with a little redecoration), a swimming pool, fitness area and excellent breakfast buffet.
Connect
Post Office

address: Kapuzinergraben 19, 52062

This is probably the most convenient Post Office for tourists as it's located in the city centre. The service is operated by Deutsche Post.
Cope
Religious services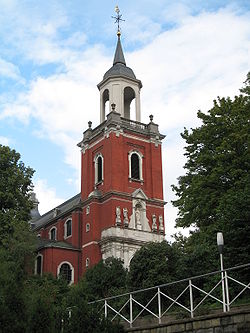 Here's an overview of Christian churches in central Aachen:
Catholic churches:
phone: +49 241 4770 9110

address: Klosterplatz 2

phone: +49 241 4703 270

address: Ursulinerstr. 1

phone: +49 241 3072 5

address: Aureliusstraße 23

phone: +49 241 4488 1

address: Peterskirchhof 1

St. Michael

address: Michaelsbergstr. 6
For Protestant churches in Aachen see also:
address: Annastraße 35

address: Am Kupferofen 19-21
Other:
Go next
Neupré - World War II Ardennes American Cemetery and Memorial, commemorates the American soldiers who died in Northern Europe during WWII
Henri-Chapelle - World War II Henri-Chapelle American Cemetery and Memorial. The final resting place for 7,992 American military dead lost during the drive into Germany
Dreiländereck- The three-country border of Germany, the Netherlands and Belgium. Just a 10 min drive out of Aachen in the general direction of Vaals (Netherlands). Walk on the soil of three different European countries in just about under a second. Free. This is also the highest point of the Netherlands. There is a watchtower you can climb. You can get there best if you take the bus to Vaals and take Veolia Transport line 149 or walk.
Cologne - Germany's fourth largest city, with its striking cathedral, is less than an hour away by train.
Zülpich is a small town dating from Roman times on the road to Bonn. It has a newly opened museum focusing on Roman baths and bathing culture. It is also a gateway to the Eifel region.
Maastricht in the Netherlands with its beautiful city centre is where the Maastricht Treaty of the European Union was signed in 1992
Monschau Nicely preserved medieval town.
Nationalpark Eifel The youngest nature preservation area in Germany
Ordensburg Vogelsang Huge Nazi-built training centre near Gemünd. Served as Belgian barracks after the war, so they're quite well preserved.
Hohes Venn Marshlands between Monschau and Eupen