Abilene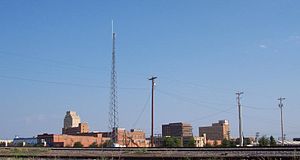 Abilene
is a city in the
North Central Plains
of
Texas
, possibly best known as the destination the fictional family of the
Abilene paradox
travels to.
Get in
By plane
Abilene Regional Airport Hwy 36 & Loop 322. American Eagle provides service to Dallas/Fort Worth.
By car
See
phone: +1 325 676-6085

address: 2070 Zoo Ln

Fifth largest zoo in the state.

T&P Depot

phone: +1 325 676-2556

address: 1101 N. 1st St

This historic depot was built by the Texas & Pacific Railroad in 1910. In 1967 the last passenger train left the depot with a total of 39 passengers on board. In 1994 the exterior of the depot was restored to its exact appearance during the 1920s. The depot is the home of the Abilene Convention and Visitors Bureau and Cultural Affairs Council. Admission is free.

phone: +1 325 677-4376

address: 1700 Highway 36

A unique 4-day event held in early May to preserve western heritage. Includes a ranch rodeo, a chuckwagon cookoff, a bit and spur show, cowboy poetry, western art show, and a western parade.

phone: +1 325 674-2000

address: 1600 Campus Ct

Expansive and well-maintained campus. Unique and beautiful architecture mixes with a large number of artworks. A 1.86 mile walking trail encircles the campus. Various theatrical, musical and athletic events occur throughout the year.

phone: +1 325 670-1000

address: 2200 Hickory St

Founded in 1891, HSU is a private Baptist liberal arts university. With a small, beautiful campus, HSU is worth a peek.

phone: +1 325 793-3800

address: 1401 Sayles Blvd

Founded in 1923, McMurry is a small, tightly knit community of students and educators in Abilene's bustling south side.
Do
phone: +1 325 572-3365

address: 133 N Willams St.

Century 12 by Cinemark

phone: +1 325 793-9292

address: 3818 John Knox Dr

Abilene's newest and largest theater. All stadium seating.

Premier Cinema 10

phone: +1 325 695-2122

address: 4310 Buffalo Gap Rd

10-screen theater in the Mall of Abilene. Renovated, with all stadium seating. There is a great bar/restaurant next door for easy post-movie lounging.

Carmike Park Central 6

phone: +1 325 698-3540

address: 3234 S Clack St

6-screen theater. All stadium seating.

Grace Cultural Center

phone: +1 325 673-4587

address: 102 Cypress St

3 museums under one roof: an art museum, a history museum and an interactive children's museum spread out over the three floors of the beautiful former Grace Hotel built in 1909.

Historic Paramount Theater

phone: +1 325 676-9620

address: 352 Cypress St

Beautiful art-deco theater built in 1930 by H.O. Wooten whose namesake skyscraper looms overhead. The Paramount plays host to a slew of theatrical and musical productions, and to screenings of classic and contemporary films. The 2,000-seat auditorium is built to look like an outdoor Spanish courtyard, complete with twinkling stars and drifting clouds on the ceiling.

National Center for Children's Illustrated Literature

phone: +1 325 673-4586

address: 102 Cedar St

A small but wonderful museum showcasing the works of children's authors and illustrators. The NCCIL ("nickel") has played host to everyone from the Bernstein Bears to the works of Eric Carle. Exhibits are rotational and admission is free. One block from the Grace Museum.

phone: +1 325 437-2800

address: 625 N 1st St

Expansive new historical museum in eastern downtown Abilene, focusing on west central Texas' frontier days. Headquarters of the Texas Forts Trail. Not to be missed.
Buy
address: 4310 Buffalo Gap Rd

Anchored by JCPenney, Sears, Dillard's, Best Buy and Books-A-Million. Home to dozens of smaller specialty clothing and gift stores and restaurants.

The Shops at Abilene

address: 3417 Catclaw Dr

Anchored by Bed Bath & Beyond, Ross, Old Navy, Petsmart, Michael's and Beall's. Also home to The Children's Place, James Avery, Shoe Carnival, Rue21, Catherine's, Lane Bryant, Payless Shoes, Oreck, AT&T, Red Robin, Coldstone Creamery, Gamestop, SportClips, Smoothie King and several others. Wal-Mart is at the same intersection and Kohl's is just down the street.

Wal
*Mart South
phone: +1 325 695-3092
address: 4350 Southwest Dr
*Mart North
phone: +1 325 670-0758
address: 1650 State Highway 351
Eat
Bogie's

phone: +1 325 672-3296

address: 241 Cypress St

Custom-made sandwiches on fresh-baked bread.

Cypress Street Station

phone: +1 325 676-3463

address: 158 Cypress St

Popular local barbecue/steakhouse.

phone: +1 325 677-1925

address: 1150 E South 11th St

Great steak and seafood.

Szechuan Chinese Restaurant

phone: +1 325 673-9100

address: 3425 S 1st St

Decent Chinese fare with large portions.

phone: +1 325 698-2000

address: 4400 Ridgemont Dr

Good Tex-Mex. Try the no. 8 combo.

phone: +1 325-572-3339

address: 3002 FM 89

Famously good steaks. Voted best burger in America by the Today show in 2009. Catered several of President Bush's events.

phone: +1 325-675-0600

address: 442 Cedar St

Wonderful and well-priced casual fine dining in the heart of downtown.

Copper Creek

phone: +1 325 692-4424

address: 4401 Loop 322

Fine Texas dining: unsurpassed atmosphere and wonderful waitstaff coupled with delicious food and potent drinks.

Sharky's Burrito Inc

phone: +1 325 676-7330

address: 1095 North Judge Ely Blvd

The college-town burrito joint inside United Supermarkets. Try the local improvement on Chipotle. Go for the seasoned chips and Spicy Ranch. Ask for the Kid's Burrito, its plenty big.
Drink
Remington's Lounge

phone: +1 325 698-1234

address: 4250 Ridgemont Dr

Inside the impressive MCM Elegante Suites, Remington's is a popular local hotspot.

Seafood Tavern

phone: +1 325 695-1770

address: 1882 South Clack St

The small, dimly-lit bar in Seafood Tavern feels more like a British pub than a west Texas saloon. With live music regularly and a large and comfortable outdoor area, The Tavern is a great place to unwind.

Jack Rabbit Slim's

address: 833 East Hwy 80

Cheap beer, shot specials and a slew of massive projector screens and TVs playing sports and music all night, Slim's is a great hangout.

Linda's Lounge

address: 840 Us Highway 80 E

With a hole-in-the-wall feel, Linda's has 2 pool tables, loud music and cheap drinks. Regularly standing-room only on weekends. Very popular with the local college crowd.

Buffalo Wild Wings

phone: +1 325 695-9464

address: 4401 Ridgemont Dr

Very popular sports bar. Full menu at all hours.

Chelsea Street Pub

address: 4310 Buffalo Gap Rd

Live music most weekends.

Cabo's

address: 1874 S Clack St

Expansive sports bar with pool tables, darts and numerous TVs.
Sleep
phone: +1 325-437-4741

address: 3050 Catclaw Dr

Comfort Inn

phone: +1 325 437-3773

address: 6350 Directors Pkwy

Comfort Suites (North)

phone: +1 325 672-0338

address: 1902 E Overland Trl

Comfort Suites (South)

phone: +1 325 795-8500

address: 3165 S Danville Dr

Courtyard by Marriot

phone: +1 325 695-9600

address: 4350 Ridgemont Dr

Quaint, quiet and comfortable hotel.

Hampton Inn

phone: +1 325 695-0044

address: 3917 Ridgemont Dr

Hampton Inn & Suites

phone: +1 325 673-4400

address: 3526 West Lake Rd

Hilton Garden Inn

phone: +1 325 690-6432

address: 4449 Ridgemont Dr

Large rooms, convention space and an indoor pool.

Holiday Inn Express (North)

phone: +1 325 675-9800

address: 1802 E. Overland Trail

Holiday Inn Express (South)

phone: +1 325 695-0500

address: 3112 South Clack St

LaQuinta Inn & Suites

phone: +1 325 437-4832

address: 3018 Catclaw Ave

MCM Elegante Suites

phone: +1 325 698-1234

address: 4250 Ridgemont Dr

Built as an Embassy Suites, MCM Elegante remains Abilene's premiere hotel. Lovely 2-room suites, a full-service restaurant and ample meeting space.

Residence Inn

phone: +1 325 677-8700

address: 1641 Musgrave Blvd
Go next
Lake Fort Phantom, north of town, is a popular lake for sport fishing.