Abruzzo
Abruzzo
is one of the twenty Italian regions. It is situated in the central part of
Italy
, to the east of
Rome
on the Adriatic Sea. Abruzzo's western border lies less than 50 miles due east of Rome. Abruzzo borders the region of
Marche
to the north,
Lazio
to the west and south-west,
Molise
to the south-east, and the Adriatic Sea to the east. Although geographically more of a central than southern region, ISTAT (the Italian statistical authority) considers it part of
Southern Italy
, a vestige of Abruzzo's historic association with the Kingdom of the Two Sicilies.
Abruzzo is known as the greenest region in Europe as almost half of its territory, the largest in Europe, is set aside as national parks and protected nature reserves. Its territory is composed of rolling hills and fertile plains at the base of the Apennine mountains, featuring wild beaches and ancient towns perched on hilltops. It is also home to Calderone, Europe's southernmost glacier. A vacation in Abruzzo offers a taste of the unspoiled Italy.
Provinces
Abruzzo is divided into four provinces:
The four provinces feature 305 municipalities: L'Aquila comprises 108, Chieti 104, Pescara 46, Teramo 47.
Cities
— The regional capital of Abruzzo, with an imposing 16th century castle, the Fontana delle 99 Cannelle and the pink and white marble Basilica di Santa Maria di Collemaggio with its Holy Door and Gothic interior.
—
—
— the largest city, with 6.5 miles of seaside promenade with wide sandy beaches
— a medieval town famous for its sugared almonds, the 11th-century cathedral of San Panfilo, and the 13th-century church of San Francesco delle Scarpe
— between the highest mountains of the Apennines
—
—
Other destinations
Nature
Out of the three geographical areas (Marsica, Appennino and Sub-Appennino), one third of the region is designated either as national or regional park areas.
This region, where the north of Italy meets the south, is also one of the most beautiful in the country. Bordered by the Apennines to the west and fringed by the Adriatic on the east, it has some of Italy's most unspoiled scenery. In the Gran Sasso it has the highest mountain of the Apennine range. Stand atop the Gran Sasso and you have views of both the Adriatic and the Tyrrhenian (Mediterranean) Seas across the entire width of Italy. You could journey through the Abruzzo's valleys for days, never encountering another person, and when you travel up to the broad mountain plains of the Abruzzi, you'll meet the eerie sight of entire abandoned hill towns. Plan your holiday in Abruzzo with plenty of time to walk, drive and explore.
In the past decade, Abruzzo has increased in tourism tremendously, along with other Italian Destinations. Castles and Medieval towns are very popular tourist attractions near the town of L'Aquila. Abruzzo is also known for its skiing because they have 21 attractions only hours from Rome. The ski resort mountain heights can compare to the Aplines. However, Abruzzo is known for cross country skiing.
Abruzzo is picturesque in its scenery. Many old villages were abandoned and remain largely intact, and the country side is rich with historic sites. It is often said that Abruzzo has as many castles as it does sheep. Most of this sleepy region has remained as it was in medieval times making Abruzzo the first stop for those seeking to take a glance at the past or a chance to see nature as it was hundreds of years ago, unspoiled and perfect.
If you do not like to ski, Abruzzo offers an abundance of beaches as well. Abruzzo's 129 km sandy coastline is home to a many popular beach resorts, among them Vasto, on the southern coast; , whose sands are considered among the best in Italy, , Francavilla al Mare and Pineto on the mid-coast, and on Abruzzo's northern coast Alba Adriatica and Martinsicuro.
(Parco Nazionale del Gran Sasso e dei Monti della Laga)
(Parco Nazionale d'Abruzzo, Lazio e Molise)
(Parco Nazionale della Majella)
(Parco Naturale Regionale Sirente-Velino)
The Parco Nazionale d'Abruzzo, an impressive national park founded in 1922, is host to every variety plant and animal imaginable and considered the most important park in Italy. No other park in Italy is better developed for camping and recreational activities. Great stands of beech, oak, and birch can be found in the park a long with beautiful wild flowers of every color and design. The brown bears of the region along with wolves, eagles, and large wild cats find refuge in the park, making Parco Nazionale d'Abruzzo a haven for vanishing species.
Understand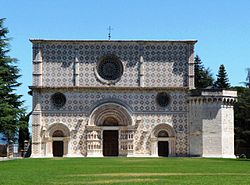 In the Middle Ages the region began to be called Abruzzo, from the Latin
Aprutium
. Then the region was divided into two parts: Further Abruzzo and Hither Abruzzo. In 1860, with the Unity of Italy, the region of Molise was added to Abruzzo and they were called Abruzzi and Molise. In 1963 Abruzzo and Molise became separate entities once more.
Though Italians once thought of Abruzzo as a remote region separated from Rome by the Apennines, a modern expressway system has opened the region to tourism. Most of Abruzzo lies within a few hours of Rome and is convenient for day trips from the capital as well as Naples. Abruzzo's more populous east is made up of vast sandy beaches that stretch along the Adriatic; its west of hills that rise quickly to mountains. The mountainous region of l'Aquila, which lies nearest Rome, contains castles, ancient ruins and spectacular mountain vistas.
Abruzzo's main city and administrative town,
L'Aquila
, is a beautiful city in a picturesque mountain setting which makes it a great destination start for exploring the region.
Pescara
is pleasantly modern and offers all the features to be found in a city on the Adriatic: business, shops, entertainment.
Chieti
is full of history and nicely layered along the hill on which it is situated.
Teramo
is interesting and lively. Smaller charming town such as
Sulmona
and
Scanno
should also not be missed.
The region is 65% mountain 34% hills and the remainder flat land. The region has four provinces and each have a distinct climate. The province of L'Aquila is totally characterized by mountains, in the Chieti area it is rolling hills, while in Pescara and Teramo the areas are covered by a mixture of mountains and hill.
Get in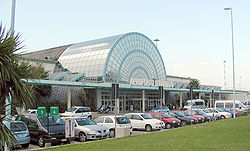 By plane
Abruzzo International Airport
(
PSR
) in Pescara is served by low cost airlines with low fare flights from and to Brussels, Bucharest, Copenhagen, Frankfurt, Krakow, London, Milan and Turin.

By train
Abruzzo can be reached by train from Tiburtina railway station in Rome, a journey which offers truly picturesque views of the valleys in the Apennines and of some charming hill towns in Italy.

By car
There are three autostrade (toll motorways) that connect Abruzzo to the rest of Italy:
A25 — links Rome to Pescara crossing the region from west to east

Private and public transport by car or bus from and to Rome are therefore excellent.

Get around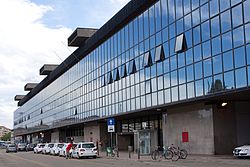 Trains and buses run regularly from Rome and through Pescara and L'Aquila, these journeys through the mountains can be spectacular and highly recommended. From there, most towns can be reached by local buses. See
Trenitalia
and
ARPA
for more details.
If you intend to travel from Rome to Abruzzo, the station you will catch your Express or Stopping coach will be from Staz. Tiburtina. Expect to pay about return for an Abruzzo destination.
The coast can be explored by train or bus, since all comforts of modern travelling are available.
There is a bus network which connects all four major cities: Pescara, L'Aquila, Chieti, Teramo.
In order to visit rural areas, a car is recommended if you want to reach relatively unknown villages in remote locations of Abruzzo.
For a detailed map:
See

The Abruzzo region is a remote region often overlooked by tourists. It has spectacular natural scenery, medieval castles and villages, monasteries, and Roman ruins. Two-thirds of the Abruzzo's land is mountainous with the rest being hills and coast. A third of the region is designated as national or regional parkland. Bordering regions are the Marche to the north, Lazio to the west, Molise to the south, and the Adriatic Sea to the east.
Much of the Abruzzo region is in national or regional parks. Parco Nazionale d'Abruzzo is a large protected area with good hiking and biking trails. Its seven visitor centers have trail maps and information. Guided tours can be arranged in Pescasseroli. Gran Sasso, the highest point in the Apennine Mountains, has hiking trails, spring wildflowers, and winter skiing.
Pescara, on the Adriatic coast, is the largest city in the Abruzzo region. Although it was badly bombed during the war, it's now a good example of a modern Italian city and still retains some historic elements. Pescara has a nice seaside promenade, 20 km of sandy beach, great seafood restaurants, and lots of nightlife. The Museum of the Abruzzi People has a huge collection of artifacts about life in the Abruzzo from prehistoric times through the 19th century. Pescara has a few other museums and several good churches and buildings, too. In July, Pescara holds an international jazz festival.
Do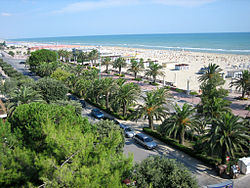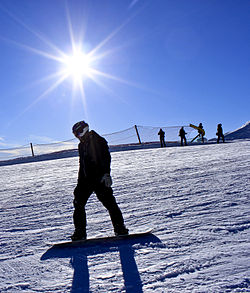 Beaches — Abruzzo's 129 km long sandy coastline (interrupted in places by pebble beaches) is home to many popular beach resorts. Beaches worth visiting are in Fossacesia and Vasto Marina, on Abruzzo's southern coast; Silvi Marina, Francavilla al Mare and Pineto, further north; finally, travelling north, shortly before Le Marche, Alba Adriatica and Martinsicuro close the list of seaside resorts which are considered among the best in Italy. Beaches of Abruzzo are pristine and the waters of the Adriatic are warm. Lifeguards are operative full-time on most Italian beaches, during the summer season. It is best to follow posted warning signs and status flags describing the sea's condition on the day you decide to take a swim. Most beaches have corded off bathing areas - pass these at your own risk, as the waters deepen significantly very quickly.
Hiking, horseback riding, mountain climbing and sightseeing — Abruzzo's extensive park system lies within two hours of Rome or less and includes natural beauty akin to national parks in the western United States. Within Abruzzo's parks lie some of Italy's most beautiful ancient hill towns rivaling those of Tuscany and Umbria.
Skiing — Abruzzo has 15 ski resorts with 368 km of runs in 172 different ski tracks, all within a couple of hours drive from Rome. The most popular resorts are Roccaraso, Campo Felice, Campo Imperatore. Located on the highest altitudes of the Apennines, these ski areas are at heights nearly comparable to many resorts in the Alps. Because of their proximity to the Adriatic and winter precipitation patterns, they often have more snow than the Alps. Abruzzo also is popular for cross country skiing, especially on the high plain of Campo Imperatore in the Gran Sasso as well as the Piana Grande in the Majella.
Museums — In L'Aquila, you can visit the National Museum of Abruzzi, with sections for paleontology, archaeology and medieval art (painting, sculpture, jewelry, ceramics, lace, sacred ornaments, glass windows). Pescara has the Museum of the Folk Traditions of Abruzzo, which holds a didactic archaeological exhibition. The Pinacoteca Civica in Teramo displays beautiful majolica. Chieti's National Museum of Antiquities houses important relics of the ancient Italics, Greeks and Romans, including some remarkable pieces such as the Warrior of Capestrano, of the fourth century B.C.
Rock Climbing — Abruzzo offers a great destination for rock climbing, beach combing, and mountain biking. Amazing rock climbing areas are: Petrellia Liri, Roccamorice, San Vito, Assergi, Monticchio, Capestrano, Fara Sam Martino.
Zoo — Near the little village of Civitella Casanova is a nice zoo: Parco Zoo La Rupe. It's built on a mountain with a beautiful view and it features many animal species.
Eat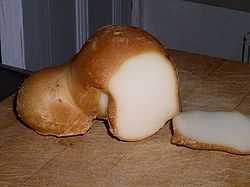 In Italy, high consideration for food (and wine) quality and variety is a reason of pride. Regional cooking is a unique experience for the foreign visitor: in Abruzzo this is no exception. Here are some of the local specialities that you may enjoy:
Abruzzo's food is based on peasant dishes. Lamb is very popular inland and the Abruzzo produces pecorino (lamb's milk) and goat's milk cheeses. Pork is also used frequently and on the coast there are many fish dishes. Baked scamorza cheese is a common dish that can be a main course or appetizer. Saffron is used frequently.
Spaghetti alla chitarra (square strands of pasta served with a tomato sauce)
Fagioli e cotiche di maiale (stewed beans and pork rind)
Prosciutto di cinghiale (wild boar ham)
Testicoli di mulo (small round lean pork sausages; though the name seems anatomical, they are named that way as they are always sold in pairs)
Pecorino d'Abruzzo (local sheep's cheese)
Burrata (a truly rare delicacy – a ball of tangy cheese with a soft buttery center)
Salame di fegato pazzo (spiced liver salami)
Salame di fegato dolce (liver salami made with honey)
Drink
Montepulciano d'Abruzzo (a red wine)
Trebbiano d'Abruzzo (a white wine)
Rosatello aquilano (a rosé wine)
Corfinio della Valle Peligna (a light white wine)
Amaro Gran Sasso (one of the bitter digestive liqueurs that Italians are so fond of. Beware, the alcohol content is upwards of 70% proof)
Ratafia
A wine from black cherries fermented in the summer sun (L'Aquila, the National Park of Abruzzo
Doppio Arancio
(Double Orange) liqueur, a sweet taste of a homemade production of the Erminio Orsini firm of Giulianova, in activity since the 1850s.
Go next