Abu Dhabi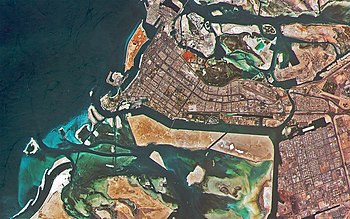 Abu Dhabi
is the federal capital and the seat of the three branches of government of the
United Arab Emirates
. It is the largest city of the
Emirate of Abu Dhabi
.
The city is essentially a collection of islands connected together and features colossal monuments, elegant museums, green boulevards, high-rise buildings, international luxury hotel chains and opulent shopping malls.
Understand
History
Abu Dhabi is the capital and seat of the government of the United Arab Emirates, hence it is the go-to destination for any major political event or ministerial headquarters. The city was not intended to be the capital of the UAE. The capital of the UAE was supposed to be a planned city between Abu Dhabi and Dubai and was to be called 'Al Karama' (which means dignity in Arabic) as stated in the first version of the constitution. However, considering the earlier stage of the union was a volatile time, with multiple issues and various ordeals occurring, Abu Dhabi was made the temporary capital as it was the home of the UAE founding father Sheikh Zayed. Later stage, Abu Dhabi was declared to be the permanent capital of the UAE by the agreement of the rest of the seven UAE founding fathers. The capital and the seat of the three branches of the government was set to be in the Abu Dhabi Capital District, while the rest of the city would continue to be a city catered to the native population and residents. Abu Dhabi is also the headquarters of the United Arab Emirates Armed Forces, with an enormous walled city outside of Abu Dhabi called Sheikh Zayed Military City hosting the defensive headquarters of the military. As a result, it is a common sight to see Emiratis in military fatigue around the city. Non-Emiratis are strictly forbidden from entering any military building except with prior authorization.
People
The story behind the name...
"Dhabi" is the Arabic word for a particular antelope species of gazelle that was once common in the Arabian region. "Abu" means father; hence, Abu Dhabi means "Father of the Dhabi". The name of the city is though to have originated from an old folklore legend in which Bedouins from Bani Yas tribal affiliation hunting a gazelle chased it all the way from the desert to the land on the coast and discovered the location. The Bedouins called it "Abu Dhabi", pertaining to the gazelle that led them there.
Many international companies, diplomatic outposts, and embassies are based in Abu Dhabi. The city has a population of approximately 1.5 million residents, while the native population forms the minority with approximately only 420,000 UAE nationals in the entire emirate. In a bid to attract foreign investors and urban planners, the city followed in Dubai's footsteps by forming tax-free zones, loosened Islamic laws, and increased real estate sales to expatriates. As a diplomatic center of the government, various monuments and museums were built. The most recognizable icon is the Sheikh Zayed Grand Mosque which is a common visiting site for tourists and diplomats. The mosque allows non-Muslims to enter and explore the Islamic architecture of the mosque. Various monuments honoring Emirati achievements also exist, with the most commonly recognized the Oasis of Dignity (called Wahat Al Karama locally). The large monument faces the mosque and has the names of fallen Emirati soldiers inscribed in the memorial.
Diplomacy
In order to build the international status of the city as a diplomacy center, the UAE government formed very close relationship with other governments; most recognizably France and the United States. As a result, a lot of American-based companies and personnel are based in the city. The American embassy is the largest embassy in Abu Dhabi and almost recognizable as a landmark with its triangular design, as well as Abu Dhabi airport is one of the few airports which allows pre-clearance immigration to the United States; allowing travelers to enter the US as domestic US travelers.
The official language of Abu Dhabi and the rest of the UAE is Arabic, however English is the
de facto lingua franca
, and almost everyone speaks it. All signs are bilingual in Arabic and English and the city's atmosphere is very friendly to visitors. Occasionally, foreign head of states visit Abu Dhabi, so seeing roads lined with flags of various countries is a common sight. Seeing F-16 fighter jets flying over the skies of Abu Dhabi is also a common sight, as a major UAE-US airbase (Al Dhafrah airbase) is near the city and sometimes jets escort foreign dignitaries traveling to the UAE. The city's vibe changes depending on which foreign head of state visits it. The city was decorated with Chinese flags and the red color when the Chinese president visited, while the city was garnished with yellow and white when Pope Francis visited. The UAE flag is almost always everywhere, decorated with the red-white-black-green colors decorating the streets, buildings, tunnels, and skyscrapers.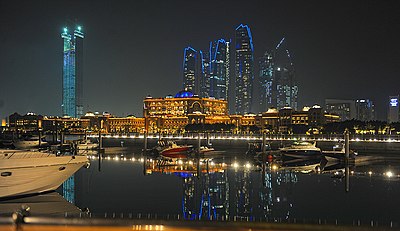 Entertainment
The city has also been expanding its entertainment industry vastly, creating massive projects such as Formula 1 track, the Ferrari World theme park, and Warner Bros. World Abu Dhabi. There are several museums, such as the Louvre Abu Dhabi, Guggenheim museum (under construction), and the UAE's national museum - Zayed Museum (under construction).
The city is also a frequent host of Judo competitions by the International Judo Federation, Formula One races, and Ultimate Fighting Championship (UFC) championships. The city also hosts the finals of the UAE football Pro-League as well as Asian Federation Cup games in Sheikh Zayed Sports Stadium.
Climate
The city has an arid climate, with very hot temperatures in the summer. Annual precipitation totals .
Orientation
Most of Abu Dhabi is on a wedged-shaped island connect by two bridges to the mainland, and two other bridges to other islands which also eventually connect to the mainland.
Street addresses in Abu Dhabi are simultaneously very logical and hopelessly confusing. Many roads have traditional names, like "Airport Rd", which may not correspond to the official names, like "Maktoum St", and the city is divided into traditional districts like "Khalidiyya". However, the city has been split up into numbered "zones" and "sectors", with all roads in each sector numbered, First St, Second St, etc., and the vast majority of street signs only refer to these. The system of main streets is straight forward enough once you realize that the odd numbered streets run across the island and the even numbers run along it. So First St is in fact the Corniche, and the odd numbers continue out of town to 31st St which is near the new Khalifa Park. Airport Rd is Second St and the even numbers continue to the east through to 10th St by Abu Dhabi Mall. On the west side of Airport Rd, the numbers go from 22nd Street to 32nd St by the new Bateem Marina. Alas, confusion is caused by the local streets, which are on green signs (main streets are on blue signs) and are also called First, Second, etc. Most locals opt to ignore the system entirely, and the best way to give instructions is thus navigating by landmarks, if taking a taxi, odds are you will get to "behind the Hilton Baynunah" much faster than "Fifth Street, Sector 2". Thankfully, GPS and Google Maps have made life much easier. Using ride-share apps or even telling the name where you want to go to a taxi driver will let them immediately know where exactly you want to be dropped.
Get in
By plane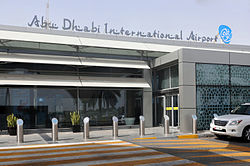 Abu Dhabi International Airport
Abu Dhabi International AirportThe UAE's second busiest airport (after Dubai) and the home base of Abu Dhabi's flag carrier Etihad Airways. Etihad Airways has been expanding rapidly and now flies from many locations from Australia to Europe and the United States.
The airport is separated into Terminal 1 (the original terminal), Terminal 3 (mostly dedicated to Etihad Airways), and a smaller Terminal 2.
Terminal 1 provides a slightly dingy appearance and a spectacularly bizarre blue-lime tiled mushroom canopy that awaits you at the gates.
Terminal 2 has no aerobridges, relying on buses to take passengers to and from their planes.
Terminal 3 is much newer and has improved shopping and gate access. All flights from Terminal 3 are Etihad, but not all Etihad flights leave from Terminal 3. In particular, flights to and from the US use the older terminal.
A fourth major terminal is expected to open in 2019.
To/from the airport:
Al Ghazal taxis travel to the city at a flat rate of 75 dirham and take around 40 minutes.
Metered taxis are now allowed to pick up passengers at the airport. A trip into Abu Dhabi city center will cost 60-70 dirham. Metered taxis can also bring passengers to the airport. The taxi stand is at the end of a long walkway from the main terminal. Passengers must turn left when leaving the arrivals area and travel through a long passageway to the curb area, where a covered platform next to the taxi stand is provided. Expect long lines at the taxi stand during the evening and late night hours.
Public bus routes A1 and A2 head to the city every 30 minutes 24 hours a day. The A1 bus goes to the city air terminal in Al Zahiya and the A2 bus terminates at the intersection of Khalifa Str and Shk Zayed Str in Al Dana, see this map for the detailed route. It costs about 4 dirham to central Abu Dhabi (2.00 dirham base fare + 0.05 dirham per km). No tickets are sold on the bus, you need to purchase the Hafilat Smart Card (the card itself costs 10 dirham) from the ticket vending machine or public transport counter in the arrivals hall. There is also a free (no Hafilat card required) A18 minibus departing hourly between 08:00 and 22:00 from the airport and going directly to the Zayed Grand Mosque and continuing to ADNEC (Abu Dhabi National Exibition Centre) which is a good choice when you have a long layover during the day and just want to visit the Zayed Grand Mosque for free. All public buses (A1, A2 and A18) leave from the lower level (arrivals) outside T3.
If you are flying on Etihad or some partner airlines, complimentary shuttle buses are provided at regular intervals to Dubai and Al Ain (you should book these at least 24 hours in advance through this site). These depart from the main car park at the front of the airport, by the car hire offices: follow the Etihad Shuttle signs. In Dubai, you can also check in at the Etihad Travel Centre, that is close to Noor Bank station.
Ethiad first and business class passengers can avail complimentary Mercedes chaffuer service under similar conditions as the bus fron this link to/from anywhere in the UAE.
Dubai International Airport
A viable alternative is to fly to Dubai International Airport (
DXB
) in the neighbouring emirate of Dubai and continue onward by bus or by taxi.
To/from Dubai airport:
A metered Dubai airport taxi direct to the Abu Dhabi city centre will cost about 300 dirham.
To get a bus, you will have to go to one of several bus stations in Dubai to catch the Emirates Express to Abu Dhabi. See By bus section below.
By road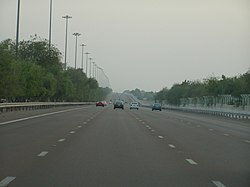 The five-laned E11 highway between Dubai and Abu Dhabi is the country's heaviest-traveled route, and the 130-km journey can be covered in about 1 hour and 20 minutes. While there is a national speed limit of 120 km/h, you can speed up to 140 km/h without triggering speed cameras. This speed is wildly exceeded by some drivers. Stay out of the leftmost lane and drive carefully, especially at night. E11 is the longest highway in the Emirates.
If you rent a car in Abu Dhabi, chances are that the car will warn you if go above 120 km/h. Depending on the vehicle, it might just be a flashing light or an accompanying, continuous, shrill beep. If you get annoyed by this, you might not want to exceed 120 km/h.
To travel directly into Abu Dhabi from Dubai on E11, keep to your left at Al Shahama and follow the E10 highway, which passes Yas Island (exit at the E12 highway) and Al Raha Beach on the way to the Sheikh Zayed Bridge into Abu Dhabi. This bridge connects directly to Salam Street (8th Street), a wide megahighway along the northern shore of Abu Dhabi Island. As an alternative to the Zayed Bridge, there are ramps off E10 that connect to the Maqta Bridge, which leads to 2nd Street (Airport Road) and to 4th Street (East Road or Muroor Road). During off-peak periods, these routes run fairly quickly into the city.

Parking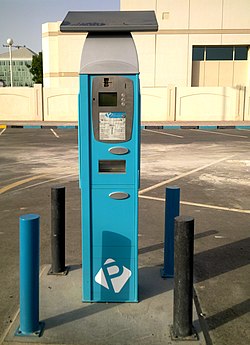 Parking within the city is monitored by Mawaqif, which also supply the parking meters. Parking meters have displays in English and Arabic. The minimum fee is usually 2-4 dirham.
Finding a parking in main island of Abu Dhabi is a disaster. Parking spaces are extremely limited and most are parking designated for specific institutions. You are more likely to save time if you Uber or take a taxi to your destination instead of driving as finding a parking can take you hours. If you end up finding a parking, you'll have to walk a long way to reach your destination. Most people who own cars but live in mainland Abu Dhabi deliberately use taxis to get around due to the parking shortage. On the brighter side, shopping malls usually have free of charge underground parking with lots of parking spaces. Some close to door parking spaces are designated for electric or hybrid cars only as an incentive to drive electric cars.
Parking areas in Abu Dhabi are clearly marked; yellow and grey for no parking, blue and black for standard fare, and blue and white for premium fare.

By bus
You can get into Abu Dhabi from the other Emirates of Dubai, Sharjah, etc., by bus. The Emirates Express between Abu Dhabi and Dubai is operated jointly by the Abu Dhabi and Dubai municipalities. The 130-km route takes around two hours. The buses operated by Dubai's RTA are luxury buses that charge 25 dirham for the onward journey to Abu Dhabi and 25 dirham for the return journey. The Abu Dhabi transport buses charge 15 dirham each way. The first bus departs from the Abu Dhabi main bus terminal on the corner of Hazza bin Zayed the First (11th) St and East (4th) Rd at 05:30 and the last leaves at 23:30; they leave at 30-minute intervals, or if the bus gets full sooner. From Dubai, the buses leave from 05:30, and run until 23:30, from the Al Ghubaiba station in Bur Dubai (opposite Carrefour Shopping). For bus times, see the timetable published on the Government of Dubai's website.
If you hold an Emirates flight ticket and arrive to or depart from Dubai airport, the airline offers a complimentary extension of your trip to/from Abu Dhabi. Buses depart from Dubai airport Terminal 3 and arrive to Emirates Abu Dhabi office located in Al Sawari Tower. Contact Emirates customer service for booking .

By taxi
Taxis are widely available everywhere. You can flag down any metered taxi on the street in Dubai or any other place in the UAE and ask to go to Abu Dhabi. Ride-share applications such as Uber are also available. The cost between Dubai and Abu Dhabi is about 250 dirham. From Abu Dhabi, taxis cost about 200 dirham to Dubai, depending on which side of Dubai you'll be getting off.

Get around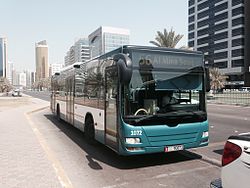 Abu Dhabi offers buses and plenty of taxis to get around. Since the most of the city is located in Abu Dhabi island, traffic is a common occurrence.
By taxi
Taxis are a good way to get around if you don't have a car. Abu Dhabi's taxis are relatively cheap. The main taxis are silver with yellow signs on the top. Flag fall costs 5 dirham, 5.50 dirham at night (22:00 to 06:00) (2017). You can flag one down from anywhere in Abu Dhabi. Alternatively, you can book a taxi in Abu Dhabi by calling 600535353, for a 4-dirham booking fee. Taxis will charge you 1.82 dirham per kilometer (2.93 dirham per mile), and 50 fils for every minute of waiting.
Taxis are monitored using GPS and are not allowed to give above certain speeds. These change depending on where the taxi is.
Newer-looking black cabs also go around town sometimes. These are airport taxis, which you can get on at Abu Dhabi airport and get off anywhere in the city for 60-100 dirham. You can recognise them with their coloured signs on the top, displaying text in English and Arabic.
You are not expected to tip taxi drivers, but gratuity will be extremely appreciated.
By bus
The main bus station in Abu Dhabi is on Hazaa Bin Zayed Road. You can get buses here going to the different points within the city as well as inter-city buses. The bus stand also serves as a taxi stand, for inter-emirate taxis. The inter-city buses and airport buses are easy to locate at the bus terminal, and well signposted. The route services depart from various stops in the vicinity, and not all enter the bus terminal proper. There is no directional signage or and no maps.
The fare system is simple: 2 dirham for a single ride, 4 dirham for a day pass, 30 dirham for a week pass, or 40 dirham for a one-month
Hafilat
pass. Tickets can only be loaded on disposable or reusable smart cards. No cash is accepted by the drivers. The dark bluish green buses are air-conditioned but not wheelchair accessible. Passengers can board and alight at the designated stops along the route. These locations can be identified by the temporary Department of Transport bus stop poles. Bus stops that do not have the DoT bus stop sign may not be served as not all bus stops along the route are used.
Hafilat smart cards can be purchased from ticket machines which can be found at the main bus station and in the Abu Dhabi Mall area. Machines are unremarkable and hard to spot, thus ask locals.
Route 5: Al Meena to Marina Mall via Abu Dhabi Mall and Hamden Street. Every 10 min, 06:30–23:30.
Route 7: Abu Dhabi Mall to Marina Mall via Zayed the 1st Street (also known as Electra). Every 10 min, 06:30–23:30.
Route 8: Tourist club to Break Water via Hamdan Street, Zayed the 2nd (via 4th) Street, Airport Road, Al Manhal Street. Every 20 min, 07:15–23:30.
Route 32: Sports City Carrefour to Marina Mall via Airport Road, Bus Station, and Zayed the 1st Street. Every 10 min, 06:00-22:40.
Route 54: Sports City Carrefour to Abu Dhabi Mall via East Read, Bus Station, and Hamden Street. Every 10 min, 06:00-23:00.
The older bus service, operated by the Abu Dhabi Municipality, operates bus routes within city and to the other emirates. The routes within the city are very few. The buses are modern and air-conditioned. The services are as punctual as possible and operate more or less around the clock and charge 2 dirham for travel within the capital. The front few seats are reserved for women, men should move towards the back of the bus.
By car
If you do decide to take the plunge and rent a car, beware that the street numbering system is unusual and it can take weeks to get used to it. U-turns are allowed at almost every intersection. When the left lane signal turns green, you simply have to swing a U-turn and come back. Whatever other flaws drivers here may have, they do
not
run red lights. There are cameras at many intersections, fines are high (about 550 dirham), and residents who are not citizens can be deported for reckless driving or running too many red lights. When the light starts flashing, that taxi in front of you
will
jam on the brakes, and you should, too. When the light turns green, however, expect someone behind you to honk at you immediately to get you moving. Almost all roads are monitored by remote radars, and you will get a hefty fine by mail for violating the speed limit without anyone stopping you or telling you you've been driving fast. The speed limit on speed signs is exactly the limit on which the radar will catch you. (There is no margin If you exceed the limit as in Dubai and other emirates, you will be fined if you exceed the written sign limit.)
Outside Abu Dhabi, Abu Dhabi license plates have a reputation for reckless drivers due to the large sized traffic lanes in Abu Dhabi, causing Abu Dhabi drivers to drive poorly when they move to smaller lanes in other emirates. Tempered drivers are common. They can pull out in front of you, change lanes at random, and text while driving. On the other hand, the ban on drunk driving is very strictly enforced.
The E11 Abu Dhabi to Dubai road is considered the most dangerous road in the UAE. Large number of people travel back and forth between Abu Dhabi and Dubai, and a large number of them don't always pay attention on the road. The road broke the record for the largest traffic accident in UAE history. Its not uncommon to see drivers reading newspapers, or watching a movie across this segment of highway. Despite excellent roads, and a traffic signal system, vehicle accidents remain the largest cause of deaths in the UAE.
On foot
While walking in Abu Dhabi is not a problem for locals, tourists from colder climates will suffer from the heat and sun. The temperatures can exceed 45°C in the summer.
While staying inside or using a vehicle is a good idea, if you have to walk, try to do it night, when it is cooler. Plus, there won't be a sun to give you sunburn. If you have to go during the day, wear plenty of SPF 50 sunblock, wear a hat and light clothing and try to keep in the shade as much as possible.
By bicycle
There is a separated cycleway that runs almost the entire length of the Corniche, as well as around Yas Island, and other parts.
See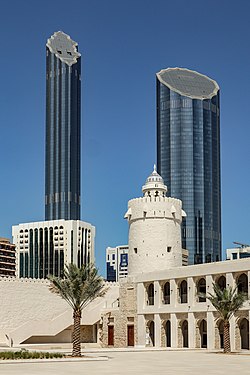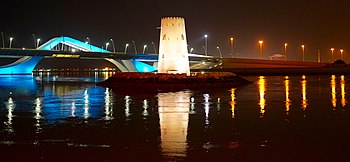 Abu Dhabi offers a lot of historical and cultural sights but it certainly isn't lacking in modern attractions.
phone: +971 2 441 6444

address: Second Shaikh Rashid Bin Saeed

The 8th largest mosque in the world, boasts a total of 82 domes. On Fridays, it is closed to the public and open only for worshippers. You can get there by public bus #54. Make sure to ask the bus driver to tell you when you get there. The public bus stop is 100 m before the mosque and after that is no stop for the next 5 km. The Mosque Centre offers several free tours of the mosque every day. Times vary on a daily basis, so check their website. As it is a place for worshippers, dress conservatively. In particular, women must cover their head and ankles (if they're wearing sandals). Appropriate black dress is available at the mosque. You will avoid the queue for the clothing if you wear shoes, a long dress or trousers, and take a scarf to cover your head/hair. Clothing is also available for men, but will likely be unnecessary. Even when taking photos outside the mosque, women who are inappropriately dressed will be challenged by security.

Qasr al-HosnThe oldest stone building in Abu Dhabi, this small fort was first constructed in 1761 and served as the royal palace from the late 18th century until 1966. The site is surrounded by boards, and the building itself is not open to the public.

Corniche RoadThe city's main avenue, it curves around the coastline along Abu Dhabi's spectacular waterfront that stretches for miles from the breakwater near Marina Shopping Mall almost up to the Mina Zayed port. The shoreline is lined with a walkway for the entire length, skyscrapers, lovely beaches, parks, and other landscaped areas. There are many activities like go-kart riding, playgrounds and even stages for shows. Come in the evening and you'll feel as if all of Abu Dhabi has come here for their evening walk.

Yas IslandHas a Formula 1 race track, Ferrari World (a Ferrari-themed park home to the fastest roller coaster in the world), Yas Waterworld, a shopping mall and a hotel.

FlagpoleAt 123 m, this is among the world's tallest flagpoles, and you won't miss the massive UAE flag flying from it. It is on Marina Island across from Marina Mall.

phone: +971 600 56 55 66

address: Saadiyat Cultural District, Saadiyat Island

Art and civilization museum exhibits artworks from Musée du Louvre and other French collections. Opened in November 2017, the largest art museum in Arabian peninsula with , including of galleries.
Parks
Abu Dhabi has several large green spaces, many of which include play areas and equipment for children, and the city is studded with lovely fountains, swathes of neon light, and the occasional sculpture.
Khalifa ParkThe best park by far, built at a cost of US$50 million. It has an aquarium, museum, train, play parks and formal gardens.
Cultural events
Abu Dhabi Cultural CentreA landmark in the Emirates, it holds cultural events and workshops throughout the year. It has a well-stocked library, children's programs, art exhibitions, benefits, and other culture-related activities that are the hallmark of any city. It's well worth a look.

Manarat al SaadiyatAn exhibition space and cultural centre with galleries, a theatre and a restaurant, opened in 2009 and with works by contemporary artists from around the world.

UAE PavilionSand dune-inspired exhibition centre designed by Norman Foster.
Upcoming projects
There are a vast number of projects coming up in Abu Dhabi.
Lulu IslandsA group of artificial islands, already built just offshore at great expense, but sitting there doing nothing after a tourism venture failed to even start construction.

Reem IslandBy the time it is completed, it will be a residential, commercial and educational haven. Reem Island is progressing well, with many skyscrapers being built on the island to facilitate its growing population. The Reem Island skyline has impressive number of tall buildings. However, the north side of the island is still quite sparse. Despite this, there are many facilities available and Reem Island is a good place to live.
Do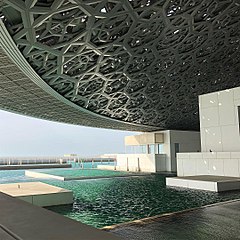 Swimming Nearly all hotels and private clubs in Abu Dhabi offer swimming facilities, usually in the form of private beaches. You can pay for a day's use, or for a year's. Another, notably cheaper, option is The Club, an organization geared towards expatriates.
Lessons Some hotels also offer dance lessons, aerobics classes, and other physical entertainment.
Desert safari trips are a tourist but fun experience. They must be booked ahead, but can often be booked as late as the day before, most hotel receptionists can arrange this for you. Trips start late afternoon and end at night. You will be collected from your hotel and driven to the desert in a 4x4 vehicle. Most packages include a bone-rattling drive over the dunes, a short camel ride, a mediocre Arabic buffet and a belly dancer. The belly dancer is normally only included if there are enough of you in your party so enquire at the time of booking. Another option would be renting/buying a 4x4 and joining the many growing 4x4 clubs in the UAE. Most popular off them is the Abu Dhabi 4x4 offroad club AKA AD4x4 that offers a free learning experience for all newcomers. The club consists of all nationalities and is active with over 2,000 members and schedule trips weekly to suit all levels of driving skills.
The official sport of the Emirates is shopping, and Abu Dhabi offers plenty of opportunity in this area.
Helicopter Tour Board a l6-seater Eurocopter EC130 B4 and Discover Abu Dhabi from a birds' eye view with Falcon Aviation Services. Tours operate daily from 09:00 to 17:00 from the Marina Mall Terminal. Reservations recommended (tours can be booked on an individual or private basis)

Abu Dhabi Grand PrixWatch a Formula One race. It is the second Grand Prix arena after Bahrain.

- one of the worlds biggest indoor amusement parks, featuring six themed areas; Gotham City, Metropolis, Cartoon Junction, Bedrock, Dynamite Gulch and Warner Bros Plaza.
Buy
Abu Dhabi is a compulsive shopper's dream. There are several malls, most of which have the same stores as other malls. Besides establishments aimed at locals, malls also include popular foreign chain stores, as well as designer places. Many visitors will be surprised at the female fashion dichotomy - while local custom calls for women to be covered in public, most stores sell short skirts and halter tops alongside the more sedate floor-length skirts and high-necked shirts.
Abu Dhabi MallA three-story shopping mall.
Marina MallHas a musical fountain and ceilings that thunder and rain.

Yas MallOpened in 2014 next to Ferrari World on Yas Island. This is the biggest mall in Abu Dhabi and the 16th biggest mall in the world. It has the first Lego store in the UAE. It is connected to Ferrari World.

Al Wahda MallA large, modern mall. Shops are high-end, the food court is extensive, and a large LuLu Hypermart in the basement.

phone: +971 2 635 4000

address: Mubarak bin Mohammed St, Al Khalidiyah W9 area, POBox 4048

Khalidiya Mall is small but a nice place to visit. The droll fashion stores may grip you for maybe several seconds, but then the obvious lack of things to do kicks in. However, the food court is popular, alongside New York Fries, Chili's, a Dunkin' Donuts, and Baskin Robbins. Downstairs there is an extortionate Krispy Kreme and Starbucks, and a what looks to be an Indian/Arabian cuisine restaurant, which seems good but looks to be unpopular.

Shams BoutikA growing mall built around the community of Reem Island. It contains a growing number of good shops, including a supermarket, three restaurant, serveral fast food restaurants on the first floor, a café, a kids play area, a nail salon, a bookstore and more. Despite, this, it is placed in a area that isn't usually busy, and is not very popular.

The Mall - World Trade Center Abu Dhabi & WTC Souk

phone: +971 2 508 2400

address: Khalifa bin Zayed the First St crossing Sheik Rachid bin Saeed St, Al Danah

Nice architecture in the Mall and Souk.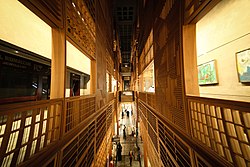 There are also many small, independent stores around the city. On the bottom floor of one building, a person can purchase fancy chocolates, computer parts, antiques and clothing. It is better to purchase things such as carpets, art, native jewellery and antiques at the independent or souk-like places than at the malls, as the price will be lower and the shopkeepers more willing to haggle.
Bargaining is a big part of shopping in the Emirates, but be prudent. Don't bargain at Marks and Spencer or Hang Ten. Save your discounting skills for independent shops dealing in antiques and the like.
Shopping in most places can be frustrating, as the assistants will follow you around the store. This is partly due to their concept of what constitutes good service, and partly because there is a shoplifting problem. Most will not be intrusive, but some employees can be very pushy and overly obsequious. Smile and thank them often, and you're more likely to be left alone after a bit.
In carpet stores - or anywhere that sells tapestries, Indian antiques, and the like don't feel too pressured to buy, and don't be shocked if they start unrolling beautiful rug after beautiful rug at your feet. You are under no obligation to buy, no matter how much time they spend with you. However, the pressure will be very steady, and shyer shoppers may want to travel in packs for comfort's sake.
Grocery stores such as Spinney's, Carrefour and the Abu Dhabi Cooperative Society are inexpensive and usually stocked with Western goods. Examine all products before purchasing. Visitors wishing to purchase pork products will likely have to enter a separate room to do so, as no nationals are permitted in these sections of the grocery stores.
Prices in Abu Dhabi tend to be very competitive. In January 2018, the UAE introduced a Value Added Tax of 5% on most products aside from basic food items.
General discount season - end of the year and midyear. These are the time where you can get some branded items with a very low price, maybe last season's stock.
Eat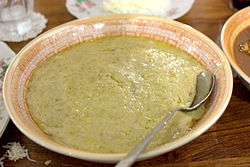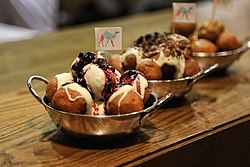 Although Abu Dhabi hosts a wide range of palates and ethnicities, there is not much variety when it comes to cuisine. Indian food is relatively cheap, and there are a few Chinese chain restaurants with reasonable prices. Hotel restaurants are usually the most expensive. The city is home to all manner of fast food like McDonald's and Hardees, but there is little call for most people to eat at those places.
The fun thing about Abu Dhabi is that most places, from tiny falafel kiosks to grand hotel restaurants to Burger King, deliver anywhere in the city. Delivery is quick and reliable, and usually doesn't cost extra. All food is certified halal.
Vegetarians will find the city's selection of meals very satisfying. Vegetable and bean-heavy native dishes, the array of splendid pure vegetarian Indian cuisine, and the ready availability of fresh salads make eating in Abu Dhabi a stress-free experience. Strict vegans may have a little difficulty communicating their precise demands, but most places offer vegan dishes and are always willing to accommodate a paying customer. The best choice for pure vegans is one of many Indian vegetarian restaurants like Evergreen, Sangeetha in the Tourist Club area.
Check the Islamic calendar to determine whether you will be visiting during the month of Ramadan. Since Muslims fast during daylight hours, restaurants are, by law, closed during the day. It is also against the law to eat or drink anything, even water, in public. Tourists (and non-Muslim residents) have been arrested and given fines for violating this law. Large hotels generally have one restaurant open during the day to serve meals to non-Muslims. During the evening, however, it's quite a different story, as the festive atmosphere of
iftar
(breaking the fast) begins and residents gather for lavish, Thanksgiving-like meals. As long as you don't mind tiding yourself over in private, the evening meals are magnificent.
phone: +971 2 659666

address: Mafraq - Abu Dhabi

Mafraq's all day restaurant serves up fresh Mediterranean cuisine borrowing influence from various regions, including France, Spain and Turkey. The buffet is prepared with the freshest of ingredients and the interior décor is equally breezy and funky.

phone: +971 2 659666

address: Mafraq - Abu Dhabi

A modern bar with green brick walls, solid wood tables and numerous flat screen TVs showing sports. God for after work drinks, or an evening with friends, Hunter's B&R offers a casual environment with a social buzz.

phone: +971 2 659666

address: Mafraq - Abu Dhabi

Rimal Asian fusion bar serves up oriental dishes in an authentic atmosphere with a modern edge. Taste the delicious flavours from Korea, China and Japan in this Asian inspired outlet, complete with Sake and signature cocktails.

address: Mafraq - Abu Dhabi

This poolside bar and restaurant serves drinks under the sun and a wide selection of snacks. The swim-up bar in the pool offers refreshment. Shisha is also available.

phone: +971 2 659666

address: Mafraq Abu Dhabi

The hotel's grill restaurant serves grilled meat and seafood steaks. Choose from an array of starters and salads including crab cakes, goats cheese tartlets and American-style Louisiana fish gumbo. Has al fresco dining on the terrace and an aperitif bar.

Old fish marketOne of the city's few remaining authentic spots, where you can have fresh fish cooked with your choice of sauce and accompaniments.
Budget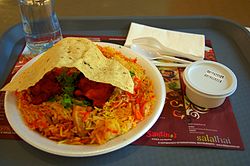 Some of the cheapest, but not necessarily best, food in the city can be found in many Indian restaurants. Portions are almost always generous, prices low, and quality excellent. Set meals of rice, fish curry, lentil curry (
dhal
), peppery soup (
rasam
), a vegetable side dish and perhaps a small fried fish, served on a large steel tray (
thali
) with little steel bowls for the accompaniments, can go for as low as 5 dirham.
Arabian Palace

phone: +971 2 6343396

The decor is basic and the food, while cheap and filling, is forgettable, but the shisha here is excellent. Puff up a pipe, order their excellent "lemon with mint" drink and gaze at the skyscrapers.

Anand Vegetarian Restaurant

phone: +971 2 6775599

address: Hamdan Street

This is a pure veg Gujarati (North Indian) style restaurant. The demand for Puri Bhaji, a deep fried bread and potato and check pea dish, is so great that you will have to wait your turn but it's worth it. There is a special part for ladies and families. Friday lunch with sweets and as much Puri as you want for only at 12 dirham. Sometimes you will have to wait for 10 min to get a roti.

Nalas Aappakadai RestaurantSpeciality for Aappam & excellent South Indian food from the Chettinad cuisine, Chinese & Tandoor

Cettinad Restaurant

phone: +971 2 6777699, +971 2 6780002

Authentic Chettinad food available at reasonable price. Also serving North Indian, Chinese, Tandoor and Mughalai food. Both vegetarian and non-vegetarian foods are available. Cettinad Restaurant branch is next to the taxi station flyover traffic light, on the back isde of Brightway advertisement building, +971 24454331, +971 2 4454332

Al SafadiIn an older building in one of the older and more walkable parts of Abu Dhabi. Shawarma sandwiches for 5 dirham each. Each main dish comes with a huge plate of greens, pickles, peppers and Lebanese bread.
Splurge
Drink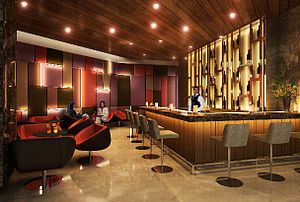 Only restaurants located in hotels are allowed to serve alcohol. Therefore, all nightlife is associated with hotels. The drinking age is 21, but most places don't care. Unlike some other Middle Eastern nations, the bars in Abu Dhabi will be able to accommodate most drink orders.
Technically, you are supposed to purchase a permit to buy alcohol for private storage, although Spinney's and other liquor stores usually take proof, such as passport of driver's licence, that you aren't a local Muslim.
Hemingway'sThe main restaurant has a good Tex-Mex menu, a wide selection of beer on tap and features live music in the evening. Jazz Bar. The second venue, has great food and a good jazz band. The band normally changes every six months or so, but the quality is consistent and they take requests. The bartenders normally put on a show by tossing bottles around while mixing a mean cocktail. The third place is Cinnabar, a nightclub that normally gets going after midnight, although it can be a nice place for a quiet drink early in the evening, even though bartenders there can be rude. The music is mostly house/club, although they have a salsa night.

phone: +971 2 644 6666

Traditional British pub located in the hotel courtyard. The pub features traditional food and a great selection of beer on tap. The large terrace is great during the cooler months of the year. A typical hang-out for the expat crowd, but try to get there early, as it attracts a large after-work crowd.

Wakataua TerraceA Polynesian-themed cocktail bar located at the far end of the courtyard, right on the water. The cocktails are amazing. The Navy Grog is highly recommended. It has a nice view at night over the water.

Rock BottomOne of the most popular night club locations in all of Abu Dhabi. It stays open later than most venues, and is cheaper. If you get there early enough, they have decent food you can enjoy in the restaurant area. They have both a live band and an excellent DJ, along with black lights and lasers. There is a hot dog stand later in the night, providing some delicious drunk snacks. Thursday nights can get extremely crowded.

phone: +971 2 690 7999

The grand hotel is a must-see in Abu Dhabi and the actual club is nicely decorated, comfortable, has great service, a balcony overlooking the hotel grounds, and provides a fun time with great music and very colorful laser shows.

phone: +971 2 674 2020

Sax is a beautifully decorated club with sleek black marble floors, two bars, a DJ, and depending on the time, a jazz band. The club is often very loud and very dark with little more than lasers lighting the room. It's not a place to go if you expect to talk at all, at least not on a weekend night. Collared shirts are required for men, and sneakers usually do not pass the bouncers either. It is not uncommon to have to pay an entry fee. There are free drinks for the ladies on Wednesday nights, so expect it to be crowded.

phone: +971 800 101 101

A 'traditional' Irish Pub , boasting brunch buffets and a long happy hour. The majority of the guests are usually British, American or Australian. There is something entertaining going on every day of the week, from 'Quiz Night' to 'Ladies Night'. If you want to start drinking early, this is the place to go. No one will bat an eye if you order beer with brunch, and you will probably find yourself staying for more than one round. The music earlier in the day is a mix of oldies and rock with faster-tempo songs for the late night crowd. This is also a great place to come to watch sports, as the quiet daytime atmosphere and televisions throughout ensure a pleasant experience. The outdoor seating near the hotel's pool is also a great asset on cooler days.

phone: +971 2 697-9011

address: Beach Rotana 10th Street

A famous cocktail bar/restaurant. The flattering lighting, interesting menu, and soft but fun island music make this a great place for a date or hanging out with people you actually want to talk to. The cocktail menu is pages long, and ordering a complicated fruity concoction is a must. The drinks may be a little on the expensive side at times, but the atmosphere is great. Try ordering one of their two- or four-person drinks, which come in a giant fishbow. They are a lot of fun if you do not mind sharing.

49ersA steakhouse/bar. It is often quoted as "more of a meat market than a steakhouse" because of its reputation for prostitution. It is uncomfortable and the men in the bar will probably assume you are for sale. The Novotel Hotel and the Sands Hotel are also notorious for their nightclubs that men frequent when looking to purchase a date for the night.

HeroesA friendly sports grill/bar. It'sts in the Crowne Hotel's basement, and offers reasonable meals, and fair drink prices. The bar is often full of men and women watching sports on television. Later at night they have a DJ and a live band that play softer rock songs. It is a pleasant place to hang out with friends, though the lack of windows or ventilation can make it stuffy and smoke-filled quickly.

Mardi GrasA small restaurant/bar. Its ambiance reminds one of a spa. The service is good, the drinks are reasonable, and the food is tasty. The band often leaves much to be desired, and the DJ is worse.

phone: +971 2 666 6888

address: King Abdullah Bin Abdulaziz Al Saud Street

A gorgeous view of the sunset over the marina if you sit outside. Inside has a very modern, minimalistic feel. The cocktails are delicious, but expensive.

'Left BankA popular and lively spot. It serves a wide range of interesting cocktails as well as nicely prepared and presented meals. They are still new so they are trying a little harder right now, and the service tends to be pretty good. Worth the 15 to 20-minute trip out of the city centre.

Rabbit HutchThe dedicated British Embassy Rabbit Hutch is a nice pub with music, a pool and a small play area for children. Although you have to know someone on the inside to get into this rather exclusive pub, the British friends and the refreshing pool is definitely worth it. They do all sorts of drinks, but don't ask for a martini, on the rocks, shaken not stirred.

Lebinese Flower

phone: +971 2 6446667

Great food and nice atmosphere.

phone: +971 558814479

address: marina club,tourist club area

Popular nightclub.

Harvesters Pub

address: Electra Street

great English pub, free pool, dart boards, multiple screens showing sports, excellent fish and chips as well as other English style meals, friendly staff, English band every night except Sundays, quiz nights every Tuesday and possibly the cheapest beer in town.
Sleep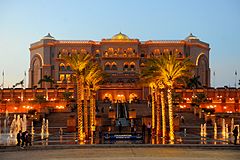 Hotels in Abu Dhabi used to be half the price of those in Dubai but no longer, with many hotels charging above 500 dirham per night. However, all are well-tended and host to first class restaurants, pools and other high-end hotel facilities.
Mid-range
Splurge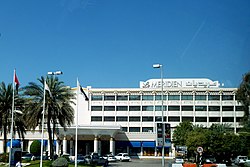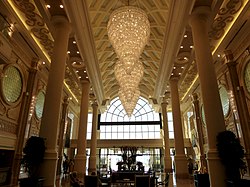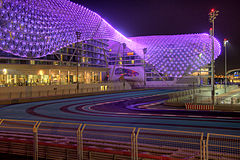 phone: +971 2 6560000

Set half on land and half on water, overlooking the marina, and positioned on the Yas Marina Circuit, which plays host the annual Formula One Etihad Airways Abu Dhabi Grand Prix, this hotel is distinctive. The exterior's gridshell can be seen for miles around and mimics the throw of a local fishing net. Fourteen restaurants and lounges.
Stay safe
Abu Dhabi has been ranked as the safest city in the world 3 years in a row by 2019 by the largest crowd-sourced global database Numbeo. The city is extremely safe, however it never hurts to practice common sense. Some people may try to scam you through telephone messages or automated voice calls telling you that you won the lottery, that you're in a legal trouble for violating a law, or that a Sheikh has decided to give you free money, or something of that sort.
Taxi drivers are monitored and they're very safe. Rarely, crime does occur but is quickly dealt with by the federal police as the city is the headquarters of the Ministry of Interior. Law enforcement officers. police patrols, and police horse units are a common sight in the city.

Cope
Embassies
Being the national capital, Abu Dhabi hosts a large number of embassies. A majority of them are clustered in the Embassies District (Al Safarat) south of the Al Bateen Executive Airport and in the adjacent Al Ma'ared Area, west of Rabdan St and south of Shk Rashid bin Saeed Rd (Road #18); and the adjacent Capital Centre south of Al Karamah St surrounding the Exhibition Centre. There are others further northwest in Al Danah, Al Markaziyah and in other parts of the city as well. If corresponding by mail/post use their PO box address as mail is only delivered to a PO Box with no post codes. If delivering to a street address with DHL, FedEx, UPS or another private courier be sure to include recipient's phone number so that the delivery driver can call for directions or clarification on the address. Some or most countries maintain an additional consulate in
Dubai
and only offer consular services from their Dubai consulate or from both locations. Check website links or call before going or sending any correspondences:
phone: +971 2 401 7500

address: Level 8, Al Muhairy Centre, Zayed the First (7th) Street

phone: +971 2 665 7500

address: Embassies Area, Basin W 59-02 lot #13; PO Box 3367

Bangladesh

phone: +971 2 446 5100

address: Villa No. 21, Plot No. W-14/01, Al Rowdha Area; PO Box 2504

phone: +971 2 694 0300

address: Abu Dhabi Mall, Towers at the Trade Center West Tower, 9th-10th Floors; PO Box 6970, Abu Dhabi

phone: +971 2 443 4276

address: Plot No. 26, Sector No. W-22; PO Box 2741

phone: +971 2 444 5566

address: Diplomatic Area, Sheikh Rashid Bin Saeed Al Maktoum Street (Old Airport Rd)

phone: +971 2 665-5111

address: Villa 119,Street No. 32,Al Bateen Street,Al Bateen - Abu Dhabi

The Embassy is located in Al Batten near the intersection of Al Batten (no.6) street and Al Falah (no. 9) Street. On the roundabout take the fourth exit and in 100 meters we are located in Vila 119.

phone: +971-2-632 8927

address: Al Masaood Tower, 12th floor, office 1202 Hamdan Street Abu Dhabi

phone: +971 2 813 1000

address: Etihad Tower, Office Tower n°3, 22nd Floor, Corniche West, PO Box 4014

phone: +971 2 596 7700

address: Abu Dhabi Mall, Towers at the Trade Center West Tower, 14th Floor, Abu Dhabi

phone: +971 2 449 2550, +971 5 0390 1820 (Emergencies)

address: 31 str, Al Muroor, (PO Box 5483, Abu Dhabi)

phone: +971 2 449 2700

address: Plot 10, Sector W-59/02, Diplomatic Area; PO Box 4090

phone: +971 2 445-4448

address: Zone 2, Sector 79, Villa No. 819, Sultan Bin Zayed Street (Str.32), Al Bateen Area; PO Box 7256, Abu Dhabi

Iran

phone: +971 2 444 7618

address: Diplomatic Area, Next to Abu Dhabi International Exhibition Center; PO Box 4080

phone: +971 2 441 8022, +971 2 441 8033

address: Diplomatic Area, AirPort Road، 33rd Al Karamah Street; PO Box 6389

phone: +971 2 443 5696

address: PO Box 2430, Abu Dhabi

The physical location of consulate: 28th Floor, Dubai World Trade Centre Building, Dubai;

phone: +971 2 444-7100

address: Rashid Bin Saeed Al Maktoum Street, Diplomatic Area, Abu Dhabi

M-Th 08:30-15:00 & Su 08:30-12:00

phone: +971 2 641-6406 (Consular)

address: 33rd Airport Rd, Embassy District; PO Box 3270, Abu Dhabi

phone: +971 4 695 8000

address: Office Tower - Bldg no. 11, 14th floor Al Khaleej Al Arabi Street (ADNEC area), Capital Centre; PO Box 46560

phone: +971 2 496-3333

address: Level 25, Suite 2503, International Tower, Capital Centre; PO Box 62292

phone: +971 2 446 3333

address: Al Mushraf Area, Al-Saada Street 19

phone: +971 4 397 3600

address: Plot No. 02, Sector W-59, Embassy District; PO Box 846

Consular services are in Dubai at Umm Hurair One, Khalid Bin Waleed Road, Bur Dubai,

phone: +971 2 639 0006

address: W-48, Street No. 8, Sector 2-23, Plot 51, Al Qubaisat, Abu Dhabi; PO Box 3215

phone: +971 2 672 3516

address: Khalifa Street,East Plots 65/67، Al Markaziyah; PO Box 8211

phone: +971 2 444 5700

address: Al Karama Street, Embassies Area

phone: +971 2 244 734 46

address: Corner Airport Road & 25th Street, Villa No A029, Al Mushref Area

phone: +971 2 627 4636

address: Al Khaleej Al Arabi Street, Centro Capital Center Building, 17th floor; PO Box 95199

phone: +971 2 410-9999, +971 2 410-9900

address: Villa No:1,W59-02; 1,Embassy's Area; PO Box 3204

phone: +971 2 610 1100

address: Khalid bin Al Waleed St (Street 22), Corniche Area; PO Box 248

The visa application centre at Shining Tower, Level 25 King Khalid Bin Abdel Aziz 26th Street, Adjacent to Khalidyah Mall; PO Box 30023

phone: +971 2 414 2200

address: PO Box 4009, Abu Dhabi
Go next