Abuja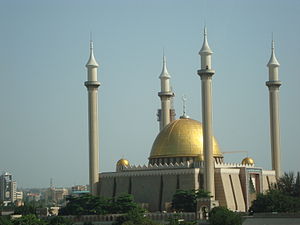 Abuja
is the capital of
Nigeria
. Since most Nigerian government agencies are now headquartered in Abuja and most other countries' embassies have been relocated from Lagos to Abuja, it is a surprisingly expensive city.
Understand
Abuja is very beautiful. One of few purpose-built cities in the world planned and built from scratch, it has an excellent road network, a beautiful rolling terrain and modern Nigerian architecture. However, power is often erratic.

Get in
By plane
Nnamdi Azikiwe AirportInternational flights to Nnamdi Azikiwe International Airport are offered by several airlines, notably, Lufthansa, KLM, and British Airways. If arriving from the US, Delta Air Lines has a direct flight from New York JFK. Many visitors fly through connecting flights from Lagos.
While the industry is being overhauled and aviation safety is being upgraded, only few local airlines are reliable: AeroContractors, Arik Air and Chanchangi. Arik Air has embarked on an ambitious programme to add several new jetliners, including the new Boeing 787 dreamliner, to its fleet.
From the airport, you are best advised to take the official Green Cab. Board the cab with only people you know. Uber operates here as well.
The light rail line, when change opened in July 2018, connects the airport to the city centre at the Abuja Metro station.
By bus
You can travel to Abuja by bus from major cities like Lagos, Benin, Kano and Port Harcourt. Reliable services include: ABC Transport (with air conditioned luxurious bus rides), Ekene Dili Chukwu, Chisco Transport (CTN) and Young Shall Grow. The preferred bus service would be ABC transport.
Take only day trip buses from Lagos or Kano. A few buses have been attacked by robbers. If you're unfamiliar with the country, do not take a bus without an escort. Buses allow you to appreciate the terrain, the towns and cities and the subtle changes in these and culture as you drive towards the capital either from the South or the North.
By train
Nigeria Railway Corporation
has completed an inter-city line between Abuja and
Kaduna
, where you can connect with the rest of the Nigerian rail system. Trains arrive and depart from which is about 15 km west of the city centre. As of 2018, there are four daily departures in each direction.
Get around


Car or taxi is the main mode of getting around Abuja: public transport is limited. However, the Abuja Light Rail started operations in July 2018, helping with transport woes especially between the city, rail station and the airport. However, this means it only relieves congestion on the west side of the city.
Abuja has a few strict driving laws that are enforced. Seat belts are required of the driver and front seat passenger. The vehicle can be impounded and not released until the fine is paid. Drivers don't typically observe lanes within the city, and often attempt to squeeze in what might seem to be dangerously close to your vehicle. In some cases they may drive on the sidewalks. Traffic accidents are frequent, so drive defensively. Occasionally, drivers from other parts of the country that are unfamiliar with the driving culture in the city try to beat traffic lights. If you're driving, keep an eye out for other motorists, especially at intersections, who may try to beat the traffic lights. Occasionally, traffic lights stop working during outages and road marshals are deployed to critical intersections.

See
Abuja is a beautiful city. The tourist attractions are:
Aso RockA 400-metre monolith and the city's most noticeable feature.

Millennium TowerTopped out in 2015, this tower is quite amazing. It is a part of the National Cultural Centre, which is under construction as of 2017.

National MosqueBuilt in 1984, open to non-Muslims except during prayer.

National Church of NigeriaA large inter-denominational church built in a neo-Gothic style.

National Assembly Compelx

Abuja Millennium ParkA large recreational park which serves as the main getaway for residents. Includes a large system of terraces highlighting the different vegetation zones across the country.
Do
Go shopping at Wuse Market, the main market in Abuja. Everything is available, from fresh food to clothes, music, and electronics. And as markets go, not expensive.
Art & Craft village (across the road from Sheraton Hotel)
Buy
There is some interesting artwork all over Abuja. Wood carvings, paintings and leatherwork. Everything is available in surrounding countries quite a bit cheaper, but if you are here you might as well buy it here.

Eat
Budget
Food prices in Abuja are high, especially for Western food. There are, however, many good restaurants in Abuja that are arguably worth the money. Of course, whether you live in Abuja or are just visiting, there are times when you are willing to pay a little extra for the simple fact that there are few to no alternatives.
Exclusive Supermarket 1202 Adetokunbo Ademola Crescent, Wuse II. A cafe/coffeeshop at the back of the supermarket sells good salads, a few Lebanese dishes, icecream, coffee and standard pizza and grilled food. Cheap (Nicoise Salad takeout for ₦1000).
Mid-range
Love Pizza Freshly baked Italian pizza made with the finest ingredients. Pizza, wings, salads. Eat in, take out & delivery; +2348054447945. 2 Bouar close, Bangui street, off Ademola Adetokuno Crescent, Wuse 2. (beside Jevenik)
Schwarma Shop, adjacent to Amigos Supermarket, Wuse II. ₦700 for shwarmas and they offer pizzas for somewhere from ₦1500.
Southern Fried Chicken. A local knockoff of KFC, but ask them to go easy on the mayo.
Mr. Biggs. All over. Burgers.
Schwarma Shop, adjacent to 212 Supermarket, Usuma St., Maitama. These shwarmas have cabbage on them. About same price as the one by Amigos
City View, Cape Town Street, off IBB Way, Wuse Zone 4. Perhaps the best Lebanese food in Abuja, excellent prices, they also host large groups, indoor or outdoor sitting.
Ceddi Plaza has a fast food chicken restaurant on second floor - and ice cream
Drumstix, Aminu Kano Crescent. Fast food, Nigerian dishes, grill, shawarma and ice cream.
Tantalizers Burgers. All over.
Cafe at Grand Square, Mohammadu Buhari Way.
Cafe at Dunes, Aguiyi Ironsi Street, one on the main floor and one upstairs.
MrPickup.biz, Delivery service. Picks up your orders and brings to you for a small fee! +234 (0) 702 828 6771.
Spice Food In front of Sahad Store, across from Bolton White Hotels, Ahmadu Bellu Road. 07031111005, 08034500653. Delicious Indian food and snacks at very reasonable prices. Main course ₦1000-1500, snacks ₦300-600. Su-F buffet noon-3PM ₦2000. Dinner 6PM-10PM
Splurge
Ciao, Jitau Plaza, Plot 1173, Ademola Adetokunbo Crescent, After AP plaza, Wuse II. A good Italian restaurant with the usual Italian dishes. Expect to pay around ₦2000 for a dinner with wine. Good Pizzas, but AJ's have more to them.
AJ's Pizza, adjacent to the Park and Shop in Wuse II, Aminu Kano Crescent, call your order in before you get there 0803 314 0469 or 0804 410 4567, if your order 5 pizzas, ask for free juice.

Chopsticks

address: Plot 66 Mississippi St

Maitama. Good Chinese food, a couple should share one order of a main dish and either rice or noodles. ₦2000-5000 for main dishes. Has cocktail bar.

Sitar

address: 46 Usuma St

Maitama. Indian food.

phone: +234 815 519 0829

address: 7 Ganges Street

Reasonably high quality French food and some francophone African dishes such as yassa poulet. Sandwiches with lunchtime specials. Nice house converted into comfortable restaurant. Nigerian owned.
Wakkis, Like Sitar but more reasonable prices, this might be considered moderate instead of Splurge. Amino Kano Crescent, follow signs, Wuse II. 1500-2500 main dishes, good seafood. Amazing King Prawns!
Blakes, Fish bar, add unknown, Garki District.
Ubudu Grill Steakhouse at the Sheraton You won't spend less than $50 USD here, but the steaks are excellent.
Al Basha Palace Good Mediterranean & Continental food and Pizzas, Shisha. Outdoor, indoor events & parties... 11 Cassandra Street, off Usuma St, Maitama.
LaZeez Place Recently Opened, Usuma Street, Maitama.
Golf Course Has a restaurant with indoor and outdoor seating, would be a good place to have large group gathering, not called Golf Course, but that is where it is.
Drink
Drinks are available all over Abuja and are very overpriced. Average US$20 for some mixed drinks, US$5-9 for a local beer. Buy beer from the Market and you will save a lot of money. The major hotels have bars and restaurants - watch out for the call girls, if you ignore them, they get really offended. If you are not interested, just say so and have a short conversation, then they will leave you alone.
Ceddi Plaza Has a bar on the basement level.
Blakes Has live music or a DJ and drinks as well as the fish bar
British Village Requires a membership to enter and is popular during different sporting events, especially during soccer games and rugby.
Amber Lounge is in Silverbird Galleria, Central Business District

Orchard GardenLocal outdoor place near Millennium Park, set in a grove. Beer around ₦250, small BBQ serving, e.g. whole grilled fish for ₦2000.
Sleep
Budget
Mid-range
phone: +234 703 682 9922

address: 52 Mike Akhigbe Way

A 4-bedroom boutique hotel furnished in a modern Scandinavian style. The villa is located in a peaceful and safe environment suited for both business and leisure travellers.

address: 196 Ademola Adetokunbo Cres

A little dreary but decent. Has gym, tennis courts, pool. The pool bar menu has some better offerings than the bar or restaurant.

King's Inn Hotel

address: Lobito Crescent Wuse 2, Abuja, Abuja Capital Territory, Nigeria

Hotel De Bently N. Okonjo Iweala Way, Utako Abuja. Its a decent place to stay
Reiz Continental Hotel Plot 779, Cadastral zone AO, Central Area. Tel. +234-9-4619110. Similar to Rockview in terms of standard, but with better service. Has pool too and free minibar (non alchololic)

Immaculate

phone: +234 7098211224

Plot 111 Adetokunbo Ademola Crescent, Wuse II opposite Cubana Bar, near Diamond Bank. Modern hotel with nice-size rooms and suites. Noisy on weekends because of night club next door, and rooms above kitchen are noisy all the time. Lacks social space like bar/terrace but this is good because less prostitutes than in larger hotels. Basic gym and small pool area. Restaurant ok. Reasonable prices and well-located.
Splurge
Decent hotels in Abuja tend to cost above US$200 per night.
phone: +234 9 460 3900

Service is good and the hotel is beautiful. Part of the Wyndham Group. Five star. Food is very good.

phone: +234 708 060 3000

address: 1 Aguiyi Ironsi St, Maitama

Part of the Hilton Group and upholds a good standard. Five star. Located at 1 Aguiyi Ironsi, Maitama Abuja. Rates from about ₦50,000. Good for weekend lounging by the pool (₦2000 entry for non-residents of the hotel) at least.

phone: +234 9 461 2000

Not up to the standard of other Sheraton hotels, still a good experience with nice food.
Stay safe
Abuja tends to be a sharp contrast against the background of the rest of Nigeria. While car hijackings and armed robbery are high in Lagos, and kidnapping of foreign oil workers is prevalent in the Niger delta, Abuja in sharp contrast, is one of the safest metropolitan cities on the continent.
General security measures like elsewhere in the world should be observed. Like anywhere else in the world, it's always a good idea to have company when exploring unfamiliar places. If you're driving, observe simple measures like keeping your car door locked when parked to avoid opportunistic crime. Armed robbery at gun point is the most prevalent form of crime. A calm disposition and full cooperation with robbers is the best line of action in the unlikely event that you are the victim of a robbery.
Robbers tend to become violent when victims try to pull tricks. Contact your embassy in Abuja and the police if you are robbed. Occasional pick pockets target mobile phones and wallets as well. Do not carry large amounts of cash. Usually, US$250 cash (or ₦30,000) would more than suffice for impulsive purchases and other daily costs.
When moving in Abuja, as a foreign visitor, you are best advised to use the official Green Cabs. There's a remote chance that privately operated unofficial cabs could be traps. Cab fares would be around ₦500 for trips within the city. Cab rides to the airport are significantly higher. Negotiate a fare before you enter a cab.
There have been many reports of fraudulent use of credit card details almost immediately after people have used their cards to pay hotel deposits, even in the very top hotels.

Cope
Embassies and High Commissions