Acadiana
Acadiana
is a region of
Louisiana
, in the south and south west of the state. It is sometimes called "Cajun Country", noted for its distinctive culture. This is the birthplace of Cajun cuisine, Cajun music, and Zydeco music.
Subregions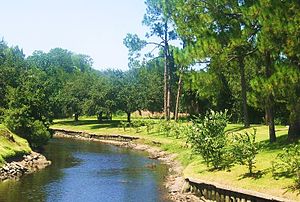 From west to east, Acadiana can be broken into five distinct and unique regions, where Cajun and Creole peoples adapted unique aspects from their environment.
Cities
Other destinations
River Road Plantation Country
Understand
Acadiana or "Cajun Country" spreads over the prairies and bayous of SW Louisiana.
Acadiana is a reference to the large population of
Acadia
, descendants of French speakers expelled from
Nova Scotia
by the British. These Louisiana Acadians are known as
Cajuns
an English corruption of
Acadiens
.
While the Cajuns are the dominant population of the region, since early in its history the region has also included Native Americans, Germans, Spanish, French Creoles, and Creoles of Color, all of whom made their contribution to creating Acadiana. Many more people have contributed more recently to the vibrant region with its unique culture, dialects, and food.
While locals were long proud of their traditions, in the early 20th century Cajuns were often looked down on. A fortunate change came about in the last third of the 20th century, when a new widespread appreciation of Cajun culture developed, especially for its music and food.
Roman Catholicism is the majority religion in Acadiana, which makes it stand out together with
Greater New Orleans
in contrast to the rest of the largely Evangelical Protestant South.
Talk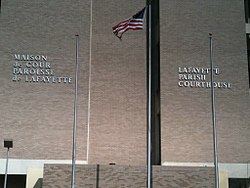 Acadiana is home to the majority of Louisiana's Francophones. The vast majority of people in Acadiana can speak English, though some older
Cadiens
in rural areas may only speak French. While most can speak English, many Cajuns are bilingual, and around 30% of Acadiana residents can speak French (as opposed to 7% in Louisiana). Visitors from other English- or French-speaking regions may struggle with stronger local accents.
The local English accent incorporates many basic French words and unique pronunciations.
The dialect of French spoken by the Francophones of Acadiana is essentially the same as the one spoken in
New Brunswick
and other Acadian areas of
Canada
. Communication in French between Cajuns and residents of
France
or
Quebec
usually requires some effort.
Get in
The main airport in Acadiana is located in
Lafayette
(
LFT
), which serves flights to Houston, Dallas and Atlanta. Lake Charles (LCH) is the only other airport in the region with commerical air service, with flights to Houston and Dallas. Other towns have small airports that are only served by general aviation. Alternatively, you can fly into New Orleans (MSY) and drive into the region. If you are in New Orleans, there are tour buses and limo services that can bring you to the area.

Get around
If you want to travel at your own pace, you should bring your own vehicle or rental car. Tour bus companies are great, but you sign up for a specific itinerary.

See
Along Louisiana's
Mississippi River
, between
New Orleans
and
Baton Rouge
, is a historic region known locally as the Louisiana River Region. Found along both banks of the Mississippi are a number of historic plantations, dating back to the 1800s. Some of these are open to the public, ranging from non-profit educational facilities to commercial tourist attractions with major amenities. Pre-Civil War, there were hundreds of wealthy plantations along this trail, growing mostly sugar cane. Most are gone today, but locals have worked diligently to keep the remaining plantations viable and open to the public for visitation.
address: 40136 Highway 942, Darrow

A historic plantation established in the 1700s that operates as a museum and inn.

address: 2646 Hwy. 44 (River Road), Garyville

"The Most Opulent Plantation in the South". A national historic landmark that is open for tours.

phone: +1 225 265-3300

address: 5099 Louisiana Highway 18, Wallace LA 70049

Whitney Plantation is the only plantation museum (and perhaps the only museum in North America) with a focus on slavery. Originally known as "Habitation Haydel", this sugar cane plantation intertwined the lives of German immigrant owners and African-American slaves. Part museum, part art gallery, part living history, visitors report that the Whitney engaged them with a painful but central part of American history, and left them changed. The main house is on the National Register of Historic Places. Tours, hourly from 10AM to 3PM, are included with admission.
Do
Listen and dance to -- some Cajun and Zydeco music. There are dance halls and clubs in cities and towns, and some scattered in more remote locations people drive for miles to get to. A few of the more noted ones are:
Fred's Lounge, Mamou
Prejeans, just north of Lafayette
Randol's, Lafayette
Slim's Y-Ki-Ki, Opelousas
Whiskey River Landing, Henderson, near Breaux Bridge
Acadiana hosts a number of festivals. Some major ones are:
Crawfish Festival, May in Breaux Bridge
Festivals Acadiens et Créoles, September or October in Lafayette
Festival International de Louisiane in late April, Lafayette
Frog Festival, November in Rayne
Zydeco Festival, August in Opelousas

address: 5306 North Black Bayou Drive, Gibson

30 acres of preserved swamp, where you can walk around a nature trail on shady paths. Apart from the natural wildlife there are ostriches, bobcats, nutria and alligators on display in cages and paddocks and peacocks roam the grounds. Bed and breakfast accommodation is available in four small 'trapper's cabins', adjacent to a small swamp. Each has its own front porch overlooking the water and ideal for gator watching. Staying overnight is a unique experience that kids will love.
Eat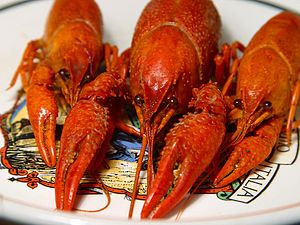 Real Cajun food! Acadiana is the birthplace of Cajun food. Much of what is labeled "Cajun" elsewhere (including other parts of Louisiana!) has little to do with the delicious real thing.
Not to be confused with the Creole style of cooking native to
New Orleans
, Cajun food is more provincial and less glamorous that its counterpart to the east. Equally rich to Creole food, Cajun dishes are often spicier as well. Cajun food also does not rely on the Tomato to the same degree as Creole food, and in foods common in both cuisines, the Cajun version is often a brown color compared to the Crole's red version. Some of the more notable Cajun food that visitors should sample in Acadiana are:
Boudin: (pronounced "Boo Dan") A spicy sausage that descends from the 'boudin blanc' of French cuisine, it consists of a sausage casing filled with a mixture of rice, pork, liver, green onion, and other bits. First-timers should be sure to inquire as to the level of spiciness, since some varieties can pack a lot of heat. Boudin filling can also be rolled into balls, breaded, and then deep fried to create boudin balls. Ask a local where to get the best boudin, they are often fiercely loyal to that of their favorite butcher shop or restaurant. While pork is usual, crawfish or shrimp boudin is sometimes seen.
Cracklin': The Cajun version of pork rinds, they are ofter heartier and much spicier than other varieties. Most trips to get boudin aren't complete without an accompanying small grease-soaked brown bag of cracklins for the trip home.
Crawfish: Whatever you do, don't call them "crayfish." Crawfish are a local delicacy to Louisiana, and in particular for Acadiana. The neighboring town of Breaux Bridge proclaims itself the "Crawfish Capital of the World," and residents of the region eagerly await the return of crawfish season every year. Crawfish is served in a variety of ways in Cajun cooking. Étouffée is a dish consisting of the meat of the crustacean smothered in butter, onions, peppers, and spices, and finally served over white rice. Fried crawfish is also another popular option. Perhaps the most popular method of cooking is a crawfish boil, which like the clam bakes of more northernly destinations, is part meal, part communal celebration. Large quantities of live crawfish are boiled in heavily-seasoned water, along with potatoes, corn, and onions (also meant to be eaten later). The finished product is then often poured out on a large table for everyone to grab a seat and dig in. Locals have different techniques for peeling the hard shells, and they are eager to teach any newcomer their particular method. Some say the "fat" sucked out of the head is the best part, but I'll leave that up to you to decide.
Gumbo: While gumbo can be sampled in New Orleans and other destinations, residents of Acadiana often insist their regional version of the thick stew-like dish is the true version. Some noticeable differences include darker roux and the lack of tomatoes (which are seen in New Orleans gumbo due to the history of Italian immigration in the city). Two main varieties of Cajun gumbo include seafood (often with shrimp, crab, oysters, and sometimes crawfish) and chicken and andouille sausage (a slightly different version with duck replacing the chicken is lesser known but equally delicious).
Jambalaya: An easy way to think of this oddly-named dish is basically Cajun paella. It always consists of rice, vegetables, spices, and some kind of meat. Types of meat often include chicken, sausage, shrimp, or tasso (a smoked, cured, and spiced cut of pork).
Rice & gravy: A staple crop of South Louisiana (the town of Crowley calls itself the "Rice Capital of the World"), rice is more important to Cajun cooking than probably any other European-derived American cuisine. It is served with étouffée and gumbo, mixed with spices and liver to make "dirty rice,"and paired with red beans and sausage for a famous Louisiana dish. In the case of rice and gravy, the white rice (most often long grain), serves as a starch addition to braised or smothered meat with gravy. Most often made with pork cutlets, the gravy is made with meat drippings, onions, peppers, and spices. Rice-based dishes trace their roots to a time when the Cajun people of Louisiana often needed to stretch what little meat and vegetables they had into a full meal. Today rice and gravy dishes are more of a comfort food, but they can be bought as "plate lunches" as various small eateries and even the corner grocery store or deli.
In addition to these several true Cajun dishes, there are many other items which are unique to Acadiana and can be found, at least in an authentic form, no where else in the world, as well as beloved Southern dishes such as fried chicken and frog legs.
Drink
Many enjoy a cold beer with Cajun food or music. Lafayette's Parish Brewing Company concentrates on quality small batch brews, including the popular Canebrake wheat beer brewed with local sugarcane. The Bayou Teche Beer company in Arnaudville sells multiple varieties brewed at the Mississippi brewery Lazy Magnolia. Also popular in Acadiana is Abita Beer, from
Abita Springs
in Acadiana's neighbor to the east, the
Florida Parishes
. As in all of Louisiana, whiskey is also popular.
While famous for its drive-through daiquiri shops, Louisiana does have an open container law - please wait until you've reached your destination to crack open that frozen deliciousness. When you tour a plantation, depending on the plantation's own rules, visitors over age 21 may purchase an alcoholic beverage and drink it while taking a tour, walking the grounds, etc. This is also true for some swamp tours and golf outings.
Go next