Adana
Adana
is in
Mediterranean Turkey
.
Understand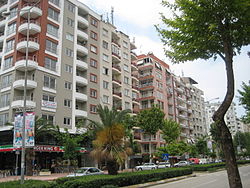 Lying a fair distance away from the Mediterranean coast, in the centre of huge
Cilician Plains
and on the banks of
Seyhan
River, Adana is the fifth most populous city in Turkey with a population of over 1.5 million. It's not much known as a tourism destination, though, especially when compared with its southern and western neighbours. There are sites of interest in the surrounding countryside.
Modern Adana consists of two quite separate sections: cramped old city centre and newer, mostly high-rise suburbs overlooking the Seyhan dam to north of the old centre, usually called
Kuzey Adana
or
Yeni Adana
(i.e. "North Adana" or "New Adana", respectively).
Despite its location Adana is a remarkably modern and Western city. This is in large part due to the presence of a NATO base in Incirlik, which provides the city with an unusually large population of Westerners, and foreign-educated Turks. Adana is also a destination for dental tourism, owing to a large number of cheap, effective, English-speaking dentists in the area.
Get in
By plane
Adana Şakirpaşa AirportIt's a fairly short cab ride to city center (costing about 20 TL) and is served frequently by dolmuş.
By bus
As with the rest of the country, another common way of getting here is to use the
buses
. They arrive here frequently from Ankara, Istanbul,
Izmir
, and several other cities around Turkey. Journey time from Istanbul is around twelve hours, fares starting at 50 TL. Inter-city bus companies includes Varan,
Ulusoy
, and
Metro
. Make sure you get off at the right station as most buses also stop at a station in the suburbs, about 4 km west of city centre. Getting off at the wrong station may be frustrating, but not an disaster since a local bus connects them. The bus station in city centre lies close to the Hilton hotel.
By train
The best route from Istanbul or Ankara is to take the YHT fast train to
Konya
. From there a daily train departs around 14:30, taking six hours via Karaman to Adana; the return train leaves Adana around 07:40. So a same-day connection is possible. The line between Konya and Adana is being upgraded for YHT: there was a lengthy partial closure in 2016/17, and future engineering disruption seems likely.
The
Cukurova Express
overnight sleeper between Ankara and Adana has been suspended for a few years due to construction works, but is expected to return in 2019 or early 2020. A daily train between Adana and
Kayseri
and a few regional trains from
Elazığ
,
Mersin
and
Iskenderun
are also available. The lines to
Aleppo
and to
Gaziantep
thence across Syria to Mosul in Iraq, are closed indefinitely.
By car
Driving
to Adana is an option; from
Ankara
, the national capital, there is highway all the way (European road number: E90) but distances are long. The motorway
O-21
will connect the two cities, but it doesn't reach any further north from
Niğde
for the time being. However, even if there is no motorway for about half of the route from Ankara, the current highway has separated directions all along it, anyway. Once you have passed the pass of Cilician Gates (
Gülek Boğazı
) through the Taurus Mountains into the
Cilician Plains
, take O-51 eastwards.
Get around
Walking in Adana — you can explore downtown Adana by walking. It is very easy and enjoyable to walk around city centre.
City buses — Extensive bus network including city buses and dolmuş.
Adana Metro — There is also a subway line, though only a short stub of 13 stations.
Many taxis with prices comparable to the rest of the country.
See
Çatalan BridgeLongest bridge in Turkey.

Central Park

Justinianus Roman Bridge

Seyhan Dam, Love Island, & American Island

Old Dam and Dilberler Seki Road

Old Town and the Clock Tower

Sabancı MosqueOne place you should not miss while in Adana. The mosque was built in 1999 and is the largest mosque in Turkey.
Museums
Archaeological Museum of AdanaRe-opened for visits after restoration (except for stone monuments section, still being restored).

Atatürk Museum

Ethnographic Museum of AdanaClosed for renovation.

Misis Mosaic Museum

State Fine Arts Gallery
Do
Driving by the lake and seeing the beautiful view is one of the things you can do while in Adana. Most of the locals spend their evenings drinking beer by the lake.
You can visit ancient cities around Adana, such as Magarsus, Ayas, Commana, Castabala, and Misis.
You can go to Akyatan Lagoon or Kapuzbasi Waterfall.
You can swim (in Karataş on the Mediterranean coast, south of Adana), however Turkish residents usually go to Mersin when they want to go swimming.
You can go to Aqualand (wave pool, lazy river and various slides).
There are 3 saunas in downtown (Yeni Sauna, Bizim Sauna and Sirin Sauna). Entrance fee is 10 euros, and massage costs a further €10. Also you can go to more traditional Turkish baths.
Buy
Adana has four malls (Optimum, Galleria, M1 and Carrefour). Optimum Outlet and M1 Shopping Centre are the largest. Optimum was opened in mid 2011 and is the newest. M1 and Optimum share many of the same stores where you can find almost all of the world class brands. (Real Hypermarket, Praktiker, Media Markt, Zara, Mudo City, Cinebonus, Tepe Home, Toys R'Us, Gap, US Polo)

Eat
Adana KebabDelicious and famous Adana kebap and mezzes, usually accompanied by salgam (turnip) juice and/or raki (traditional Turkish alcoholic drink).

Cafe OraHas a bar on second floor. You can have a bici bici (traditional Adana sweet) for TRY3 there.

Hasan Kolcuoglu

Kazancilar

Mado'sSweet shop. Higher class than your regular street vendor and a little pricey, but delicious food. You should eat special Turkish ice cream.

Park Zirve

Sercan

Yüzevler
Drink
Istanbul BarA cool, chill out bar with groovy music with a wide selection of unusual but fun cocktails! Open until the last customer leaves.

Nargile BarA down-tempo place. This is more for the young working class. Many of the patrons are between 20-30, and for the most part are out of university. Live Turkish music is played here almost every night, and Tuborg Green can be bought on tap for 4.50 TL a pint.

The North ShieldGenerally a quiet atmosphere that is good to take a few friends to.

Pickup Rock BarDownstairs in the Cemalpasa area, this bar usually has live Turkish bands covering American rock on weekends. Closed early in the week, on the days that it is open, you can get in until late in the morning. Crowds usually start showing up around 23:30, the time the band starts playing. Efes on tap can be bought here for 6 TL a pint.

StarbucksThere are 4 Starbucks Coffee shops in Adana, in addition to one in Incirlik. The one on Ziyapaşa is a popular hangout for expatriates and English-speaking Turks.
Sleep
Garajlar HotelYou will have to pay extra for the bath (5 TL).

address: Sinanpaşa Mh., Hacı Sabancı Blv. No:1

The tallest building in town. Looks quite strange in a not that big town to have such a huge Hilton Hotel.

Konya HotelIf you insist, they can give you a cheaper, small room. The rooms are clean but there is no heater.
Connect
Adana's telephone code is (+90) 322.

Go next
Some of the towns and sights around Adana include:
Tarsus — St. Paul's Well is in a courtyard long believed to be the site of St. Paul's house. You can also visit The Cleopatra Gate, Roman road and Tarsus Museum in Tarsus
Mersin — situated 65 km west of Adana, another large city in the area, although this one is on the coast.
Incirlik — situated 10 km east of Adana, site of a NATO base with a majority U.S. presence.
Antakya — a few hours to south, with lots of history.
Kizkalesi — about 100 km to west, a castle on an islet off shore.
Karatepe — ruins of a Hittite city in the pine woods near a dam lake northeast of city.
Anavarza — ruins of a small Roman town with a ruined bath turned museum about 30min north of Yilan Castle. You can also hike up the lengthy stairway to reach a large Crusader castle atop a high rock outcropping overlooking the ruined city.
Yılan Castle — Crusader-era castle on the top of a rocky hill surrounded by endless flat plains east of city, on the road/railway to Osmaniye. Catch a minibus heading for Ceyhan to get there, and tell the driver that you will get off at Yılan Kale. On your way back, wait for one that is returning to Adana.
Misis Mosaic Museum — On the historical Silk Road, at a distance of 26 km from Adana. The admission is normally 5 TL, but it is sometimes for free, as was the case in Sept 2012.
Kahramanmaraş — a small city in the hills with an impressive archaeological museum, famous for its ice cream (roughly a 2½ hour bus ride).
Gaziantep — Turkey's sixth-largest city, visited mostly for its mosaic museum and the copper-workers around the castle (roughly 2½ hours by bus)