Addo
Addo
is a town in Cacadu District of the
Eastern Cape
of
South Africa
.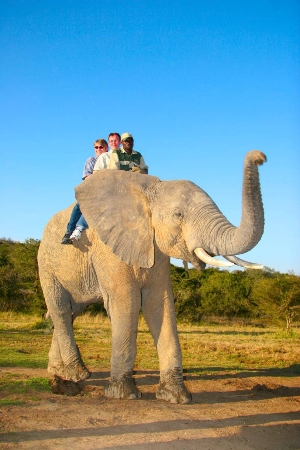 Understand
Situated in the Sundays River Valley, the Addo area is known as the valley of elephants and roses. The neighbouring areas are primarily citrus farms and when the trees are in full blossom, the smell of citrus permeates the air. Addo is host to many delightful festivals throughout the year such as the Kirkwood Wildlife Festival in June, the annual Rose Festival in October and is also home to many exclusive game reserves including the Addo Elephant National Park. Visit the Addo area for an unforgettable African experience - the Big 7, guided walks, quad biking, elephant back rides and more.
Tourism information offices
Get in
By plane
There are two airports located in close proximity to Addo. The closest is the Port Elizabeth airport which is 47km from Addo. The East London airport is 207km away. There are regular flights from
Johannesburg
,
Cape Town
,
Durban
and other South African destinations to the airports in Port Elizabeth and East London.
By car
Addo is easily accessible by motorways from Cape Town (789km), Durban (769km), and East London (249km). You could also drive in from Johannesburg (1014km). The road conditions are fairly good if you are coming from any of these cities.
By bus
All major South African coach companies offer regular schedules to and from destinations like Addo.
See
phone: +27 71 437-8487 (Sundays River Valley Tourism)

The quiet town of Addo encompasses the communities of Nomathamsanqa and Valencia, with Hermitage and Sunland a short drive away. Situated on the southern end of one of the biggest citrus producing areas in South Africa, the local community flourishes in the hospitality of a bygone era. Lying at the foot of the Zuurberg Mountains, you can enjoy activities like citrus farm and pack house tours, close encounters with local reptiles and birds of prey and the majestic elephant.

Rosedale Organic Farm

phone: +27 42 233-0404

You can do a one-hour Walking Tour of Rosedale Organic Farm and learn more about our farming methods.

Enon & BershesaThe beautiful little town of Enon & Beersheba boasts an old Moravian mission station, east of Kirkwood. The first oranges to be exported from the Sundays River Valley came from some 100 trees planted by the villagers.

Moravian Mission

phone: +27 42 230-1600 (Pastor Rochelle Petrus)

This Moravian Mission Settlement was founded in 1816 and the original church with its yellow wood rafters, teak window frames and brass hanging lamps, built by the Enon villagers in 1821, is still in daily use.

phone: +27 42 230-0066 (Greater Addo Tourism)

Kirkwood is the largest town on the Greater Addo Route. Nestled in the shadows of the Rietberg, this vibrant country village is the starting point of 4 x 4 trails, adventure routes and home to an extreme diversity of fauna and flora. Kirkwood is also home to the fossil of a small meat eating dinosaur nicknamed Kirky. The fossil was described in 2000 as one of the most complete and best preserved specimen thus far.

PatersonPaterson is a little town in the heart of game reserve country, centrally situated between 8 of the most renowned and luxurious private game reserves in the Eastern Cape. The town can be found just off the N10 from Port Elizabeth to Cradock.
Do
As diverse as oranges and elephants, so is the Greater Addo Route. One moment you will be paddling a canoe down the beautiful Sundays River and next you are on the back of a 4x4 experiencing the lion kill. Here you can experience the Addo area's diverse range of ecoactivities, bringing you close to nature and wildlife.
River
Canoeing on the Sundays River

phone: +27 41 468-0238 or +27 82 897-2859

The Sundays River is an excellent location for canoeing with organised canoe trail.

Sundays River Cruises

phone: +27 41 468-0140

The Sundays River Ferry Company offers double decker river cruises on the calm Sundays River.

Chriscross Adventures

phone: +27 72 125-9152

Chriscross Adventures offer river safaris on the Sundays River, allowing you to see the unique riverside wildlife and extraordinary bird life in the area.
Wildlife
Bird WatchingThe SASOL Red Bishop Bird Hide in Addo Elephant National Park offers watchers a view of red bishops, weavers, herons, coots and terrapins. The main game area boasts a list of 170 bird species, while the expanded park may contain as many as 450 species in a diversity of habitats.

Wild Life & the Big 7The Addo Elephant National Park Area inhabits some of the densest African elephant populations on earth and is also one of the only places in the world where one can view the Big 7. You can see lions, tigers, crocodiles and other animals at the Addo Lion and Croc Ranch. For a more close-up experience with the wild, you can book a game drive or elephant back safari at the various game farms and lodges in the area.

Addo Elephant National Park

phone: +27 42 233-8600

The only park in the world to be home to the Big 7, namely elephants, cape buffalo, leopard, black rhino, lions and the great white shark and seasonal southern right whale. The park is sanctuary to a multitude of wildlife species and offers a range of exciting eco-activities such as horse trails, 4x4 trail, hiking trails, game viewing, guided game drives and viewing. Game drives are conducted by knowledgeable, qualified guides on open-top landrovers or trucks to ensure a memorable visit. Bookings are essential.

Addo Elephant Back Safaris

phone: +27 42 233-0397

Walk with or ride on the elephants through the diverse habitat for a journey to remember.

Eyethu Hop-on

phone: +27 42 233-8621

These are local community members who have been trained as guides by the Addo Elephant National Park and now run their own small business within the park. Guides can be hired at affordable rates to get into your vehicle and guide you through the wildlife game area in the Addo Elephant National Park.

Addo Crocodile and Lion Ranch

phone: +27 42 233-0369

Enjoy guided tours, restaurant and the chance to handle lion cubs.

Addo Valley Raptor & Reptile Center

phone: +27 41 961-0168

The Centre serves as an Animal Recovery and Rehabilitation Centre for sick and injured birds of prey and reptiles, both wild and captive bred, but also offer visitors the opportunity to experience a safe close encounter with these majestic and misunderstood creatures.

Addo Dung Beetle Breeding Station

phone: +27 83 399-4129 or +27 83 974-5802

A guided visit to the Addo Dung Beetle Breeding Station will teach you more about this unique beetle and we will gladly share in their efforts to conserve one of the "little African rarities" of our country.
Trails
phone: +27 42 233-8621

Addo horse trails depart from main camp to the Nyati area which is home to elephants, buffalo, black rhino, zebra and antelope. All horse trails are conducted by experienced guides on sure-footed, well-trained horses. No children younger than 16 years may ride on the Addo Trail.

Zuurberg Horse Trails

phone: +27 42 233 8621

Zuurberg horse trails are suitable for riders of all competencies and wind through fynbos and forest. One, three, and five hour trails are available, but no children younger than 10 years may ride on the Zuurberg horse trails.

Zuurberg Hiking Trails

phone: +27 42 233-8600 (Addo Elephant National Park)

You can choose from the one-hour Cycad Trail or the four to five hour (12.5km) Doringnek Trail in the Zuurberg Mountains. Both these circular trails depart from the park offices at the top of the Zuurberg Pass. This 10km trail (per day) departs from the national offices with an overnight stay in the Narina Bush Camp.

PPC Discovery Trail

phone: +27 42 233-8600

The trail consists of a walk through the valley thicket into a loop that is suitable for visually-impaired and wheelchair-bound visitors. A picnic and braai area is situated near the waterhole in the main camp. The waterhole is floodlit at night.

Bedrogfontein

phone: +27 42 233-8600

Take a drive through the grade two to three 4 x 4 trail between Kabouga and Darlington and immerse yourself in breathtaking views and early 20th century history. This route was the scene of fierce battles between the British and Afrikaner troops during the Anglo-Boer war.

Quadbikes

phone: +27 41 468-0998 (Sundays River Adventures)

Take an adventurous trip through the Sundays river area on trails suitable for novice and experienced drivers.
Other
Golf

phone: +27 42 230-0452 (Kirkwood Golf Club)

Enjoy a relaxing round of golf at the Kirkwood Golf Club.

Classical Music Concerts

phone: +27 42 234-0333

Sunday afternoon Soirees are presented at Hopefield Country House. Unique opportunities to hear the best of local and national musicians perform in a magical country setting.

Green Adventures

phone: +27 41 581-2727

Quad biking, clay pigeon shooting and more.
Sleep
Addo Dung Beetle Guest Farm

phone: +27 83 974-5802

The Chalets are decorated and equipped with air-conditioners with a heating option. The rooms have en suite bathrooms with indoor and outdoor showers. The rooms have amenities such as a bar fridge, television and coffee and tea making facilities.

phone: +27 41 468-0499

address: Colchester

The lapa-style lodge, under a thatch roof has 12 luxury suites. All the rooms are semi en suite with open-air 'rock-face' showers. The lodge has a restaurant and offers customised African safaris.

phone: +27 42 233-2422

address: Enon & Beersheba

On a working citrus farm, offering walking or quad bike tours of the orchards. The farm also features a tea garden and pool where you can relax and bask in the African sun. There are a variety of furnished rooms available overlooking the garden and mountains. There is also a family unit, private cottage and self-catering units available.

Lemon3lodge

phone: +27 42 230-1653

address: Kirkwood

The rooms are all air-conditioned with double beds and en suite bathrooms. The rooms have all amenities such as a hairdryer, shampoos and lotions, as well as wireless internet on arrangement. The guest lounge has a television with DSTV and a DVD player. Breakfast is usually served 7AM-9:30AM.

phone: +27 41 468-878

address: Nanaga

There are four spacious cottages, all with their own private patios and barbeque facilities. Each cottage has a television with DSTV, en suite bathroom, tea and coffee facilities. Rooms with small kitchens and bunk beds are available.

phone: +27 42 233-0128

address: Nomathamsanqa

Woodall offers both luxuary hotel and country cottages for your enjoyment. The hotel rooms offer air conditioning, en suite bathrooms, as well as private outdoor showers, internet access points. Family rooms are also available. The luxury cottages and suites offer visitors a private spacious space in which one can relax.

Monkeyview B&B

phone: +27 42 235-1230

address: Paterson

They have two spacious en suite rooms, each with a patio and view of the neighbouring game reserve. There is also a splash pool and braai area. The accommodation includes a traditional farm style breakfast or lunch.

phone: +27 42 234-0421

address: Summerville

There are four thatch cabins available with showers and a fully equipped kitchen. The camp overlooks the river and mountains.

Belmont B&B

phone: +27 42 234-0361

address: Sunland

The Belmont Country Guest House is a 4 Star luxury guest house. They have three luxury bedrooms and one twin bedroom, all with en suite bathrooms, as well as another twin bedroom with a private bathroom. The rooms also have air conditioners and are fully serviced.
Connect
For contact details for food and groceries, vehicles, home services, liquor, medical practitioners, nurseries & garden services, pharmacy, professional, cleaning, legal services, photography, security, timber decks, housing, health and beauty call the local or international telephone directory.
Local telephone directory: 1023
International telephone directory: 10903
Important numbers
Ambulance: +27 42 233-0358
The nearest hospital and doctor is in Kirkwood, 35km from the park
Hospital: +27 42 230-0406
Doctor: +27 42 230-1082
Police: 10111
The nearest police station is in Addo, 15km from the park
Police: Tel: +27 42 233-0314
Go next