Adelaide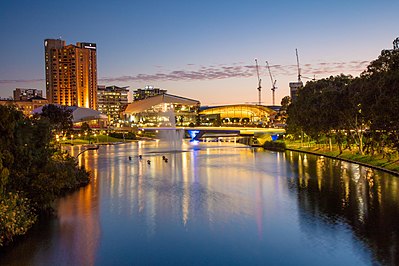 Adelaide
is the capital city of
South Australia
. It lies on the eastern shores of Gulf St Vincent in the central, southern part of the Australian continent. Adelaide is Australia's fifth largest city, with a population of over 1.2 million. More than three quarters of South Australians live in the Adelaide metropolitan area.
Adelaide is on a plain between the rolling
Adelaide Hills
and the Gulf and is bordered by many of Australia's famous wine regions. The
Barossa Valley
and
Clare Valley
regions lie to the north, the
McLaren Vale
and Langhorne Creek regions to the south and the cooler climate
Adelaide Hills
region to the east. Historically known as the City of Churches due to its new world origins as an incubator for religious freedom, much of the architecture in the inner city is retained from the colonial era. Heavily influenced by the prevailing styles popular in England at the time, the heritage architecture is similar to many European cities built in the 19th century.
Proximity to premium wine and food growing regions, as well as waves of immigration from Germany, Italy, Greece, Vietnam, China and India have created a unique multicultural gourmet food and café culture in the City and inner suburbs. This café culture is supported by Adelaide's global reputation for the arts and particularly the arts festivals held in March including the
Adelaide Festival
and the
Adelaide Fringe Festival
, which is second only to the Edinburgh Fringe Festival in size.
The city is the home of Adelaide Oval, famed as one of Test
cricket
's most picturesque grounds and has been
redeveloped
to host AFL football matches during the winter months. Australian football has a long history in Adelaide and AFL matches are played at Adelaide Oval in North Adelaide. Adelaide and the surrounding wine regions also host the
Tour Down Under
, which is the largest cycling race in the Southern Hemisphere and the first stage of the UCI WorldTour.
Understand
The
South Australia
time zone is
30 minutes behind
Australian Standard Eastern Time (AEST) used in
Victoria
or
New South Wales
.
Climate
Adelaide is Australia's driest capital city, with summers that are hot and dry, and with winters that are rainy and cool.
In
summer
, the average maximum is 29°C (84°F) but there is considerable variation and Adelaide can usually expect several days a year when the daytime temperatures soar above 40°C (104°F). Rainfall is light and infrequent throughout summer. The average in January and February is around 20 millimetres (0.8 inches) but completely rainless months are by no means uncommon. Given the regular hot weather, virtually every public building, indoor tourist destination and most public transport is fully air-conditioned.
In
winter
from June to August, the average maximum is 15–16°C (59–61°F) and the minimum is usually around 8°C (46°F). Winter sees regular rainfall with June being the wettest month of the year, averaging around 80mm. Frosts are common in the valleys of the
Adelaide Hills
, but rare elsewhere. Adelaide experiences no snowfall in the city centre itself, although very occasionally a small sprinkling can be observed on higher ground at the top of Mount Lofty and in the Adelaide Hills.
Autumn
and
spring
are slow, gradual changes between the extremes of summer and winter. From mid-February to late March, Adelaide goes into its
mad March
festival season of arts, music and sport festivals to take advantage of the moderate weather. Spring also makes a good time to visit Adelaide, as flowers are usually in bloom following the rains of winter.
History
Aboriginal history
The first people to live on the Adelaide plains were the
Kaurna people
, whose territory extended from what is now
Port Broughton
to Adelaide's north, south to
Cape Jervis
on the southern tip of the
Fleurieu Peninsula
. The Kaurna lived on the Adelaide plains in family groups called
yerta
, a word which also referred to the area of land which supported the family group. Each yerta was the responsibility of Kaurna adults who inherited the land and had an intimate knowledge of its resources and features. Adelaide's rich
Aboriginal history
and living culture can be explored at
Tandanya
, an Aboriginal-owned culture and history centre on Grenfell Street. Tandanya is free to visit and tours are available for a small charge.
European settlement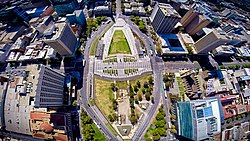 Following the mapping of South Australia's coastline in the early 19th century by European explorers Matthew Flinders and Nicolas Baudin, an expedition down the Murray River was held which reported favourably on land on the coast of Gulf St Vincent. At the same time, British reformers were keen to establish a colony based on free settlement rather than by the transportation of convicts, as all the other Australian colonies at the time were founded. In 1834, the South Australia Company was founded and it convinced the British Parliament to pass a law which created a colony for free settlers in South Australia. In December 1836, after a 10 month journey by a fleet of ships from England, the first Governor, John Hindmarsh proclaimed the creation of the new province in a ceremony in what is now the beachside suburb of Glenelg.
After wrangling between the colonists, Adelaide's first surveyor, William Light designed a city grid of wide boulevards surrounded by parklands, with one central square (Victoria Square) and four smaller squares (Hindmarsh, Light, Whitmore and Hurtle) set on the southern banks of the Torrens. Light's original design, with small changes, largely survives to this day.
The city's early industries were based around mining and agriculture, with England as the key export market. The relatively radical politics of many of the free settlers led to Adelaide being home to early progressive reform including the secret printed ballot, the first jurisdiction in the world to allow women to vote and run for Parliament and early trade unionisation and activism.
Post-Federation
Following Australian federation in 1901, South Australia began to move into secondary manufacturing industries, a process which was sent into overdrive by the long term government of the conservative Premier Thomas Playford following World War II. Playford set out to actively attract manufacturing companies like General Motors to South Australia by offering cheap land and low taxes. This, along with the growing ubiquity of car transport, led to Adelaide's relatively low density as workers lived close to the factories where they worked in the outer suburbs.
Mass migration from southern Europe transformed Adelaide's Anglo-Celtic culture, with Greek migrants mainly settling in the inner western and inner southern suburbs and Italian migrants settling in the inner eastern and north-eastern suburbs. These cultural identities persist to today, with continental delis and cafés being a common feature of Adelaide's inner city.
While South Australia's economy boomed, its public and cultural life lost much of its early radicalism, with blue laws requiring bars and pubs to close at six in the evening - causing the "six o'clock swill". The White Australia policy also meant that Adelaide residents were overwhelmingly from European backgrounds.
Cosmopolitan capital city
The 1960s saw a dramatic change in Adelaide's cultural life, with the start of the Adelaide Festival of Arts and Adelaide Fringe Festival, which transformed Adelaide's arts culture and the end of the decade saw the election of the first Labor government since the 1930s. By 1970, Don Dunstan became Premier of South Australia. Dunstan was a transformational figure and sought to reshape Adelaide in the mould of a modern cosmopolitan capital city. Dunstan's government ended the six o'clock swill, pedestrianised Rundle Street creating Rundle Mall and built the Festival Centre, creating a hub for arts in Adelaide. His government enacted a range of progressive reforms, including making South Australia the first jurisdiction in Australia to legalise homosexuality. This time also saw changes to Australia's immigration laws which saw Vietnamese and Chinese migrants join earlier waves of migration and the creation of communities in the north-west and western suburbs, as well as Gouger Street's multilingual Chinatown precinct next to the Adelaide Central Market.
After losing government for one term to the conservatives at the end of the 1970s, Labor returned to office under John Bannon in the 1980s. A more business friendly leader than Dunstan, Premier Bannon sought to drive the development of Adelaide's city, seeing the construction of Adelaide's tallest building now known as Westpac House and the development of the Adelaide Convention Centre and Adelaide Casino. However, bad bank loans saw the state-backed State Bank of South Australia collapse in the early 1990s, requiring a huge government bailout and plunging the state deep into debt.
Revival after the State Bank
The 1990s under the Liberal government led by Premiers Dean Brown, John Olsen and Rob Kerin saw the conservative government undertake asset sales and reduce government services to reduce the state debt. This reduction in government spending, as well as the decline of Australian manufacturing following the abolition of the tariff wall by the federal government, led to slow growth in South Australia's economy and widespread emigration to the eastern capitals, particularly Melbourne.
Labor returned to office in 2002 under Mike Rann who sought to reshape Adelaide's industrial base to focus on education services, mining and defence industry, as well as building on its strengths in wine. Rann's government invested heavily in rebuilding the city, with overhauls to public transport, the construction of a new central hospital and the redevelopment of Adelaide Oval. Following ten years with Premier Rann as leader, Labor elected Jay Weatherill as premier in 2011, who has largely continued this agenda, but with a renewed focus on transforming public spaces in the inner city through the relaxation of planning restrictions and looser liquor licensing for small bars.
Get in
By plane
Adelaide International AirportAdelaide International Airport is surprisingly well connected, and has daily international flights to hubs in Asia, the Middle East and New Zealand which allow for one-stop connections around the globe. More frequent flights connecting via Sydney or Melbourne may be cheaper.
Travellers from
Asia
can catch direct flights from
Hong Kong
(on
Cathay Pacific
),
Singapore
(on
Singapore Airlines
),
Kuala Lumpur
(on
Malaysia Airlines
),
Denpasar
(on
Jetstar Airways
) and
Guangzhou
(on
China Southern Airlines
). Travellers from
the Middle East or northern Africa
can catch a daily flight on
Emirates
via Dubai, or
Qatar Airways
from Doha. Travellers from
Europe
can take a one-stop journey to Adelaide on any of these carriers.
Travellers from
South Africa
can first fly direct to
Perth
and then connect to a domestic flight onwards to Adelaide.
Travellers from
New Zealand
can catch a direct flight flying daily from Auckland on
Air New Zealand
. Travellers from
North America or South America
can travel one-stop on Air New Zealand via Auckland or can transit to a frequent domestic flight after first landing in Sydney, Melbourne or Brisbane.
Domestic services
within Australia include frequent services to every mainland capital city on full-service carriers
Qantas
and
Virgin Australia
. Budget carriers
Jetstar
and
Tiger
operate less frequent, heavily discounted services mainly to Melbourne, Sydney and the Gold Coast.
Regional services
and operations are provided by Regional Express Airlines (
Rex
), Sharp Airlines, Alliance Airlines, Cobham Airlines and Qantaslink flights operated by both Cobham Airlines and by Alliance Airlines. These services operate mainly to South Australia's regional cities and centres including Mt Gambier, Kingscote,
Port Lincoln
and Whyalla.
There is only a single terminal for international and domestic departures, accordingly transfers are relatively seamless. The airport has ATMs and currency change. Food and shopping is available both landside and airside. Lockers are available in the car rental area in the carpark, including some larger lockers that would fit bike boxes. Free Wi-Fi is available throughout the terminal.
Between the airport and the city
Adelaide Metro's regular JetBus J1/J2/J7/J8
connects the airport with the City, Glenelg and some major shopping centres. J1 Services depart every 15 minutes 8AM to 6PM every day to the City, less frequent from 5AM to 11PM. The journey to the City takes around 25 minutes during peak hour. Additionally JetBus J1X offers express service from the airport to the city Monday through Friday hourly between 5AM to 10AM and 4PM to 9PM with a circular route around the CBD for more convenience to hotels. Services to Glenelg are every half hour during the day, less at night. Services to Arndale, West Lakes and Marion shopping centre are hourly during weekdays.
Buses depart from a single dedicated stop left (west) of the Short Term Car Park outside the main terminal. All buses in all directions leave from this one stop, so check the front of the bus to make sure its heading where you want to go! Realtime bus information is
available for this stop
and all Adelaide Metro stops or via dedicated apps for your Smartphone like
metroMATE
.
The JetBus is part of the Adelaide Metro network, so the standard ticket types and fares in the
public transport
section apply, and a ticket used on the JetBus can be used with another bus, train or tram according to its type. Metrocards are also available for sale at the airport from a vending machine next to the JetBus stop.
Taxis
are available downstairs out the front of the terminal. A taxi to the City costs around $30 during the morning peak hour and around $20 at other times, which can make it as economical as the JetBus for a group. Drivers will always use the meter, but a $2 surcharge is payable in addition to the metered amount for pickups from the airport.
Major national
rental car companies
operate kiosks on the ground floor near baggage claim including
AVIS
,
Budget
,
Europcar
,
Hertz
,
Thrifty
and
Redspot Sixt
. The car rental car park is on the ground level directly opposite the terminal.
By car
Adelaide is at least a day's drive away from the capital cities on the Australian east coast. The shortest driving route from Adelaide to
Melbourne
takes 8–9 hours. There are some freeway sections, but the roads are mostly 2-lane roads of highway quality.
From
Melbourne
, Adelaide is 736km (457 mi) via
Horsham
(National Highway 8) or 901km (560 mi) via
Mt Gambier
(National Highway 1). The journey via Mt Gambier takes you through the
Coonawarra
wine region, one of the most renowned cabernet sauvignon regions in Australia and also is convenient for a side tour via the
Great Ocean Road
. The trip via Horsham is more direct, on high quality highways, but has fewer tourist attractions.
From
Sydney
, Adelaide is 1,422 km (884 mi) via
Wagga Wagga
and
Mildura
(National Highway 20). Freeway conditions from Sydney to Wagga Wagga cut hours from the trip. This route also passes close to
Canberra
, Australia's national capital, which is 1,196 km (743 mi) from Adelaide.
Another option from Sydney is the 1,659km (1031 mi) route via
Broken Hill
(National Highway 32), which takes you through the Outback and one of Australia's most historic mining towns. The 2,031-km (1,262 mi) route from
Brisbane
also goes via Broken Hill.
While Adelaide is the closest capital city to
Perth
, the 2,550-km (1584 mi) journey across the
Nullarbor
is still arduous, though it's a unique drive through some of the most remote places in the inhabited world. Similarly, the 3,027-km (1884 mi) journey north to
Darwin
via
Alice Springs
travels through the true
Outback
and
Uluru
is only a few hours from the main highway north.
By train
Great Southern Railway
runs long distance tourist train services to and from Adelaide.
The Ghan
runs to
Alice Springs
and
Darwin
,
The Overland
runs to Melbourne, and the
Indian Pacific
runs to
Perth
, Broken Hill and Sydney. These journeys are train experiences, and offer sleepers, and the opportunity to take your car with you on the train. However, they take considerably longer and invariably cost more than the journey by bus or plane, with the exception of the Melbourne-Adelaide route, which can be cheaper than or of comparable price with air fares. Further, the trains stop at intermediate stops which may not be served by air connections, particularly on the Melbourne-Adelaide route.
These interstate trains depart from the just outside of the city. The station can be accessed by car or bus from Richmond Road. Since the demolition of Keswick station, there are no connections to the suburban rail network. Taxis are also available to meet all arrivals.
There are no country rail services in South Australia.
By bus
Interstate buses
are operated by a number of coach companies including
Greyhound
,
Firefly
and
V/Line
. The journey from Melbourne takes around eleven and a half hours, with both day and overnight services. The trip from Sydney can take up to 24 hours and by definition, travels overnight. Fares are less than train travel, but can be more than a budget airfare if you are booking well in advance.
Regional buses
to South Australian country cities and towns are also operated by the interstate bus companies, but local South Australian coach companies including
LinkSA
and
Premier Stateliner
often provide more frequent services.
Almost all interstate and regional buses depart from the at 85 Franklin Street in the City. The Central Bus Station operates 5AM-9:30PM, 7 days a week. It has modern amenities as well as a café and it is just across the road from the Adelaide Central Market, a Coles supermarket and Chinatown.
By ship
A range of cruise ships call at the during the cruise boat season, which runs from November to April each year. A list of ships arriving in Adelaide is available from
Flinders Ports
.
Get around
By bicycle
address: 53 Carrington St
Operates a
free bike hire service
sponsored by a group of inner city councils. Bikes are available from more than 10 locations across the City and the inner suburbs for free, but must be returned M-F before 4:30 or 5PM weekends or a $25 fee is payable. Arrangements can be made for bicycles to be hired overnight for an additional fee but all hires are stopped if temperatures are forecast to top 38°C.
A list of locations for hire is listed on Bicycle SA's website
Bikes are step thru-models with front baskets and a sturdy rear carrier (but you'll need to provide bungy straps or lashings). Front calliper brake, rear brake is an annoying back-pedal arrangement. Shimano 3 speed hub gear. They'll also supply you with a long sturdy combination lock and cycle helmet when you leave some photo ID.
A popular ride is to ride from the city centre along the River Torrens out to West Beach, then down to Glenelg and back.
You cannot take your bike on the Glenelg Tram or any bus
, even outside peak hour, however you can take them on trains. An alternative to taking the tram back from Glenelg is to ride a further 20 minutes south along the coast to Brighton Station on the Noarlunga Centre Line where there are reasonably frequent trains back to Adelaide.
Public transport
Accurate transit directions can be obtained through Google Maps. To navigate around, just enter your "to" address and "from" address (or use current location) on your device (including iPhone, Android), then select the public transport icon. Realtime arrival information is available from the Adelaide Metro website or a number of apps for smartphones (e.g. Transittimes), use the time before your vehicle arrives to have a look around the nearby area.
Ticketing and route information
Metropolitan train, tram and bus services are operated under the unified brand name
Adelaide Metro
and use a unified ticketing system, "Metroticket".
Adelaide Railway Station InfoCentre

address: Adelaide Railway Station, North Terrace

Or the Adelaide Metro website are the places to visit for timetable and route information. Accurate public transit information is also available through Google Maps, which has an easy trip planner if you select 'Transit' directions either on the website or a smartphone.
Single trip tickets with unlimited transfers for two hours are sold on buses, trams and at major train stations for $5 peak and $3 off peak. Alternatively, a $9.10 daytrip ticket is available, allowing unlimited travel within the Adelaide Metro area for an entire day.
Travellers in Adelaide for longer than a couple of days should buy a Metrocard for $10 which comes with $5 of value included. Trips on Metrocard cost $3.19 peak and $1.75 off peak. Metrocards are sold at major train stations (Adelaide, Elizabeth, Gawler, Noarlunga Centre, Oaklands, Mawson Lakes and Salisbury) as well as most newsagents and corner stores.
A list of locations is on the Adelaide Metro website
. Metrocards can be topped up wherever they are sold as well as on trains and trams using coins or major credit cards.
There is also a $25 visitors pass that can be used for unlimited travel on the network for 3 days. After the 3-day period, the pass can be topped up and used just like a normal metrocard.
Train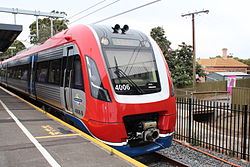 The
Adelaide Metro
train system has four main lines, with two additional branch lines.
Travelling
north
:
The Outer Harbor Line, which goes up the Le Fevre Peninsula in the north-west of the city via Port Adelaide. The Outer Harbor line is convenient for the Semaphore tourist precinct, the historic maritime district in Port Adelaide and the Queen Street cafe strip in Croydon. The Grange line branches off the Outer Harbor line at Woodville.
The Gawler Line, to Gawler Central in the north of the city, through Ovingham, Mawson Lakes, Salisbury and Elizabeth.
Travelling
south
:
The electrified Seaford Line, which extends to Seaford in the far south of the city, via the beachside suburb of Brighton and Noarlunga Centre. The Seaford line provides access to beaches at Brighton and Hallett Cove, and to Westfield Marion at Oaklands. The Tonsley line branches off the Seaford line and it only operates Monday to Friday until the early evening.
The picturesque Belair Line which extends to Belair in the Adelaide foothills through Blackwood and the inner south-eastern suburbs of the city. The Belair line is useful to access Belair National Park.
Buses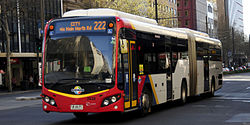 The Adelaide Metro has a comprehensive bus network, centred in the City. Full maps and information are available at the
Adelaide Metro website
.
Most main roads including café precincts
like The Parade, Prospect Road, Henley Beach Road, King William Road and O'Connell St are 'Go Zones' which have regular buses on weekdays at least every 15 minutes until the early evening. Adelaide's bus network extends out to the outer suburbs, to the Adelaide Hills in the east, down to
McLaren Vale
in the south (although buses there are infrequent) and as far as Gawler in the north. It does not cover the Barossa Valley. Frequencies in the outer suburbs are much lower than in the City.
The
O-Bahn
is a bus rapid transit line which runs to Adelaide's north-eastern suburbs. O-Bahn buses run from Grenfell Street in the City, entering the O-Bahn at Hackney and stop at Klemzig, Paradise and Modbury Interchanges. After finishing on the O-Bahn, the buses drives the same as a regular bus to reach its destination. O-Bahn services are very frequent, as often as every 3 to 5 minutes during peak hour to interchanges and every 15 minutes off peak.
Be warned that bus frequency declines sharply after 7PM, with hourly intervals being typical in the outer suburbs, half hourly along Go Zones and every 15 minutes on the O-Bahn. All services cease operation around midnight, so check your timetables and expect to catch a taxi if required if you are out after this time. Very basic
After Midnight
bus services along limited routes operate hourly after midnight
on Saturday nights only
.
The free
City Loop (99C)
bus runs on weekdays from 7:40AM–6PM every 15 min. On Fridays, it also runs at night 6-9:20PM every 30 min, Saturdays 8AM–5PM every 30 minutes and Sundays (and public holidays) 10AM-5PM every 30 min. It has clockwise and anticlockwise routes each with about 30 stops taking in all the major cultural and commercial centres in the City, beginning at Victoria Square and including Adelaide Railway Station. The buses feature ground-level access ramps.
Tram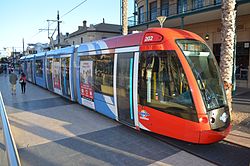 Adelaide has
a tram line
which runs from the Adelaide Entertainment Centre in Hindmarsh along North Terrace to the Botanic Garden. A second line starts from the Royal Adelaide Hospital through the City then down through the south-western suburbs to the beachside suburb of Glenelg. The Railway Station is a convenient stop to swap between the lines. Travel in the City between the Adelaide Entertainment Centre, Botanic Garden and South Terrace is
free
, while travel to Glenelg needs a ticket or a Metrocard. Tickets can be purchased from ticket machines on all trams or at some stops.
As well as being convenient for popular tourist destination Glenelg from the City, the tram also stops at Rundle Mall, Victoria Square near the Adelaide Central Market and at North Terrace near Adelaide Railway Station. Travelling north on the tram takes you to Hindmarsh and Bowden, the home of the Adelaide Entertainment Centre venue for stadium concerts as well as a popular cafe and restaurant strip along Port Road and the side streets alongside.
If you're driving a car, a convenient (and popular)
alternative to parking in the City
is to park at the Entertainment Centre and catch the tram into the City. It only costs $4 for a whole weekday, which is much cheaper than city parking.
By foot
The City centre is relatively compact and can be easily covered on foot. Most attractions are centred around the blocks between North Terrace and Victoria Square on either side of King William Street. The core Rundle Mall shopping district is entirely pedestrianised. The Gouger Street precinct and the Adelaide Central Market are also great destinations for a walking traveller.
Travellers keen to keep up on jogging while away can use popular jogging tracks along the River Torrens and through the Parklands.
By taxi
Adelaide has three main taxi companies which operate 24/7:
Cabs in South Australia are
white
(even those operated by 'Yellow Cabs') and they are clearly marked. It is generally possible to hail a taxi in the street or from a major hotel during business hours in the City, but in the suburbs you typically need to call one of the company booking services listed. There are a number of cab ranks which are staffed by the Taxi Council at night on weekends. Supervised taxi ranks offer extra security with lights and supervision by a concierge and a security officer. They operate 11PM-3AM on Fridays and 11PM-5AM on Saturdays.
A map of locations is available on their website
.
All taxis in Adelaide are required by the State Government to charge a regulated metered tariff, according to the time that the journey commences. Tariff one is the normal tariff rate and tariff two is a higher rate that applies between Monday to Friday 7PM-6AM, and on weekends and public holidays. Drivers almost always use the meter and are legally required to do so. Payment can be made by cash, EFTPOS, debit and credit cards and Cabcharge. It's a good idea to let the driver know if you are planning to pay with a method other than cash before you start your trip, as the machines can be unreliable.
By car
Adelaide's city centre and inner suburbs like Glenelg, Norwood and Prospect are easily traversed walking and using public transport. However, if you are expecting to spend a lot of time outside of the CBD or you are planning a trip to a wine region, a car is useful to avoid long trips on public transport or in the case of the Barossa Valley, to get around at all.
Unlike other Australian state capitals, Adelaide does not have a network of freeways leading directly into the city centre. The freeways that exist begin in the outer suburbs and are for the purpose of carrying traffic to the nearby country towns. Speed limits on most major roads are signposted at 60 km/h, though the default speed limit is 50 km/h if no speed limit is posted. Speed limits are strictly enforced, and even creeping ever so slightly above the speed limit may earn you a ticket with a $350 fine.
All of Adelaide's roads as well as those throughout
South Australia
are toll free.
Major national
rental car companies
operate kiosks at Adelaide Airport on the ground floor near baggage claim including
AVIS
,
Budget
,
Alpha
,
Europcar
,
Hertz
,
Thrifty
and
Redspot Sixt
.
See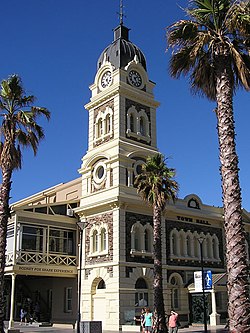 Parks and gardens
The Adelaide Botanic GardenThe gardens are quiet and relaxing even though they're in the heart of the city. They contain many large grassed areas ideal for relaxing, and just outside the gardens are the city parklands where ball games and picnics can be held. There is a cafe in the gardens and a conservatory.

Bicentennial ConservatoryThis is a worthwhile place to visit, it simulates a tropical rainforest micro-eco system, complete with mist falling from the roof. The space accommodates a number of full size rainforest trees and lowland rainforest plants from northern Australia, Papua New Guinea, Indonesia and the nearby Pacific Islands, many of which are at risk or endangered in their natural habitats. Be warned, it is warm and humid inside. All walkways have full wheelchair access.

Montefiore HillProvides a spectacular view of the city, especially at night.

Other lookouts include Windy Point along Belair Road, and Skye at the end of Kensington Rd.

North TerraceDriving east from West Terrace will take you past the new Royal Adelaide Hospital, the University of South Australia's City West campus, the new University of Adelaide's medical school, the South Australian Health and Medical Research Institute (SAHMRI), the Adelaide Convention Centre, the Casino (Railway Station below), Parliament House, Government House, the State Library of South Australia, Migration Museum (free entry), Art Gallery of South Australia (free entry), the University of Adelaide, the University of South Australia's City East campus, the site of the old Royal Adelaide Hospital, and the Botanic Gardens. It is an attractive, tree-lined boulevard in a South Australian colonial tradition.

Cleland Conservation ParkPopular with hikers and cyclists and has great views over the Adelaide Hills. Some highlights are the Cleland Wildlife Park, the Waterfall Gully and the Mt Lofty Summit.
Morialta Conservation ParkFamous for its ridges with waterfalls that are particularly impressive during the winter and spring when the water flows at its strongest.
phone: +61 8 8278 5477

Here you can walk around and enjoy the green areas, and there are also some tennis courts and a playground for kids. In the park you can also find the Government House that used to be a summer residence. There's a fee to enter the park by car, but it can also be accessed by the Belair train line, a 35-minute trip from Adelaide.

Rundle Lantern light display

address: Cnr Rundle St and Pulteney St

From dusk to midnight every night with 750 light panels.

address: Frome Road

The only place in the southern hemisphere to see giant pandas. The zoo also boasts meerkats, lions, tigers, a family of capybaras and some quokkas.
Museums and galleries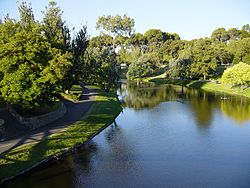 Do
Beaches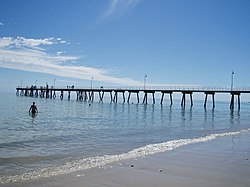 Glenelg beachThe historic beachside suburb of Glenelg has a jetty, the Grand hotel and many restaurants and cafés. Very popular with young and old, lots of volleyball competitions.

West BeachIdeal for family walks and swimming. It is reasonably close to both Glenelg and Henley Beach. At Henley Beach there is Henley square which hosts some 15 restaurants - an excellent dining venue. All the beaches along Adelaide's coastline are excellent white sand beaches, some with public toilets and cold water showers. If you want to 'wet a line' there are jetties at (suburban beaches, from north to south) Grange, Semaphore, Henley Beach, Glenelg, Brighton and Port Noarlunga.
Sport
Adelaide OvalDuring the summer months get down to the Adelaide Oval for a cricket match. Australia plays host to a couple of touring nations each summer and they will play a few matches at this beautiful ground which is just minutes from the city centre. Tickets for internationals tend to be snapped up quickly, but domestic matches are frequent and equally exciting.

AFL, the peak league for professional Australian Rules Football. Home games for the local teams the Adelaide Crows and Port Adelaide Power are played at Adelaide Oval in North Adelaide. Getting tickets shouldn't be a problem - check out the AFL website for more details.
SANFL, the state Aussie Rules league, has 5 games per weekend at a number of locations throughout the city and suburbs. Norwood Oval, home of the Redlegs, is situated on the Parade in Norwood which is home to a variety of restaurant, café and pub options for after the game.

Adelaide United (soccer)

address: Hindmarsh Stadium
Performance art
address: 15 Peel St

A two-storey performance space with a permanent zine store. Hosts small art shows, some of the more experimental gigs, discussion panels and performance art. Much of this is concentrated in the yearly Format Festival which is on at the same time as the Fringe Festival and is considered a more experimental alternative, although there are things on all year round. Known for its hipsters, Japanese beer, and nostalgic games of four-square.
Events
One of the best times of the year to visit is during
Mad March
, when a multitude of festivals and events are held. These include the Adelaide Fringe, the Clipsal 500 Car race, the Adelaide Festival, WOMADdelaide and the Adelaide Cup horseracing carnival.
Adelaide 500During mid-March, the Adelaide 500 supercar racing event is very popular, sporting massive street parties, huge concert line-ups and many fanatic Adelaidians.

Adelaide Fringe FestivalDuring late Feb-March, the Fringe Festival (second largest of its type in the world) and Festival of Arts bring the city alive with music, arts, dance and culture from all over the world. Both are large and very popular events visited by people from all over the world.

WOMADelaideA hugely popular music festival now held every year in March. People come here from all over Australia and overseas. It shows Adelaide at its very best.
Other
address: 154 Greenhill Rd, Unley Park

A factory tour. Haigh's was established in 1915 and is one of the best chocolate makers in Australia. 5 minutes from the CBD, the tour will give you a glimpse on how this fine chocolate is made and they give free samples.

The Adelaide Casino

address: North Terrace

Adjoining the Festival and Convention centres. Adelaide Casino is South Australia's only licensed casino, and offers not just great gaming, but also three restaurants, and four bars, including the LOCO nightclub and Grandstand sports bar. Valet parking is also available.

Coopers BreweryThe only remaining large family-owned brewery in Australia, well known around the world for their bottle conditioned ales. Founded by Thomas Cooper in 1862, the Brewery is run by the family's fifth generation, Tim and Glenn Cooper. Take a tour, all proceeds from the tours go to charity.
Learn
Three different universities call Adelaide home, of which the
University of Adelaide
is the best regarded. The other two universities in the Adelaide area are the
University of South Australia
and
Flinders University
. There are opportunities for international students to enroll in these universities, either as degree students, or as part of exchange programmes with foreign universities.
Buy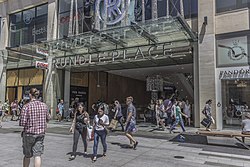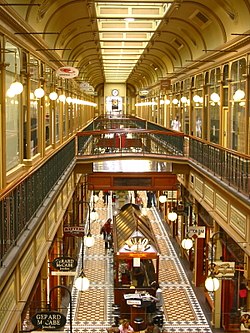 Unlike the "big four" Australian cities, top-end luxury brands like Louis Vuitton, Gucci and Prada do not have a presence in Adelaide. The Victorian that runs south from Rundle Mall has a fine collection of boutiques and specialist shopping such as numismatics, antiques and chocolatiers. Another good place to look for semi-luxury items would be
Burnside Village
in the eastern suburbs.
Malls and shopping precincts
Food
The Central MarketAll your fresh fruit and veggies under one Victorian roof. You can borrow a shopping cart from Coles Supermarket next door to stop your arms being pulled from their sockets by all the goodies you'll buy. It's not just vegetarians that will salivate here since foods and non-foods of every variety compete for the best displays. Cheap multi-storey parking adjacent.

ChinatownA pedestrian-only area (Moonta St) adjacent to Central Market.

City East IGA the fine food store

phone: +61 8 8223 1112

address: 116 Hutt St

Won best IGA Supermarket in SA for its amazing food range, including: Greek, Italian, Chinese and Indian.

phone: +61 8 8346 5766

address: 9-13 Bacon Street, Hindmarsh 5007

A food wholesaler but sells to the public with an amazing selection of ethnic foods. Most items available in larger quantities.
Eat
The BYO culture
While fairly unusual in the rest of the world, it's common for restaurants in Australia and New Zealand to allow patrons to bring bottled wine to dinner. This practice is called 'BYO' - 'bring your own'. Originally resulting from a loophole in liquor licensing laws, BYO is now a great opportunity to enjoy some of the wine which you have bought in a wine region, or to visit a local 'bottle shop' and enjoy a wider selection at lower prices.
Nowhere in Australia is BYO more common than in Adelaide. Most restaurants in Adelaide which serve alcohol will also allow BYO, though it's a good idea to call ahead to make sure. It's common for a charge called 'corkage' to be applied to the bill. Corkage will typically be around $10–$15 per bottle, though higher charges are not unheard of. Corkage is applied even if your wine is under a screwtop rather than a cork, like virtually all recently produced Australian wine.
Adelaide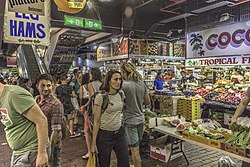 The City caters to virtually every different taste and price range. Adelaide has one of the largest number of restaurants and cafes per person in Australia and most of the best are in the City.
Gouger Street, Chinatown and the Central Market precinct is a multicultural food and wine paradise. Best known in Adelaide for good quality Asian food at a reasonable price, Gouger Street attracts a wide range of clientele from lawyers and public servants from the adjacent courts and State government precinct to new migrants. Chinatown and Gouger St is the hub of Chinese cuisine and culture in Adelaide and there are a wide range of Chinese restaurants along the strip. Other Asian cuisines are also featured including Thai, Vietnamese and Indian. On the northern side of Gouger St, the Adelaide Central Market has a great range of hawker style food stalls as well as a few older European cafes. The last decade has also seen the emergence of high-end dining on Gouger St, with a number of more expensive options joining the long standing and locally famed Argentinian restaurant, Gaucho's.
Rundle Street and the East End is the traditional hub of Italian and Greek cuisine in Adelaide, but there are also newer Chinese, Thai and Japanese restaurants. Like Gouger St, it has options across the spectrum of budgets, with the western end of the street closer to Adelaide University catering more to the budget end while the eastern end is more upmarket. The East End laneways off of Rundle Street have a range of smaller, quirkier cafes - Ebenezer Place, Bent Street and Union Street all have a few alternative options.
Waymouth Street and Pirie Street have emerged as new eating destinations over the last decade, particularly for an upmarket lunch. Waymouth Street, on the western side of King William Street, has a range of high end cafes, bistros and bars, while Pirie Street has a few new cafes.
Hindley Street is best known for its bars and nightlife, but has a range of multicultural food options, particularly Middle Eastern and Asian. The Leigh Street and Bank Street laneways have also emerged as dining destinations in their own right.
Hutt Street is smaller scale and offers a small variety of upmarket restaurants that please most tastes, and also has a wide variety of gourmet shops and supermarkets.
The South West Corner of the City's square mile, south of the Gouger Street precinct, is more residential but includes some of Adelaide's most interesting dining experiences sprinkled among the heritage homes and apartments.
North Adelaide
An eclectic mix of small restaurants and cafes make Melbourne Street an interesting place to eat.
The variety of take-aways, pubs, cafes, bakeries and restaurants that line most of O'Connell Street means you won't be wanting.
Suburbs
The Parade, Norwood has a long stretch of shopping and cosmopolitan dining. Buses from the CBD numbering 122-124 or a very short taxi ride.
Jetty Road / Mosley Square, Glenelg has a variety of restaurants and pubs at the end of a 30 minute tram journey.
Stuart Road, Dulwich features two cafes, a licensed restaurant and a very good bakery. Catch the 145 or 146 from North Ter which heads along Fullarton Rd and up Dulwich Ave.
King William Road, Hyde Park is an upmarket strip of fashionable cafes, coffee shops and restaurants.
Budget
There are a lot of budget eateries in Adelaide. They don't usually look like much from the outside but most have something going for them - the reason that they are still in business. It pays to look through menus plastered onto doors. Cheap eats should be anywhere from $8–14 for a main, and no more.
Elephant walk

phone: +61 8 8267-2006

address: 76 Melbourne St

Particularly interesting because it is a small, cosy cafe which is very dimly lit. Each booth is separated by straw screens so you can't really see the other patrons. It opens at 8PM and if they're full, you'll have to wait outside for a table.

phone: +61 8 8212 6185

address: 131B Hindley St

An Adelaide institution with decorations which probably haven't been changed in 30 years. One of Adelaide's best falafel; be sure to try the cauliflower dishes. Vegetarian/vegan friendly and BYO.

Nano Cafe

phone: +61 8 8227 0468

address: 23 Ebenezer Pl

Italian home-style food, great breakfast, good coffee, value for money, breakfast & lunch only, fresh daily.

address: 95 Grote St

Plates of 10-15 dumplings, steamed/friend, pork/chicken and prawn, for $6.80-7.80.

Food courts off of Moonta StMany different Asian cuisines at cheap prices. All you can fit on your plate for varying prices plus made to order food.

address: 141 West Terrace

Much the same as the food courts but open at night. Cheap but tasty with a wide range of food.

address: 2-14 Manchester St

Vili is an Adelaide producer of pastries, especially pies and pasties. This unpretentious eatery at their factory serves full meals in addition to pastries. Shift workers and night owls regularly eat there because it is open 24 hr, 7 days. It is a minor Adelaide icon. It has a second location at 426 Main N Rd in the Blair Athol district.

Fasta PastaThe fast food version of pasta; although found in other states its popularity in South Australia is due to the chain having started in Adelaide.
Mid-range
Splurge
Drink
There are pubs and bars dotted all around the CBD, but a few districts are worth singling out. Rundle Street and its neighbouring area known simply as "The East End" have a number of popular pubs. Hindley St used to be notorious as the seedy home of Adelaide's strip clubs and bikie bars, but it, and "The West End" have undergone a renaissance. The eastern end of Hindley Street is more mainstream, whereas the western end, west of Morphett Street has a few trendier and more alternative venues. The seedy places are still there, but so too is a university campus and a number of trendy bars and clubs. Also important are Gouger Street and its many restaurants but with an increasing number of bars and pubs. O'Connell Street is home to a few of North Adelaide's popular pubs.
There are also many bars in the suburbs of Adelaide which usually are busier on Thursday and Friday evenings. Quite a lot of the locals will go to the hotels in the suburbs on Thursday and Friday evenings, and go into the Adelaide CBD on Saturday evenings.
Smoking in pubs and clubs is banned under South Australian law. Many drinking establishments have outdoor areas where smoking is permitted.
Pubs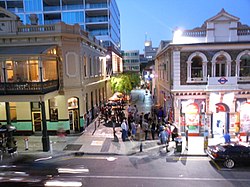 As a rule, pubs seem to be located in hotels.
Bars
address: 155 Waymouth St

This West End bar attracts a friendly, relaxed, mid-20s crowd.

phone: +61 8 8223 4044

address: 128 Rundle Mall

The only nightspot on Rundle Mall. First started life as a chilled out cocktail bar, but rapidly became popular as an after-work spot on Fridays, and could now also be filed under "clubs". On weekends they are packed out and play commercial house, but on weeknights it reverts to the original cocktail bar atmosphere.

Fumo Blu

phone: +61 8 8232 2533

address: 270 Rundle St

Below ground cocktail lounge in the heart of Rundle St.

phone: +61 8 8271 5544

address: 27 Unley Rd, Parkside

Burlesque themed bar, with live music and burlesque and period performances, a 5-minute drive, bus or Tram ride South of the CBD. Half-price cocktails Wednesday and Sunday 6-9PM.

phone: +61 8 8212 7433

address: 142 Hindley St

Inconspicuously located off Hindley St (it's a door with a sign above it). Live venue hosting international/interstate and local alternative indie acts. Also home to indie/alternative Modular nights and Abracadabra on Fridays. Open every weekend until late.
Nightclubs
phone: +61 8 7221 1245

address: 149 Hindley St

A complex at the far end of the West End with possibly the best sound system and most floor space to be found anywhere in the city. It is easily Adelaide's largest club. The big nights are Saturday, where you'll hear mostly commercial house, with a little trance, and Wednesday, which is a retro night. Fridays can also be big, depending on what's on.

address: 181 Hindley St

300-person capacity mainly live venue that hosts local and interstate rock/alternative/indie acts. Also home to indie/alternative dance club Gosh! on Saturdays after the bands.
Sleep
Budget
There is a choice of backpacker accommodation around the central bus station.
Mid-range
Splurge
Stay safe
The Australia-wide emergency number is 000. The ambulance service, fire service and police are available through this number. For non-emergency police assistance, dial 131 444.
Adelaide is considered a safe city, and much more so than other Australian capitals. People should however exercise personal safety, particularly at night.
The city parklands are poorly lit and are best avoided after dark due to the presence of intoxicated people. If you need to cross the parklands to reach the suburbs, stay near the road. Catching a taxi or public transport is recommended at night.
Trains in Adelaide are generally reliable and arrive and depart on schedule. (Buses can be slightly more variable.) There are security guards on all trains after 7PM and many rail services have bus connections available.
At night, police actively patrol the city centre, especially Hindley Street, the latter being where many of the city's nightclubs and bars are. Taxi ranks are near the Adelaide Casino on North Terrace, the Hilton Adelaide Hotel on Victoria Square, and the junction of Rundle Street and Pulteney Street outside the Hungry Jacks fast food outlet. Most regular public transport services end before or at midnight, but special
After Midnight bus services
operate Saturday night only, travelling from the city to brightly-lit points throughout Adelaide's suburbs.
Stay healthy

Adelaide's remote location in the world's driest continent means that all of its drinking water is sourced from the River Murray or local reservoirs. Although the water is perfectly safe to drink, it does make tap water unpalatable to those not used to it and is best drunk filtered.

Connect
There is extensive free Wi-Fi access (port 80 only) in the CBD and the airport provided by
Internode
.
Cope
Consulates
The Consulate for the
United Kingdom
has closed, therefore the British High Commission in
Canberra
is the closest.
phone: +61 8-8224-068

address: PO Box 90 - Rundle Mall,

Honorary consulate only.

Thailand

phone: +61 8 2311333

address: Room 9, 144 South Terrace

Honorary consulate.
Go next
Adelaide Hills, including the Mt Lofty Summit, provides spectacular views of the Adelaide metropolitan area. The Adelaide Hills are a series of villages, each having its own unique character. In particular, the towns of Hahndorf and Stirling are worth visiting.
The wine regions of the Adelaide Hills, McLaren Vale, Barossa Valley and Clare Valley
Kangaroo Island. Explore the natural environment.
Flinders Ranges. Head north to explore the natural beauty and frontier history of the Flinders Ranges and Wilpena Pound
Victor Harbor, just an hour or so drive south of Adelaide. Granite Island is one of the few places you can see Fairy Penguins in their natural habitat. Visit the nearby surf beaches in Pt Elliot, Middletown and Goolwa.
Whispering wall, at the Barossa Reservoir.
Yorke Peninsula is a popular holiday destination for Adelaidians, and less touristy than Victor Harbor, with towns dotted along the coast and the rugged Innes National Park at the foot of the peninsula.
Alice Springs, 1,500 km of driving. Main stops on the way are Port Augusta and Coober Pedy. Eventually, heading through the Northern Territory you will reach the turn off to Uluru.
Melbourne, via Coorong National Park, followed by the Limestone Coast and finally the Great Ocean Road before arriving in Melbourne.
Eyre Peninsula. Visit the historic town of Port Lincoln where you can see the massive tuna farms as well as going diving with Great White Sharks (in a cage) or swim with the dolphins and the seals.