Adelaide Hills
Adelaide Hills
is in
South Australia
. It is an easy 30-minute drive from
Adelaide
central business district. The highest point is Mount Lofty, 712 metres above sea level.
Get in
Southlink
operates services around the area, including bus services direct to Adelaide central bus station. The fares and timetables are integrated with the Adelaide services. Google Maps operates the trip planner service, and the fares and route details are on the
Adelaide Metro site
.
Get around
The Hills is a challenge to drive around by car, with some inadequate signage and winding roads, but they are beautiful to drive. With a map you won't go to far in the wrong direction and no doubt have taken a scenic drive.
Public transport isn't great around the Hills, which is a shame given the fantastic wines of the region, however there are a couple of tour companies providing regular services.

See
Mount Lofty LookoutHas spectacular views of Adelaide and Gulf St Vincent. The peak is a great tourist attraction in its own right, but also home to a restaurant offering modern Australian cuisine, and a Visitor information Centre. There are a couple of buses a day that will take you directly there, so check the timetables carefully. The summit cannot be accessed by vehicle between late evening and early morning hours, however the lookout is still accessible by foot.

phone: +61 8 8267 3255

address: Old Princes Hwy, Monarto South

1,000-hectare open-range sanctuary undertaking breeding programs for rare and endangered species. The park is 45 minutes (70 km) from Adelaide and is the gateway to the Murraylands region. Drive through Cheetah habitat, and see a Southern White Rhinoceros, Australia's largest giraffe herd and the largest revegetation project of its kind in South Australia's history. Safari bus and walking tours operate every day of the year.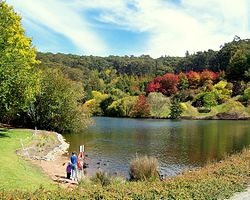 Mount Lofty Botanic Gardens97 hectares of magnolias etc with several walking trails, stunning views and good picnic areas.

HahndorfOne of the Adelaide Hill's most famous towns, Hahndorf is Australia's oldest surviving German settlement. Attractions include a small chocolate factory, the Beerenberg Strawberry Farm (where you can pick your own strawberries for very reasonable prices), parks with barbecue facilities and a playground, plus many small stores selling all manner of products. Hahndorf has plenty of souvenir shops, craft outlets and galleries to explore, including the Hahndorf Academy. There's still a strong German flavour in the town, most evident in the smallgood outlets and German bakeries that line the main street. Visitors can pick their own strawberries at Beerenberg Strawberry Farm or visit the former home and studio of Sir Hans Heysen, The Cedars. There are several good winery cellar doors in the area and the Hahndorf Farm Barn is an enjoyable stop for families.
phone: +61 8 83887277

address: Heysen Road, Hahndorf

The home of one of Australia's most famous painters, Hans Heysen, nestled among the majestic gum trees which featured in many of his paintings. Visit his studio which has largely remained undisturbed since his death in 1968.
National Motor MuseumContains one of the largest collections of cars, motorcycles and commercial vehicles in the world. The collection comprises over 300 vehicles dating from the turn of the century to the present day.
National parks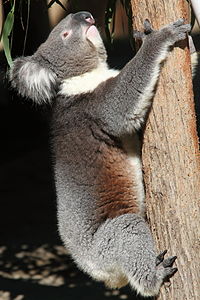 Belair National ParkA national park of 835 ha, 11 km south of Adelaide City. Due to its history as a "recreation park", it has many good trails for bushwalking, as well as tennis courts and grassy areas available for hire, and a good adventure playground for children. Old Government House, the colony's first official vice-regal summer residence, is in the park. A vehicle entry fee applies to cars entering the park, or else its western parts can be accessed from the Belair line train, a 35-minute journey from Adelaide city. Gates open 8AM-sunset, except 25 Dec.

Cleland Conservation ParkA large conservation park of 992 ha (2,450 acres), 20 minutes from Adelaide City. Although it lacks the picnic and sports facilities of Belair, Cleland offers greater opportunities for tourists to get up close and personal with Australian native fauna. Visitors can feed and wander at their leisure among kangaroos, wallabies, Emus and waterfowl. Displays of Dingoes, reptiles, Tasmanian Devils, Wombats, Echidnas and Koalas allow easy viewing access, or stroll through the aviaries. Visitors also have the rare opportunity to be photographed holding a Koala, under supervision from Parks and Wildlife Officers. There is also an Aboriginal cultural tour.

phone: +61 8 8336 0901

10 km (6 mi) north-east of the CBD, where the suburbs meet the Adelaide hills. It covers 533 ha (1,317 acres), and contains numerous walking trails of various levels of difficulty, including trails that pass by three major waterfalls, and provide panoramic views over Adelaide itself. There is a popular rock climbing area within the park and a giant cave. The waterfalls only flow in the winter months, and are usually completely dry by Christmas.
Do
Visit some of the 29 winery cellar doors. The following are a range from the very small to the larger corporate producers.
Petaluma
Hahndorf Hill Winery
Nepenthe
Shaw & Smith
Tilbrook Estate
Bird in Hand
Barratt Wines
Ashton Hills
Wine tours
Visit food producers - small goods, cheese makers, chocolate makers, espcially in Hahndorf, Balhannah, and Woodside.
Visit country markets in Echunga, Uraidla, Woodside, Stirling.
Eat
The Organic Market and CafeFantastic organic food, with a large selection of vegetarian meals. Very popular with locals, so get in early for lunch. Seasonal menu. The market and cafe sources high quality produce from local growers, regional suppliers and specialty providers. 5 Druid Avenue Stirling. Open 364 days a year from 8:30AM. Market closes 5:30PM. Café closes 5PM.
Sleep
Go next