Aden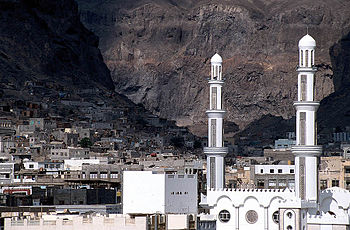 Aden
is a city in the
Yemeni Coastal Plains
, on the Gulf of Aden at the southern end of the Red Sea. It is a
UNESCO World Heritage Site
.
Understand
Aden has a long and complex history.
It was a major port on the Maritime Silk Road. Marco Polo described it as a hub of commerce, where goods arriving by ship from the East were transferred to smaller boats for the trip up the Red Sea and on to Alexandria and Christendom.
At one point it ruled a small empire, the part of Africa just across from it.
In the 19th century, it became a British protectorate.
It was the capital of South Yemen until Yemen was re-united in 1990.
It is a very picturesque city with a mix of traditional Arabic and British influences. It was the capital of the liberal South, but it has been changing due to the take-over of the tribal forces of the North. For instance the Soviets banned head scarves for women and for decades, women were relatively emancipated and could carry out university degrees abundantly. Now, the scarves are back on the street. There is also notice a sizeable Somali minority (war refugees).
Climate
The city swelters through a desert climate all year round, with high temperatures and little to no rain.
Get in

Access to Aden is available by car, airplane and bus. Airfare from Sana'a on Yemenia, the national carrier, is around 10,000 rials or USD55. Buses are generally comfortable and the journey from Sana'a to Aden takes about 8 hours. A ticket costs ~1500 rials. Be prepared to show a travel permit (Tashrih) on military checkpoints. You can't leave capital Sanaa without it. It's good idea to have also few photocopies of your passport ready. If you travel to Aden or elsewhere in Yemen by plane, no travel permit is required.
There are direct flights to many cities in the Middle East. If you are flying in from outside the region, it will be necessary to transfer in Egypt, Jordan or the United Arab Emirates.

Get around
The different current options are:
private taxi
collective taxi ("mer mer") - costing 40 rials from Tawahi to Crater or Sirah for instance (ask for colour codes if you speak Arabic), cheap and easy to use along common routes
by foot - for any climbing and to complement many collective taxi trips.
Taxis are practical, yet always bargain with the taxi driver before getting in. Otherwise, they have the tendency to get it done at their high price. If you know the city very well, you can use the mini-buses along with the public. The mini-buses are easy to use; they follow an essentially circular path around the city. Find someone familiar with the area to explain their route as the fare for the buses is around 30 rials, or roughly a tenth of the average taxi ride. There are also many boats that will take you whenever on a little cruise on the sea.
Aden International Airport is accessible, yet if you are in Yemen it is better to drive there. You can also rent cars from international companies.
See
Sunsets, lagoons (for bird-watching), the Aden museum, Crater (including a shopping district), people, beach and reservoirs.
Sights by neighborhood:
Tawahi (Steamer Point)
Tourist Port
Aziz's Bookshop

Big Ben Aden

Statue of Queen Victoria
Ancient "Hôtel Univers" (where Arthur Rimbaud lived)
Climbing village
Panoramic viewpoints
Ma'alla
Crater
Aden Military Museum

National Museum

Central market

Cisterns of Tawila

Aidrus Mosque

Mosques
Panoramic viewpoints
Rambow Hotel (which is not Rimbaud's hotel)
Sirah
Fish market (w. sharks) and Fisherman Bay
Aden Mall

Sira FortressA military fortress, dating back to the 11th century. Still in use by the Yemeni military.
Do
Among activities carried out by the locals that you can easily sample:
snooker ("billiard")
hanging out at fresh juice bars or small restaurants with kubz (giant pita bread)
chewing betel (2 versions: tobacco, sweet). This causes cancer in the long-run, and also stains teeth and gums red. Tobacco version is very strong and spitting regularly is highly recommended. The sweet version is particularly tasty and doesn't induce the same urge to spit.
chewing qat - the national past-time. This also causes cancer in the long-run; first-time use generally induces restlessness, insomnia and general mouth fatigue and aches
climbing on the mountain tops for great views of the city (beware of the no trespassing zone and take abundant water and sun screening equipment)
beach activities.
Aden is especially known for the beautiful beaches and swimming activities. Besides this, Aden has the only considerable nightlife in Yemen, and foreigners can enjoy wonderful Arabian nights.
Sport fishing: tunas and sharks can be hunted near the coast.
A visit at the Gold Mohur Beach and Elephant Bay Hotel is a must. For women travelling alone, there is also a women-only beach at the Sheraton Hotel. Excellent snorkeling is available although not as clear as Sharm El-Sheikh.
Buy

Beautiful scarfs can be purchased in Crater as well as an abaya for the ladies. Spices can also be found in abundance. Other typical local products include: perfumes & incense, male dresses, female dresses, head scarves, honey, sweets.

Eat
Aden is especially known for its fresh fish.
Breakfast dishes
Foul beans and baguette bread or khobez (round pita bread)
Khmir (sweet square doughnuts) and tea with milk
Dinner or lunch
Moufa or mukbza restaurants have mufa fish, khobez rushwsh, mulwah, rateb (round bread).
Zurbian is a mixed of lamb meat & colure rice.
Saiydia: fish steak (tuna or king fish) and rice.
Shwarma is the snacks in the evening, pita bread and tender grilled lamb meat with Salad
Drink

There are few places in Aden where you can buy alcoholic drinks. Aden is known for its belly dancing events by overseas dancers (e.g. Iraqis and Syrians), which you can find in many tourist places, including Sheraton Aden, Diplomacy Resort, Bahara, Nashwan, and Hotel Aden.
Fruit juice bars offer very nice, cheap and wholesome drinks.

Sleep
Aden is the tourist and economical capital of Yemen. You have many chances to purchase alcohol, go to clubs and enjoy a sunset in the high-class hotels. There are many 5-star hotels and numerous others.
Budget
There are many budget, decent and clean hotels and resorts such as:
Aden Airport Hotel
Elephant Bay
:Yemen Nights Tourism Hotel' in Queen Arwa Road, Crater. Tel: 256093. Less than €10 for a clean double room with TV, fridge, balcony and air con (which is essential in hot Aden).
Splurge
Sheraton Gold Mohur
Movenpick Adel Hotel
Holiday Inn