Adolfo Suárez Madrid–Barajas Airport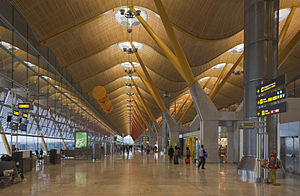 Madrid-Barajas Airport
(
MAD
) is the main airport of Madrid. It is an important connection point for flights between Europe and Latin America and home base of Spain's flag carrier Iberia as well as Air Europa.

Understand
Barajas is located 13 km from the city center of Madrid. It is one of the largest airports in Europe and is serviced by many airlines, as well as being the homebase for Iberia Airlines. The airport has 4 terminals, including Terminal 4, a new terminal that has won architectural awards, and might be worth the trip to have a look even if you are not flying.

Flights
Barajas is the 5th busiest airport in Europe and there are direct flights to most major airports in Europe and the Americas. There are some flights from African and Middle Eastern destinations as well, and direct flights to Asian destinations such as
Beijing
,
Seoul
,
Bangkok
and
Tokyo
. If you are flying from Europe to Latin America - especially if you want to
avoid traveling through the United States
chances are you will either fly out of or change planes in Madrid Barajas. The route between Barajas and
Barcelona El Prat Airport
used to be far and away the most flown in Europe and though it is still a popular route the advent of
high speed rail
has led to a sustained decline of air passenger figures and fierce competition on price.
Terminals
There are four terminals.
is the main terminal.
is used by domestic flights and flights to destinations in the Schengen Area.
is used by Iberia and Air Nostrum for flights to France and Portugal.
, was opened in 2006. It's primarily used for Iberia flights and as a check in terminal for oneworld flights.
(T4S) a satellite terminal of Terminal T4 which is a separate building. It is used by T4 companies for flights outside the Schengen Area.
Ground transportation
By bus
By far the most convenient way of reaching downtown is a
24-hour express bus service
that passes all terminals and then goes directly to metro stop, (a 20-minute walk or quick metro ride to
Puerta del Sol
) and rail station (not serviced between 23:30 and 06:00). €5 cash, payable on entry to driver; the largest note accepted is €20. Departures from 06:00-23:30 are every 15-20 min, from 23:30-06:00 every 35 min. The travel time from Terminal 4 (end of line) to Cibeles is 40 minutes.
Public bus
200
operates between the airport and the on
Avenida de América
in Madrid. It is only €2 and you can use your weekly ticket or 10-trip ticket.
Public night bus
N4
goes from
Plaza Cibeles
to in the
Barajas
district, a 400-metre walk from the terminal through a passageway over the highway. It's best to get off at the second-last stop,
Avenida Central
, and then make a right turn immediately after the bus stop. Go straight on, keep going straight crossing the parking lot, and then you make a left to cross another huge parking lot. After that you see the road and the pedestrian highway overpass. Only €1.50, and the 10-trip ticket is valid as well.
By train or metro
The airport is connected to the city centre by the
Cercanías C-1
commuter train. Trains depart from the basement of
Terminal T4
every 30 minutes from 05:59 to 22:28, with a fare of €2.60.
rail station (travel time 11 minutes, 2 stops) has long distance connections; (travel time 18 minutes, 3 stops) has connections to lines C-3 and C-4 (on platform 8) as well as to the Metro;
Atocha
rail station (25 minutes, 5 stops) has long-distance and high-speed rail connections; and (29 minutes) and (38 minutes) serve as hubs for long-distance buses.
The
Metro
runs from all terminals to Nuevos Ministerios downtown (line 8 pink, from 06:05 to 01:30, fare €4.50-5.00 depending on zone).
A map of all commuter train and metro connections in the Madrid area is available at
download
.
By taxi
Taxis
from the airport to the city center cost ~€32. There are taxi stands outside all terminals except the satellite terminal T4S.
Get around
By bus
If transferring at Barajas, you may need to plan in some extra time because the terminals are rather spread out. T4 and T4S are located about 4km north of T1, T2, and T3. T4 is connected to T1-3 with a
free shuttle busses
.
By automatic train
The two buildings of terminal 4 (T4 and T4S) are located about 2km apart. They are connected by an automatic underground train line, an
Automatic People Mover
(APM). A journey takes approximately 3 min.
Eat and Drink
All terminals are equipped with restaurants and bars.

Buy
There are over 100 stores at the airport.

Connect
Free Wi-Fi is available throughout the airport.
Spanish pre-paid SIM cards are sold in Crystal Media Shops in Terminals 1, 2, and 4. Free outlets for charging mobile devices are scattered throughout all terminals.

Cope
Airport information: +34 902 404 704
ATM's are located in terminals 2 and 4.
Sleep
There are no hotels at the airport.

Nearby
Madrid is just 13km from the airport, accessible by metro, bus or taxi.