Adrian (Texas)
Adrian
is an incorporated city in the
Texas Panhandle
with a population of about 140. The tiny city promotes itself as the "Midpoint of
Route 66
", a highway which once led from
Chicago
to
Santa Monica
.
Understand
Adrian is in Oldham County, approximately 14 miles from
Vega (Texas)
.
Get in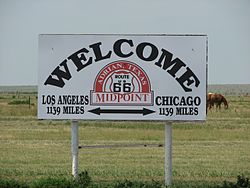 Access is by highway. Adrian is on Route 66, a once-famous US Highway which was bypassed long ago by Interstate 40. In the Texas Panhandle, the old road still exists in the individual towns as "Interstate 40 BUS" but otherwise was "upgraded in place" (or replaced) by mainline I-40.
See
Adrian Lion's Club Farm and Ranch Museum

phone: +1 806 267-2828

address: East Route 66

Collection of antique farm equipment and machinery includes a 1930s Caterpillar combine, horse-drawn equipment, early tractors and a vintage windmill. Descriptive signs for self-guided tour.

Giles HotelVintage hotel from the 1930s, abandoned and now in disrepair.

phone: +1 936 615-7730

address: 104 W Historic Rt 66

Former roadside café and trading post built in 1947 from World War II surplus, incorporates portions of a decommissioned wartime air traffic control tower. The tower windows originally slanted toward the runway so the door is bent to match. Under common ownership with the Fabulous 40 motel. A 1920s Phillips 66 cottage-style fuel station has been moved to the Bent Door property from Vega (Texas) for eventual use as a souvenir shop.
Buy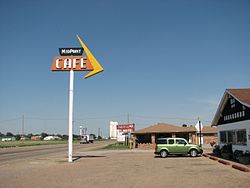 Sunflower Station

phone: +1 806-538-6380

address: Route 66

Antique and vintage store in 1930s service station.
Eat
phone: +1 806 538-6379

address: 305 West Historic Route 66

1928 roadside café which operated 24 hrs/day in Route 66's heyday. Antique and souvenir shop. Fran Houser, proprietor from 1990 until retiring to Sunflower Station in 2012, is the basis for Flo of "Flo's V-8 Diner" in Cars (film).
Sleep
phone: +1 806 538-6215 (landline), +1 936 615-7730 (mobile)

address: 301 W Historic Rt 66 (I-40B)

Small 20-room motel established 1967 (when I-40 first came to town), closed 2004 (after the founders died) and partially reopened in October 2016 under new management. Continental breakfast in the rec room each morning with fresh coffee and tea bar; toaster, microwave, refrigerator available for use.

phone: +1 806 344-6530

address: 100 Route 66

Caravan park with RV hookups, wi-fi, showers, propane.