Adygea
Adygea
Republic is an autonomous zone in
Southern Russia
, completely surrounded by
Krasnodar Krai
.
Cities
Adygea is one of the smallest Russian regions. There are only two cities there:
- the capital of republic and the biggest city
Other important settlements are:
Understand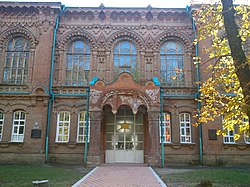 Adygea is one of a few fully enclaved Russian Federation regions (the only other ones are the cities of
Moscow
and
Saint Petersburg
). All its territory is surrounded by neighboring
Krasnodar Krai
.
Get in
Direct buses from Krasnodar bus station, 170 RUR, 2.5 hours.
Intercity buses from many other cities in Krasnodar krai, nearby regions and even from Moscow. Buses are very old and in poor condition, no air conditioning. Use trains if possible, especially in summer.
A number of trains (from Moscow etc.) stop at Belorechenskaya station, where bus and local train connections to Maykop are available.
Fast local train from Adler/Sochi goes once per day, scenic sea views between Sochi and Tuapse, 700 RUR first class, 650 RUR 2nd, timetable (stand 10.2011): Maykop 5.50 - Sochi 11.30, Sochi 17.05 - Maykop 22.45.

Do
Go next