Agadir
Agadir
is a city in the southern part of
Morocco
.
Understand
Agadir is of interest primarily because of its location, as it is surrounded by the Anti Atlas, the
Sahara Desert
, many natural parks, and secluded beaches which are all easily accessible from Agadir.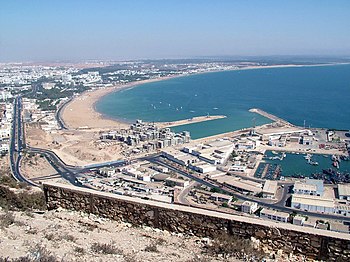 The city of Agadir is primarily a tourist resort that is popular with European travelers and Moroccans alike. It has a beach with all the appropriate facilities for
beach-tourism
. The city is especially attractive, it is clean and orderly with very friendly locals.
Get in
By plane
Agadir-Al Massira AirportAgadir has an international airport with direct flights coming from major cities in Europe as well as many charter flights arriving from all over Europe. If you are flying from the US, Canada, Asia or elsewhere, you'll have to change planes in Casablanca.
Getting there:
Official taxi costs 200 dirham plus 20 dirham per each bag. Cheaper taxis can be found just outside of the airport, with prices starting at 80-100 dirham (as of Jan 2018). There are no direct buses from the airport, however a transit bus #37 can be caught at the main road junction just outside the airport, it goes to Inezgane for 7 dirham every 40 minutes or so. From there you'll need to catch another bus or grand taxi to Agadir for another 7 dirham.
By train
There is no train connection with Agadir.
By bus
CTM Bus stationCTM and Supratours buses depart from this station. There are several daily and direct buses from/to Essaouira (3 hr, 70 dirham), Ouarzazate (6-6.75 hr, 140 dirham), and Marrakech (3.5 hr, 100 dirham).
Gare Routière InezganeInezgane town is the region's bus hub. It serves all the destinations of CTM and Supratours and many more for often a cheaper fare. It is very usual to arrive there, especially when not relying on CTM or Supratours, and not in Agadir center. A city bus to Agadir center goes for 3.50 dirham/person and is convenient and fast (use buses 97, 98 and 99). The grand taxi to Agadir costs from 5 dirham/person. One can go to Inezgane directly from the airport, which is closer, easier to catch buses to Marrakech (3 hr, 70-80 dirham), Ouarzazate , Taroudannt and other places.
Between
Essaouira
and Agadir it is very easy to catch an intercity bus anywhere along the way. During the day there is one bus about every hour. While CTM and Supratours are not allowed to pick up additional passengers, local intercity buses do not have such a restriction. This is a great way to explore the coast including
Taghazout
between these two cities without issues. The regular price for the full distance is 50 dirham.
Get around
On foot
The touristy part of the city is small enough to be able to walk it.
By bus
There is a public bus service which is quite reliable. Fares are usually 3.5-5 dirham, directly paid to the driver, which will hand you a proper ticket. Keep the ticket until the end, there might be controls. Maps can be obtained from the Tourist Office which is along the Boulevard Mohammad V near the Miramar Hotel. Alternatively, also OpenStreetMap has the Agadir bus network available, so get yourself one of the mobile apps using OpenStreetMap, like
OsmAnd
(complex with many add-ons) and
MAPS.ME
(easy but limited).
By taxi
Most of the Agadir's
petit taxi
are quite legal and use the taximeter (you can ask the driver to do it without any problems). If you go around the center, they will ask you normally from 10 to 30 dirham (as of 2018).
By motorbike rental
Mopeds can be rented around Hotel Kenzi, but they are expensive, more than 100 dirham an hour.
See
Museum Municipal du Patrimoine Amazigh

address: Avenue Hassan II

The museum which exhibits a small collection of Berber objects from 18th and 19th century the likes of old Berber music instruments, Berber jewelry, traditional clothing and old manuscripts.

Memory of Agadir MuseumThe sign is missing: you go through iron gates on the corner. Mostly photographic exhibits which concentrate on the Agadir earthquake on 29 February 1960. Cost is 20-30 dirham each and there is a guide who speaks Arabic, French and English. After you have browsed you can walk around the super Jardin Olhao, where there is a cafe, toilets and children's playground.

Coco Polizzi's MedinaCoco Polizzi has been recreating a traditional Moroccan Medina on route N1 in Bensergao. Out of town you will need to take an orange Petit taxi, and arrange a time for the taxi to return to collect you, but its well worth the effort for the architecture alone. Amble along the cobbled alleys amongst artisans and chatty shop keepers and take a traditional souvenir or two.

FortressThere's part of the original fortress which is at the top of the hill beside the city, over the huge painting. It's possible to walk up there, taxi will cost 30-50 dirham.
Do
Agadir is primarily a resort and as such has a limited number of attractions
BeachThe main attraction is the beach, which is very big and not very crowded. The beach is very windy, at least in February.

SurfingImesouane, Devils rock (at the town of Tamragh and with the neighbouring towns of Aourir and Taghazout), Anchor point, Cro-Cro and many others. There are a lot of surf schools and surf camps and surf shop. The best surf season from November till March - but if you are just beginner - you can surf every day all year long.

ZooThis is a small zoo, called "Vallée des Oiseaux" ('Birds Valley'). There is a very nice cage you can walk inside, many birds from all the world, some goat-like animals from the Atlas, and even exotic mammals. The children of Agadir go there to play in a small and crowded playground.

GolfWith three top-notch golf courses, Agadir can rival most countries' golf facilities. Ask at any large hotel about the bus transport which collects visitors several times a day.

Souk El HadWith over 3000 stalls the souk is a must see. Everything from tourist souvenirs, clothes, leather goods, household items, to fruit and veg. If you are a tourist and enter via Gate 9 or 10 (the main gates) expect to be approached by someone offering to guide you. Which of course means he'll take you to all his friend's stalls. If you wish to avoid this, and explore on your own, enter through one of the lower numbered gates where the Moroccan's go. Haggle hard and note some stores advertise fixed prices. Worth looking there first so you have an idea of the 'right' price to pay before trying your hand at haggling. Personal favourites and the olives and spices stalls. Generally stallholders are happy to be in your photographs, but be respectful and ask permission first.
Buy
Agadir is maybe the city with the least charm to buy the typical Moroccan handcraft goods. All the
souk
is around a big square behind the Uniprix (Blvd. Hassan II with Ave. Sidi Mohammed). There is a concrete building called
Marché centrale
with many shops inside. Is possible to get in also from Ave. Prince Moulay Abdallah. All the goods are made outside the Agadir region, and it's difficult to find them at a good price. The good thing of buying in Agadir is that there are many fixed-price shops, which is good if you don't know how to
haggle
well. In fact, you may find that the cheap things you bought in Marrakech are not so cheap!
In the Uniprix shop it is possible to buy small typical pieces in maybe the least authentic shop in Morocco, but the prices are not so high and there is nobody pushing you to buy.
Ensemble Artisanal

address: Ave du 29 Fevrier

Downstairs is a shop selling all the co-operatives wares, up a few steps you can see artisans working, painted furniture, ironwork, embroidery, ceramics, etc.
Eat
There are four main zones in which to eat in Agadir:
New Talbourjt: The cheapest restaurants are here. There are menus for 35 dirham. It's one of the cheapest zones in Morocco for tourists.
The beach: Next to the beach, there are many restaurants. You can find from international fast food to Indian food, good fish restaurants, etc. It's the most expensive and touristic zone.
Around the Uniprix: It's the mid-price zone. There are touristic restaurants and some restaurants for the local people.
If you're looking for a quick snack, keep an eye out for the pastry vendors who roam the beach carrying big plastic trays, selling sweet fried bread that are called "sfinj."
Beware, however, that these friendly hawkers will often approach you on the beach, strike up a conversation, and then thrust a pastry into your hand, whether you asked for one or not. Which, of course, you are then expected to pay for (1-2 dirham,
not
5-10). If you don't want to buy, simply refuse the offer with a polite smile. They
are
delicious, though.
Drink
Agadir is prepared for European tourists, so you can find night clubs in the touristic zones, where you can find more tourists beside the usual locals looking for tourists.
Alcohol is found in all the touristic places and can also be purchased at the Uniprix and Atacadao supermarkets.
If you are looking just to talk and drink something during the evening, you can go to the nice and big cafes that are at ave. Hassan II, like La Fontaine, La Veranda, Le Dome, etc. It's a real ritual for many Agadir citizens.

Sleep
The main budget accommodation area is in the Nouveau Tablorjt. A simple double room will set you back around 150–180 dirham although you might find a really basic hotel with crappy toilets for 80 dirham. Arrive early as hotels tend to fill up quickly in high season.
Budget
Hotel Diaf

phone: +212 528 82 58 82

address: Av. Allal Ben Abdallah

If you're on a budget this hotel is a great place to stay. It's near where the bus stops (1 min walk), right next to an internet cafe and about 20 min walk or a 6 dirham taxi ride (don't forget to get them to turn the meter on) to the seafront. It is possible to stay in a room on the roof with a double bed and a single for 100 dirham! The best thing is, it has an amazing warm shower with a large showerhead. The rooms definitely have a "backpackers" feel, but its a great, and cheap, experience.

phone: +212 5 28 84 07 79, +212 5 28 82 50 10

address: Bd Hassan II near Av du General Kettani

Close to the centre, rooms with shower (shared toilet), very clean, breakfast served in a rooftop eatery. Street-facing rooms can be a bit noisy. In the heart of the city: 5 min walk to the beach, 25 min from the airport, 10 minutes from the souk (al had), 5 minutes from shopping center.

Hotel TamriCheap place to stay. Hot shower outside - from 7-10 am morning and 6-9 pm. The electricity plugs are "hidden" on left side of the "neon" lamp above sink in your room. Just ask receptionist. Rooms could be quite noisy as hotel is close to the street and those crazy motorcycle drivers without exhaust pipes. So if you are sensitive, don't forget about your ear plugs.
Mid-range
Hotel Sud Bahia

address: Rue des Administrations Publiques 335

Four-storey with 246 rooms 400 meters from the beach in the center of Agadir and with an outdoor pool.

phone: +212 528 84 09 40

address: Boulevard Mohamed V BP 29

The hotel has a commanding position with a magnificent view of the bay and the city. Guests can keep in shape in the gym, have a swim in one of the 3 beautiful outdoor pools, or relax in the health club with a sauna, or a massage. Your children will be entertained in the kids club, while you can unwind enjoying a cool drink from one of the three bars. Amenities of this Agadir Hotel include conference and banqueting facilities, and there is a business center, where guests can access the Internet. In the evening, the traditional Moroccan-style restaurant Fez features live folk music, the hotel restaurant serves a buffet, including salads, chicken dishes, fish tagine specialties, fresh fruit, Moroccan cakes and soups, and there is also a pizza restaurant.

phone: +212 661 488 504

address: Tighanimine ElBaz - Drarga

20 minutes from Agadir, this ecolodge is the perfect place to discover centuries-old Berber culture and the unesco Argan Biosphere Reserve. It features gourmet food using fresh and natural product especially ones from the organic garden of the Kasbah. The objectives of the ecolodge is to provide a comfortable and educational experience for guests by learning about local customs, food and traditions as well as the natural environment. Thus, it is a learder in the Souss region in alternative technology and high environmental standards as well as positive economic side effects for the local population.
Splurge
Hotel Sofitel Agadir Thalassa Sea & Spa

phone: +212 5283-88000

address: Baie des Palmiers

Luxury beachfront hotel

phone: +212 528 23 42 20

address: Cite Founty F6 Baie des Palmiers

10 minute walk from the beach. This hotel is on the smaller side, but the rooms are clean and spacious. Has free wifi, pool, working A/C, and a restaurant.
Go next