Aguas Calientes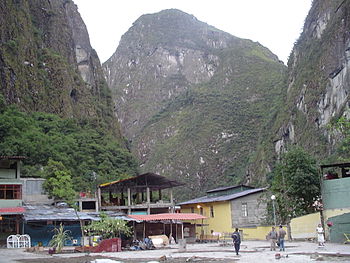 Aguas Calientes
(now officially
Machu Picchu Pueblo
) is a small town at the bottom of the valley next to
Machu Picchu
, and the principal access point to the site. All visitors to Machu Picchu pass through Aguas Calientes, and unless you're on a daytrip from
Cusco
, some versions of the
Inca Trail
, or you plan to spend a fortune and stay at the sole lodge at the Machu Picchu site, you will have to spend at least one night here.
The town is perched on the bank of the Urubamba river. Across the river are sheer cliffs, and a creek flows down from the jungle into the river, bisecting the town. Several small bridges cross the creek. Virtually all of the streets are pedestrian-only walking streets, making it very easy to get around.
Get in
There are no roads into Aguas Calientes. You must arrive by train or by foot.
By train
Two train companies serve Aguas Calientes. Try to book several days in advance if possible, especially in the high season. Tickets can be purchased online, or at travel agency and ticket offices in
Cusco
. Upon leaving the train station you will enter a warren of market stalls. Stay straight to head to the stream running through town where you can get your bearings.
Peru Rail
Peru Rail
has two stations: Ollanta and Poroy. There are several departures daily, varying greatly in price. Pay attention to the station when buying tickets online, as the website presents both stations in the same timetable. Tickets should be bought in advance either online or at the Peru Rail office on the Plaze de Armas in
Cusco
. It is not possible to select your seats online, so if you have a preference, buy them at the station. Printed tickets are required, although they can be printed at the Poroy station at the ticketing office (and likely at Ollanta, although this has not been confirmed). The fares start at US$35 one way in the 'Backpackers' cars, which have decently comfortable seats and small snacks available for purchase. The 'Vistadome' cars are the mid-range cars, with nicer seats and included snacks. There is also a luxury option called 'Hiram Bingham', complete with gourmet meals and an observation carriage.
Poroy is a 20-min taxi ride from the
Cusco
Plaza de Armas and is the most convienent option for passengers departing from Cusco. However, in the rainy season Peru Rail only runs trains from Ollanta and ferries passengers via shuttle buses.
Ollanta is in
Ollantaytambo
, which is a small town 1hr 45min from Cusco. To get to Ollantaytambo, take a collectivo from Calle Pavitos in Cusco, S/15 (
soles
) per person. They start early in the morning, around 03:00, and run every half hour. Look for a newish van with seatbelts. Ollantaytambo is a small town with ruins of its own, and one popular route is to take the bus, spend a night in Ollantaytambo, then take the train to Aguas Calientes the next morning. The scenic train journey through the
Sacred Valley
takes about 3hr 45min from Poroy and 1hr 45min from Ollanta.
Inca Rail
Inca Rail
also serves Aguas Calientes. Prices and service are similar to Peru Rail.
By car and foot/train
Several tour agencies offer a "Machu Picchu by car" tour for S/60-100 - an inexpensive way to get to Machu Picchu from Cusco. These start around 07:00 in the morning to go to Hidroelectrica on a 6-7 hour car ride up and down a very curvy mountain road with very spectacular views along the road. From there you walk to Aguas Calientes for 2½-3 hours. It is an easy, flat walk, you just have to follow the train tracks. It's also possible to catch a train at 14:50 for US$32 (Jul 2019). You'll spend the night in Agua Calientes and get up to Machu Picchu very early the next day, usually around 04:00. Minivans back to Cusco leave Hidroelectrica at around 14:30. This means leaving Machu Picchu at around 11:00. It's just enough time to visit the site for 3-4 hours, but not enough to climb Wayna Picchu or Montana.
If you want to have more time at Machu Picchu (recommended if you have the time), you can also organize the trip yourself: book the transport at a tour agency (S/70-80 for the round trip), book two nights in Aguas Calientes (there are plenty hotels and hostels to choose from), and buy your ticket for Machu Picchu in the Ministerio de Cultura in Cusco.
By foot
It is also possible to hike downstream along the railway tracks from Ollantaytambo or from the town at km 82, where the Inca trail starts. This is about a seven-hour hike (hiking
on
the train tracks is prohibited).
It's also possible to hike upstream along the train tracks from
Santa Teresa
(4 hours) or Hidroeléctrica (2 hours). You can take a minibus directly to Hidroeléctrica from Cusco for S/50 or make the journey by public transport. To reach Santa Teresa, take a bus towards
Quillabamba
from Cusco and get off at Santa Maria. The bus leaves Cusco at 08:00 (from the Santiago bus depot - S/20) and passes through Ollantaytambo, Urubumba and Santa Maria. It's a 7-hour journey from Cusco to Santa Maria. You can also take a minivan (
colectivo
) which leaves next to the buses (S/25-30 - 4 hours). At Santa Maria, take a connecting bus to Santa Teresa (S/6, 1½ hours) or a taxi (S/10, 1 hour). Walk 2 hours or catch a bus (S/5) to the hydro electric plant (
planta hidroeléctrica
). From there it's 2½-3 hours of walking to Aguas Calientes, and it's a easy walk, you just to follow the train tracks. It's also possible to catch a train for US$28 (May 2015) to Aguas Calientes, possibly much cheaper if you are Peruvian (leaves
hidroeléctrica
at 16:00 and for Peruvians it's S/10). As the tracks are still in use, be careful, especially when crossing bridges and in the tunnels.
There are also hiking paths coming from
Mollepata
,
Cachora
and
Huanicapa
for the extremely adventurous. You will want to get your hands on some topographical maps beforehand.
Hiking and Trekking around Cusco
is available for S/25-30 and has details on the routes you can take.
Get around

The town is compact and walkable, and there are no vehicles apart from the buses to Machu Picchu and a few work vehicles.

See
Machu PicchuThis is what most people come to see. The bus from the town Aguas Calientes up to Machu Picchu costs S/45 per person for a return trip, or US$12 one-way (Mar 2018). You can walk to the ruins for free, but it's steep uphill and takes about an hour and a half. The toilets at the top cost S/2 to use. You have to buy your ticket for entering the ruins at the Cultural Centre in Aguas Calientes (if you're not doing the whole tour from Cusco; tickets are available at the Peru Rail office there). This ticket costs S/152 per person (including entry to Huayna Picchu) and is now valid for only one day. The office will not sell same-day tickets after 14:30 and that the last entry into Machu Picchu is at 16:00, with visitors herded out by 17:00. The office will ask for your passport when buying tickets rather than a photocopy, though agents may be flexible. Aguas Calientes is overpriced and nasty, so if you can stay in Ollantaytambo and get the first train at 06:10, it's way better. You'll arrive about 08:00, still way before the large tour buses (10:00-14:00). Remember to take water and snacks with you as the snacks available at the ruins are insanely expensive. Bring water with you to Aguas Calientes, as the shops there charge about double. Best to bring a packed lunch from Cusco, if possible.
Do
Aguas Calientes is in the cloud forest, and there are a several hikes in the jungle and along the river. The town also offers the usual activities for a tourist location, as well as the thermal baths that give the town its name.
Birdwatchers can find Torrent Ducks and White-Capped Dippers in the river, and Andean Cock-of-the-Rocksthe national bird of Peru--can be found in the jungle outside of town. Several books are available discussing the bird life near and around Machu Picchu and Aguas Calientes that also discuss birds that can be found in the cloud forest.
In town:
Thermal BathsSoak your weary Inca Trail-beaten muscles in one of the hot springs for which the town was named (after taking a thorough shower, of course). The baths can be found by walking up the hill in town. These are not bad, but the feel is much like a public pool and they can be crowded, since everyone wants to get into the hottest pools. You can rent towels or swimming trunks before you go in if need be.

MassageDozens of massage parlors abound in town (all legit, although of varying quality). Prices from S/40 for a one-hour massage.

Buy Tickets to Machu Picchu

address: Ministerio de Cultura

Although it is strongly recommended to buy tickets to Machu Picchu ahead of time, they can also be purchased in town at the Ministerio de Cultura. It is in the main plaza.
Going downstream towards Santa Teresa, you can follow the train tracks or follow the road along the river. This road runs until it reaches a bridge that crosses the river where the road winds up to Machu Picchu. At this point you can turn right and cut up to the train tracks and continue to follow the river along the tracks. Walk on the tracks is prohibited and dangerous. In the downstream direction you can find:
PutucusiQuechua for "Happy Mountain". Putucusi is on the same side of the river as Machu Picchu Pueblo. Follow the train tracks a very short distance away from town in the direction of Santa Teresa and Machu Picchu (downhill from town) you will shortly come across a trail on your right heading uphill. (If you come to a train tunnel, you've gone too far.) This trail leads to the summit, about 2370 m above sea level. It is the mountain adjacent to Machu Picchu. The trail is steep with quite a few near-vertical wooden ladders. The elevation gain is about 300 m from Machu Picchu Pueblo. The summit offers amazing views of Machu Picchu if it's a clear day. In March 2013 there was a sign at the start of the trail saying it is closed for rehabilitation, but the entry gate (a few hundred metres along the trail) is not locked and the trail is in good condition. Allow about one hour each way and make sure you'll be out before it gets dark. Wear long pants to avoid insect bites and take some water.

Butterfly HouseIt's near the camping ground; if you get to the bridge you've gone too far.

Machu Picchu Museum and Botanical GardensAcross the bridge on the opposite side from town at the bottom of the path leading up to Machu Picchu is a path leading to the Machu Picchu museum and botanical gardens, which are also worth checking out if you have the time.

Ecological CentreFurther along the tracks near the bridge to Machu Picchu you will reach an ecological centre with rainforest walks that will take about one hour of your time. You can reach this by following the road towards Machu Picchu as to avoid walking through the railway tunnel. There is a stair case leading up to the train tracks near the bridge to Machu Picchu.

Gardens of MandorIf you continue further along the tracks towards Hidroeléctrica at 114.5 km you will reach the gardens and waterfall of Mandor, which is private property and requires foreigners to pay S/10 for entry. This is a nice walk with many orchids and some rainforest and trails to a waterfall.
Going upstream towards Ollantaytambo;
Following the train tracks upstream from Machu Picchu Pueblo towards Ollantaytambo you will see some other ruins and a waterfall.
Buy
Prices on most things are relatively high, so if you're on a very tight budget, bring some snacks and water from Cusco. If you're planning to use a credit card for hotel or purchases, note that most places only accept Visa. However, prices on basics such as snacks and water are not much higher than Cusco and the Sacred Valley.
There is a big
market
along the road to
Machu Picchu
, and a big
handicraft market
in front of the railway station.
Some shops sell hand-painted t-shirts, which are far more expensive than other t-shirts in Peru but are a little more creative.
Eat
There are many restaurants catering to travelers. Prices can be expected to be somewhat higher due to the isolation of Aguas Calientes and the difficulty of importing supplies. Some travelers have reported incorrectly calculated bills and hidden charges on bills. One ploy to be aware of is for the bill to be 10-15% more than advertised due to "tax" and "servicio". This is fairly easy to avoid if you are aware of it - when the tout is inviting you into the restaurant, he or she will name a price. Agree to the price and say, "No tax, no servicio, no nada mas." When they bring the bill, you may have to remind them of this agreement, but there is usually no problem if it is agreed up front. The waiter may tell you he earns no wages, and the service charge is his only pay, but this is not true. Only ever pay what is advertised.
The town is full of pizza restaurants, which are a safe option.
There are also Chifa restaurants (Chinese food) and Peruvian restaurants serving set menus. These will usually run S/10-15, and depending on where you go will be something along the lines of
palta rellena
(stuffed avocado), soup, main course (generally trout, beef or chicken), tea, coffee, fruit juice, wine or pisco sour.
The smaller restaurants up the hill will often offer more food for half the price of the larger establishments, and the quality is usually the same.
There are two cafes outside the entrance to Machu Picchu that have decent cafe-style food and are surprisingly reasonable.
Indio Feliz

address: Avenida Pachacútec

A nice French-run restaurant for those willing to spend a bit more than at the other places. Meals will cost about S/50 here plus drinks but the food is outstanding. There is also a S/77 prix fixe menu that provides three courses. The restaurant is owned by a Frenchman and his Peruvian wife, who are very friendly.
Drink
Many bars try to lure in customers with 4-for-1 happy hours lasting the whole evening. Beware that the price is fourfold of the normal prices in Cusco. These "four" cocktails are also each about the size of one normal-priced cocktail. It is often not a terrible deal, but it is not truly four-for-one.
Signs warn that it is not allowed to sell and/or consume alcoholic beverages after 23:00. However, it's not too hard to find a place to drink some beers after this time.

Sleep
There are many sleeping options in Aguas Calientes. There is one very expensive hotel right next to the
Machu Picchu
entrance.
Budget
Hostel AmaruHas a large Anaconda skin on the wall in the cafe downstairs, there is also a bar, a billiard table and internet access downstairs, the staff are very friendly and helpful, this hostel is great if your on a budget and is just meters from the hot springs.

Hotel Los Caminantes

phone: +51 84 21-1007

address: Avenida Imperio de los Incas 140

Has 28 rooms, doesn't accept credit cards.

Camping Municipal

Hostel ContinentalA nice hostel near the end of the train tracks on the far side of the hot springs. Very reasonably priced and quite well kept.

Hostal Joe

phone: +51 84 38-3512

Has friendly staff. The street is quiet without bars or major foot traffic. They will keep your bags securely until you take the train at night. Pickup from the train station

Hostal John

phone: +51 84 78-5065, +51 84 974-711-092

address: Calle Chaska T'ika C-7 Urb. Las Orquideas.

There are a couple of hotels at this price.

address: Chaska Tika C-5, Aguas Calientes

More of a hotel than a hostel. Quiet and clean. Private bathrooms with hot showers and good water pressure. Breakfast, no kitchen anymore.

Supertramp Hostel

phone: +51 84 79-1224

A welcoming hostel with comfortable dorms and private rooms. They will meet you at the train station upon arrival. You can hang out in the common areas and use the facilities while you wait for your train, and they will provide early morning wake up calls and breakfasts.

Las Americas

phone: +51 84 211370, +51 974 381731, +51 979068692

address: Calle Inca Roca #107

The rooms have private bathroom with reliable hot water, good quality bed. Wi-Fi is only at the reception and does not reach all the rooms. The staff is quite unfriendly, but for the price it is a great value.
Mid-range
Gringo Bill's

phone: +51 84 21-1046, +51 84 24-1545 (for reservations)

address: Colla Raymi 104

Hotel El TumiNice rooms, good hot showers, friendly staff. A bit pricey during high season, but a bargain if it's low season.

Hostal Varayoc

address: Imperio de los Incas 114

Basic, clean rooms with hot showers on main drag across bridge from train station. Price includes simple breakfast. Friendly staff.

phone: +51 84 211048

address: Av Pachacutec 805 (Lot. 3 MZA. 20)

Hot water, private bathrooms, free Wi-Fi, laundry service, 24-hour front desk, restaurant on premises. Price includes buffet breakfast. Friendly staff.

phone: +51 84-242760

address: Huanacaure 180

Beautiful place on the hill done in tasteful modern woods. Opt for the upper rooms for a nice view. Restaurant on premises serves a fusion of different cuisine styles - Italian, Asian, Andean and Peruvian - using organic ingredients, and offers fun cooking lessons with Bruno, the head chef.

Wiracocha Inn

phone: +51 84 21-1088

address: Calle Wiracocha s/n

Clean rooms, friendly owners, fair prices, and the river will lull you to sleep every night. You can also leave bags here while exploring the ruins.

Hotel Flowers House

phone: +51 84 435852

address: Calle Kory Wakanki B-9 Urb. Las Orquideas

A clean budget hotel. Breakfast as early as 04:30. Will store your luggage while visiting Machu Picchu.
Splurge
phone: +51 1 610-0410

It is the money-making branch of the Inkaterra Foundation, a nature and culture preservation organization working since 1975. It is like a small Andean town built into the mountainside and has one of the largest and most varied orchid collections in the world. There are all kinds of small birds. In a very private location, only for registered guests, and has received several international awards. Aguas Calientes is a boring tourist town with a budget hostel, but crossing the bridge to the Inkaterra Machu Picchu Hotel makes you feel like you are entering Paradise. Consider getting a room with an outdoor shower, where the water flows Inca-style from a groove carved into a rock. The dining room in the hotel does pasta, done perfectly al dente.
Connect

Internet cafes are spread around the town with slow connections. They offer local and long-distance calls as well. They charge S/3-4 per hour and there are also CD and DVD burning facilities to store your photos. DVDs cost S/15 each to burn.

Stay healthy

There is a 24-hour pharmacy "Multiservicios Botica Carita Feliz" in Calle Collasuyo, north-west of the main square Plaza Manco Ccapac.

Go next