Ahmedabad/Central Zone
Ahmedabad Central Zone
is in the metropolitan city of
Ahmedabad
. It consists of areas of Girdharnagar, Madhupura, Dudheshvar, Shahpur, Dariapur, Kalupur, Raikhad, Jamalpur, Khadia, etc. These old walled city of Ahmedbad was listed as a UNESCO
World Heritage Site
in 2018.
Understand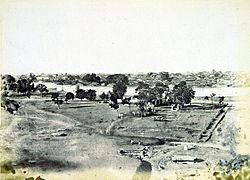 Old Ahmedabad, the
world heritage listed
walled city of Ahmedabad was founded by Ahmed Shah I of Gujarat Sultanate in 1411. It remained the capital of the Gujarat Sultanate and later important political and commercial centre of Gujarat. Today, despite having become extremely crowded and dilapidated, it still serves as the symbolic heart of metropolitan Ahmedabad.
The entrances to the walled city, called
Darwaja'
s, have a unique names and history. Pretty much the area surrounding these gates have adopted the name of the gate as the name of the locality. Each of the gate has beautiful carvings, calligraphy and some of them even balconies.
Get in


You can reach this zone from almost anywhere in the city by bus. is located at Lal Darwaja.

See
Jama Masjid

address: Gandhi Road, Danapidth, Khadia

(mosque). It is amongst the most popular tourist sights in the city. Built of yellow sandstone this mosque stands on 260 pillars which support 15 domes at varying elevations. The mosque was built by Ahmad Shah in 1423. It is easily accessible as it stands in the centre of the old city. This imposing structure reflects the Muslim architecture of that period.

Bhadra FortTo add special charm to the varied sights of the city there is the Bhadra Fort, which once housed royal palaces and well-laid gardens. It boasts the temple of Bhadrakali during the Maratha rule. The fort was built in 1411.
Bhadra TowerOn the gates of Bhadra Fort
Jhulta MinaraQuite an unusual structure, Jhulta Minara or swaying minarets are a part of the mosque of Siddi Bashir and can be moved back and forth by applying a little force at the topmost arch. One of the minarets was partly demolished by an Englishman in his endeavors to unravel the mystery of the swaying minarets. The mosque was built by master craftsmen and the crucial mechanism that leads to the vibration is still a mystery. The other interesting fact here is that these minars stand the test of the rumbling trains that pass not very far away from them.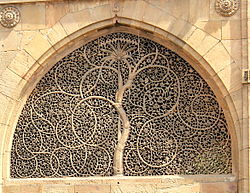 Sidi Saiyyed Mosque

address: Mirzapur Cross Lane, Gheekanta, Lal Darwaja

Sidi Sayed Mosque is unique for its exquisite screens, which are praised for their amazing Jhali screen, framed, in the ten semi-circular windows. The screen carved out of one rock is just exceptional. A visit to this superb and outstanding example of delicate carving is an absolute must.

Teen DarwajaLocated south of Shahpur near Lal Darwaja. It is composed of 3 arched entrances was built by Sultan Ahmed Shah to serve as a royal entrance to Maidan Shahi. Mughal emperor Jehangir and his wife Nur Jahan used to watch the Tazia procession of Mahuram from over these gates.

Azam Khan Sarai

Ahmed Shah's MosqueThe oldest mosque of Ahmedabad, built in 1414.

Rani no Hajiro

address: Manek Chowk

Ahmad Shah's Tomb

address: Manek Chowk

Brick Minars at railway station platform

Rani Sipri's Mosque & Tomb

Achyut Bibi's Mosque and Tomb

Dariya Khan's Tomb

Sardar Khan's Roza

Manek Burj

address: At the east end of Ellis Bridge

Foundation bastion of the city. Associated with folklore of Baba Maneknath.

Ellis BridgeCentury old bridge preserved as monument.
Other mosques
Muhafiz Khan's Mosque

Rani Rupamati's Mosque

Shahpur or Kazi Mohmad Chisti's Masjid

Haibat Khan's Mosque

Queen's Mosque in Sarangpur

Qutub Shah's Mosque

Dastur Khan's Mosque
Do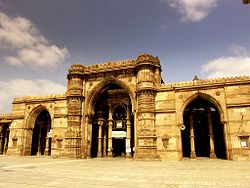 Heritage Walk2km long walk across the old city to know about culture, architecture and monuments.
Buy
Gujari BazarLocated near Ellis Bridge and newly developed space of riverfront. The market is paradise for lovers of antique pieces ranging from old coins, records, furniture to old computers. Once a Sunday market for resale of low cost goods it now round the year market.
Eat
Manek ChowkSurrounded by historical structures. It is a vegetable market in the morning, a bullion market in the afternoon and the popular street food market at night. Enjoy steaming Masala Dosa and Pau Bhaji. Try a Chocolate Sandwich or Pineapple Sandwich and Kulfi of Asharfi or Prem Mewad as desert.

Chandravilas Hotel

address: Near Farnandese Bridge

On Gandhi Road, this restaurant is well known for its delicious and iconic Fafda-Jalebi. In January, people flock here to buy Undhiyu.

Radhe Khaman

address: Fatasha Pol, Gandhi Road

Gujarati snack, Khaman and its crushed form Sev-Khamani with Chatni draws people here. Anytime you go, you have to wait in line for few minutes. But its worth it.
Sleep
phone: +91 79 2550 6946

address: Bhadra Road, Opp. Sidi Saiyad Jali, Lal Darwaja

The heritage hotel built in a restored, Baroque-inspired 1924 home. It is linked by courtyards and archways. Breakfast and parking are free. There is an open-air cafe, and a restaurant on a bi-level terrace, an authentic Gujarati food resaurant. A lotus-themed health club has an indoor pool with dining space.