Ai-Ais Richtersveld Transfrontier Park
Ai-Ais/Richtersveld Transfrontier Park
straddles the border between the
ǁKaras
region of
Namibia
and the
Northern Cape
region of
South Africa
.
Understand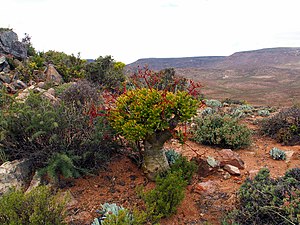 The immense
Ai-Ais/Richtersveld Transfrontier Park
was formed when the
Richtersveld National Park
in
South Africa
was joined with the
|Ai-|Ais Hot Springs Game Park
in
Namibia
. It contains the
Fish River Canyon Park
. The South African part is inscribed on the
UNESCO World Heritage List
.
The park is one of the few places where the Nama, a pastoral semi-nomadic tribe still survive. They speak the Nama language and move with their seasons and are known for living in beehive-shaped huts known as haru oms, made of reeds.
History
Landscape
Flora and fauna
Climate
Fees
Valid until 31 October 2017:
South African citizens and residents (with ID): R70 per adult, R35 per child, per day
SADC nationals (with passport): R74 per adult, R37 per child, per day
Foreign visitors: R148 per adult, R74 per child, per day
Sleep
Camps inside the park
Lodging outside the park
Camping
Backcountry