Aichi
Aichi Prefecture
(愛知県) is a prefecture in the
Chubu
region of
Japan
and was the host of
Expo 2005
.
Cities
- Japan's fourth-largest city and the capital of the prefecture
- a textile manufacturing town to the north of Nagoya. Hosts one of Japan's 3 major Tanabata festivals.
- a large castle and two kinky fertility shrines
- A site of Expo 2005
- A suburban town with a small castle
- A center of ceramic art
- Popular beach for surfing
- car manufacturing hub
- yes, that Toyota
Other destinations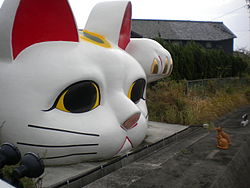 Understand
Get in
Get around

Using train for transportation is common in Aichi. The major railways are Nagoya Tetsudo (名古屋鉄道), JR Tokai (JR東海), and Aichi Kannjyo Tetsudo (愛知環状鉄道). The JR Tokai line connects the major cities. For smaller towns, the Meitetsu and Aikan lines may prove convenient. The city of Nagoya has a subway.

See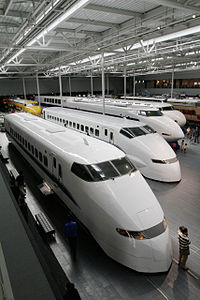 See one of the oldest remaining castles in Japan (Inuyama)
Learn about the past, present, and future of railway travel and technology at the SCMaglev Railway Museum (Nagoya)
Marvel at the hundreds of fox statues at Toyokawa Inari (Toyokawa)
Explore the grounds of Nagoya Castle, one of the original great castles of Japan (Nagoya)
Learn about the history of Toyota and see a variety of old and new car models (Toyota)
Pray at Atsuta Shrine, mentioned in the Kojiki and home of one of the National Regalia (Nagoya)
See Tokugawa Ieyasu's old stomping grounds (Okazaki)
Reminisce in the old 2005 Expo Park (Nagakute)
Eat
Aichi is famous for its "miso(味噌) culture". Miso is one of Japan's traditional seasonings. (Usually Japanese eat miso as "miso soup". Of course people in Aichi eat miso soup, too.) People spread sweetened miso paste on fried pork, fried shrimp (it's not tempura), tofu and so on.
Other Aichi specialities worth a try are:
Tebasaki
- grilled chicken wings with a sweet, mildly spicy glaze and white sesame seeds. Eaten with the fingers, they are a popular and delicious izakaya delicacy.
Tenmusu
- a local variety of onigiri, filled with prawn tenpura and a fruity brown sauce.
Kishimen
- flat, ribbonlike wheat noodles, usually served cold with a dipping sauce, but sometimes hot in broth.
Aka-miso soup
- Red miso soup rather than the standard white miso you get everywhere else in Japan.
Miso katsu
- Fried pork cutlet (tonkatsu), but is topped with a miso based sauce.
Drink
Melon Soda is a popular drink in summer.

Go next
Ise - one of Japan's holiest shrines, just a short trip south from Aichi