Ajaccio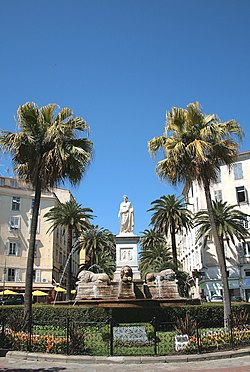 Ajaccio
(
Corsican
:
Aiacciu
) is the capital of the
French
Mediterranean island of
Corsica
.
Understand
This is a sun-kissed tourist town with frequent visits by cruise ships. It has a boardwalk along its attractive coastline, but its sky-high prices may detract occasionally from its wonderful weather.
Although the coastline of Ajaccio and its natural harbor was almost certainly visited many times in antiquity, the development of a proper city did not happen until the late 1400s when the Genoese built a citadel that still stands to this day and serves as a military installation for the French army.
After most of Corsica was conquered by the French in the 1700s, Ajaccio remained a Genoese territory until the late 1760s.
Napoleon Bonaparte (Napoleone di Buonaparte) was born in Ajaccio in 1769 just after the city became the capital of Corsica. Although from mostly Italian-Corsican heritage, Napoleon rose through the ranks of the French military to become the leader of France and subsequently Emperor. For a time he also ruled most of Europe.
Ajaccio was one of the last cities to become French in Europe, but it was the first French city to be liberated in 1943 following the fall of the Third Republic in 1940.
Tourist office
phone: +33 4 95 51 53 03

address: 3 bd Roi Jérôme
Get in
By plane
Ajaccio Napoleon Bonaparte AirportAir Corsica, an Air France subsidiary, is the main airline serving Corsica and AJA. Most of Air Corsica/Air France flights depart from Paris-Orly, Nice and Marseilles airports throughout the year. Many more French cities are served during the summer season (April–October). Flights can be surprisingly expensive, and often, taking the ferry makes more economic sense, especially when you figure in the cost of taking a car on the ferry versus renting a car once in Corsica. EasyJet and Volotea offer direct flights to the city from Paris, other French and European cities. In addition, companies such as Airlinair, Jetairfly, Norwegian and Transavia operates flights from French and European cities during the summer season (April-October).
Ajaccio International Airport is situated 20 minutes by bus of public transport from city center. Muvitarra Bus 8 serves the airport and one-way fare is . A cheaper way to go to the city is Bus 12 last stop Capitello (summer 2012) which is 250 m from the airport (continue straight from the airport bus stop of number 8 as if the bus was going straight between the rent-a-car garages, and not turning left to pass between the rent-a-car offices and parking) which runs to the Gare d'Ajaccio (train station), and costs , however it is not advertised by Tourist Information at all. All the plans and timetables can be found
here
.
By ferry
There are direct ferry routes from Ajaccio to
Marseille
,
Nice
,
Toulon
, and
Ciutadella
. Companies operating ferry boats are
Corsica Ferries
,
La Meridionale
. Summer seasons are generally busy, and thus it is advisable to book in advance.
By train
A single railway line connects Ajaccio with
Bastia
(3½ hours and around ) on the island's east coast via
Corte
. The main railway station,
Gare d'Ajaccio
By bus
There are frequent
bus routes
to various destinations in Corsica. Most leave from the bus station directly adjacent to the main cruise ship and ferry terminal at Quai L'Herminier. Many city bus lines stop in front of the bus station, and it is easily walkable from the main train station.
See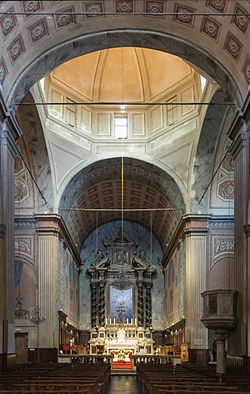 Napoleon's houseHouse where Napoleon was born. Now a museum.

CathedralChurch of Ste. Marie.

Church of St Erasme

CitadelThe Citadel was founded in 1492. Its current Genoese appearance dates to some time after 1559. You can only admire the exterior, as it remains a military base out-of-bounds to the public.

Harbour station

address: 50 rue du Cardinal Fesch

14th- to 19th-century Italian art collection amassed by Napoleon's uncle, Cardinal Fesch. Includes works by Titian, Raphael & Botticelli.

FilitosaPrehistoric (mostly Bronze Age) settlement with standing stones and small museum. Easiest visited from Ajaccio, but also an easy day-trip from Bonifacio or Porto Vecchio. Other notable standing stones in the area are at Palaggiu and Stanfari.
Eat
address: 2 rue du Roi de Rome

Simple dishes cooked in a traditional "grandmother style".

phone: +33 4 95 50 10 42

address: 7 rue du Roi de Rome

Sophisticated bistrot serving Corsican food with modern panache.
Sleep
Bella Vista

address: 20 Bd Lantivy

Good views of the gulf.

phone: +33 495 21 12 94

address: 11, Boulevard Sampiero F

40 comfortable rooms.
Hotel ibis
Hotel Mercure
Hotel Napoleon
Cope
Consulates
Greece

phone: +33 49-521-9137

address: 6 Quai Napoleon

Portugal

phone: +33 49-550-3734

address: 8 Place du Général de Gaulle, Residence Diamant 2

Switzerland

phone: +33 49-521-2843

address: 38, cours Lucien Bonaparte
Go next
Either head south towards Porto Vecchio or Bonifacio, or inland via Corte to points north.