Ajax
Ajax
is a town in Durham Region, midway between
Oshawa
and
Toronto
. Split from
Pickering Township
in 1941 to house munitions factory Defence Industries Limited, it is now a growing
Greater Toronto Area
suburb with nearly 110,000 people.
Understand
Ajax was established in 1941 as a wartime munitions production centre. where a workforce of up to 9000 people filled 40 million shells for the war effort. The University of Toronto briefly used the former munitions factory site as a technical school (1945-1949) which trained 7000 engineers. The town hosted various industries in the post-war era. The first town council was elected in 1954; the Village of Pickering and lakeside Town of Pickering Beach were annexed to the Town of Ajax when Durham Region was created on January 1, 1974.
The remainder of Pickering Township is now the
City of Pickering
. Since the 1980s, Ajax has become a steadily growing sprawl of single-family suburban homes. The town is named for a World War II Royal Navy cruiser, one of three warships (HMS Ajax, HMS Exeter and HMS Achilles) responsible for the first major British victory of the war; German pocket battleship Admiral Graf Spee was defeated at the Battle of the River Plate near
Montevideo
,
Uruguay
in December 1939.
Get in
Get around
See
address: at the foot of Harwood Avenue

A lakefront memorial to HMS Ajax, the Defence Industries Limited factory and workers who made Ajax their wartime home. The street lamps are intended to resemble ship's masts. Sir Henry Harwood (January 19,1888-June 9, 1950) served as Commodore on the HMS Ajax in 1939-1940.
Do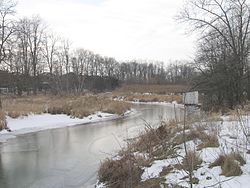 Ajax has five golf courses, 90km of trails and sixty parks and playgrounds.
phone: +1 289-892-4132

Performances are held at the St. Francis Centre, 78 Church Street South.

phone: +1 905-686-8001

address: 50 Alexander's Crossing

Horse race track with slot machines. Getaway Restaurant on site.

Ajax Waterfront

address: on Lake Ontario

150 acres of parkland on 6km (four miles) of waterfront; includes 7 km of multi-use trail for walking, jogging, cycling and in-line skating. Picnic area, open spaces for recreational activities.

Greenwood Conservation AreaOn Duffins Creek, picnic area, campsites for scouts/guides and youth groups. Pumpkinville fall festival includes horse-drawn wagon rides, pumpkin patch and family pumpkin carving contest, inflatable rides, a Haunted House, face painting, children's activities, live entertainment, interactive experiences and a haunted trail walk.

phone: +1 905-619-2529 ext 2787

address: 78 Church Street South

Former St. Francis de Sales Church, built in 1871 and restored in 2011 as a home for arts, culture and live entertainment.
Events
Summer in the Square

address: Heritage Square at Ajax Town Hall, 65 Harwood Avenue South

Local talent, tribute bands, children's entertainers. Events are moved indoors during inclement weather.

WinterfestHorse-drawn wagon & dog sled rides, outdoor ice skating with DJ, ice sculptures, ice carving demonstrations, face painting, crafts, live entertainment, community displays, inflatable rides, snow golf, snow painting and snowshoeing. Free hot chocolate.
Buy
Pickering Village

address: Kingston Road, in west end of the town

Former village with historic architecture. On Old Kingston Road, the 1817 Toronto-Montréal stagecoach trail and main street which was paved a century later as Ontario Highway 2. Established during the original early-1800s Quaker settlement in the area, this district now houses restaurants, shops and professional services.
Eat
There are a hundred restaurants in Ajax; a full list is available on www.visitajax.ca but a few options include:
Angelique's Family Restaurant

phone: +1 905-683-5889

address: 31 Barr Rd

phone: +1 905-683-8820

address: 85 Kingston Rd E.

Chinese.

phone: +1 905-683-2151

address: 100 Harwood Ave S.

Family-owned take-out & delivery. Chinese.

phone: +1 905-427-1110

address: 95 Kingston Rd E.

Italian trattoria, pizza, one of eight locations in the Toronto area.

phone: +1 905-428-0988

address: 163 Harwood Ave N.

Mazza Garden

phone: +1 905-427-9933

address: 325 Westney Road South

Mediterranean.

Mount Everest Indian Cuisine

phone: +1 905-686-5553

address: 611 Kingston Rd W.

Curries and naan.

phone: +1 905-683-4946

address: 855 Westney Rd. S.

Pizzeria.

Sauter's Inn Restaurant

address: 109 Old Kingston Rd.

European.
Drink
Sleep
phone: +1 905-686-9400

address: 500 Beck Cres.

Near Salem Road/401 in South Ajax. Great North American Grill on site.

phone: +1 905-686-5969

address: 600 Beck Crescent

All-suite, extended-stay hotel.

phone: +1 905-428-6884

address: 210 Westney Rd. S. at Bayle Street

64-room economy lodging facility.

phone: +1 905-683-4830

address: 1144 Shoalpoint Rd.

Maple Shores Bed and Breakfast

phone: +1 905-683-3809

address: 485 Maple Ave.
Connect
Ajax is a local telephone call from both Toronto and Oshawa. Wi-fi is commonly available in coffee shops, hotels and fast-food restaurants. There are three
Ajax public library
branches (one at the town hall, one each at the two community centres) which offer public Internet.