Akershus
Akershus
is a county in
East Norway
, west and east of the capital,
Oslo
. Oslo and Akershus make up one contiguous metropolitan area with 25 % of Norway's population and the visitor can regard it as one city.
Oslo Airport
sits at Gardermoen on the flatlands near
Jessheim
. In addition to Oslo Airport, Akershus hosts major Norway's major roads (E6, E18, E16) as well as all railway lines to/from Oslo.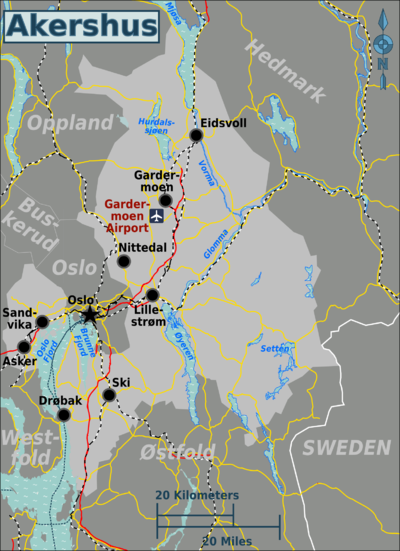 Regions
Akershus is historically divided into the traditional districts of
Follo
and
Romerike
, which make up most of the county, with the exception of the enclave west of Oslo, consisting of Asker and Bærum, which was created after Aker municipality was transferred to Oslo in 1948.
Towns
- hosted the 1814 Norwegian Constituent Assembly that introduced democracy and civil liberties
Understand
Oslo and Akershus make up one contiguous metropolitan area and the visitor can regard it as one city. Large parts of Akershus are effectively suburbs for Oslo and also home to an important industrial and business districts. Only the eastern and northern agricultural districts of Akershus are clearly not part of the metropolis. Oslo airport sits at Gardermoen on the flatlands near Jessheim. The two counties combined are home to about 25 % of Norway's population. Oslo and Akershus has a joint governor.
Akershus landscape is relatively flat or gentle hills. Norway's largest rivers flows through and the county is home to a couple of major lakes and countless smaller lakes. There is also some rugged, low altitude terrain in Bærum and in Østmarka (east Oslo forrest).

Get in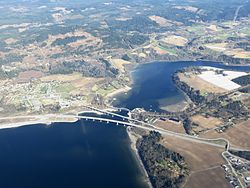 By boat
Boat to NesoddenThe town of Nesodden is served by frequent boat from Oslo (20 minutes across Oslofjord).
By plane
Oslo AirportOslo Airport, Gardermoen is located in Akershus. It is a major international airport with flights from the USA and major European cities, as well as Asia. Direct trains to Oslo, Eidsvoll, Lillestrøm, Sandvika and Asker, and with a change to Ski. Airport coaches to Oslo and Ski.

Sandefjord Torp Airport near Sandefjord (1 hour south of Asker) has flights to some major and minor cities around Norway and Europe, including Amsterdam, Copenhagen, London, Warsaw, and some tourist destinations in southern Europe. There is a free transfer bus to a nearby railway station.
By train
Local trains from Oslo, or regional trains from surrounding areas, or from Gothenburg in Sweden. See
nsb.no
Get around

Rental cars and taxis are often available, but are rather expensive in Norway in general. The public transportation system is relatively good with buses going between the major cities and stopping at bus stops marked with a sign (blue with a white bus on it, rectangular) and/or an open air booth with the place name written above with white lettering. Public transport is reasonably inexpensive though costs can build up if you buy tickets every time you get on, day/week/month/season passes can be purchased at the major stops. At the central bus station in any town, cashiers will speak English. For local buses, see http://ruter.no

See
OsloOslo is surrounded by Akershus but is not part of it, so travel in Akershus often involves Oslo.

phone: +47 63 92 22 10

address: Carsten Ankers veg 19, 2074 Eidsvoll Verk

The building where the 1814 constitution was signed, and a democracy museum.

Lake MjøsaNorway's largest lake, one of the deepest. Norway's first railway was the Oslo-Eidsvoll-line, simply called the "main line" (1854), station at Vorma river in Eidsvoll from where boats could sail to Lillehammer.

Svanfoss locks & damAllows boats to sail the Vorma river. The dam controls the outflow from Mjøsa lake.

phone: +47 64 97 64 97

address: Fryds vei 25

is the largest amusement park in Norway. Carousels, roller coasters, ghost castle, etc.

Oscarsborg FortressHistory and beautiful scenery, with a museum and a hotel. Historic site: German warship Blücher that was sunk just outside Drøbak on April 9, 1940 during the invasion of Norway.
Do
Kolsåstoppen summitClimb "Kolsåstoppen", a hill and summit in Bærum. Nice view over the Oslo Fjord from the top.

There's also an even better hill in Asker with an even more excellent view.
Drink
Norway has high water quality and tap water is completely safe. If you still want bottled water, most stores carry several brands of non-artificially treated water.

Stay safe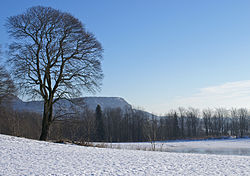 Most areas in Akershus are more or less crime free, and you should not be afraid to walk around alone day or night, though you should always take precationary measures and follow your common sense when in a new country. Signs and maps are usually in Norwegian, but do not be afraid to ask for directions; the vast majority of Norwegians speak enough English to help out a lost tourist.