Akhaltsikhe
Akhaltsikhe
(
Georgian
: ახალციხე, "New Fortress") is a small city of about 50,000 and the capital of
Samtskhe-Javakheti
.
Understand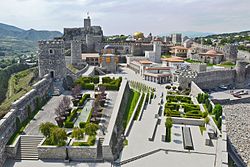 The city has been around for at least 800 years, and was the seat of the House of Akhaltsikhe, dukes of Samtskhe, for several centuries. In 1576 the Ottomans took the city; they built most of the old buildings a tourist can see here. During the Russo-Turkish War of 1828–1829 Russians captured the city. Until the 20th century Akhaltsikhe was mostly Armenian, but today around 27% are Armenians and the rest are Georgians. There is some language tension between city inhabitants.
It's a rather sleepy town, but its Old City and Old Turkish baths are worth a visit, and it's a great base for exploring the surrounding areas, including Sapara Monastery in the immediate vicinity and
Vardzia
to the south with Khertvisi and Tmogvi Fortresses along the way.
Get in
By marshrutka
All marshrutkas from major Georgian cities stop at
Borjomi
and at
Khashuri
bus station. Hence, if you missed you ride, it's not terribly difficult to catch a marshrutka going between Akhaltsikhe and Khashuri before dinner time.
From specific destinations:
Tbilisi (Didube bus station) – 08:00–19:00 hourly. 10 lari.
Kutaisi – 08:20, and 13:00. 3½ hr. 10-12 lari.
Batumi (from old bus station near Batumi train station, via Khashuri) – 08:30, and ~10:30. 5½-6 hr. 20 lari.
Borjomi – Every 30-60 min. 1 hr. 3 lari.
Vardzia – ~09:00, 13:00, and 15:00. 5 lari.
Nakalakevi/Tmogvi (near Vardzia) – ~08:10-08:20.
To specific destinations (vice-versa, if not listed above, should be similarly frequent):
There are few direct marshrutkas from/to
Yerevan
,
Armenia
, or several connections from Armenia when making a stopover in
Akhalkalaki
. There is also a daily connection from
Gyumri
, which starts at 10:00 (3.5 hr, 4,000 dram).
By thumb
The direct road from
Batumi
to Akhaltsikhe is not served by marshrutkas, probably due its bad state and the mountain pass. Nevertheless, you should be able to catch a (4WD) ride on that road. But it will be bumpy and probably still take at least 4 hr.
By car
The principal route to Akhaltsikhe runs from Georgia's main East-West highway (E60) at the spur in
Khashuri
leading to
Borjomi
.
There's also a route from Batumi via Gorzerdzi pass (4WD needed, closed in winter, scenic views).
By train
There was a train in the past, but nowadays the nearest railway station is
Borjomi
with connections from
Tbilisi
and
Khashuri
.
Get around

Most of the centre can be explored on foot. However, the highway between Borjomi and Vardzia is about 2 km east of the centre and 2.5-3 km east of the castle.

See
Akhaltsikhe CastleThe highest point of the city and beautifully renovated, including a hotel and an old mosque.

Amaghleba Church

Old Train StationBeautifully renovated old train station with the Grand Palace Hotel now inside.

St. Marina Church

Old Turkish bathsBuilt in the 18th century.

Synagogue
Further afield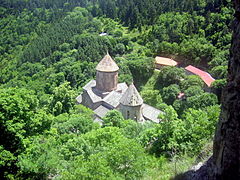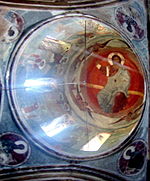 Sapara MonasteryThe monastery was established in the tenth century, but the principal church, St. Sabas, was built sometime in the thirteenth century. Until the twentieth century, the monastery had been perfectly preserved, as its hidden location saved it from Ottoman discovery throughout the empire's three-century long control of southwestern Georgia. Alas, the Soviets found it, and abused it in the usual soulless fashion, albeit not to the same extent as many other Georgian Orthodox establishments—the frescoed walls were not whitewashed, and remain in good condition (especially following a recent restoration). During a visit, make sure to climb up the nearby slopes towards a rocky outcropping to get lovely views over the monastery and the valleys in the distance. Also make sure not to use flash photography in the churches, unless you want to see some seriously angry monks. If you can make yourself understood, you can overnight in the monastery's chambers.
Sleep
If you can make yourself understood, you can overnight in the Sapara Monastery's chambers, 10-12 km outside of Akhaltsikhe.
Shin Hotel

phone: +995 365 22 12 30

address: 2 David and Konstantine St.

It is a good 15 minutes walk from the train/bus station on the other side of central. Decent rooms with restaurant attached.

phone: +995 599 880924

This is the hotel right inside the castle.
Go next
Inside Georgia
Outside Georgia
Armenia — There are two marshrutkas to Yerevan, Armenia, at 04:00 and 07:00 (7 hr, 20-35 lari). If you miss them, go to Akhalkalaki, from where marshrutkas leave to Yerevan almost every hour. Either the same or an additional one also goes to Gyumri at 07:00 (4 hr, 20 lari).
Turkey — You can buy bus tickets to Turkey from the central bus station. Ticket to Posof (city on the Turkish side) is US$10 and leaves at 14:30 (could not be confirm in May 2019). There's a bus to Kars with Kars Vipturizm 4449188. It goes Wednesday and Sunday at 13:00 and costs 70 TL (or 35 lari) (May 2019). Hitching to Kars is also a very easy option and can be done in far less than a day. From the central bus station, ask for the road to the Turkish border (Turetskoĭ granitsy) and start flagging cars about 1 km from the bus station down the road. The road will pass through the small town of Vale. You are able to walk across the border.