Akita
Akita
(秋田) is the capital of
Akita prefecture
in the northern
Tohoku
region of
Japan
's
Honshu
island.
Understand
Akita is the largest city in the prefecture, and as such is the hub for transportation, sports, and shopping. Its longitude is about the middle of the prefecture, and so is reachable from both the north and south.

Climate

In Akita, late June to late July is the rainy season. The spring and summer before and after that tend to have fairly moderate amounts of rain, and are good for outdoor activities. In November, it is common for some cold weather thunder storms to occur—this is said to mark the end of fall and the beginning of hatahata (a local fish) season. In the winter, Akita sees some snow, though certainly inland areas get more.

Get in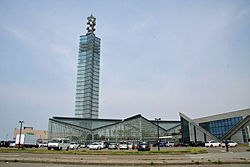 By plane
Akita has an airport, with domestic flights coming in from such places as
Tokyo
,
Nagoya
,
Osaka
and
Sapporo
. Buses connect the airport with Akita Station (秋田駅) a ride costs ¥980 and takes 40 minutes.
By train
Akita can be reached by Shinkansen (bullet train) along the Akita Shinkansen Line (秋田新幹線).
Komachi
(こまち) trains are available from either Tokyo or Ueno stations in Tokyo and make stops at Omiya,
Sendai
and
Morioka
before slowing down to travel to Shizukuishi, Tazawako,
Kakunodate
, Omagari (where it changes direction), and finally Akita over conventional rail lines. The trip takes just under four hours and costs about 10,000 yen in a standard class car.
When the Akita Shinkansen runs on conventional lines it slows down to regular train speeds and it will stop several times to allow other trains to pass. This will be a bit of a disappointing shock after zooming through northern Japan at top speeds as far as Morioka. In return, the views from the slowed down of the interior of Tohoku are beautiful.
Beware that the Komachi trains are coupled to
Aomori
-bound Hayate trains, which split at Morioka, but as all seats are reserved the chance of getting in the wrong car is minimal at best. For foreign tourists traveling from Tokyo, the better deal is to purchase a
JR East Rail Pass
or the national
Japan Rail Pass
.
The
Nihonkai
(日本海、Japanese for 'Sea of Japan') overnight train from
Osaka
and
Kyoto
stops in Akita before terminating in
Aomori
. The
Akebono
(あけぼの、Japanese for 'daybreak') overnight sleeper train from Tokyo's
Ueno
stations also stops at Akita. Both the Nihonkai and the Akebono are now only seasonal trains. If you get an opportunity these are great transport options. Overnight trains in Japan, once very common, have been in decline for years now and may not be around for much longer. Catch it while you can!
By bus
JR Bus operates the Dream Akita-Yokohama overnight bus to Akita from the bus terminal at Yokohama Station (9 3/4 hours, ¥9,500) and from Tokyo Station (8 3/4 hours, ¥9,100).
Odakyu and Akita Chuo Kotsu run the Flora overnight bus from Shinjuku (8 hours, ¥9,450).
The Senshuu daytime bus runs from Sendai with multiple departures (3 1/2 hours, ¥4,000).
By boat
Shin Nihonkai FerrySNF has ferries going north and south. Two ferries go to Hokkaido -- one to Otaru, and the other to Tomakomai. Both of those towns are relatively close to Sapporo. To the south the ferries go to Niigata, and also to Tsuruga and Maizuru (which are roughly near Kyoto). Reservations can be made in English by email. For Golden Week and busy times, ferries fill up weeks or months in advance. These ferries accommodate passengers with or without vehicles, though the ferry terminals may be inconveniently located for passengers on foot.
Get around

You can get around by bus, taxi, car, or bike. Many bus routes start in front of Akita Station. In the winter, there can be snow and ice, so drivers should decrease their speed.
On the 2nd level of the JR Akita train station is a Tourist Information office. From there you can organize free bicycles.

See
Senshū ParkSenshū Park is a beautiful place to take a walk, especially during the spring season when the cherry blossoms are blooming or in winter when the snow covers the trees and the ponds ice over. The park hosts a replica of a watchtower of Kubota Castle, the original having been constructed in 733AD. For a small admission fee, the lower floors of the castle contain a small museum, and the upper floor provides a panoramic view of the city.

Akarenga-kan Museum

phone: +81 18 864-6851

address: 大町3丁目3−21

This museum, built in 1912, hosts various exhibitions of arts, crafts, and historical materials. This was originally the headquarters of Akita Bank. Aka means red in Japanese and renga means brick, so the name means therefore "red brick building". If you visit the nearby Kanto museum, you can buy a joint ticket for that and the akarengakan.

Senshū Museum of Art

address: 中通2丁目3−8

This museum has Akita-related art on display year-round. From time to time, various exhibitions are here, too.

Masakichi Hirano Museum of Fine Art

address: 千秋明徳町3−7

This museum, built in 1967, focuses on the works of Tsuguji Foujita.

phone: +81 18-866-7091

The Kantō festival () is held in September every year and is about 400 years old. If you aren't around for the festival, this museum gives a taste of what it's like. A fine renovated 150 year old kimono shop adjacent to the museum is included with the price of admission. The guide in the kimono shop may be able to speak some English.

phone: +81 18-888-5753

This park contains an old samurai house that was originally in Nakadori, near Kubota Castle, and was moved and renovated in the 1960s. The park also has a Japanese archery (kyūdō) club and shooting range.

Koizumigatta ParkHome of the Prefectural Museum and a 300 year old rich farmer's house, which is rare and can be visited for free.Worth a visit if you like old Japanese houses.

Akita Prefectural Museum

address: 金足鳰崎字後山52

This museum has hands-on exhibits on science and history.

Okomoriyama ZooA small local zoo with a giraffe, elephant, monkeys, lesser pandas, camels, and other animals.

phone: +81 18-868-2139

Of obvious interest to Catholics, but also simply beautiful for anyone keen for a bit of quiet reflection in a country with so many crowded and noisy temples, this is one of the most recent approved sites of Marian apparition. In the 1980s a statue inside the building wept on national TV. The site also has beautiful and expansive gardens and a church with Japanese-style architecture. The nuns have recently launched an English-language website with photos and directions which is worth a look.
Do
address: 卸町1丁目1−2

Round One is a kind of indoor amusement park. Once you're inside, there are basketball courts, roller skates, a soccer turf, lots of video games, and similar things.
Buy
phone: +81 18 889-6500

address: 御所野地蔵田1-1-1

This is the largest mall in Tohoku. There are many chain stores, mostly selling young women's fashion. Kaldi Coffee Farm sells foreign foods like biscuits and museli and of course coffee beans, There is also a movie theater sometimes showing movies in English. The ticket machines for films have an English option for buying tickets on them. On the third floor is a big Daiso, the Y100 shop, and also in the middle of the third floor is the food court. Other restaurants and Starbucks can be found on the ground floor, but i really would only recommend the kaitenzushi (round sushi) restaurant. Whale sushi may be on the menu.

address: 御所野地蔵田1-1-1

This theater is the largest in the prefecture. Some of its foreign films are in English with Japanese subs. See the website for details.

address: 千秋明徳町2-6

This store sells wine, beer, cheese, and scotch.

105

address: 1F Fonte Building, Nakadori 2-8-1

This store has a small selection of cigars. The owner can do special orders, if you ask.
Eat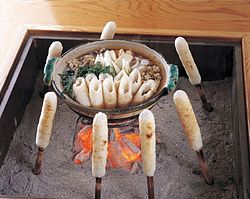 The most well-known Akita dish is
kiritanpo
. Kiritanpo is essentially a tube made of rice, generally formed around a disposable chopstick. It is often roasted, sometimes after being smothered in miso paste. It is also eaten in
kiritanpo nabe
, a stew of sliced kiritanpo, vegetables, and chicken or fish, most commonly eaten during the winter. Of course, there are many non-local styles of food available in Akita City, including a wide variety of ramen and Indian restaurants.
Ebiya

address: 山王2丁目4−6

Serves tasty tantanmen. Several Japanese magazines rank Ebiya as the second best ramen shop in Akita.

address: 広面字蓮沼90−1

An Indian restaurant.

Peacock

address: 八橋新川向4−17

One of the top Indian restaurants in Akita. Vegetarian options available.

Rakusumi

address: 外旭川八幡田121−1

This is a small Indian restaurant. The nan is all you can eat, and quite tasty. The curry selection is rather large, and tasty too.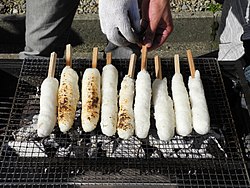 Ramen Nishiki (Akita Main Shop)

address: 外旭川字待合16−1

This is a branch of Odate's famous Ramen Nishiki. That ramen shop is ranked as the best in Akita, and this branch is also quite good. Another branch is located south of Yabase Park.

Ramen Nishiki (Akita Branch Shop)

address: 川尻若葉町4-46 1F

This is a branch of Odate's famous Ramen Nishiki. That ramen shop is ranked as the best in Akita, and this branch is also quite good. Another branch is in northern Akita City.

Suehiro (Sanno Branch)

address: 山王2丁目2−4

Delicious ramen. Another branch is near Akita Station.

Suehiro (Station Branch)

address: 中通4丁目15−1

Delicious ramen. Another branch is near the Akita City Office.

Taisho

address: 旭南2丁目3−40

This restaurant is known for its tsukemen.

Me~GO

address: 中通3丁目4-6, OMC Bldg

This Mexican restaurant has tacos, enchiladas, other Mexican food, and a large selection of alcohol. The tacos are made with corn tortillas.

address: 南通築地6-17

This is a Belgium-themed cafe. Sometimes it has live music in the evening.

Restaurant Platz

phone: +81 18 883-4366

address: Omachi 1-2-40

A restaurant and microbrewery. The portions are small, and the drinks are large.
Drink
As one of Japan's most famous rice-growing regions, Akita has some of the best local sake in all of Japan. A great place to find many different bottles for sale (and usually free samples) is in the
Prefectural Goods Shop
(あきた県産品プラザ,
akita-renritsu puraza
) in the basement of the Atorion Concert Hall.
Sleep
Stay safe
There are bears in Akita. You won't find one trundling along Chuo Odori outside Akita Station, but visitors who are in Akita to enjoy its semi-rural outskirts such as Akita Onsen or the Our Lady of Akita Convent should familiarise themselves with bear safety. You will see signs scattered around warning of bear danger but if you cannot read Japanese they won't be much good to you. It's always best to assume that bears may be in the area, including in the colder months.
The Asian black bear is a retiring kind of beast. It's unlikely to bother you if you don't bother it and for that reason its best to avoid startling a bear, so make noise as you walk and keep a look out. Having said that, it could easily maul you to death so caution is advised. See
Dangerous animals
.
Go next