Akrotiri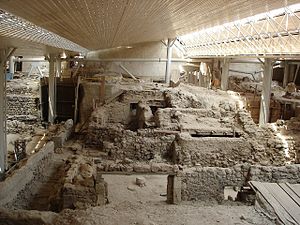 Akrotiri
is a village in
Santorini
. It is on the southwestern side of Santorini and though it offers great view of the caldera and volcano, like
Fira
and
Ia
is not that touristically developed. It has become famous, due to the ancient settlement of Aktrotiri, which is located next the modern Akrotiri village
Get in
See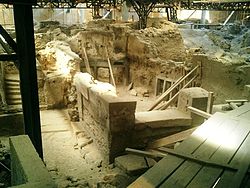 Archeological Site of AkrotiriIt was back in the end 19th century, that the volcanic Theran earth was excavated to provide first material for the construction of the Suez Canal. There have been traces of a prehistoric settlement, but it wasn't until 1967 when the excavations at the so-called ancient Akrotiri started. The most important excavations, which brought to light multi-level buildings and masterpiece-wall paintings, were conducted by the archaeologist Spryridon Marinatos, a professor at the University of Athens. This is one of the best preserved sites all over Greece, and we owe that to the same factor that caused its destruction. After the eruption of the volcano in the 17 century B.C., the whole island, and Akrotiri as well, has been covered with volcanic material. This material has, however, played a major role in the protection of the ancient settlement and especially its wall paintings.
The archaeological site was closed from 2005-2012, due to a partial collapse of the shelter protecting the site from the elements, but has been regularly open since 2012.
Do
From Akrotiri, you can walk to the Red Beach or get a boat to it, which also makes stops at the White Beach and the Black Beach. It is return but you don't receive any ticket or receipt (nor do they have the means to give you one). However, there is only one boat so they trust if you come back by it, you must have come so you aren't asked to pay again, only when you leave Akrotiri. The only stop with a pier is Akrotiri so if you intend to get off, tell them explicitly or they won't know to stop (though they often ask) and be prepared to get off directly into the sea and walk through the water to get to the beach. They always stop in waters shallow enough to walk in for adults (highest it comes to is the waist) so it is possible to bring bags, but make sure you can lift them above your head.

Drink
Mathios Taverna

phone: +30 2286081910

Home made meals Greek cooking and family wine.

Pool-Bar Mathios

phone: +30 2286081152

Light meals, salads, cocktails, Greek cooking, and specialties served around two pools. Relax and enjoy. Open daily.
Sleep
Go next