Akureyri
Akureyri
, with a population of around 18,000, is the largest town in
Iceland
outside the
Southwest region
, and the unofficial capital of
North Iceland
.
Understand
Climate
The weather in Akureyri and in Northern Iceland in general is often colder than in the capital,
Reykjavík
. Snow begins to fall earlier in Akureyri than in Reykjavík. As in the whole country the weather is unpredictable.
January is the coldest month. Snow is very common in December to February, 80-85% of the days in those months have some snow coverage. Sunshine hours in Akureyri are fewer than in its surroundings due to its location between two mountains to the east and west. These mountains also make winds blow frequently to the north and south.
Get in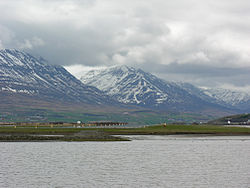 By car or bus
The city is linked to the rest of Iceland via the
Ring Road
, the highway that circles the island along the coastline. Buses between
Reykjavík
and Akureyri are operated by Sterna, while buses from
Egilsstaðir
and various other towns to the east of Akureyri are operated by
SBA
.
By plane
Akureyri has an airport with flights to and from
Reykjavík
Airport on domestic carrier
Air Iceland
several times a day. Air Iceland also has flights from Akureyri to three smaller villages:
Grímsey
(a small island to the north of Iceland, on the arctic circle),
Þórshöfn
(in the northeast on Langanes peninsula) and
Vopnafjörður
(the northernmost fjord in
East Iceland
).
The airport is about 3.5 kilometers from the city center. Don't let the lack of a sidewalk at the airport's driveway intimidate you, there is a sidewalk next to the public road. Alternatively, take a taxi, and expect to pay about 1900 kr. to the city center. There are no busses serving the airport.
Get around

Being Iceland's northern capital doesn't mean Akureyri is a huge metropolis. Although it can get a bit hilly leaving the waterline, walking distances are reasonable for a fit traveller.
Akureyri has a public bus system, called
SVA
, which is free for all. The buses are not very frequent, each line has a bus every hour or so. The buses stop running at 11pm on weekdays and only run between 12 and 6pm on weekends and holidays, but when they're free why complain?
BSÓ
is the only taxi company in town, and they have a taxi rank in the city center.
For those who prefer to cycle, it's possible to rent a bicycle at the souvenir shop
The Viking
in Hafnarstræti (tel.: +354 461 5551). The price is 1000 kr. for 6 hours, or 1800 kr. for the day.
See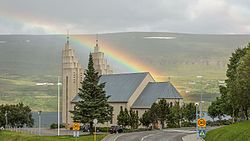 Akureyri is a very picturesque town with its location by a scenic fjord, eclectic building styles and streets winding their way through gorges. Spend some time walking around the city center, see the impressive church and check out
Listagilið
(literally: "the art canyon"), home to a number of arts and crafts galleries and shops. The tranquil municipal botanical garden,
Lystigarðurinn
, is worth visiting, as are the several small museums dotted around town.
Be sure to visit
Nonnahús
, childhood home of author Jón "Nonni" Sveinsson, as well as
Sigurhæðir
and
Davíðshús
, the former homes of poets Matthías Jochumsson and Davíð Stefánsson. Admission is 1200 kr. for adults, or get a day's pass that also includes access to
Minjasafnið á Akureyri
(Akureyri Museum) and
Gamli bærinn Laufás
(Old Turfhouse Laufás) for 2000 kr. Better yet, a year's pass for all five costs only 3000 kr. and will allow you to visit everything at your leisure.
You can visit Akureyri all year around. There is always a lot to see.
Do
phone: +354 460 0200

address: Strandgata 12

The only professional theatre in Iceland outside of Reykjavík.

Akureyri Swimming Pool

phone: +354 461 4455

address: Þingvallastræti 21

A recently renovated and expanded pool. Two pools for swimming, several hot tubs, a water slide and a children's pool. Close to the city center.

phone: +354 450 1000

address: Strandgata 12

Akureyri's new house of culture, home to the North Iceland Symphony Orchestra (Sinfóníuhljómsveit Norðurlands) and regularly host to other performances.

phone: +354 461 2440

Indoor ice rink (hockey, figure skating and curling)

phone: +354 461 4646 or +354 864 5758

address: Hafnarstræti 96

Night club, live music

phone: +354 462 2602

address: Hólabraut 12

Cinema, keep an eye open for Icelandic movies such as Hrútar!

phone: +354 575 8900

address: Ráðhústorg 8

Another cinema.

phone: +354 461 4400

address: Akureyri Airport

Aviation museum right next to the airport.

phone: +354 462 3600 or +354 897 0206

address: Krókeyri

phone: +354 462 6800

address: Torfunefsbryggja

Whale watching, midnight sun cruises (summer), northern lights cruises (winter).
You can also visit nearby farms, go horseback riding, etc. For more information and booking, visit
Hof Cultural Center
(see above) or
Saga Travel
(Kaupvangsstræti 4, +354 558 8888, sagatravel@sagatravel.is).
Buy
Hafnarstræti
, in the city center, is Akureyri's main shopping street. Shops there include an Eymundsson book store with a café, several souvenir shops and the curiosity shop Frúin í Hamborg.
For local art and design, head to
Grófargil
, colliqually known as
Listagil
("art canyon"). It's a steep canyon by the street Kaupvangsstræti and home to several studios, galleries and shops.
A small shopping mall, called
Glerártorg
, is a short distance north of the city center. You'll find a Nettó supermarket there, among other things. There is also a
Bónus
supermarket nearby, just a little further north along Glerágata/Hörgárbraut.
A
Hagkaup
supermarket can be found near the harbor, at Hjalteyrargata.
Eat
If you just want a quick snack, there's a hot dog stand on Hafnarstræti, opposite The Viking (souvenir store). Do as the Icelanders do and ask for
eina með öllu
: one with everything.
While you're in Akureyri, also be sure to get ice cream from
Brynja
(Aðalstræti 3, +354 462 4478, brynjaehf@simnet.is). You'll never want to eat other ice cream again.
Splurge
Drink
A nice bar is across the street from the main movie theater. It seems that people in the city enjoy an 'early' movie theater around 8pm or so, and, as customary in Iceland, go clubbing/barhopping after midnight. However, the clubs close at 1AM, at least during the weekdays. A strange wheel-of-fortune with shots, beer, and nothing, is there, for 1500 kr.

Sleep
There are many guesthouses more inland immediately away from the city center. They double as residences for college students, but they are the cheapest lodging you'll find, at around 8000 kr double and 5000 kr single.
phone: +354 547 2226

address: Skipagata 4

Very basic, very cheap (€28 in an 8-person dormitory). Don't confuse the hostel (entrance B) with Acco guest house (entrance A)

phone: +354 462 5600

address: Hafnarstræti 67

Attractive exterior, nice clean rooms inside with views of the fjord. Breakfast included with room.
Connect
Akureyri has good mobile phone coverage (including 3G). Wi-fi internet is often available at cafés or hotels. Here are additional internet access options:
Municipal Library of AkureyriCheap Internet connections are available here for 300 kr./hour.

phone: +354 820 0980

address: Strandgata 49

Internet access, wireless hotspot, VAT refund, currency exchange, information center, café and ticket sales for FAB Travel tours.
Go next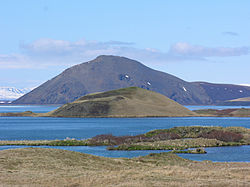 Akureyri is a good base to explore some of the more remote areas of Iceland, such as
Mývatn
. Several buses run mostly hourly from the city centre to other important places like the airport and neighboring settlements and bus tours are available which take you to see the enormous crater of Víti, and Goðafoss (waterfall of the gods).
Akureyri is fairly close to
Húsavík
, which has several
whale watching
tour operators, and
Dalvík
, from where you'll be able to catch a ferry to the island of
Grímsey
, Iceland's northernmost inhabitated island, situated right on the Arctic Circle.
Akureyri to Myvatn (1h30m) 2400 kr. / €16
Akureyri to Egilsstadir (3h30m) 7600 kr. / €51