Al Khor
Perched on the eastern coast of the
Qatar
peninsula,
Al-Khor
(alternatively, Al Khawr; Arabic: الخور) is a major settlement just north of
Doha
. The city is far older than Doha, but much smaller (the population is roughly 31,000). It used to be the center of the now non-existent pearl trading industry, so now the city is undergoing renovation.
Get in
The
Route 102
and
102x
buses (
timetable
) towards
Al Thakhira
and
Al Khor Community
respectively service the town. Both depart from
Al Ghanim Bus Station
in Doha, with a bus every half an hour or so. The 102 has an hour and a half journey time, while the 102x will save you about 15 minutes. There are different timetables for Saturday-Thursday and Fridays. Be aware that buses can be affected by service changes and disruptions, so it is recommended you call Mowasalat to confirm first on +974 4458 8888.
Al-Khor is about 50 kilometres north of Doha, reached by either Al Shamal Road (Q1) to
Al Ruwais
, or by the Al Khor Coastal Road (Q1A), passing by the Doha Moto GP racetrack, Lusail City and the Pearl Qatar. The trip should take 45 minutes.
See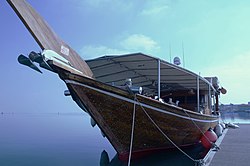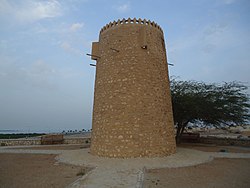 Al Khor Museum

phone: +974 4472 1866

address: Corniche

This quaint museum overlooking the seafront provides good views over the harbor from the second floor. It showcases archaeological artifacts from the Al Khor region dating from the Neolithic to the Bronze Age, as well as specimens of local marine life. An additional exhibit illustrates the legend of Ghilan and Mae, one of whom was the region's first female pirate and believed to be from Al Khor.

Dhow harbourTraditional dhows are still used for fishing here, although their sails have long since been replaced by diesel engines.

Fish marketThis is a good place to pick up fresh seafood from the day's catch.

House of Nasser bin Abdullah Al-MissnedThis is the birthplace of Sheikha Mozah (the second wife of Hamad bin Khalifa Al Thani, the former Emir of Qatar). Although the house has not been maintained, it is a good example of traditional Qatari architecture. It is closed to the public, but can be viewed from the outside.

Watchtower

address: Al Corniche

This defensive watchtower was built in 1900 and is now fully restored. It is located in a small park with a pleasant view overlooking the Corniche and the beach. There is a second watchtower along the North Road.

Purple IslandThis small island, linked to the mainland via an earthen walkway through the mangroves, has seen human activity for the past 6000 years. The name comes from a purple dye from shellfish which were harvested here 3000 years ago. There are a number of archaeological sites on the islands, as well as old shell middens. This is also a good place for birdwatching and crabbing.

Simaisma Mosque

address: Simaisma

Built in 1938 using traditional materials of coral, rock, and sun-baked mud. Non-Muslim visitors are advised to refrain from entering, but can freely view the building from the outside.
Do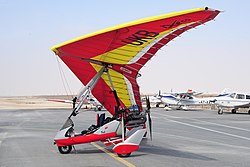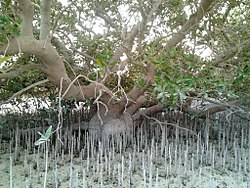 Al-Khor is a pleasant and quiet town, and though its Corniche cannot match Doha's in beauty, it does offer a nice enough place to relax and sunbathe, or play beach volleyball or cricket if you feel like being a little more active. There are plenty of shady places to sit near the sand, but you can't swim in the bay here as, like much of Qatar, the water is too shallow.
phone: +974 4472 3490

address: Al Khor Airfield

An annual light aircraft show which takes place on a 3-day weekend in mid-January. The event is hosted by the Qatar Civil Aviation Authority, and is popular with aviation enthusiasts as well as families.

Dhakira mangrovesThis fishing village is now a bedroom community of Al Khor, and its extensive mangrove swamps are particularly good for bird watching. Entalek (based in Doha, tel: +974 3311 6249, e-mail: entalek.org@gmail.com) runs sea kayak tours of the area.
Al Farkiah Beach

address: off of Al Khor Coastal Road Q1A

A public beach with shaded picnic benches, toilets and shower facilities, barbecue stands, and children playgrounds.

Al Khor Public Gardens

address: Al Shamal Rd

The gardens are now open after 4 years of renovation.
Buy
phone: +974 4453 3445

This mall opened in 2012, and has a number of shops and restaurants, as well as a Lulu Hypermarket.
Eat
Restaurants
Maha al Khaleej Cafeteria

address: Al Corniche

Offers decent burgers and a soft drink for a very cheap QR 3.

Pearl of Beirut

phone: +974 472 0123

address: Al Corniche

Popular with Filipino expats.

Blue Brasserie Restaurant

address: 5555 Al Corniche

Buffet dining in the hotel lobby.

Al Dente Seafood Restaurant

address: 5555 Al Corniche

A beachfront restaurant, serving Italian-style dinner only.

phone: +974 4453 3445

The mall has a standard food court as well as several restaurants, including Chilli's (American), Royal Tandoor (Indian), and Shatter Abbas (Middle Eastern).
Grocery stores
Seashore Food Center

phone: +974 4472 2405, +974 4472 0158

A decent-sized grocery store in a strip mall.

Lulu Hypermarket

phone: +974 4453 3533

A full-sized hypermarket with a good deli selection.

Ansar GalleryMedium-sized supermarket.
Sleep
phone: +974 4472 2666

address: 5555 Al Corniche

A medium-sized, five-star hotel with private beach, swimming pool, jacuzzi and fitness center. The facilities are accessible to day visitors for a fee. Two unlicensed restaurants are also onsite.

Camping

address: Simaisma beach

A good beach with very shallow sea, popular for camping.
Stay healthy
Hamad Medical Corporation has a medical emergency department at its local clinic here.
Al Khor Health Center

phone: +974 4472 0222

address: Al Khor Town Rd
Connect

Free Wi-Fi is available outside along the Corniche.