Al Ruwais
For Ruwais, Abu Dhabi, United Arab Emirates, see Ruwais.
Al Ruwais
, also spelt
Ar Ru'ays
, is the northernmost city of the
Qatar
peninsula. With a population of just under 4,000 people, it is little more than a sleepy fishing village, the seaside teeming with local
dhow
boats. Al Ruwais is part of a conglomeration of towns in the municipality of
Madinat ash Shamal
, including
Al Shamal
and
Abu Dahlouf
.
Get in
Route 101
and
100
buses (
timetable
) travel from
Al Ghanim Bus Station
,
Doha
, to Al Ruwais and its surrounding towns regularly, with the journey taking 2 hours and 2 and a half hours respectively. The first service to Al Ruwais leaves Doha at 6:20am, while the last bus back to Doha departs the bus station at 8:35pm. Be aware that buses can be affected by service changes and disruptions, so it is recommended you call Mowasalat to confirm first on +974 4458 8888.
The journey to Al Ruwais from Doha by road is just over 110km, the furthermost point from the capital in the country. The journey should take about an hour and 20 minutes along the Al Shamal Road.
See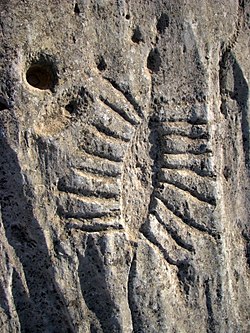 Al Jassassiyeh CarvingsA collection of about 900 petroglyphs, depicting such subjects as local fauna and boats. There are also geometric cup-shaped depressions, thought to have been used for traditional Arabian games using stones as counters. Recent studies date the oldest of these carvings to about 250 years old. Currently government permission is required to visit the site, but Doha-based tour groups can make arrangements for you.
Al Rakiyat Fort

address: 15km north of Zubarah, next to a camel farm

Built between the 17th and 19th centuries, restored in 1988. The fort is notable for having three square towers and one round tower, and was constructed of coral, limestone, and mud brick.
Al Thughab FortBuilt between the 17th and 19th centuries and restored in 2003. Similar to the fort at Al Rakiyat, this fort also features three square towers and one round tower.
Al Ghariya

address: Al Shamal Rd (Q1)

A photogenic partially abandoned fishing village, active during Qatar's pearling years. There is also a good beach with fishing spots a bit further north of the old Scout Camp.
Al JemailAn abandoned fishing village, founded in the early 17th century and fully abandoned in the 1970s with the shift of Qatar's economy to one based on mineral resources. The site is now under the protection of the Ministry of Arts, Culture and Heritage, and can only be visited after prior approval by the Qatar Museum Authority. Arrangements can also be made through Doha-based tour groups.
Al KhuwairA traditional fishing village abandoned in the 1970s. The name 'khuwair' refers to a small seawater canal.
Al AreeshAn abandoned fishing village, inhabited from the early 19th to late 20th centuries. 'Areesh' is the Arabic word for a shelter made from date palm fronds.
Do
Fuwairit Beach

address: Al Shamal Rd (Q1)

Popular with kitesurfers, and notable for unusual eroded rock formations. Be careful of rocks in the water.
Ruwais Beach

address: Al Shamal Rd (Q1)

This quiet beachfront is located directly on a small spit directly north of Al Ruwais, and has a few coves and inlets with picnic benches and shaded areas, and toilets. Dugongs and flamingos can occasionally be spotted here, and at high tide visitors can catch shrimp and crabs.
Eat
Iskendar Kebab

address: Al Ruwais

Offers great fatayer and shwarma.
Sleep
phone: +974 4472 8000, +974 4472 8822
CampingThe beaches at Al Ghariyah and Fuwairat are well-suited for camping (see listings above).
Stay healthy
HMC operates an emergency department at its local clinic here.
phone: +974 4473 1232

address: Abu Dhalouf Rd
Go next
Visit the UNESCO-listed site of
Zubarah
.