Al Shahaniyah
Al Shahaniyah
(alternatively
Al Sheehaniya
) is a town in central
Qatar
, out to the west of
Doha
, in the Al Rayyan municipality.
Get in
By bus
The
Route 104
and
104A
bus (
timetable
) towards
Dukhan
passes through the town. There are departures approximately every hour from the Doha
Al Ghanim Bus Station
, with the journey taking just under an hour. Be aware that there a different timetables for Saturday-Wednesday, Thursday and Friday, and that service changes and disruptions can occur. It is recommended you call Mowasalat on +974 4458 8888 to confirm timetables.
By car
Located on the Dukhan Highway (Q3), about a half-hour drive west of Doha.
Get around
To follow the camel races or to explore the area, it's best to have your own vehicle.

See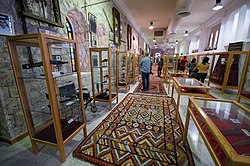 Sheikh Faisal Bin Qassim Al Thani Museum

phone: +974 4486 1444

address: Dukhan Hwy

Finding this museum may be challenging, but it is well worth the effort. From Doha, head west and take the exit for the camel race track; make a u-turn after the WOQOD petrol station, and drive back towards Doha about 7 km until you see a palm tree plantation on the right; turn right and drive about 1 km up a tree-lined road.

The magnificent private collection was acceded to Sheikh Faisal bin Qassim Al Thani by his father, Sheikh Qassim bin Faisal. The 5,000-sqm building contains more than 3,000 unique pieces, including ancient Islamic manuscripts, major archaeological findings, metal objects, textiles, carpets, embroidery and antique furniture. There is also a comprehensive and fascinating collection of historic cars, including a 19th century steam vehicle. Plan on spending about 2.5-3 hours, and bring snacks and water as there is no café.

Al Dosari Zoo and Game ReserveA private zoo now opened to the public. Supports a number of oryx, as well as more exotic animals.

Arabian Oryx Breeding CentreA sanctuary for breeding oryx, which were once hunted almost to extinction. Visitors are welcome at the center, but must make arrangements to visit through a Doha-based tour company.
Do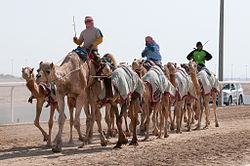 Camel Races

phone: +974 5546 4783

Races are held on a 10-km race track, and there are nearby camel stables which can also be visited. There is plenty of seating in the grandstand, although for the best view you can follow the race in your car along pavement which runs parallel to the track. Most jockeys are now radio-controlled robots, which are controlled by the owners who follow along in their SUVs. Several prestigious races are held in March and April; during these events helicopters circle overhead for live television coverage. Times of races can vary, so it's best to phone ahead.

Al Samariyah Equestrian Centre

phone: +974 5525 7203

address: Dukhan Hwy

This is a centre for rehabilitated horses located on the Sheikh's working farm. Visitors can lease a horse, sign up for riding lessons, or simply wander around the grounds and mingle with the peacocks in the shade.
Eat
Diamond Shopping Center

phone: +974 4414 7320

address: 44206 Al Shahaniyah

A full-sized grocery store, good for self-catering.
Sleep
There is no accommodation available in Al Shahaniyah, so it is best to visit as a day-trip from Doha.

Stay healthy
HMC operates an emergency department at its local clinic here.