Alaçatı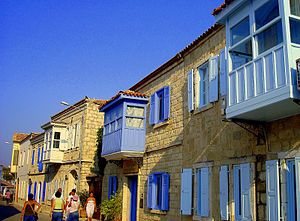 Alaçatı
(pronounced
aa-LAA-chaa-tuh
) is a village in
Central Aegean
, just east of
Çeşme
, on the peninsula jutting out into the Aegean Sea.
Understand
It was called Agrilia and inhabited by local Greeks until 1920s. Alaçatı was long forgotten until 1990s when it started to attract Turkish intellectuals yearning for a peaceful, rural haven. Since 2000s, it is much trendier and has a wider visitor profile, which includes many windsurfers.

Get in
By bus
Buses departing from
Izmir
's
otogar
heading for
Çeşme
—the principal town of the peninsula—calls at Alaçatı. The buses are run by
phone: +90 232 716-82-99
, with one and a half hour intervals between 6:30AM and 7:30PM during off-season, most likely more frequent during summer.
There are also minibuses (
dolmuş
) from Çeşme, and
Ilıca
every 15-30 minutes depending on the time of the day and the season.
By car
Alaçatı lies very close to
O-31
, a motorway (toll-road) with 3-lanes per direction linking
Izmir
with
Çeşme
. It takes around 45 minutes to get to the village from Izmir, which lies 72 km east of Alaçatı.
The village lies 8 km east of Çeşme.
Get around
The beach on the windsurfing cove, which lies about 2 km south of village, is connected to village centre by minibuses (dolmuş).

See
Local architecturePerhaps the main attraction of the village, all of the village's old parts consist of very well preserved local Greek architecture of stone buildings lining cobbled streets.

WindmillsAncient windmills dating back to 19th century on the top of the hill overlooking the village. Windmills themselves are shadowed by much taller modern electricity-generating wind turbines.
Do
WindsurfingThe cove of Alaçatı lies on the leeward side of this much windy peninsula in Turkey's western tip, which means lots of wind but no visible waves towards the coast—perfect for windsurfing! There are some schools offering windsurfing training on the beach.

Babylon Alaçatı BeachA great private beach in Alaçatı, mostly preferred by holidaymakers from Istanbul.
Buy
There is a lively street market held every Saturday, with fresh fruit and vegetables, clothes, and various other products on the offer.

Eat
Pide — Turkish pizza, available at everywhere, and mostly tasty, but you should definitely taste the ones at Babylon Aya Yorgi beach.
Fish — Definitely there are many alternatives for fish restaurants in Alaçatı and around nearby Çeşme as well. Dalyan is a very close village where locals prefer to dine in. Do not forget to try Turkish raki with fish.

KumruA Special Turkish sandwich on a special kumru bread, typically with cheese, tomato, and garlic sausage and salami.
Sleep
Connect
Telephone code of the village is (+90) 232.

Go next
Ilıca, with its hot springs discharging from the sea floor just next to a beach, lies on the northern coast of the peninsula, close to Alaçatı.