Alabama
Alabama
is a state in the
Southern United States of America
. The state is named after the Alabama tribe, a Native American group who used to live at the confluence of the Coosa and Tallapoosa Rivers. Alabama is known for its scenic beauty, and has a lot to offer those who enjoy the great outdoors.
Regions
Alabama can be characterized as having 4 regions:
Cities
— state capital and first capital of the Confederacy
— home of Auburn University
— Alabama's largest city
— home of Marshall Space Flight Center
— Alabama's only major port and largest city near the Gulf
— home of the University of Alabama
— Helen Keller's home
Other destinations
& Orange Beach - 32 miles of beautiful sugar white sands on the prettiest beaches on the Gulf of Mexico. A visit to Gulf Shores and Orange Beach offers the perfect balance of non-stop activity and lay-around-doing-nothing time. Putter around a bit on one of our championship golf courses. Cast your line for deep-sea adventure on a one of the Orange Beach fishing charters. Travel back in history with a visit to Fort Morgan, the site of the Civil War Battle of Mobile Bay. Commune with Mother Nature as you hike wildlife trails gazing at shorebirds.
- In the spring of 1814, General Andrew Jackson and an army of 3,300 men attacked 1,000 Upper Creek warriors on the Tallapoosa River. Over 800 Upper Creeks died defending their homeland.
Little River Canyon National Preserve - Little River is unique because it flows for most of its length atop Lookout Mountain in northeast Alabama
- The 444-mile Natchez Trace Parkway commemorates an ancient trail that connected southern portions of the Mississippi River, through Alabama, to salt licks in today's central Tennessee
- For more than 10,000 years, Russell Cave was home to prehistoric peoples. Russell Cave provides clues to the daily lifeways of early North American inhabitants dating from 6500 B.C. to 1650 A.D.
- The Selma to Montgomery National Voting Rights Trail was established by Congress in 1996 to commemorate the events, people, and route of the 1965 Voting Rights March in Alabama
- Come on a journey to remember and commemorate the survival of the Cherokee people despite their forced removal from their homelands in the Southeastern United States in the 1840s
- In the 1940s Tuskegee, Alabama became home to a "military experiment" to train America's first African-American military pilots. In time the "experiment" became known as the Tuskegee Experience and the participants as the Tuskegee Airmen
- Tuskegee Institute National Historic Site is nestled on the campus of historic Tuskegee University. The site includes the George W. Carver Museum and The Oaks, home of Booker T. Washington
- A cavern and small family attraction in Childersburg, Alabama.
Understand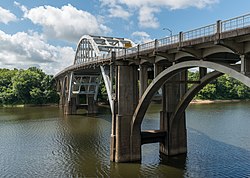 Alabama, along with the South in general, has a reputation for "Southern hospitality." The people of this state are generally genial and helpful and often go out of their way to help a stranger. While racial divisions still exist in the state, they are much more muted than popular belief and stereotypes hold. In fact, many leaps and bounds have been made within Alabama, in terms of race relations, since the 1950s and 60s.
Known primarily for its status as the original capital of the Confederacy (in Montgomery) and the birthplace of the Civil Rights movement of the 1960s, Alabama can be a study in contrasts.
The sport of American football is taken extremely seriously in Alabama. In addition to significant regional devotion to high-school football teams the entire state, in terms of college football, is divided into two factions: Auburn University fans and University of Alabama fans. The rivalry is so bitter, in fact, that it took an act by the Alabama State Legislature in the late 1940s to force the two colleges to play one another (the two had stopped playing each other in the first years of the 20th century over an officiating dispute).
Even then, the two schools would not agree to play at opposing sites so the State of Alabama used taxpayer funds to build Legion Field in Birmingham as a neutral site. It was only in 1989 that the Crimson Tide finally visited Auburn and 2000 that the Tigers visited Alabama. This can also be a point of concern for tourists, as the rivalry is so serious that tourists are best not to mention it at all.
Talk

Many (though certainly not all) Alabamians speak with thick local accents so non-native English speakers may have difficulty understanding them. Within the two major urban areas of Huntsville and Birmingham one will find that most accents are of a General American variety while in the other two major urban areas of Mobile and Montgomery local accents are still widely prevalent. Visitors to North Alabama (Birmingham and north) will experience accents that are more "country" in nature (Senator Richard Shelby is one example) while visitors to South Alabama (south of Birmingham) will experience accents that are more closely reminiscent of those from the 1939 film Gone With the Wind and the 1994 film Forrest Gump, which takes place in Southern Alabama. Former governor Fob James is a textbook example of a southern Alabama accent.

Get in
By car
Alabama is accessible by five interstate highways: I-10 crosses the state from east to west near Mobile in the south; I-20 enters Alabama from the east, traverses Birmingham, and joins I-59 as it traverses Tuscaloosa and exits the state in a southwesterly direction; I-59 enters northeastern Alabama, continues southwest through Birmingham, and exits the state toward the southwest; I-22 enters Alabama from the northwest and ends in Birmingham; I-65 enters Alabama from the north, traverses Birmingham, and ends in Mobile; I-85 enters the state in the east and ends in Montgomery.
By bus
Greyhound Lines
offers bus transportation to cities and towns throughout Alabama. Greyhound bus stops are found in Anniston, Athens, Birmingham, Dothan, Evergreen, Gadsden, Huntsville, Mobile, Montgomery, Opelika, Selma, Troy, Tuscaloosa, and Tuskegee.
By train
There is one daily
Amtrak
route serving Alabama, the
Crescent
. Trains 19 (southbound) and 20 (northbound) run from
New Orleans
to
Washington, D.C.
and
New York City
. There are three stations in Alabama:
Anniston
,
Birmingham
and
Tuscaloosa
. Coach and sleeper service is available, with checked baggage, a restaurant car, a café and a lounge.
By plane
The largest airport in Alabama is the
Birmingham-Shuttlesworth International Airport
BHM
. Airlines servicing this airport offer direct flights to Atlanta, Baltimore, Charlotte, Chicago, Dallas, Denver, Detroit, Houston, Jacksonville, Las Vegas, Louisville, Memphis, Miami, Minneapolis, Nashville, New Orleans, New York City, Orlando, Philadelphia, Phoenix, St. Louis, and Tampa.
Commercial flights are also available at the Northwest Alabama Regional Airport MSL; the Huntsville International Airport HSV; the Mobile Regional Airport MOB; and the Montgomery Regional Airport MGM.

Get around

Car is no doubt the best method, and the most scenic. Interstates converge on Montgomery, Birmingham, and Mobile, and make quick transportation between those cities and ones in other states. They also connect to Anniston, Tuscaloosa, and Huntsville. Elsewhere though, travel can be slower in more rural areas.

See
Do
Festivals
Gulf Shores is home to the National Shrimp Festival. This outdoor event is held annually in October and features over 300 vendors that offer fine art, arts and crafts, an international marketplace and plenty of shrimp. Three stages also carry music continuously throughout the festival. Over 200,000 people attend the festival annually and it has been ranked as one of the top twenty events in the southeast by the Southeast Tourism Society, and one of the top five in the state. 2016 will mark the 45th anniversary of this festival.
The Oyster Cook-Off Craft Spirits & Beer Weekend has been a local staple in Gulf Shores for over a decade, featuring hundreds of food and beverage choices. The first week of November starts the cook-off, with Craft Beer tastings from breweries around the southeast, vast collections of rare spirits, and live music. The festival started humbly featuring master-grade oyster preparations alongside local farmers and has grown into a full fledged foodie festival featuring chefs of international acclaim and dishes well beyond the scope of oysters. It's a ticketed event, with a portion of sales going back to charitable causes.
Tuscumbia is home to the Helen Keller Festival. This outdoor event is held annually in June for three days (Friday to Sunday) and kicks off with a lengthy parade complete with floats and its riders throwing candy to bystanders, high school marching bands, horses, Civil War reenactors and Shriners zipping about in their miniature go-karts. Afterwards, Main Street is closed and is filled with local vendors selling everything from handmade crafts to fresh vegetables. An antique car show is also a highlighted feature. Many local and out of state bands perform throughout the day with at least one major performer, normally of the country music variety, performing Saturday night in Spring Park. Also performed at the birthplace of Helen Keller is a local production of the stage play The Miracle Worker which is a theatrical rendition of Helen Keller's childhood and interaction with Ann Sullivan. One little known fact about Helen Keller that most natives of Tuscumbia do not even realize is that she was an ardent and outspoken socialist during her adult life.
Sports
Talladega Super Speedway
is in Talladega.
Collegiate
Home to what is considered one of the top rivalries in sports, the state of Alabama revolves around college football. Each weekend of the fall, hundreds of thousands of fans around the state pack stadiums to cheer for their respective teams.
Jacksonville State University Gamecocks.
Hike
Alabama has some decent hiking options. One of the best areas is the
Sipsey Wilderness
, which features old-growth forest and dozens of waterfalls. Other areas include the trails and scenic overlooks in Mount Cheaha State Park. The Pinhoti National Recreation Trail runs for approximately 171 miles (280 km) through the hilly forests of eastern Alabama, offering multiple sites for overnight camping.
Golf
address: 100 Sunbelt Parkway

Ten public golf courses throughout Alabama.
Cycling
Chief Ladiga Trail
rail trail in eastern Alabama that stretches for 33 miles (53 km) from Anniston to the Alabama-Georgia state line, where it joins Georgia's Silver Comet Trail.
Eat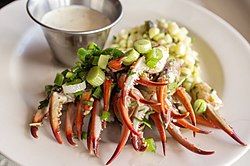 Mobile Alabama has some of the best fried seafood east of the Mississippi River. Don't forget to try local oyster bars and the shrimp is superb. Ask locals for recommendations that are off the beaten path and area favorites.
Alabama barbecue is outstanding and comes in many forms, but pork is always most popular. There are several award-winning barbecue "joints" in Alabama, and their claim to fame is typically "pulled pork", but they will offer ribs, too.
For dessert, look for pecan pie. During the summer, fresh peaches and blackberries are available. Fruit pies abound, and if you want something a little different, look for cobblers. Home-style peach ice cream is a particular treat.
Drink
Sweet Iced TeaOne delicious recipe for making sweet tea is to put on a pan of water and bring to a boil. Once boiling place two family-size Lipton tea bags in the boiling water, and then immediately turn the stove off. While the water is still raging hot, mix in 1⅓ cup of cane sugar and stir so that the sugar does not stick to the bottom of the pan and burn. Wait one hour and then mix with one gallon of water in a gallon-sized container. Serve over ice.
Go next
Mississippi - Alabama's neighbor to the west has Civil War battlefields, scenic parkways, and antebellum charm.
Tennessee - North of Alabama, Tennessee offers the cities of Memphis, Nashville, Knoxville, & Chattanooga, plus the beautiful Great Smoky Mountains.
Georgia - On Alabama's eastern border, Georgia has the major metropolis of Atlanta, with many attractions, and the charming cities of Macon & Savannah.
Florida - Bordering the southern part of the state is Florida, with a lot more gulf coast than Alabama, including fabulous beaches, the big tourist area of Orlando, and the cities of Tampa, Jacksonville, and Miami