Alameda
Alameda
is an island in the
East Bay
of the
Bay Area
,
California
in the
United States of America
. It is separated from the mainland by the
Oakland Estuary
. One can get there from Oakland very easily, by way of one of the bridges or the
Webster Street Tube
.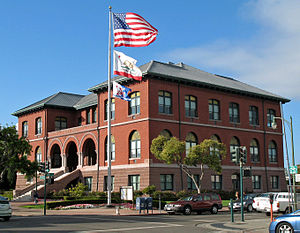 Understand

Alameda is an island city with a consciousness of its history. It was founded as a Spanish settlement and then became a Mexican one. Many of the streets and neighborhoods have names dating back to the 19th century. There are a great many large Victorian houses throughout the town, including the original Alameda Library, Alameda City Hall, the Elks Lodge, and most particularly Historic Alameda High School. A few of the streets have been restored to Victorian grandeur, notably the shopping districts of Park Street and Webster Street. Once one of many of its kind, the Alameda Naval Air Station was decommissioned in 1997, and has since been the site of a few film and TV productions, in its present form, Alameda Point. Around the Christmas season, the residents of Thompson Street participate in lighting up the whole city block, houses and trees alike. The city is home to a single theater, the classic Art Deco Alameda Theatre, built in 1932, renovated and expanded in 2008. South of the main island is Bay Farm Island, a mostly-residential and markedly suburban district bordering Oakland International Airport.

Climate
Get in
By air
Oakland International Airport
is a close neighbor to Alameda. The traveller's best bet for getting into town is by public transit (
AC Transit Line 21
). The easiest way for your money is likely to be a taxi, though the major (read: spendier) hotels of Oakland and Alameda offer free shuttle service to and from the airport.
By car
The proximity of Alameda to Oakland makes access by car the easiest. From Webster, 29th Ave. or Fruitvale in Oakland, all exits are clearly marked. From
I-880/The Nimitz Freeway
, the 23rd Ave. exit is easiest, and the exits leading to the island city are all clearly marked.
By ferry
The
San Francisco Bay Ferry
provides service from several points on both sides of the Bay. There are two terminals in Alameda, Main Street on the west side of the main island and Harbor Bay on Bay Farm Island. Service to Harbor Bay is only provided during rush hour.
By train
Amtrak
does not service Alameda directly, but four of its train routes arrive at two nearby stations.
Capitol Corridor San Jose to Auburn via Sacramento). The route also includes a stop at the Oakland Coliseum/Airport Amtrak station, adjacent to the Oakland Coliseum BART station. The Oakland Coliseum/Airport Amtrak station has no station agents. Passengers may board the train and buy the tickets from the conductor at no surcharge.
San Joaquins Oakland to Bakersfield, California
Passengers riding the Capitol Corridor, San Joaquins, and Coast Starlight trains should arrive at the
Oakland Jack London Station (OKJ)
. Located at Alice and 2nd St., the station is just east of Jack London Square itself. Capitol Corridor conductors provide two free bus passes upon request. Getting to Alameda by bus requires one transfer. Pick up
AC Transit Line 12
at its terminal on Alice, across the street from Amtrak. The bus may wait at this stop for several minutes before departing. Ride the 12 to the 7th and Broadway stop. From that stop, walk back along Broadway, cross 7th, and go with the flow of traffic to the bus stop at 7th and Franklin (less than one block). From this stop, four lines serve Alameda:
Line 19
,
Line 20
,
Line 51A
, and
Line 96
.
Passengers riding the California Zephyr train should arrive at the
Emeryville Station (EMY)
—the train's western terminal. Getting to Alameda by bus requires one transfer. From the train, walk through the station, veer left, and continue two blocks along 59th St. to Hollis St. At the bus stop just to the right of this intersection, pick up
AC Transit Line 29
. Ride the 29 to the 11th and Broadway stop. Wait at this same stop for either
Line 19
or
Line 20
. For
Line 51A
or
Line 96
, turn right on Broadway and walk one and a half blocks to the Broadway and 9th stop.
Get around
By car
Alameda is an island, and as such it's difficult to get truly lost if you have your basic bearings. The island is bordered on the north by the Oakland estuary and to the south by the San Francisco bay. The west end of the island is taken up by the now closed Alameda Naval Air Station. At the south end, you'll find a bridge to Bay Farm Island.

By bus
Several AC Transit bus lines go around the island. There is a bus service 24 hours from Fruitvale BART to Broadway, down Santa Clara and up Webster to Downtown Oakland. There are also a coupe of rush hours shuttles from Wester St. commerical area to Jack London Square/Lake Merritt BART area.

By foot
Walking is a great way to get around. Walking from Oakland is not recommended.

By ferry
Traveling from the Harbor Bay ferry terminal area to the Main Street terminal area is faster by ferry than by bus. This only works during rush hour.

See
phone: +1 510 521-8448

address: Pier 3, Alameda Point

The USS Hornet is a retired World War II aircraft carrier that fought numerous battles in the Pacific and also retrieved the astronauts of Apollo 11 and Apollo 12 after splashdown. The ship is run as a museum, with the hangar deck, flight deck, and some other areas open to wander around in, and tours offering the chance to see control rooms, engineering facilities, and other areas of this retired warship. Allow a minimum of three hours; ideally five or more.

phone: +1 510 544-3175

A good beach on the bay. Very popular with kiteboarders and joggers. Due to ongoing maintenance, some areas are inaccessible, but are clearly marked.

phone: +1 510 769-1349

address: 1510 Webster St

A 'museum' of over 100 classic pinball games, arranged approximately chronologically. The Pacific Pinball Museum showcases the "science, art, and history" of pinball. With admission, play is free on all but the oldest three of their 90 pinball machines, so allow several hours to explore the many variations there.
Do
phone: +1 510 523-6767

address: 300 Park St

Alameda's bowling alley of many decades. 40 lanes as well as billiard tables and video games. Usually bustling during the weekends. Online reservations for bowling as well as parties.

address: 1177 W Redline Ave

Great spot to ride skateboards and skates and great views of the bay.

phone: +1 510 521-8893

address: 2205 South Shore Center

World famous paint-your-own-pottery studio located at South Shore Center by the beach. Hundreds of preformed ceramics to paint as you wish. No experience necessary. Kids and adults. No reservations needed on most days.
Buy
Eat
Budget
Dimitra's Sandwiches To Go

phone: +1 510 521-3737

address: 1251 Park St.

Just like the name says - a sandwich shop that's primarily take-out. Seating and parking are both very limited.

phone: +1 510 522-8108

address: 1507 Park St.

Old school diner. It has been around since 1927, and has stayed the same. It has a good variety of greasy spoon food. Lines for tables are out the door every morning for the waffles and the pancakes.

Pampered Pup

phone: +1 510 521-2321

address: 1401 Park St.

A Park Street institution for decades, serving all the basic favorites of hot dogs, including sauerkraut and chili dogs.

phone: +1 510 227-5870

address: 2306 Central Ave.

A clean, airy and well-lit favorite for cheap and delicious halal wraps, burgers and kabobs. Try the seasoned fries. Take-out orders only for last 30 minutes of each day. Catering available.

Taqueria Viva Mexico

phone: +1 510 769-8482

address: 2327 Central Ave.

A nice and friendly Mexican spot with very old country decor. Online ordering available.

phone: +1 510 522-2800

address: 2318-A Central Ave.

Small, homey little spot that serves food from the Mediterranean.
Mid-range
phone: +1 510 523-5500

address: 1132 Ballena Blvd.

Authentic Moroccan food - bellydancing and live music during Saturday dinner hours. Online reservations. Private parties. Catering.

phone: +1 510 521-4100

address: 2508 Santa Clara Ave.

Upscale Mediterranean spot, very romantic. Reservations available. Catering.

phone: +1 510 521-1800

address: 2337 Blanding Ave.

Very friendly Vietnamese restaurant with an American twist. Online ordering and reservations.

phone: +1 510 814-8778

address: 737 Buena Vista Ave

India Palace has an excellent (if small) buffet of Northern Indian dishes every lunch, and an equally good set of dishes every dinner.

phone: +1 510 769-9110

address: 1440 Park St

Full-service Mexican restaurant with a very large menu. They offer favorites like enchiladas and burritos and also have more obscure traditional dishes, such as a wide range of seafood, huitlacoche and many dishes served with mole sauce. They offer accommodations for large parties, as well as a considerable catering service and a tequila bar that boasts over 300 varieties. Service is very friendly. Online ordering. Reservations available for large groups. Delivery available.

phone: +1 510 337-9100

address: 2320 Central Ave

American-European food, friendly atmosphere. Extensive wine list. Online reservations.

phone: +1 510 893-3825

address: 1514 Webster St.

A recently relocated standard of Oakland's Chinatown that still offers a wide variety of Cambodian dishes on a budget.

phone: +1 510 522-1300

address: 2424 Lincoln Ave

A traditional German restaurant. Great food, great beer. Online reservations.

Sushi House

phone: +1 510 865-0999

address: 2375 Shoreline Dr

Very good sushi and an impressively large menu with a view of the Bay. Very crowded for dinner, especially weekends.

phone: +1 510 523-4120

address: 1221 Park St.

A pocket-sized sushi bar with a massive selection.
Splurge
Drink
Pubs
Breweries
Bars & nightclubs
Coffee, tea & chocolate
Sleep
Connect
phone: +1 510 263-1470

address: 3215J Encinal Ave

Alameda's only locally owned and operated newspaper.
Go next
San Leandro
is across the bay by using California State Route 61, there are plenty of shorelines and beaches here, as well as malls, hotels and worldwide industries (including Otis Spunkmeyer's and Ghirardelli's worldwide headquarters)